Thousands March in Celebration of Mayday 2021
International Workers Day or 'Mayday' is a annual holiday held on the first of May to celebrate the achievements and sacrifices of the international labor movement. The holiday started in the United States over a century ago to commemorate the workers who campaigned to achieve the 8-hour work day.
The date was specifically chosen to commemorate the 'Haymarket Affair' which occurred on May 4, 1886 in Chicago, Illinois. This historic event marked the height of intense street clashes between workers and police, which left at least 11 people killed and countless wounded.
The U.S government used the violence at Haymarket as justification for a harsh anti-union crackdown and blamed prominent Anarchist union organizers for the violence. Eight of these organizers were convicted for their alleged role in the death of a policeman during the Haymarket riots. Three of these organizers were sent to prison while the other five were sentenced to death by hanging. These men would later become known as the 'Haymarket Martyrs'.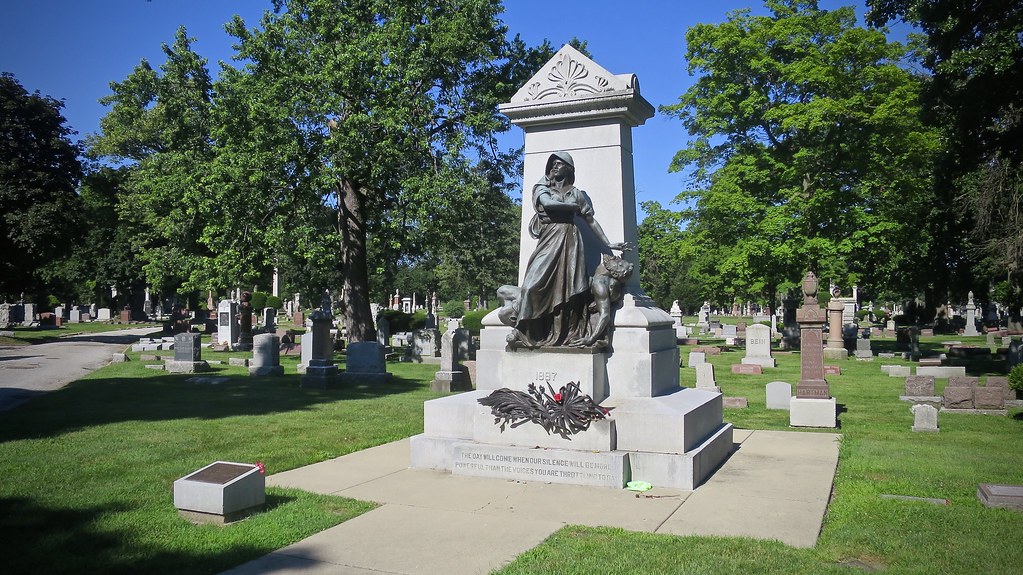 These events eventually led to the U.S. Congress passing the Adamson Act of 1917 and the Fair Labor Standards Act of 1938 which formally gave workers the right to the 8-hour workday and criminalized exploitative child labor.
In efforts to hide the history of the radical actions leftist workers took to get the eight-hour workday and additional workers' rights, the U.S. government moved Labor Day to September. Only Canada and the U.S. celebrate Labor Day in September.
Today, people continue to use Mayday not only as a cause for celebration, but also as a call to action. The day is typically marked by intense global protest actions that are motivated by, but not strictly limited to, labor issues.
In the midst of the global coronavirus pandemic, public gatherings for this year's Mayday were not as large or as intense as in recent years. Nevertheless, this year still saw hundreds of thousands take the streets.
Here are some of the highlights from around the world.
Colombia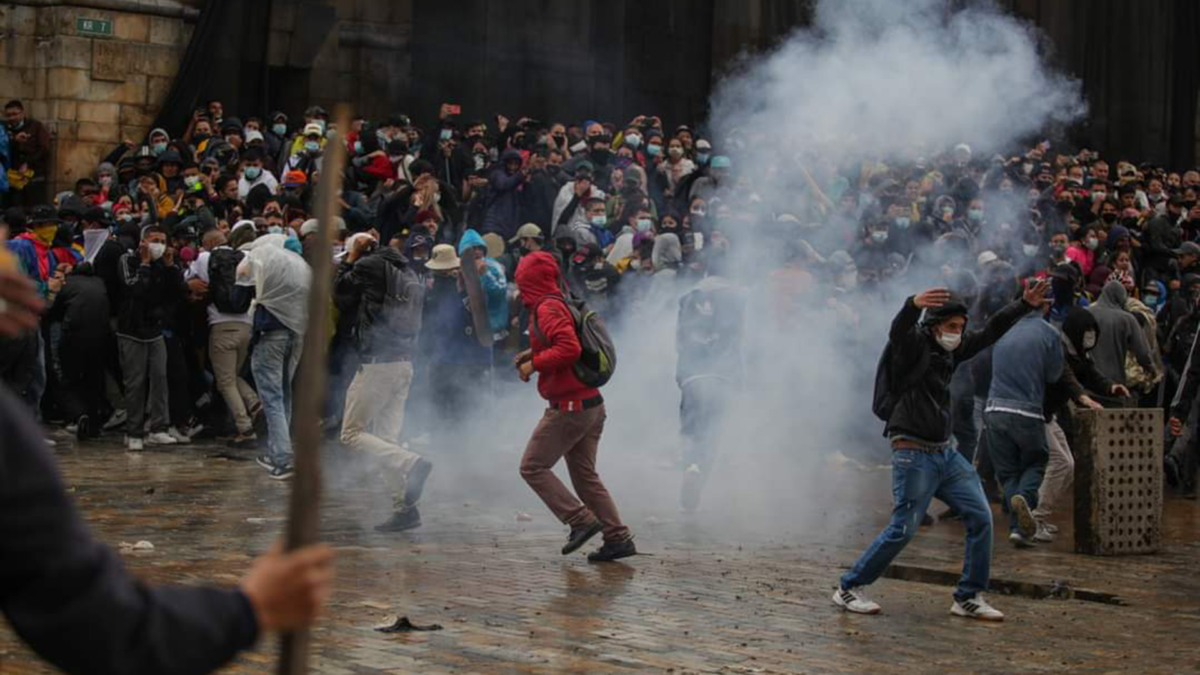 In Colombia, the holiday only added fuel to the fire for an ongoing mass political movement against President Ivan Duque. Mayday marked the fourth consecutive day of national demonstrations against Duque's tax reform bill, which aims to dramatically increase tax rates across the country. Colombia currently has some of the lowest tax revenues in the world. The government is using this as a justification to increase taxes, not only for businesses, but also for the poor and working class. This comes at a time when many are facing increased economic hardships due to the coronavirus pandemic.
Clashes between demonstrators and police have been especially prominent in the city of Cali where reportedly six people have been killed. Indigenous activists have also played a critical role in the protests, and have dismantled several colonial era statues.
Turkey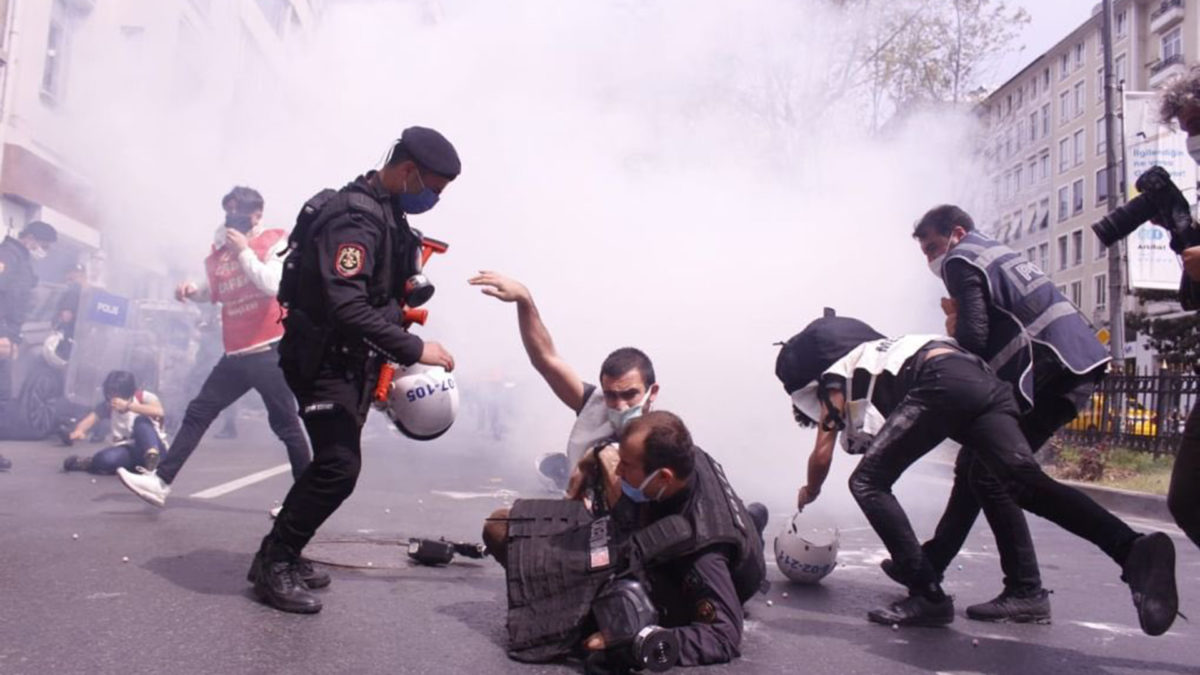 Mass demonstrations were also held in Turkey where coronavirus lockdown measures and increased political repression has fueled public anger against president Recep Tayyip Erdoğan's government. Clashes were especially intense in the city of Istanbul where demonstrators attempted to take the symbolic Taksim Square—the adjacent Gezi Park was the center of a major wave of protests in 2013. Demonstrations there were met with a heavy handed police response as they were subjected to repeated police use pepper spray and tear gas. Over 200 people were arrested as a result of the protests.
France
Thousands gathered in Paris to commemorate Mayday. Police assaulted people, used copious amounts of crowd control munitions, and dispersed the demonstration in several places. Although demonstrators faced heavy police violence, they were still joyful in their celebration of the workers.
Mobilisation joyeuse et déterminée aujourd'hui à Paris malgré une stratégie ultra-violente de la préfecture avec un cortège scindé plusieurs fois, des manifestants blessés et de nombreuses arrestations… #ViolencesPolicieres #1erMai #1erMaiRevolte #GiletsJaunes pic.twitter.com/aiOaSrl5bY

— Cerveaux non disponibles (@CerveauxNon) May 1, 2021
Participants of the Mayday mobilization also paid homage to the historic Paris Commune, which occurred 150 years ago. Paris Commune was an effective rebellion against the state by a milieu of leftists including socialists, feminists, and anarchists who governed Paris for two months until being crushed by the French Army, leaving many thousands murdered.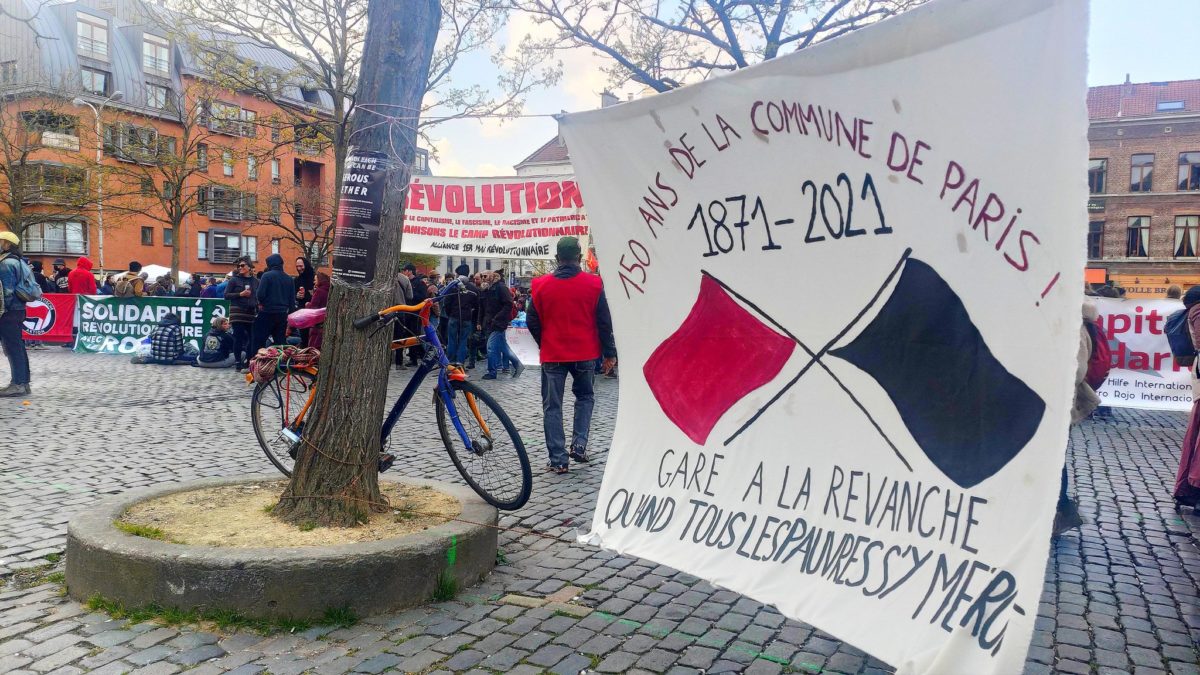 United States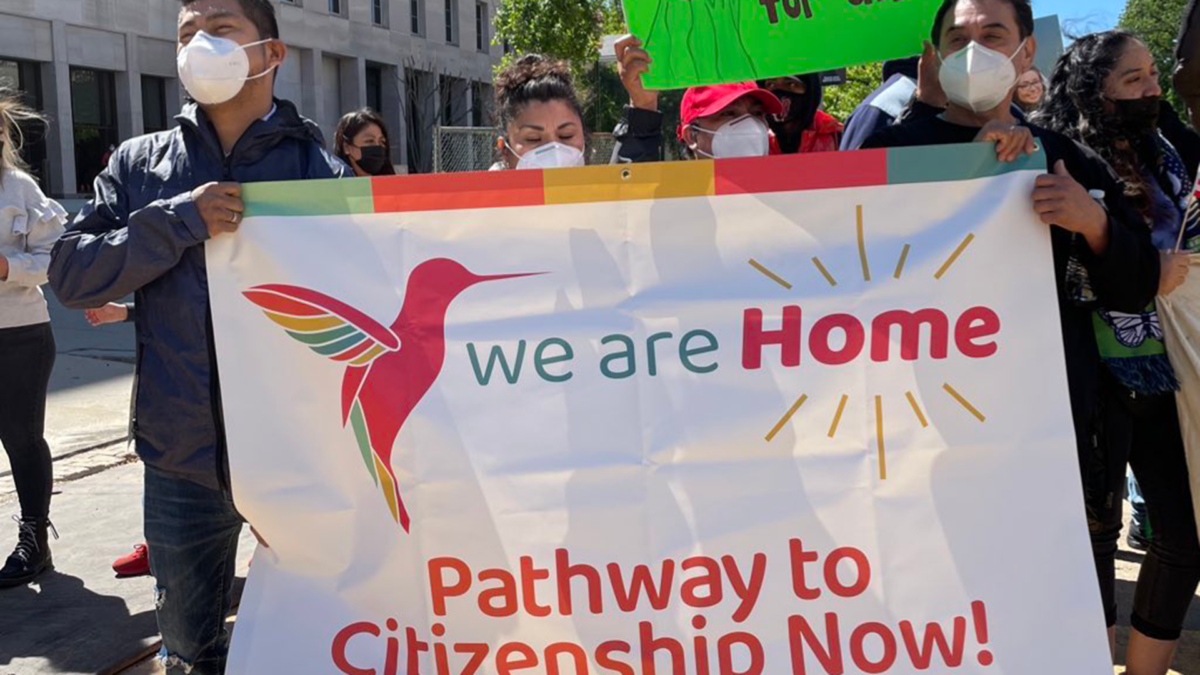 Protests in the country where the Mayday holiday originated were more tame this year in comparison to others. Thousands of people still showed up in the capitol city of Washington D.C. where demonstrators put pressure on the Biden Administration to initiate long-awaited immigration reform for some estimated 11 million undocumented people currently living in the U.S.
In Minneapolis, numerous events were held to commemorate Mayday. A large, yearly march for immigrants and workers' rights happened as well as an abolitionist gathering at Powderhorn Park. At George Floyd Square, the longest standing autonomous zone in the history of the U.S., a Mayday fair was held on May 2.
Join the community in building connections to local labor groups in the spirit of the radical South Minneapolis May Day celebration. Come meet with unions and co-ops to learn about different models of people power and how to foster a symbiotic relationship.#MayDayFair #GFS pic.twitter.com/TjXvApucfm

— 38th And Chicago Avenue (@GeorgeFloydSQ) April 28, 2021
Throughout the country, labor unions and community organizations called for the U.S. Senate to pass the Protecting the Right to Organize (PRO) Act, which passed in the House a second time on March 9, 2021. The PRO Act would give tens of millions of workers legal pathways to form unions. It would also empower workers to organize and bargain, hold corporations accountable for union-busting, and repeal right to work laws.
These laws originating in the Jim Crow era were largely advanced by anti-union, white supremacist Texan Vance Muse. Muse believed that the New Deal was a Communist Jewish conspiracy.
In 1964, Dr. Martin Luther King Jr. spoke about the racist and classist laws:
"In our glorious fight for civil rights, we must guard against being fooled by false slogans such as 'right to work.' It is a law to rob us of our civil rights and job rights."
Germany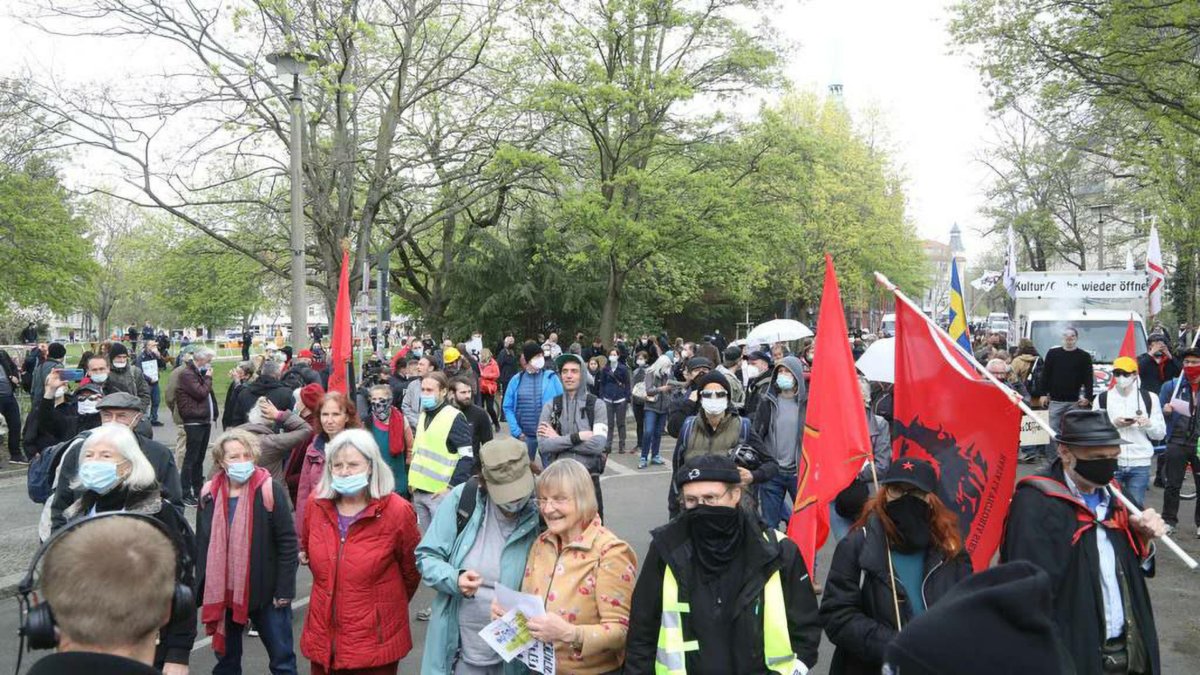 In recent years, Germany has experienced consistent clashes between protesters and police every Mayday, and this year was no different. Though turnout numbers were lower than normal, tens of thousands of protesters still took the streets in Germany's capitol city of Berlin, demanding economic justice for the poor and working class. Protests in Berlin remained mostly peaceful until nightfall when the police attempted to disperse the crowds and were met with heavy resistance.
Far-right groups, operating under the banner of the anti-lockdown Querdenker (lateral thinkers) movement were also present. Many feared that this would lead to violence between fascist and anti-fascist groups. The Querdenker protests in Berlin, however, only managed to muster a crowd of 350 people—far below the previously estimated number. The neo-nazi 'Third Way' party had also planned rallies across Germany, but these were banned by the German government. "Third Positionism" is a variant type of fascist ideology linked to the European New Right (Nouvelle Droit).
---
Radical American labor organizer, socialist and anarchist Lucy Parsons is closely tied to Mayday. She was married to Albert Parsons—one of the Haymarket Martyrs—and fought fervently to try and free him. She spoke and wrote often about her insights on organizing and liberation, and as a Black woman who also had Mexican and Native American ancestry, she had a lot of life experience that she shared openly for the collective good.
"Concentrated power can be always wielded in the interest of the few and at the expense of the many. Government in its last analysis is this power reduced to a science. Governments never lead; they follow progress. When the prison, stake or scaffold can no longer silence the voice of the protesting minority, progress moves on a step, but not until then."

Lucy Parsons
---

Follow us on X (aka Twitter), Facebook, YouTube, Vimeo, Instagram, Mastodon, Threads, BlueSky and Patreon.