Activists Serve Denver Wells Fargo Eviction Notice
Denver, CO – On the 51st anniversary of Earth Day, a local group of Indigenous activists organized a march from the Colorado State Capitol to the Wells Fargo Center in downtown to take action and speak out against the Line 3 tar sands oil pipeline currently being constructed in northern Minnesota.
Big Wind, who is Northern Arapaho and Indigenous to so-called Colorado, went inside the bank with a few fellow activists to hand-deliver an eviction notice to the manager. When the manager declined to take the notice, Big Wind taped it to a sign post along with a handmade sign that read "Your investments kill."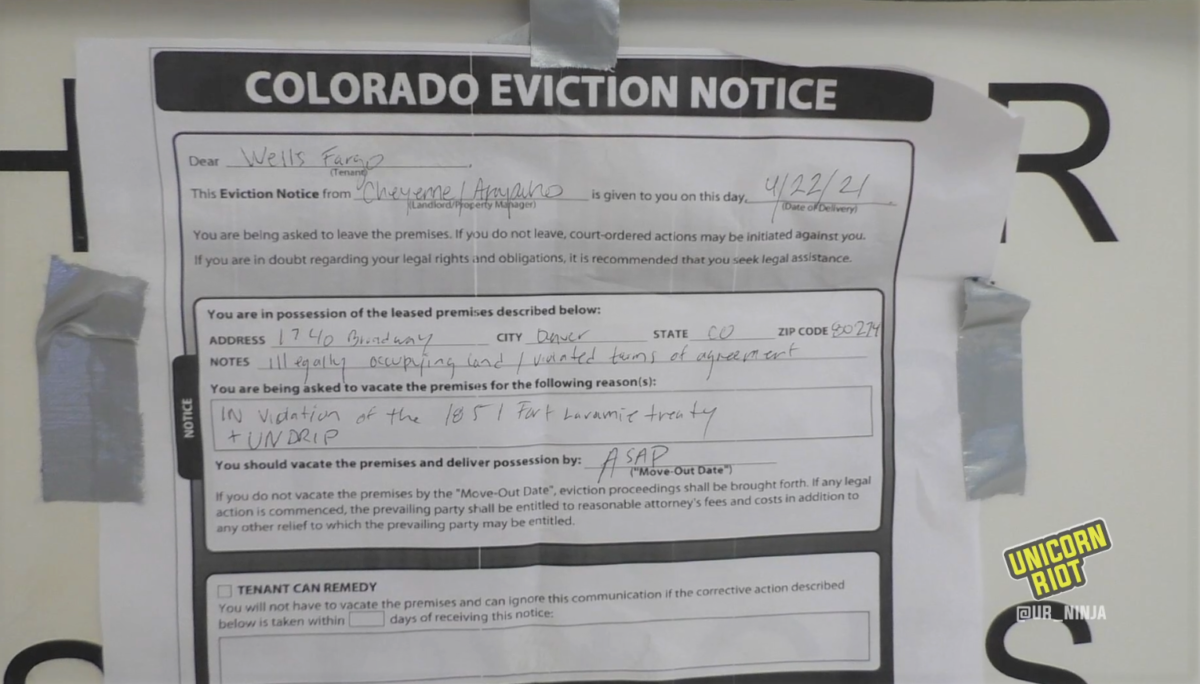 "Everyone who works for Wells Fargo, you can go home now! You're being evicted! The people that you work for are bad tenants, and as [I am] an Indigenous person of this land, you're no longer welcome! You're poisoning our water, your poisoning the land, you're not welcome here, you have blood on your hands!"

Big Wind
A Wells Fargo worker who appeared to be in a leadership position told everyone inside the bank that they were trespassing and that the police were on their way. At that point Big Wind responded: "You're trespassing as well."
A few moments later the group decided to leave the bank and rejoin the 40-person rally out front.
Demonstrations and actions against Line 3 have been ongoing for over 7 years. Since construction began on the Minnesota portion in December 2020, more than 200 water protectors have been arrested.
While outside the bank, Big Wind shared an update about the construction progress of the pipeline:
"They say that they are over halfway done. And there was a moratorium for wetlands, and so that has shortened their workforce currently at this moment. But one thing that is—I feel like is propaganda—is that they're telling people all construction has stopped in this time and that is not the case."
In addition to highlighting the Line 3 pipeline, the local organizers spoke about its connection to the epidemic of missing and murdered Indigenous women, girls, and two-spirit people (MMIWG2S).
One of the organizers, Micaela Iron Shell-Dominguez who is Sicangu Lakota and Xicana, detailed one of the causes of the epidemic.
"Something that goes on at these pipelines is what we call 'man camps,' and [these] are temporary housing facilities built to accommodate the workers, mostly men, who come to an area to work on major infrastructure projects like pipelines."
Shell-Dominguez spoke about how the long work hours, small individual living quarters, potentially dangerous working conditions, and large paychecks are a devastating combination for the women, children, and two spirit people in the nearby communities.
"In 2016, 5,712 Indigenous women and girls were reported missing. Again, 5,712. But only 116 were logged by the U.S. Department of Justice Federal Missing Persons Database."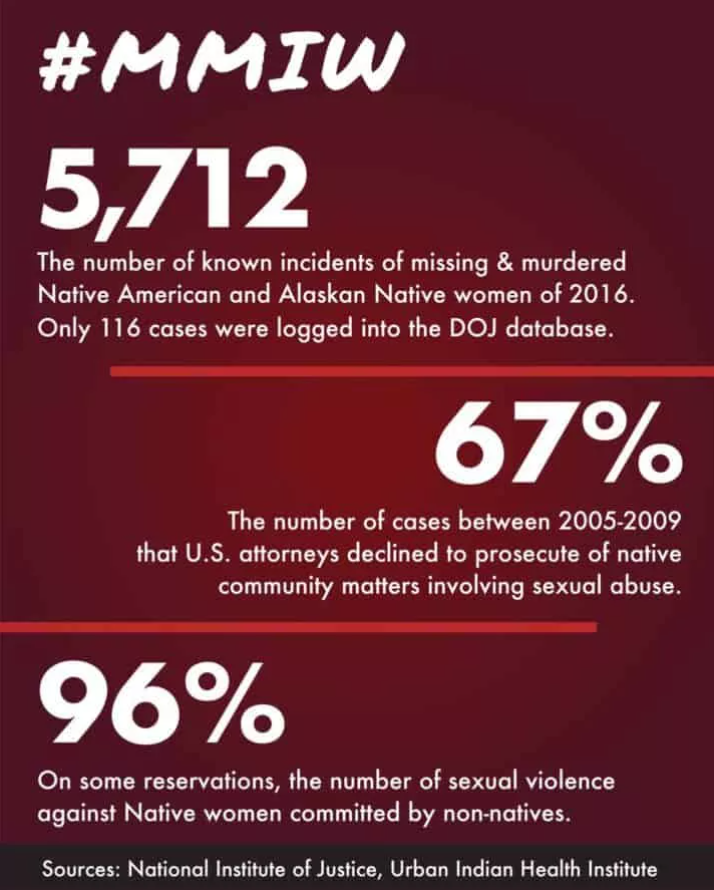 Former UN Special Rapporteur on the rights of Indigenous peoples, James Anaya, wrote a statement in 2014 about the connection between the degradation of the health and safety of Indigenous people and the fossil fuel industry.
"Over the last several years I have carried out a study and reported on extractive industries affecting Indigenous peoples. It has become evident through information received within the context of the study that extractive industries many times have different and often disproportionately adverse effects on Indigenous peoples, and particularly on the health conditions of women."
Within his statement, he described how Indigenous women were reporting an increase of sexual harassment and violence coinciding the presence of workers due to extractive projects. When visiting one area, Anaya saw an in-person glimpse of the epidemic:
"In one case in which I intervened indigenous girls walking to school were sexually assaulted by workers operating under a concession granted by the government for the extraction of forest resources in the indigenous peoples' traditional territory."
Outside of Wells Fargo, a vertical banner was hung from its sign and an alter honoring MMIWG2S was created at its base. There was singing and praying as vibrant and colorful flowers and candles were carefully arranged into a heart.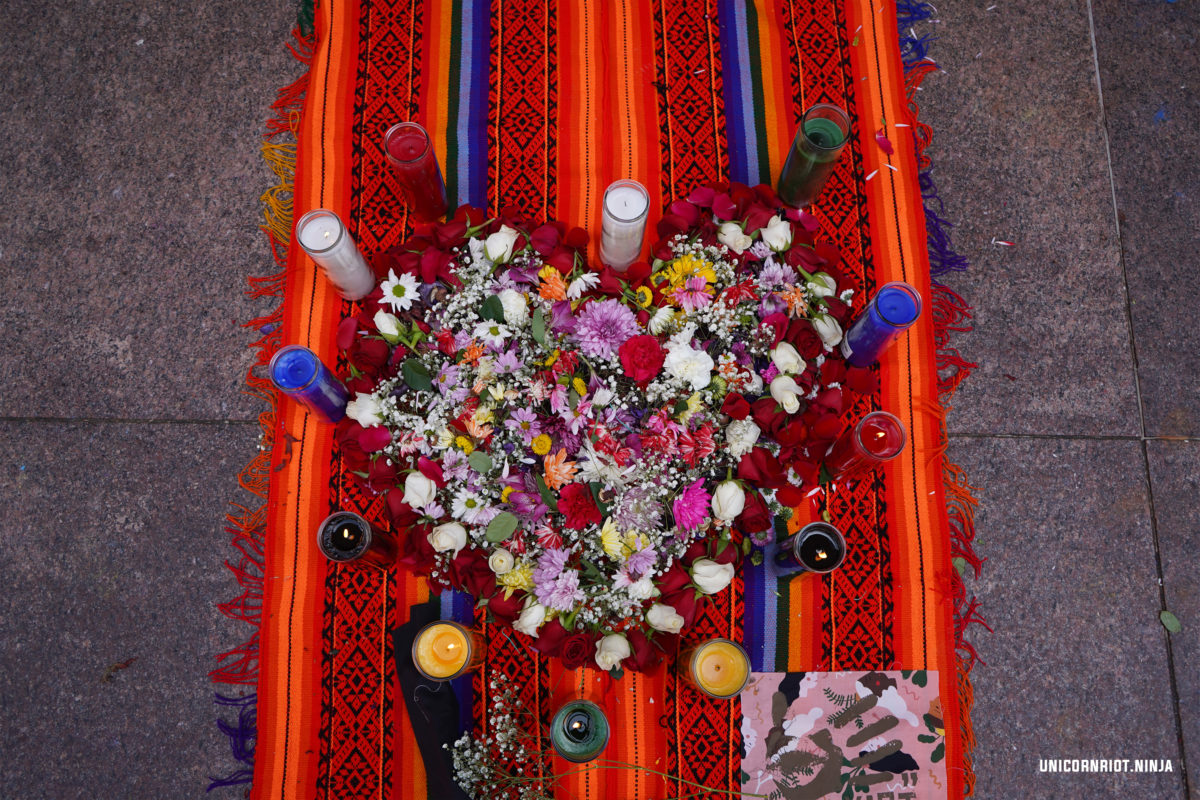 According to a report by dozens of environmental nonprofits and research organizations, Wells Fargo is the third greatest funder of fossil fuels among all banks. Since the 2015 Paris Climate Agreement, which is a legally binding international treaty on climate change, Wells Fargo has invested $223 billion in fossil fuels.
"Line 3 is not just about the pipeline, it's a microcosm of a larger issue. We are using too much fossil fuels, we need to cut down all of our energy systems. We will not be able to solar panel and wind turbine our way out of this. We're living too large. And how we do that is we need to all work toward a better future, a just and sustainable future that does not prioritize profit over people; that does not prioritize profit over plant life."

Big Wind
---
You can watch our live coverage of the Earth Day celebration and action below:
Follow us on Twitter (aka 'X'), Facebook, YouTube, Vimeo, Instagram, Mastodon, Threads, BlueSky and Patreon.
Unicorn Riot's Line 3 Oil Pipeline Coverage:
Ongoing Coverage around Murdered and Missing Indigenous Women and Relatives:
Please consider a tax-deductible donation to help sustain our horizontally-organized, non-profit media organization: