Beyond the Barricades: A Look At George Floyd Square [Mini-Doc]
Minneapolis, MN – Since the police killing of 46-year-old George Floyd, the area where Floyd took his last breath has turned into an international sacred space controlled by community caretakers. The autonomous zone called George Floyd Square (GFS) consists of four city blocks around 38th Street and Chicago Avenue in South Minneapolis.
For an inside look at GFS and why the space is being held, Unicorn Riot collated coverage from the Square since its creation and interviews from community defenders and caretakers into the mini-documentary 'Beyond the Barricades: A Look At George Floyd Square'. [This by no means is an exhaustive look at GFS, it's merely scratching the surface of thousands of stories from a collectively run community seeking justice.]
A Black Power fist sculpture sits in the middle of 38th and Chicago and barricades sit at four intersections to keep the authorities out and the space safe until 24 demands are met. Called the Justice Resolution 001, the 24 demands have been created by 'Meet on the Streets', a small coalition of members of the GFS community through outreach to the four-corners of the cross-section of neighborhoods in which GFS is located: Bryant, Central, Bancroft, Powderhorn Park.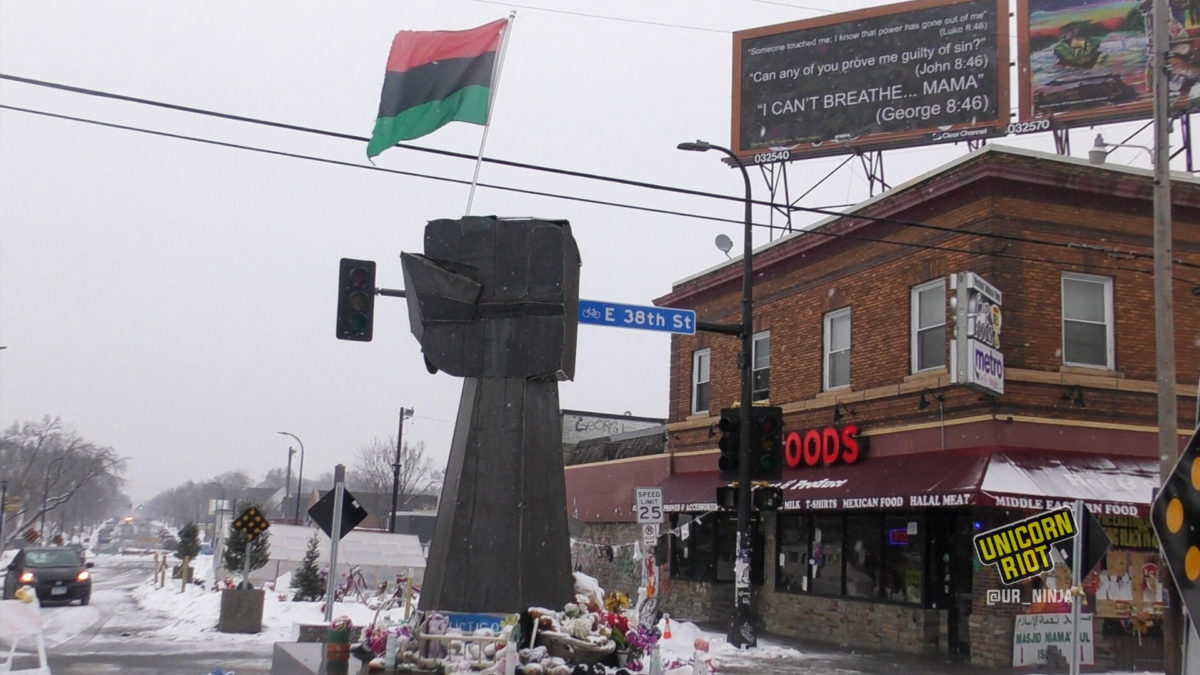 An August press conference at GFS laid out the demands from the Square. Unicorn Riot spoke with two of the organizers, Alicia Smith and Carmen Means, after the presser which can be seen below.
The demands range from accountability for past police murders in the metro area, firing of Bureau of Criminal Apprehension (BCA) employees and recalling Hennepin County Attorney Mike Freeman, to economic investments. The last demand calls for the continued closure of the streets surrounding GFS:
"Continue the closure of the intersection of 38th Street East and Chicago Avenue South until after trial of the four former officers charged for the murder of George Floyd."

Demand #24 of the Justice Resolution
The City of Minneapolis, which has threatened the Square with eviction in the past, held a press conference on February 12 intended to update the public of their plans to reopen the sacred space to vehicular traffic after the trial of Derek Chauvin is completed. The city has provided two options of their ideas for re-opening, both leaving the space where Floyd was killed closed. The community at GFS says "No Justice, No Streets" and they're set to defend the barricades until justice has been met.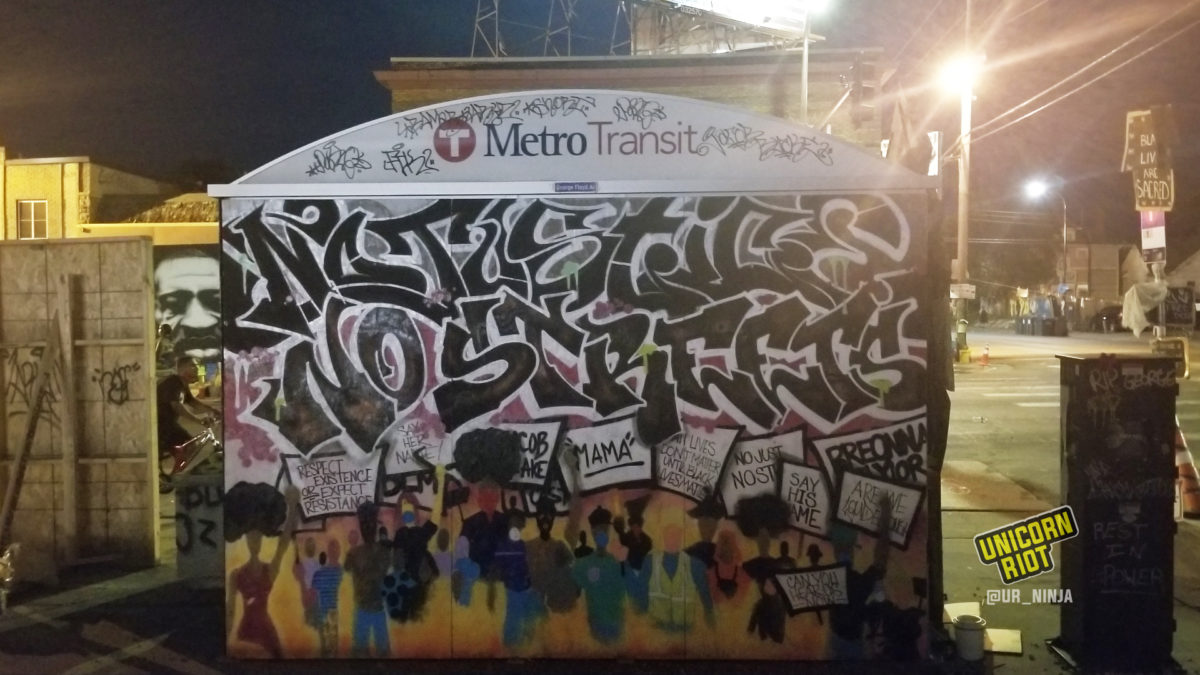 Although the 24 demands don't exactly gain Black liberation, they're a start, say GFS caretakers.
"[The demands are] a collection of needs and wants from this community saying these are the things that we need in order to move forward to heal."

Alicia Smith
GFS has turned into a hub for people who've reclaimed the commons from the state and become an epicenter of resistance and meeting place for police abolitionists and anti-capitalists across the city.
"First importance of this space is as a memorial, as a sacred space for grieving a Black man who was murdered by the state. And I think it's also grown into a really powerful autonomous community of mutual aid and really not just envisioning but enacting a community that is as free as we can be from policing and from the United States as a settler colonial fascist government."

Community defender at GFS
Mutual aid initiatives interconnect and operate out of GFS, distributing supplies, food, and resources to community members and the unhoused.
"[GFS has] been operating as a staging ground for other types of struggles that are ongoing in the area, whether that be stuff for line 3, whether that be stuff in the housing movement, all types of racial justice movements… You look around you see all the graffiti, everything that's been written, it's leftover from when the entire city rose up against the police, rose up against the status quo. And everybody here who's like involved in the movement has such profound memories."

Community defender at GFS
GFS has been an explicitly no-cop zone since the beginning, yet there have been some incursions of police forces. A couple of those instances include: on Juneteenth after Murphy Ranks was fatally shot and police intruded into the space, macing barricade defenders and leaving before investigating, and in December when police chased an unknown suspect into GFS, leading to Minneapolis Police officer Kyle Mader violently arresting a homeless advocate and letting him go uncharged after days in jail.
Besides the threats of eviction from the authorities, GFS has received backlash from two of the council members who's ward GFS falls in, Alondra Cano and council President Andrea Jenkins. They've both voiced opinions against the Square, although both having participated in early events at GFS and having been elected under the pretense of their "progressive" stances.
Racists and white supremacists have, at several times, made appearances to the Square and attempted to disrupt the community. One of the George Floyd murals has been vandalized at least twice. It has since been repainted. Security at the Square, which operates at each barricade, has responded to those instances with haste and without violence.
Some mainstream media outlets have attempted bashing GFS. Notably, Jay Kolls at KSTP (ABC affiliate), put out a televised story on GFS calling it a "no-go zone." Kolls later spoke during a podcast interview after the story of how police sources were feeding him internal reports, pushing him to negatively portray the Square.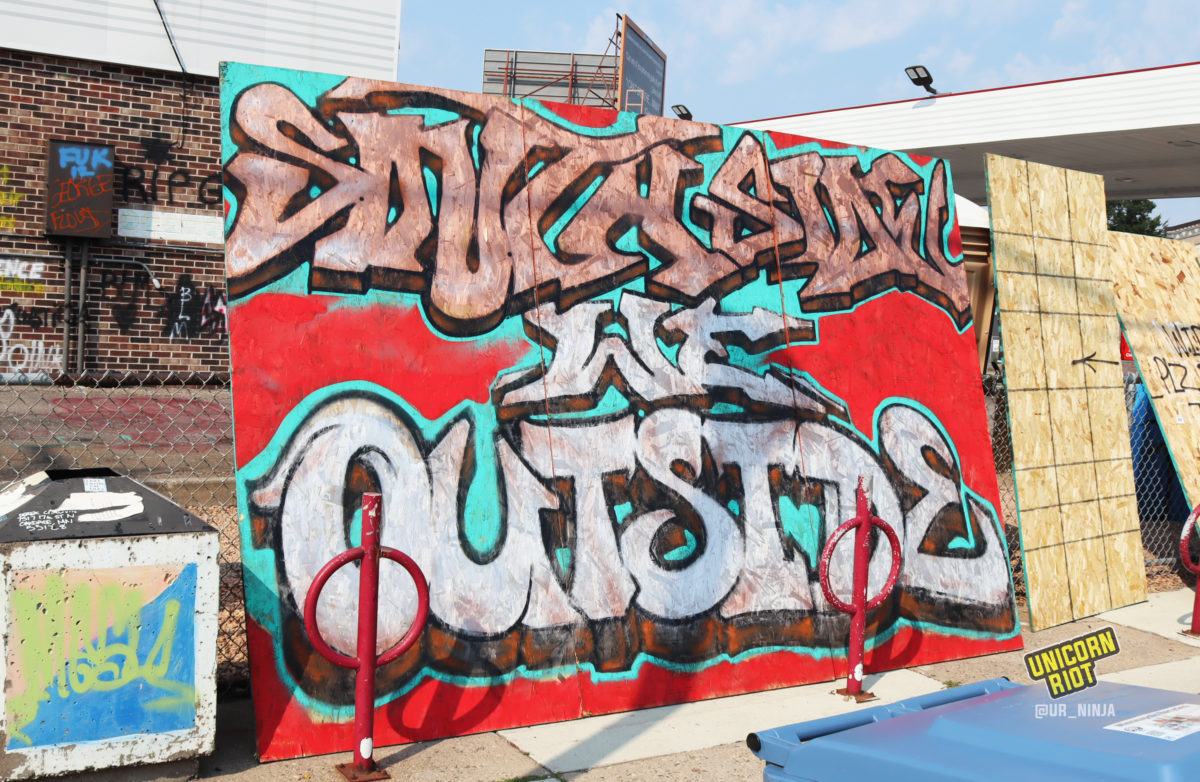 Countering the narrative being pushed in the mainstream are independent media and participants of the square like Marcia Howard, a high-school teacher who's TikTok videos from GFS have received nearly two million likes.
"It looks like many things at many times a day if you've been in this square but in all those hours of every day it still looks like community. It's community."

Marcia Howard
The lack of respect from certain circles hasn't deterred the Square from growing into what many of the participants say is an incredibly loving and participatory community of family and friends, young and old. Hundreds of rallies, protests, and events have been held in the Square since Floyd's killing, along with gatherings such as the Malcolm X Commemorative Rally.
Grown from collective grief, rage, and passion, George Floyd Square is the longest lasting autonomous zone in the recent history of the United States, aside from intentional communities.
The Speedway at the corner of 38th and Chicago has been reclaimed as the People's Way and the area now holds meetings every morning and evening. A variety of arrangements have been made by the community, for the community, including: A bookshelf that holds a library of books (many by Black authors), the People's Closet providing clothes for the community, a greenhouse growing plants throughout the winter and a pantry of food, including fresh food and community dinners.
Also serving the community, 612 Mash, a medical group created after Floyd's killing has been providing free medical care with a med tent in GFS. A fundraiser for 612 Mash seeks donations for a clinic to continue providing free services.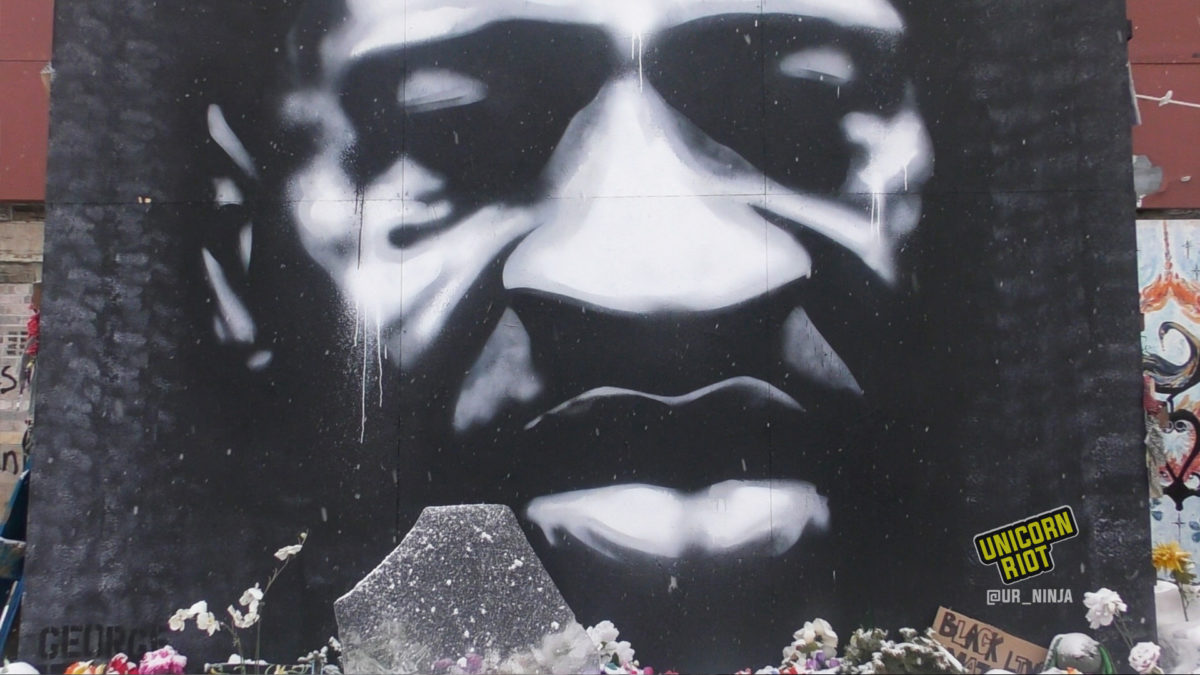 Memorials to George Floyd are first and foremost the center of the Square. Many other tributes to people stolen by police terror are also seen in the area. The 'street of names' goes from 37th to 38th street and is a painted list of names of many national and local people killed by police. Say Their Names Memorial is an installation of artist-made gravestones depicting dozens of names of victims of state sanctioned violence. Among others, a memorial for Murphy Ranks sits outside his house on 38th Street and an artistic image of Paul Castaway, killed by Denver Police, adorns the front of The People's Way.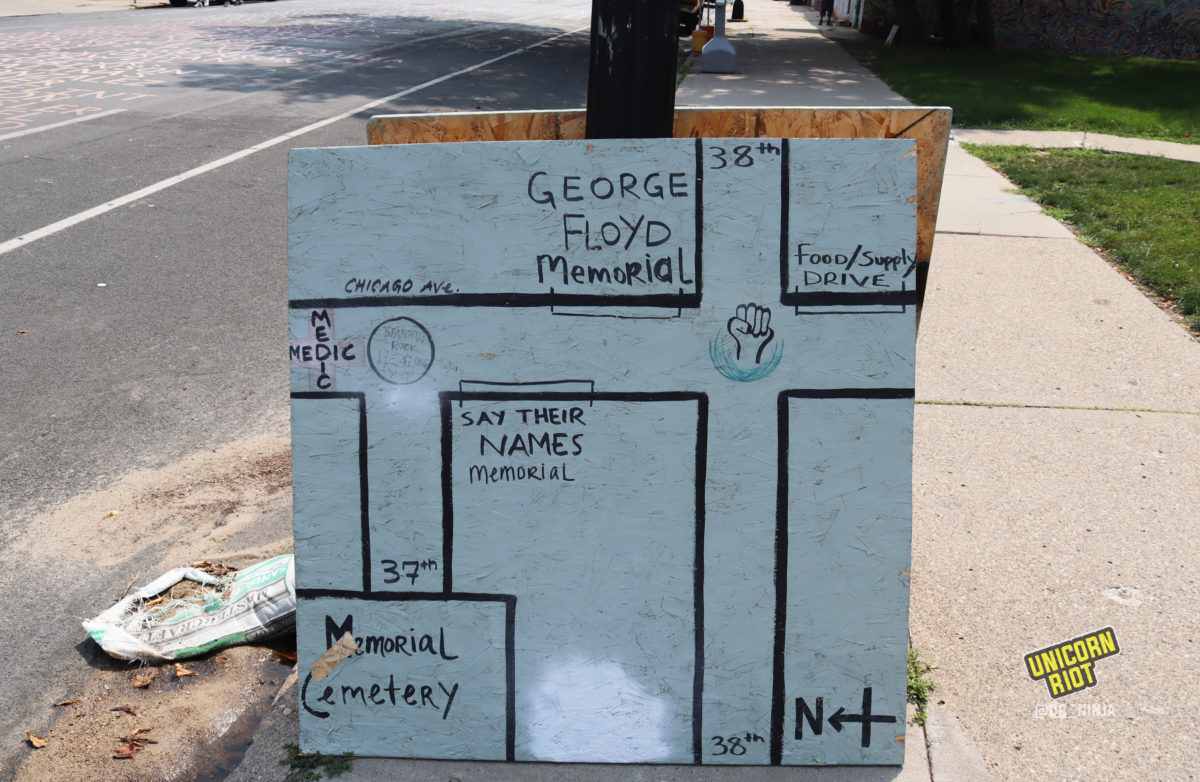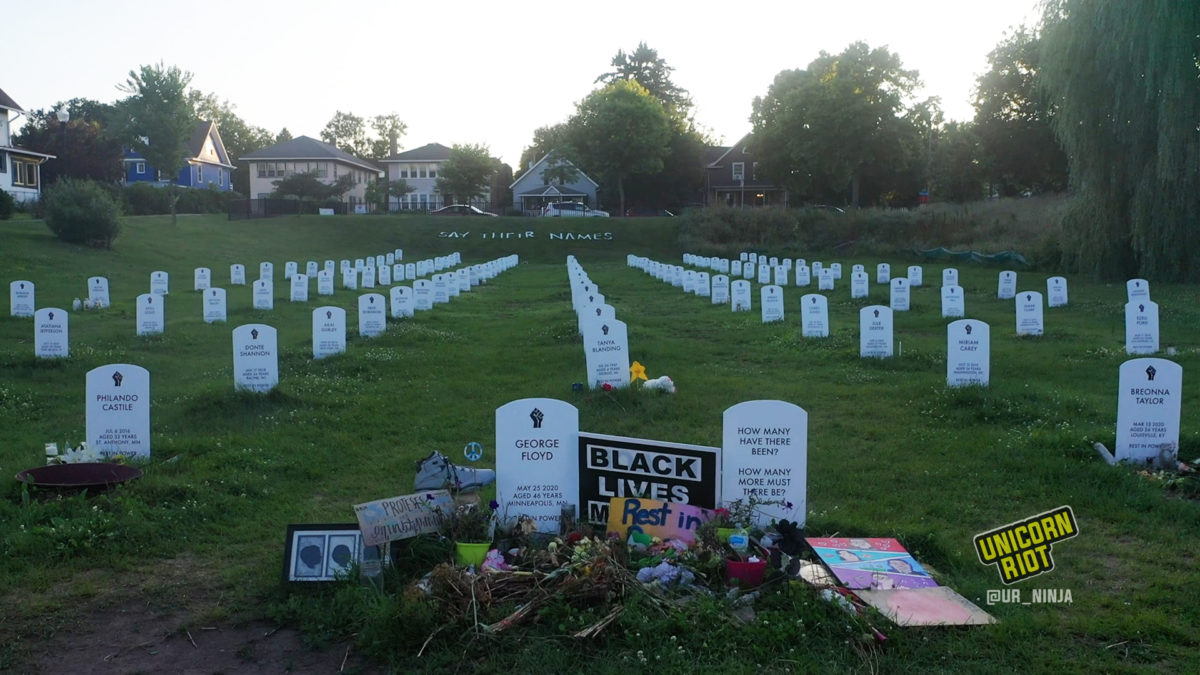 For those living in Minneapolis, the heart of the largest movement for justice in human history, 2020 was immensely tumultuous. After George Floyd was killed by former officer Derek Chauvin in what many deem a public lynching, the state unleashed an array of violence against tens of thousands of community members before retreating for months and playing politics with police calls.
The massive uprising and despondent destruction that followed, was quelled after a few days with counter-insurgency and military forces. Surveillance planes droned over GFS and the greater Minneapolis area for months on end and elected officials promised to defund the Minneapolis Police Department but their political posturing was stunted by the Charter Commission. All-the-while, hundreds of thousands of people have come from across the world to visit GFS.
A multitude of relationships, stories and experiences have shaped the community of GFS. This report and mini-documentary only tells a fraction of the historic implications of this fight for justice and police accountability.
---
Follow us on X (aka Twitter), Facebook, YouTube, Vimeo, Instagram, Mastodon, Threads, BlueSky and Patreon.
Unicorn Riot's George Floyd Coverage:
Please consider a tax-deductible donation to help sustain our horizontally-organized, non-profit media organization: