Far Right Candidate Tim Michels Concedes Wisconsin Governor's Race to Democratic Incumbent
Majority voters in the dairy state rejected the right-wing views of the construction mogul.
On Tuesday, Tim Michels, co-owner of the Michels Corporation, lost the Wisconsin governor's race to incumbent Democratic Governor Tony Evers by three points, giving Evers a second term in office. The race was the most expensive in the state's history. 
The Brownsville-based Michels Corporation is Wisconsin's largest construction firm. The company has made a fortune from countless government contracts in recent years.
In September, Unicorn Riot published a story detailing how Minneapolis residents were unwittingly funding Tim Michels' right wing candidacy through their taxes and energy bills, to the objection of many.
Election Denying
Just months ago Michels refused to commit to accepting the outcome of this election if it did not go his way. Last month he finally agreed to accept the election outcome, win or lose. And on Tuesday night, he gave his concession speech to a room full of supporters chanting, "USA. USA. USA."
Many compared Tim Michels' campaign and his anti-democratic rhetoric to former President Donald Trump. Critics say he has become a prominent election denier, supporting the "big lie" that Trump really won the 2020 election over Joe Biden after Michels refused to go on the record acknowledging the election was legitimate.
Over the summer, Trump endorsed Michels for governor of Wisconsin.
On the campaign trail, Michels promised to abolish the bipartisan Wisconsin Elections Commission which administers and enforces state election laws. At a recent campaign event, Michels told supporters that if he wins, the Republicans "will never lose another election."
In response, Evers reminded constituents that democracy was on the ballot, tweeting: "Folks, we've known this for awhile – Tim Michels is a danger to our democracy. When you head to the polls on Election Day, remember that we're fighting to protect our democracy, voting rights, and free, fair, and secure elections."
Folks, we've known this for awhile – Tim Michels is a danger to our democracy.

When you head to the polls on Election Day, remember that we're fighting to protect our democracy, voting rights, and free, fair, and secure elections. https://t.co/Cnec0EDr5P

— Tony Evers (@Tony4WI) October 31, 2022
Just hours before polls closed on Tuesday, Evers repeated the claim that "The future of our state and our democracy depends on YOU."
Michels' Far Right Views
Michels campaigned on a number of extreme issues that are outside of the mainstream view of the Wisconsin electorate.
On abortion: Michels supported banning abortion with no exceptions. According to the Pew Research Center, a majority of adults in Wisconsin support safe and legal abortions in all or most cases, 53% to 45%. Early on the campaign trail Michels stated that he did not believe women should be granted exceptions for abortion even in the cases of rape and incest. After backlash, he walked back those comments and said he would support those exceptions for abortion.
On LGBTQ rights: Michels has been vocal about his support for "traditional marriage" between a man and a woman and his goals to slash LGBTQ rights, including support for a constitutional ban on same-sex marriage.
On education: Michels, whose kids attend private schools in Connecticut, supports school vouchers allowing eligible students to attend private schools using taxpayer funds. The Republican businessman tried to blame Gov. Evers for struggling public schools in Wisconsin and has pledged to ban Critical Race Theory (CRT) from being taught in public schools. [In 2021, 'CRT' became a kind of 'bogeyman' shorthand in GOP messaging against a wide range of race-related education materials.]
On the law: Michels was endorsed by the Milwaukee Police Association and claims to be "tough on crime." Several of his campaign commercials prominently feature rioting while he blames the unrest on the Democrats. He vowed that as governor he would "never let another Wisconsin city like Kenosha burn." In another ad, against the backdrop of a run down vacant lot in an inner city neighborhood, the businessman disparaged Minneapolis, Milwaukee, and Chicago, cities his company does business with, characterizing them as lawless and plagued with crime.
Profiteering Off of Public Contracts
The Michels Corporation is one of the largest utility contractors in North America. It has ongoing contracts with the City of Minneapolis' Public Works Department to replace water lines, receiving almost $26 million in contracts in the past five years.
The company made news in the Twin Cities last summer after residents realized they were contributing to Tim Michels' right-wing campaign simply by paying their taxes and utility bills.
The Michels Corporation also has an exclusive contract in Minneapolis with the Houston based natural gas company CenterPoint Energy to service gas lines throughout the city. CenterPoint Energy's website lists 27 active projects within Minneapolis alone, all contracting with the Michels Corporation.
As covered in Unicorn Riot's previous story, Michels Corp. has involvement in several special interest groups that lobby to increase state transportation funds, allowing for more public contract money to flow directly to the company.
North Minneapolis resident Nikki Carlson broke the news on Twitter in July that Michels roadside construction crews are being protected by Minneapolis police (MPD). This caused online backlash as residents questioned if their tax dollars were funding security for a private right-wing corporation.
In an email, Minneapolis City Council President Andrea Jenkins said that MPD officers work for Michels while they are off duty but are allowed to use taxpayer-funded squad cars, gear and uniforms.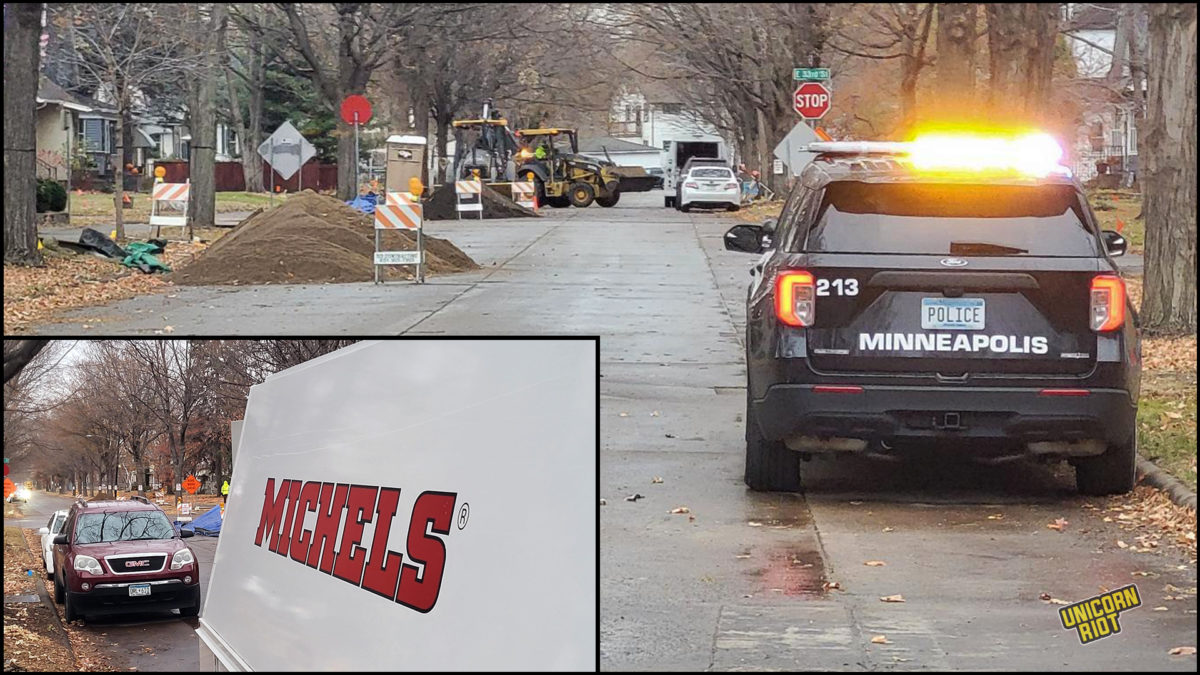 ---
---
Reactions to Michels' Loss
Following Michels' loss, Carlson told Unicorn Riot she was relieved.
"A majority of people in Wisconsin drew the line at the harm Michels could have caused to women's, LGBTQ and trans rights. And those rights are directly related to the economy and quality of life for everyone. Despite all the support he got from Minnesotans' energy dollars through Centerpoint, he lost, and I am relieved he did."

-Nikki Carlson, North Minneapolis resident
A Minneapolis resident who uses the Twitter handle @JenAntila said in September that she hired the Michels Corporation over a decade ago to repair her sewer line only to regret it after discovering Tim Michels' far right views.
After his loss on Tuesday, she shared her hopes with Unicorn Riot for greater accountability with city contracts. "I am proud of our neighbors in Wisconsin, who chose anti-racist values and elected Tony Evers as their governor. There is no time like the present for our city to examine who we choose to hire and therefore invest in. Minneapolis leaders must walk their talk!"
Professor of History and African American Studies at the University of Wisconsin, Madison, Simon Balto said the battle over CRT was one of the many reasons he was grateful that Evers was reelected. "Now my spring '23 course on the history of Black Lives Matter won't be a semester-long literal violation of state law, as it would've been if he'd lost."
Democratic Expectations in Wisconsin
Gerrymandering in Wisconsin is among the nation's worst and has given Republicans an advantage in the state. Despite this, Democrats had momentum going into November. However, they did not perform as well as the party had hoped.
As of Wednesday, Democratic Party strategist Jessica Post, president of the Democratic Legislative Campaign Committee, believed that Republicans lack a supermajority in the Wisconsin Legislature, preventing the body from overturning vetoes issued by Gov. Evers. The Milwaukee Journal Sentinel reported that Evers vetoed nearly 150 bills during the last two-year legislative session, breaking a state record that lasted nearly 100 years.
Also on Tuesday night, Republican US Senator Ron Johnson was reelected to his third term, beating Lt. Governor Mandela Barnes, who would have been Wisconsin's first Black US Senator, by one percentage point.
Evers and Johnson's statewide victories demonstrate that many voters in the "forward state" cast split tickets for a Democratic governor and a Republican senator.
Balto said the outcome is a reflection of the state's racism. "[I'm] gutted that Ron Johnson's and the Republican Party's nakedly racist campaign against Mandela succeeded. Thousands of voters cast votes for the white Dem but not the Black Dem. Shameful."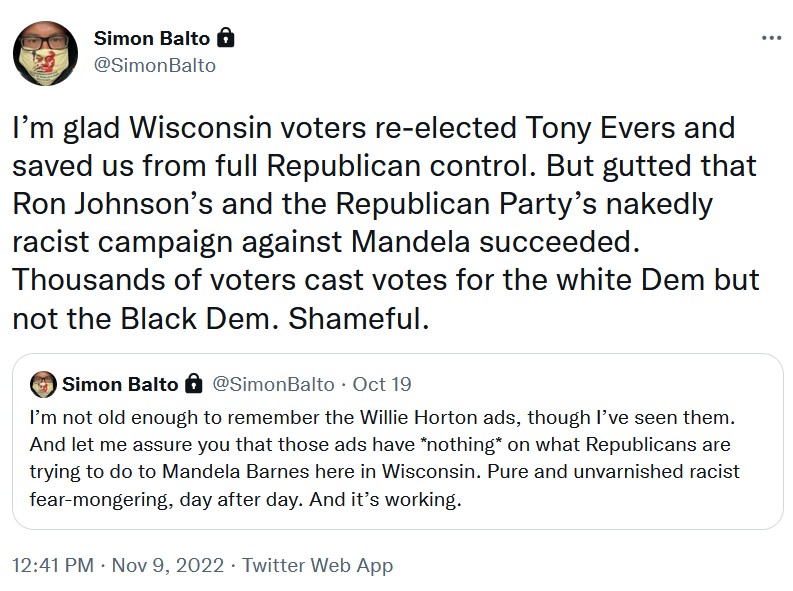 About the author:
Marjaan Sirdar is a South Minneapolis based freelance journalist. He is the host of the People Power Podcast and author of the investigative series, 21st Century Jim Crow in the North Star City: How Target Corp., the City of Minneapolis, and Hennepin County, Created a Domestic Spy Program That Rolled Back Civil Rights On its Black Population, published by Unicorn Riot. You can follow him on Twitter @peoplepowerpod1.
---
Follow us on X (aka Twitter), Facebook, YouTube, Vimeo, Instagram, Mastodon, Threads, BlueSky and Patreon.
Please consider a tax-deductible donation to help sustain our horizontally-organized, non-profit media organization: