Israeli Forces Clear Al-Aqsa for Settlers' Tours
Old City, Occupied East Jerusalem, Palestine – On May, 5, 2022, heavily armed Israeli forces cracked down on Palestinians worshipping inside the Al-Aqsa Mosque compound. Dozens were injured, an ancient pulpit was damaged and the prayer area of the mosque was sealed off by Israeli forces to allow for tours of the compound by settlers during Israel's Independence Day.
Both the Dome of the Rock and Al-Aqsa mosque are located in the Al-Aqsa Mosque compound, which is considered the third holiest site in Islam and located in East Jerusalem, on internationally recognized Palestinian territories occupied by the Israeli military since 1967.
The Temple Mount or Haram esh-Sharif (Ar: الحرم الشريف), where Al-Aqsa is, also houses the Western Wall, the most revered location in Judaism, and has been a source of tension for decades.
On Thursday, the Israeli forces were clearing the site for settlers celebrating what they call Israel's Independence Day, to take tours. Israeli police cleared Al-Aqsa of worshippers and opened it to the settlers from 7:00 to 11:00 in the morning and from 1:30 to 2:30 in the afternoon.
Israeli forces sealed off the Qibli prayer area, denying worshippers access to it and caused damage to 800-year-old Salah Al-Din Minbar (pulpit).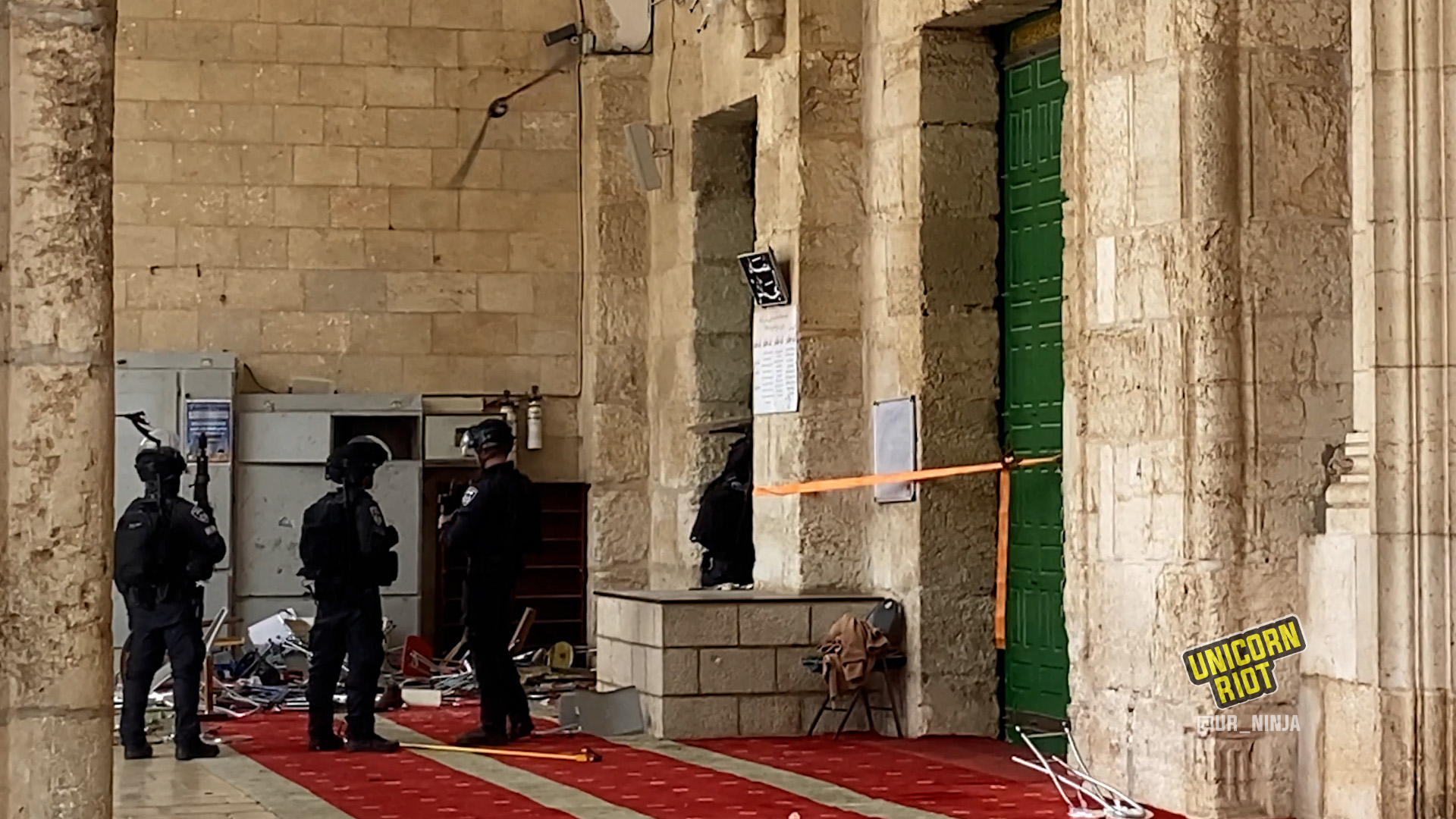 Dozens of Palestinian worshippers protesting what they called settler intrusions were injured by rubber coated steel bullets and tear gas.
This aggression comes amidst past weeks of renewed tension in the Old City and at Al-Aqsa Mosque, which underwent near daily raids by Israeli forces during the last two weeks of the holy Muslim month of Ramadan.
Despite the continued crackdown on worshippers at Al-Aqsa, at least 160,000 gathered at the compound for the last Friday prayers of Ramadan last week.
---
Unicorn Riot's Coverage from Palestine:
---
Follow us on X (aka Twitter), Facebook, YouTube, Vimeo, Instagram, Mastodon, Threads, BlueSky and Patreon.
Please consider a tax-deductible donation to help sustain our horizontally-organized, non-profit media organization: