Noisy Philly Counter-Demo Challenges 'TERFs' at Independence Hall
Philadelphia, PA – On Sunday, November 13, 100+ counter-demonstrators tried to drown out about 30 protesters who were demonstrating against transgender people's access to medical transitions, recognition of chosen gender and other rights near Independence Hall. The counter-demo side characterized them as "TERFs" or 'Trans-Exclusionary Radical Feminists.' Philadelphia Police and U.S. National Park Service Park Rangers separated the crowds using bicycle police and portable barricades. Inside the barricades, several men, mostly masked up concealing their identities, paced around and eyed the crowd; they were widely suspected to be Proud Boys providing security according to a counter-protester. However, their identities are unknown.
Over almost three hours, Unicorn Riot interviewed nearly a dozen hoarse but spirited attendees. In this 29-minute video, we hear about why they consider noisy counter-demonstrations strategically significant, as well as reactions to how the recent U.S. elections largely — but not entirely — refuted anti-transgender politicians and messages.
Some interviewees believed that John Fetterman, the current lieutenant governor of Pennsylvania, who will soon be seated as a U.S. senator, would protect their rights. Another interviewee said that democracy and electoralism create situations where groups are enabled to spread messages about taking away rights from transgender people.
While there was at least one round of counter-demonstrators splashing the anti-transgender demonstration with water, no arrests transpired during our time observing the event.
---
Marquee speaker linked to white supremacists
The marquee anti-trans speaker was British activist Kellie-Jay Keen Minshull, who has also been known by the name "Posie Parker." Keen Minshull appeared on a podcast with white nationalist French Canadian Jean-Francois Gariepy. An ardent 'white ethnostate' supporter, Gariepy has made videos with key Neo-Nazis including Richard Spencer, David Duke and Mark Collett. Several Philadelphia counter-demonstrators highlighted this shared media connection between Keen Minshull and Duke, although they have not appeared side-by-side.
Connections between "gender-critical feminists" like Keen and far-right white supremacists have been turning up for years, and the far-right has tried to leverage opposition to transgender rights to expand its movement. More about Gariepy's long history with far-right circles and accusations of abusing a minor has previously been documented.
In 2019 Keen Minshull praised high-profile English racist 'Tommy Robinson' of the English Defense League who has been supported by the Philadelphia-based think tank Middle East Forum, The Guardian reported in 2018. Robinson's real name is Stephen Christopher Yaxley-Lennon; he is banned from entering the United States and has been convicted of fraud, in addition to drug and public disorder offenses.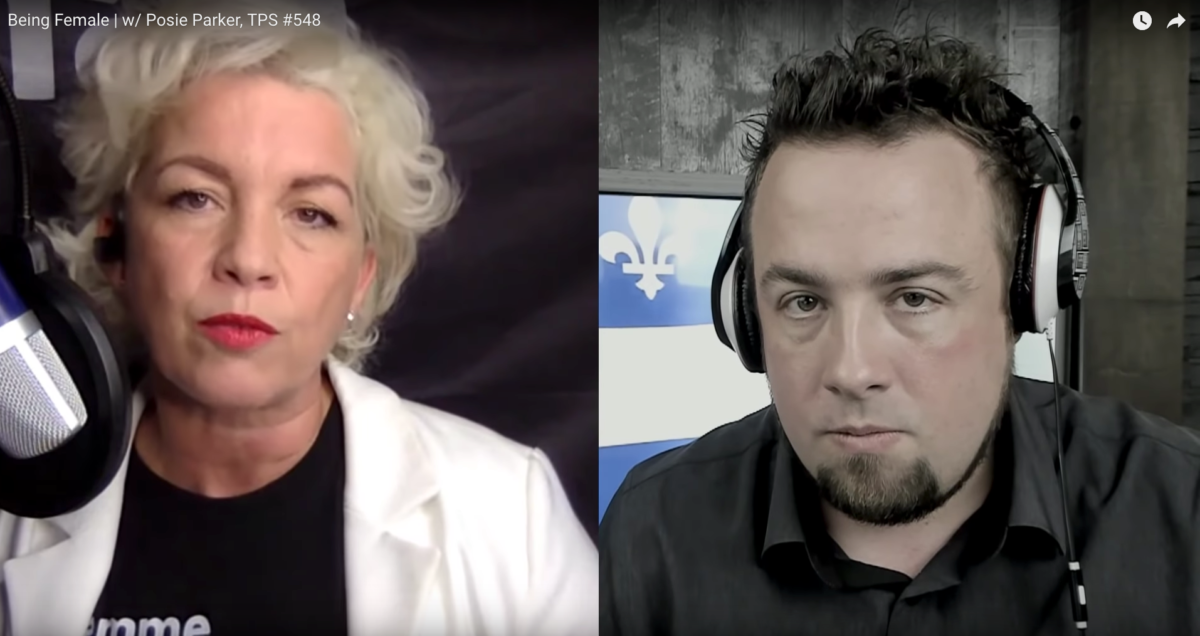 After the anti-trans protesters left the area, they were forced to leave the nearby Khyber Pass Pub by employees who became aware of their bigoted views. The pub "is a punk and metal institution … they aren't to be fucked with by bigots and fascist[s]," one observer noted.
Kellie-jay Keen's TERF crew was kicked out of Khyber Pass Pub in Philadelphia.

Her "tour" has consisted of her getting a pie in the face, macing kids, feeling threatened by sirens on megaphones, and now getting kicked from a pub.

Anyway, go support Khyber Pass Pub 🙂 pic.twitter.com/NBNw8v50oZ

— Erin Reed (@ErinInTheMorn) November 14, 2022
---
TERFs in the Big Apple; arrests follow
The following day, on November 14, a similar rally with Keen Minshull transpired in New York City. The NYPD's anti-protest Strategic Response Group took aggressive actions to break up the counter-demonstration.
Local street reporter @AshAgony documented the events in a video thread. Ash noted the presence of key NYPD officers including "copaganda minister" Sgt. Carlos Nieves from NYPD's Deputy Commissioner, Public Information office (DCPI), and another frequent officer at protests, Rodney Rosado. Counterterrorism, Disorder Control Unit, Crowd Management Unit, TARU (audio/video surveillance), Legal and Community Affairs NYPD departments all turned up; nine arrests were made, according to The Indypendent.
SRG was created after Occupy Wall Street in 2015, and civil society groups have long called attention to its mission which conflates protest policing and counter-terrorism.
A group of TERFs & other transphobes protected by NYPD tried to hold a hate rally outside of NYC's City Hall earlier today. They were outnumbered by trans folks & their comrades who showed up to counter-protest. NYPD cops brutally arrested multiple counter-protesters. pic.twitter.com/TnDGRrhB9B

— Ash J (@AshAgony) November 14, 2022
---
Please consider a tax-deductible donation to help sustain our horizontally-organized, non-profit media organization: