Sabotage and Civil Disobedience in France: The Fight Against Mega-Basins and Water Grabbing
Sainte-Soline, France – Nearly 7,000 people gathered in the town of Sainte-Soline on Saturday, Oct. 29 and invaded a mega-basin development site to stop construction on the large water reserve despite a ban on protests and an unprecedented police presence.
Composed of inhabitants of the region, agricultural unions and the organization Les Soulèvements de la terre ("The Uprisings of the Earth"), thousands gathered at the call of the collective Bassines non merci ("basins, no thanks") to oppose the mega-basin construction site in Western France.
For several years, a local opposition has been organizing against the mega-basin projects that have been flourishing in the area.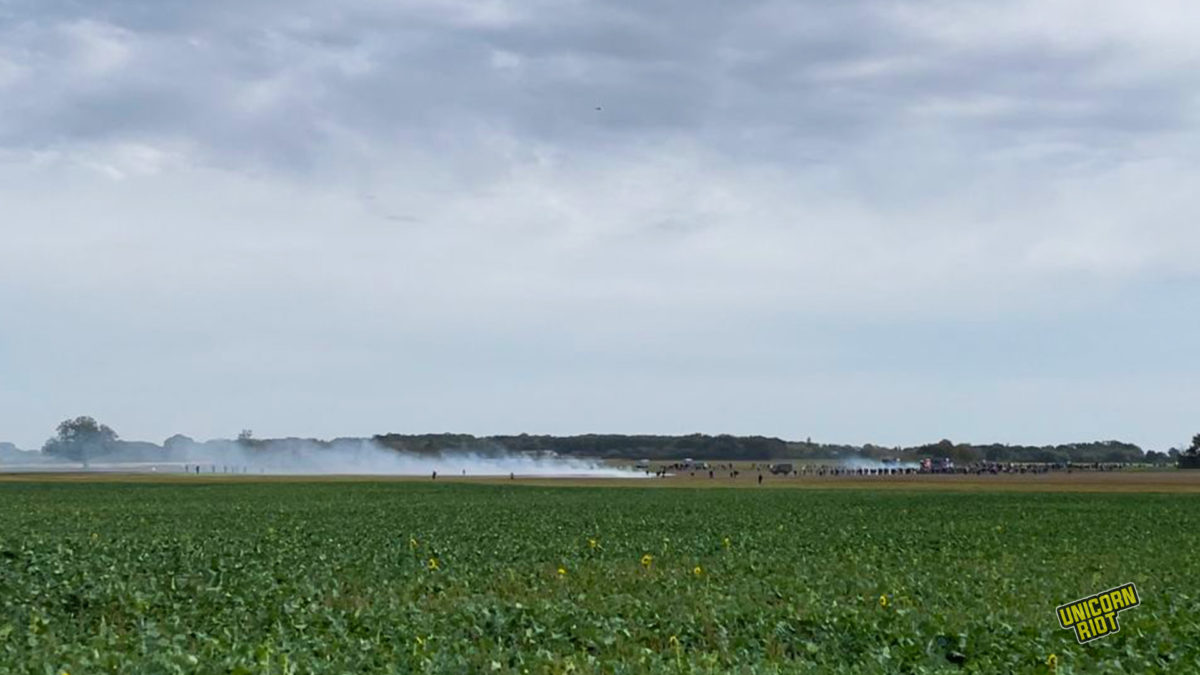 What is a Mega-Basin?
Basins are artificial water reservoirs typically 10-hectares (~25 acres) in size, 15 meters deep, lined with plastic sheeting and filled with water meant to irrigate farms and fields.
Described as a "headlong rush" by environmentalists, these massive water retention facilities are being promoted by agribusiness lobbies and the French government to alleviate water shortages caused by repeated droughts.
The mega-basins are feared by the activists to solely benefit the food industry as reportedly only a small amount would be allocated to the common farmer.
Environmentalists also denounce the lack of public consultation on these projects, which, in the long term they say will have an impact on the ecosystems of the area.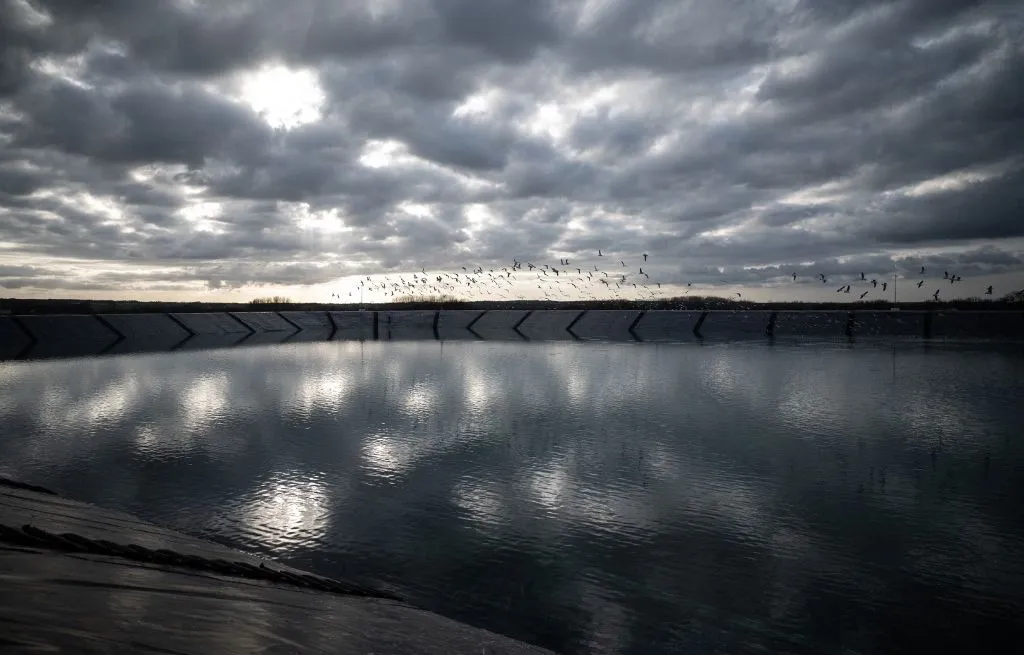 Mobilization, Police Violence, Sabotage
The mobilization on Saturday, Oct. 29 was the fourth in a series of demonstrations and direct actions over the past year. This time, acts of civil disobedience started earlier with a camp with watchtowers being strategically set up near the construction site on a portion of land provided by a sympathetic farmer.
Meetings, conferences, and speeches by elected officials and activists along with preparation for various actions occurred at the camp in the lead up to the main action.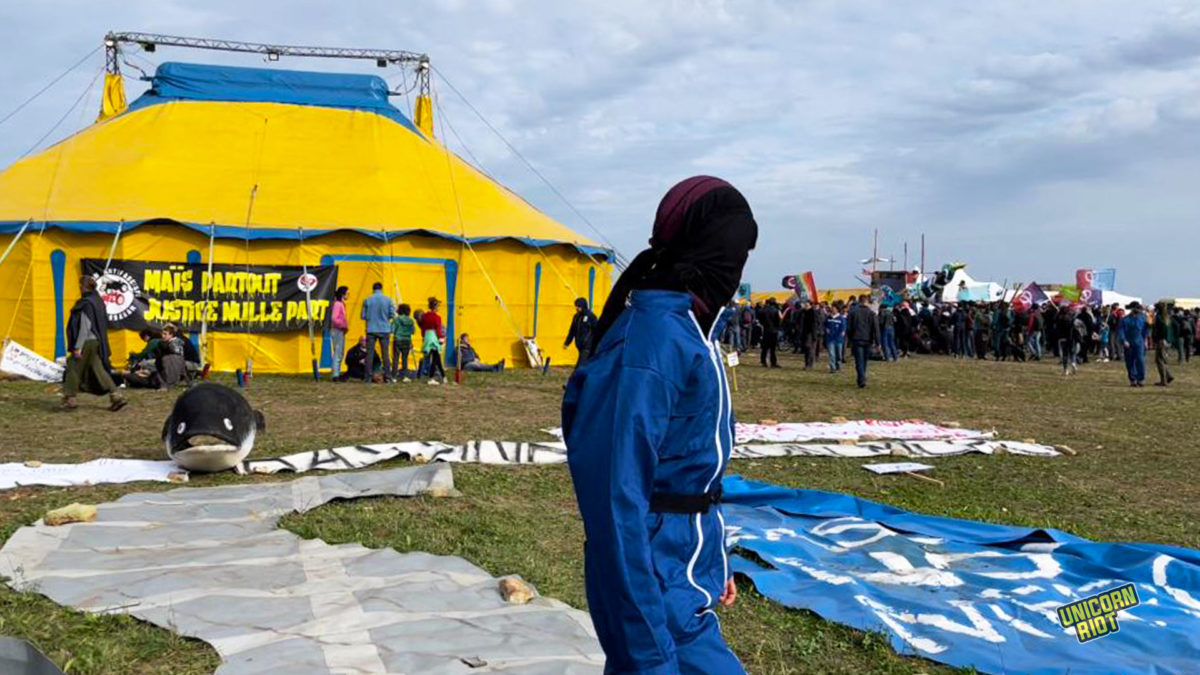 It was on that Saturday that things started to get serious. Divided into three processions, all with the construction site as a common point of arrival, the demonstrators set off in the early afternoon and went face on against an unprecedented police presence of 1,700 police officers and six helicopters mobilized to defend the mega-project.
Thousands of activists swarmed across the fields, passing through the ten or so roadblocks and entered the construction site, removing the gates and using them as barricades to advance.
Police reacted with tear gas, flash bangs, and other crowd control devices leaving an estimated 61 police officers injured, six of whom were hospitalized. Four protesters were injured and six were placed in police custody.
After invading the mega-basin and with thousands converging on the spot the next day, a key point of basin infrastructure was targeted: its pipes. The basin of Sainte-Soline in Deux-Sèvres, has six main pipes pumping in the water tables to fill its 720,000 m³ of water. Pipes were dug up and dismantled on Sunday, October 30, with these acts of sabotage taking place without police violence.
💥SABOTAGE ! 🌊
Les militants rassemblés à Sainte Soline contre les Méga Bassines ont réussi à saboter des canalisations.

Le tout dans un esprit aussi festif que déterminé, et ce malgré le dispositif policier totalement hallucinant ! pic.twitter.com/PDzaEWEtd2

— Cerveaux non disponibles (@CerveauxNon) October 30, 2022
Since the late October demonstrations, construction has resumed at the basin under close surveillance and police protection.
This local conflict comes in a context of already high tensions over the sharing of water resources. This past summer, which was particularly dry in France, was a good illustration of this: for two months, a hundred or so French municipalities had to manage their water supply by tankers.
Nearly a thousand such mega-basins are being proposed across France for the year 2025.
---
Unicorn Riot reporting on the French land defense struggle ZAD-NDDL:
---
Follow us on X (aka Twitter), Facebook, YouTube, Vimeo, Instagram, Mastodon, Threads, BlueSky and Patreon.
Please consider a tax-deductible donation to help sustain our horizontally-organized, non-profit media organization: