Palestinian Investigation Finds Israel Responsible for Killing Journalist Shireen Abu Akleh
Ramallah, Occupied West Bank, Palestine – Two weeks after Palestinian-American journalist Shireen Abu Akleh was killed while on assignment covering an Israeli raid in Jenin, a press conference announced the results of a Palestinian investigation finding Israeli forces responsible for the killing. Abu Akleh was a veteran reporter for Al Jazeera and beloved by Palestinians across the region as well as by her colleagues.
Providing proof that the bullet that killed Abu Akleh was from a U.S. made Mini-14 Ruger sniper rifle used by Israeli forces, Palestinian Attorney General Akram Al-Khatib and the Deputy Prime Minister of Palestine, Nabil Abu Rudeineh, spoke at the presidential headquarters in Ramallah. "This report directly accuses Israel's occupation army for this crime," said Rudeineh.
Al-Khatib confirmed that the 5.56 caliber bullet that killed Abu Akleh contained an iron-piercing armor-piercing part, and it had characteristics that would be used with a sniper weapon.
"Examination of the fired projectile revealed that it is a caliber of five point five six millimeters (5.56mm), and that it bears a mark and general and individual characteristics that match the general marks of the Mini-14 Ruger weapon, which is a semi-automatic sniper weapon."

Palestinian Attorney General Akram Al-Khatib
Al-Khatib added that Israeli forces were "conclusively … targeting" Abu Akleh and the crew of journalists with her, firing "deliberately" without warning directly at the group of reporters.
The Palestinian Attorney General stated that one of the occupation soldiers shot Shireen Abu Aqila in the head while she was trying to escape, and that Israeli forces had a clear and direct view of the location of the journalists' presence in Jenin, and that all the journalists were wearing a press uniform.
"We see this by the type of weapon used, the Mini-14 Ruger, the type of ammunition that penetrates the armor and the shooting distance which ranges from 170 to 180 metres from the whereabouts of the martyr Abu Akleh, in an open place without any obstacles to her vision, as well as the nature and location of the injury in the head from the back in an escape position, in addition to her wearing a press uniform clearly visible for the occupation army forces who fired."

Palestinian Attorney General Akram Al-Khatib
Al-Khatib confirmed that Abu Akleh's cause of death was laceration in the brain, indicating that she was facing away from the shooter.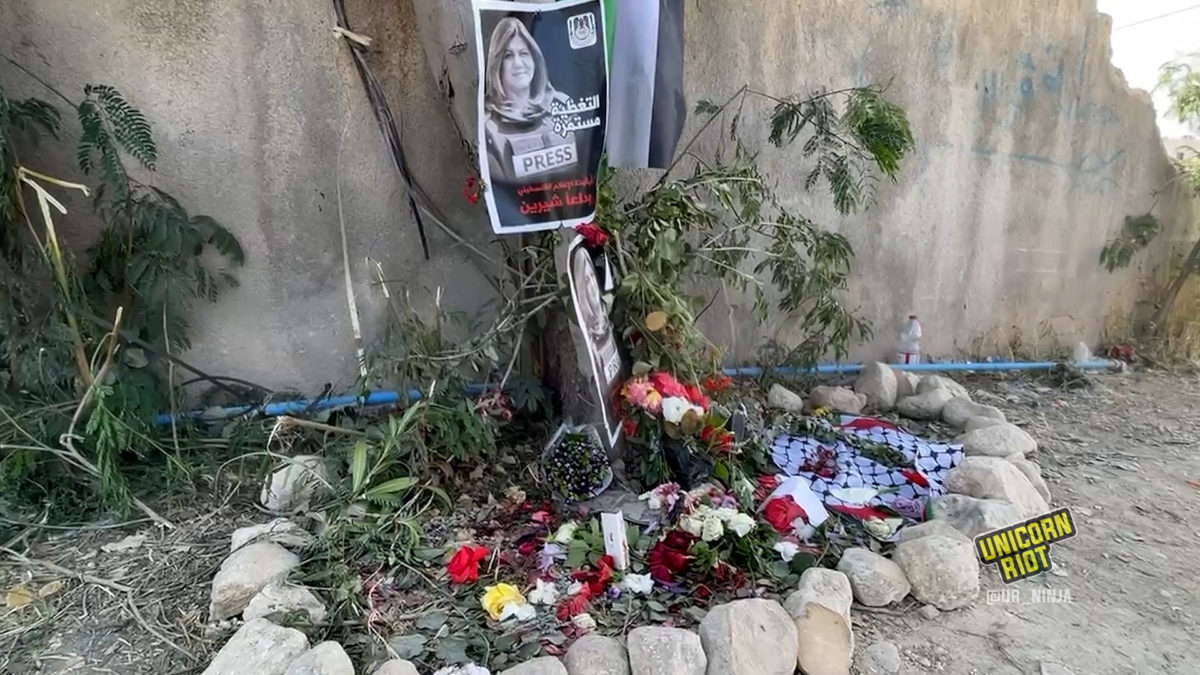 Deputy Prime Minister Rudeineh called on the international community, "particularly the U.S. administration" to "bear its full responsibility."
"With regard to the international community, this is another official and very clear document accusing the occupation army of perpetrating massacres and killing children and the assault on citizens, the last of whom are martyrs, aged 16, children returning from their schools.

All these crimes will be documented and will be placed before the international community. We always call on the international community to take responsibility. Israel is an occupying country, and the international community, particularly the U.S. administration, must bear its full responsibility."

Deputy Prime Minister of Palestine, Nabil Abu Rudeineh
The Israeli government rejected the Palestinian investigations' findings, calling them a "blatant lie." Meanwhile, the Palestinian Authority has called in the International Criminal Court to investigate the killing of Abu Akleh.
Abu Akleh was shot and killed on May 11, 2022, in the Occupied West Bank city of Jenin as she walked down a street to film the Israeli raid. Ali al-Samoudi, another Palestinian Al Jazeera journalist, was also shot in the back by Israeli soldiers. Al-Samoudi survived his wound and said that no armed Palestinians were at the scene when Israel opened fire on the press.
"We were going to film the Israeli army raid, and suddenly, they shot us without asking us to leave or stop filming. The first bullet hit me and the second bullet hit Shireen. They killed her in cold blood because they are killers and they specialize in killing only Palestinian people."

Ali al-Samoudi, Al Jazeera journalist
Palestinian-born journalist Shatha Hanaisheh, was standing next to Abu Akleh when she was killed and detailed the fateful moments in a sit down interview with Unicorn Riot. She said it was "the hardest thing" she's had to live through.
After Abu Akleh was killed, her body was carried through the streets of Jenin and a large billboard in the city featured a picture of her. The day after, a large presidential funeral was held for her in Ramallah. The head of the Palestinian Journalists Syndicate, Mohammed Al-Lahham, said that Abu Akleh was deliberately killed to intimidate journalists from covering Israeli abuses but that they "will not be scared."
"The decision [to kill Shireen Abu Akleh] was made to create a state of terror and intimidation for Palestinian journalists. We will not be scared. We will continue to cover."

Mohammed Al-Lahham, the head of the Palestinian Journalists Syndicate
The next day, as mourners attempted to bring her body from the French Hospital in Jerusalem, pallbearers carrying Abu Akleh's coffin were attacked by Israeli police who beat them with batons, kicked them and fired tear gas.
Niko Georgiades of Unicorn Riot contributed to this report.
---
Unicorn Riot's Coverage from Palestine:
---
Follow us on Twitter (aka 'X'), Facebook, YouTube, Vimeo, Instagram, Mastodon, Threads, BlueSky and Patreon.
Please consider a tax-deductible donation to help sustain our horizontally-organized, non-profit media organization: