Anti-LGBTQ Far-Right Continues Harassing Santee YMCA
[UPDATE: On January 23 news broke that Joshua Cantor, the owner of Evolve Custom Automotive Restoration in Santee, CA, was arrested and charged with grooming and sexually assaulting two underage girls. Cantor previously hosted Mike Forzano's group Exiled Patriots at his business for a June 26, 2021 event that claimed to be "against child sexual trafficking." Forzano and his associates often falsely claim that LGBTQ people are "groomers" preying on young children.]
---
Santee, CA – For the second time in four days, the Cameron Family YMCA in suburban San Diego County closed its doors ahead of a rally by violent anti-LGBTQ bigots targeting the facility for its transgender-inclusive policy.
Local far-right organizer and Qanon supporter Mike Forzano called for the Saturday rally in a January 17 Facebook Live video, broadcast from his car, in which he explained that the event would also be in honor of his own birthday. Forzano is one of several Southern California anti-LGBTQ activists looking to capitalize on panic sparked by recent false claims by a 17-year-old that a trans woman's presence in a YMCA shower area meant she had been exposed to a naked male and therefore assaulted.
---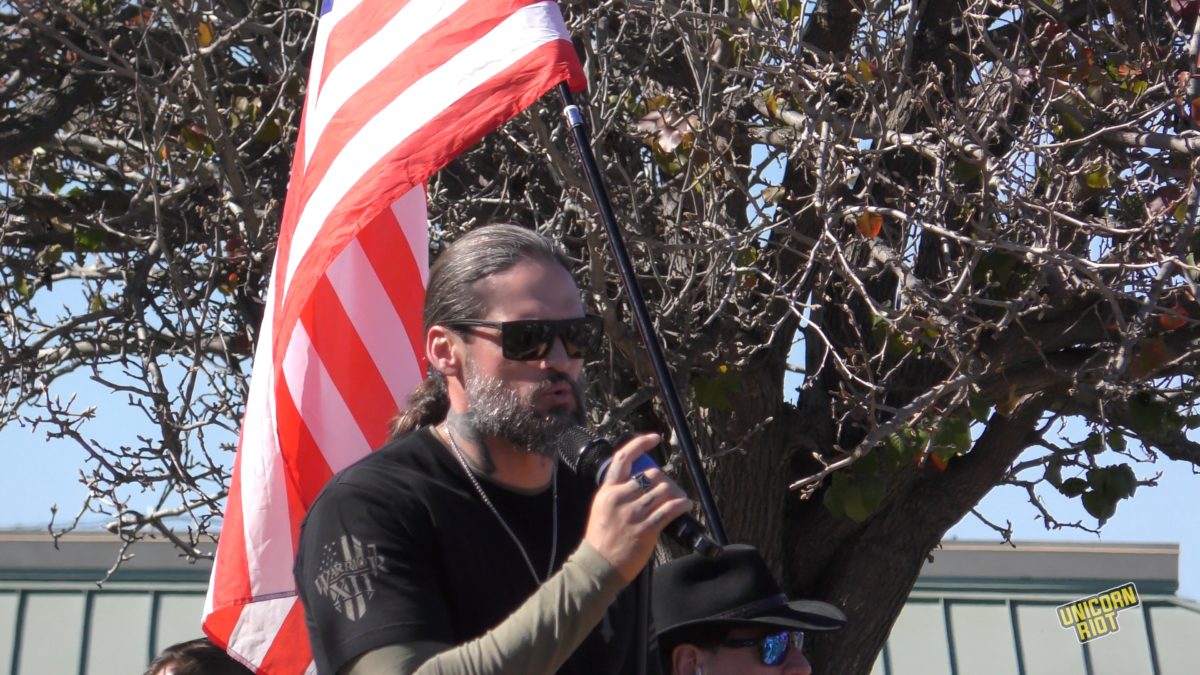 In addition to Proud Boys chapters and the anti-LGBTQ group LEXIT, event organizers apparently welcomed members of the violent white supremacist group American Guard, including one man sporting a swastika tattoo on his right arm.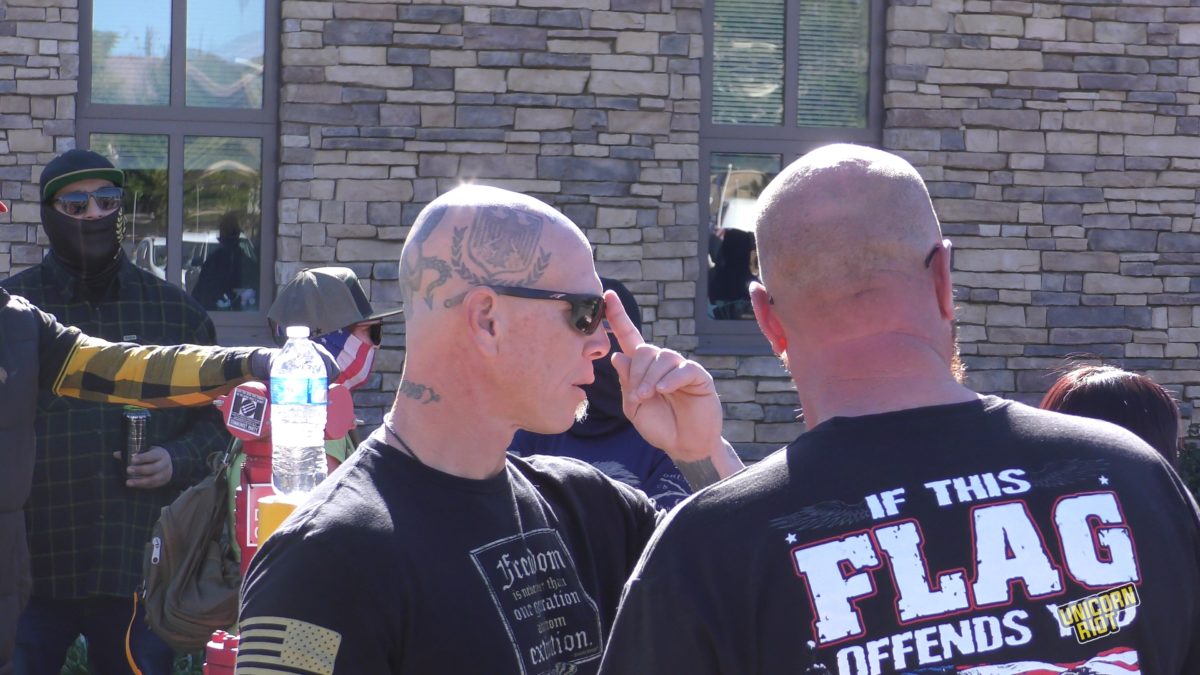 During Forzano's event a small group of women counter-protesting for trans rights were accosted by men wearing knives and pepper spray canisters; one anti-trans rally attendee said he wanted to "string them up and fucking hang them."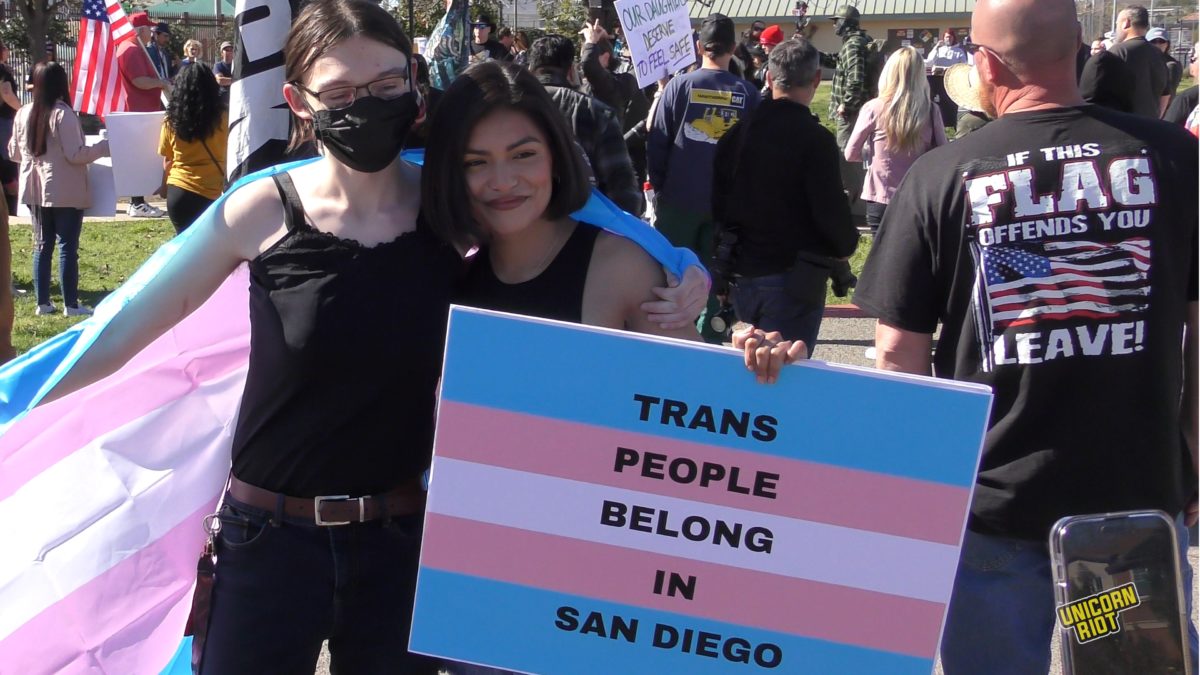 One masked anti-trans protester believed to be an unattended child repeatedly aimed an air rifle or paintball gun towards reporters filming the event.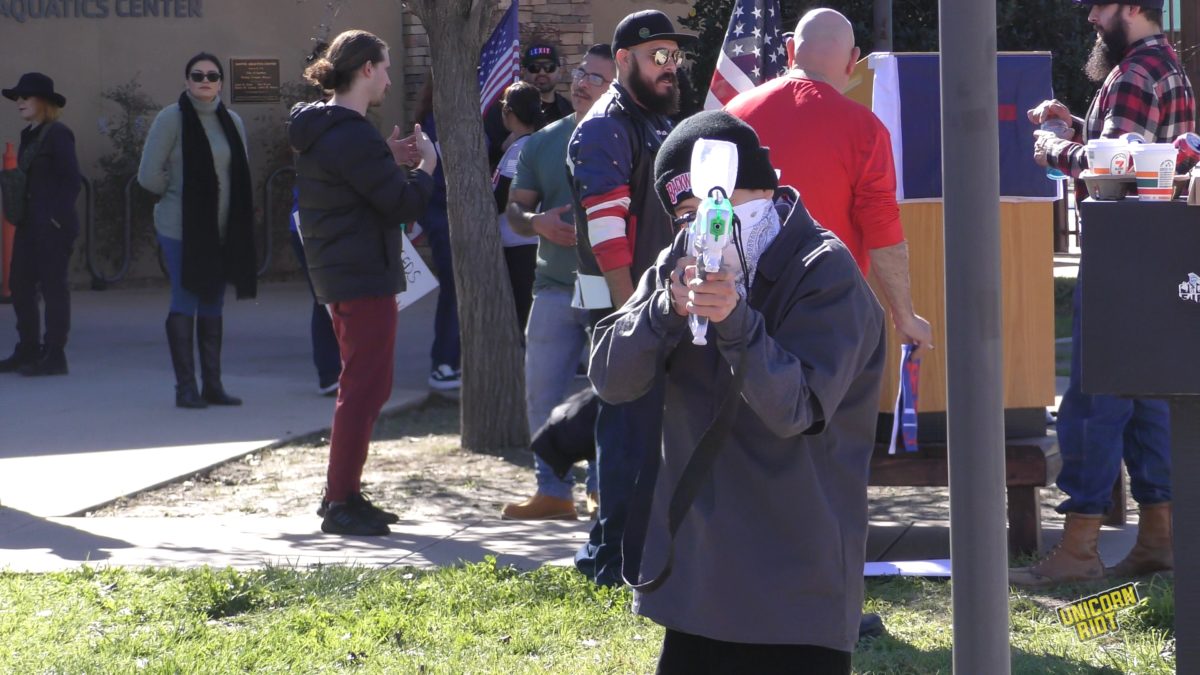 LEXIT activist Sylvia Araujo was seen on video briefly assaulting photojournalist Kelly Stuart (@skyspider) while Stuart was documenting how far-right activists had covered over their vehicles' license plates with tape.
Local media reported that Samuel Deuth, a pastor at the ardently right-wing Awaken Church in San Diego, spoke at Saturday's event. In March 2022 the church hosted the "Reawaken America" tour with Eric Trump, Roger Stone and former general Michael Flynn in an ceremony laden with Qanon imagery that aimed at sanctifying the far-right January 6th, 2021 attack on the U.S. Capitol. (Unicorn Riot reported on Flynn's organizing which led to the Capitol attack.) More mainstream religious leaders said the tour promoted a "Christian nationalist ideology that weds discrimination and militarism with a warped view of Christian faith."
The rally lasted about two hours with roughly 150 in attendance; no arrests or injuries were reported. San Diego Sheriff's Department deputies from the Santee Sheriff's Station observed the event from the YMCA parking lot and did not intervene in any altercations.
A previous rally on January 18 targeted the same YMCA and forced it to close as local Republican school board and city council gave anti-LGBTQ speeches to a crowd of approximately 500 people. Proud Boys, members of American Guard and others also engaged in some brief violence against counter-protesters and media on the fringes of the Wednesday event:
---
Please consider a tax-deductible donation to help sustain our horizontally-organized, non-profit media organization: