Marches and Vigils Across the US Respond to the Police Killing of Forest Defender Tort
In the days following the police killing of Manuel Terán (Tort/Tortuguita) in the Atlanta Forest, solidarity actions occurred in cities throughout the country. Tort was shot and killed on Wednesday, Jan. 18 during a large police operation to evict activists camped in the forest (forest defenders) seeking to prevent construction of a massive police training facility.
Unicorn Riot was on the ground covering events in several cities. In Georgia this evening as the sun set, one Atlanta Police vehicle got its driver's side window smashed and another one was set on fire. In Minneapolis, MN, some graffiti targeted corporations tied to financing the "Cop City" project. In West Philadelphia, PA, a vigil was held at a turtle sculpture in Clark Park.
Friends Share Memories & Police Car Set Ablaze Saturday in Atlanta
At the beginning of the rally in Underground Atlanta, a commercial area downtown, a crowd of more than 150 yelled chants of "stop cop city" and "fund people's needs, not cop city." The crowd continued to grow, as Tort's loved ones shared memories and spoke about the intersectionality of the movement to protect the Atlanta Forest.
The crowd took to the streets as the number of participants swelled to at least 600. Two police vehicles were vandalized — one was set on fire and another got its driver's side window smashed. The business front that the Atlanta Police Foundation (the organization behind 'Cop City') is based out of was painted with "Fuck Cop City" and the building's glass revolving door was smashed.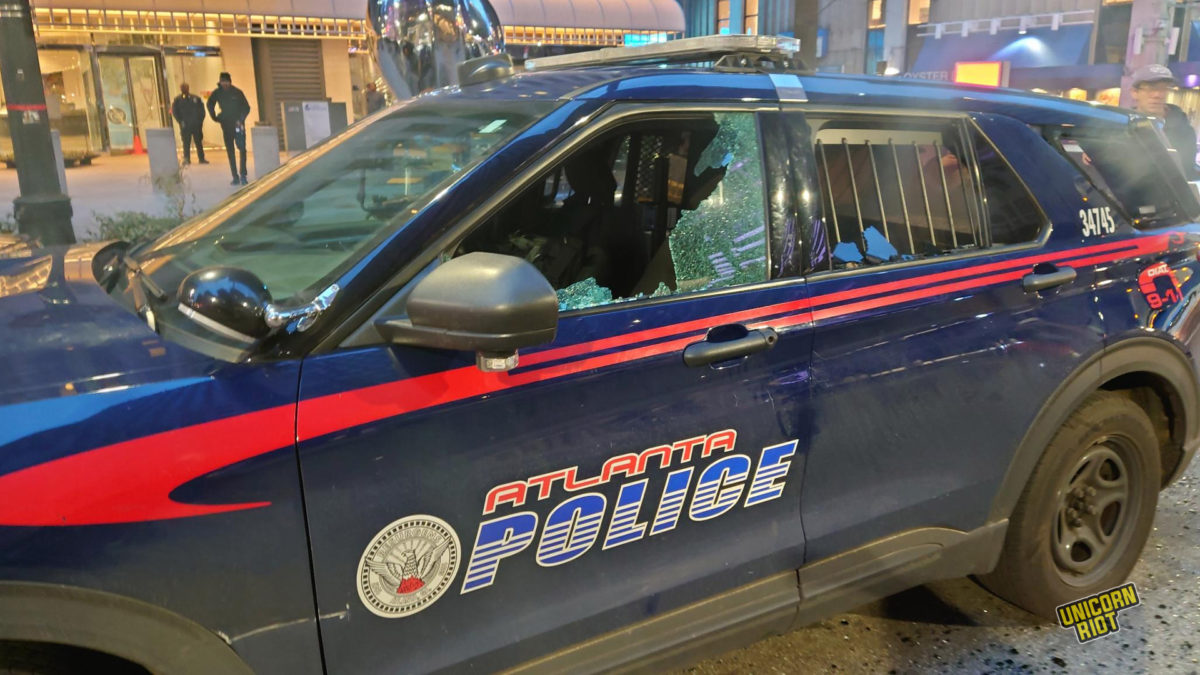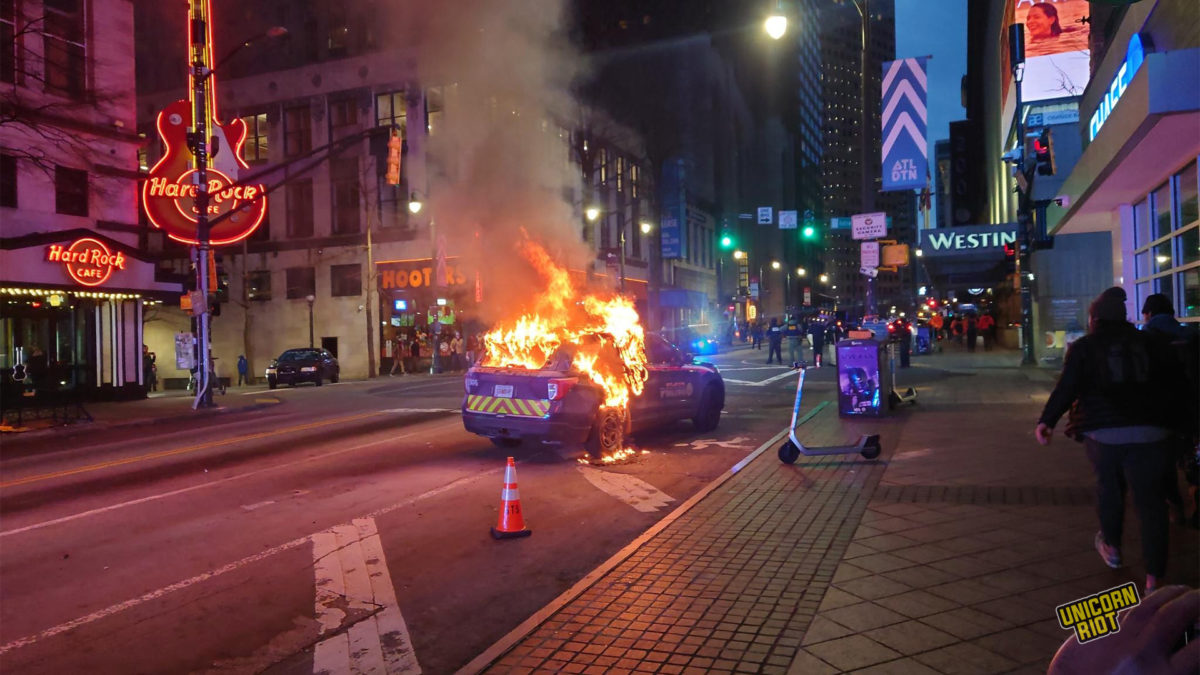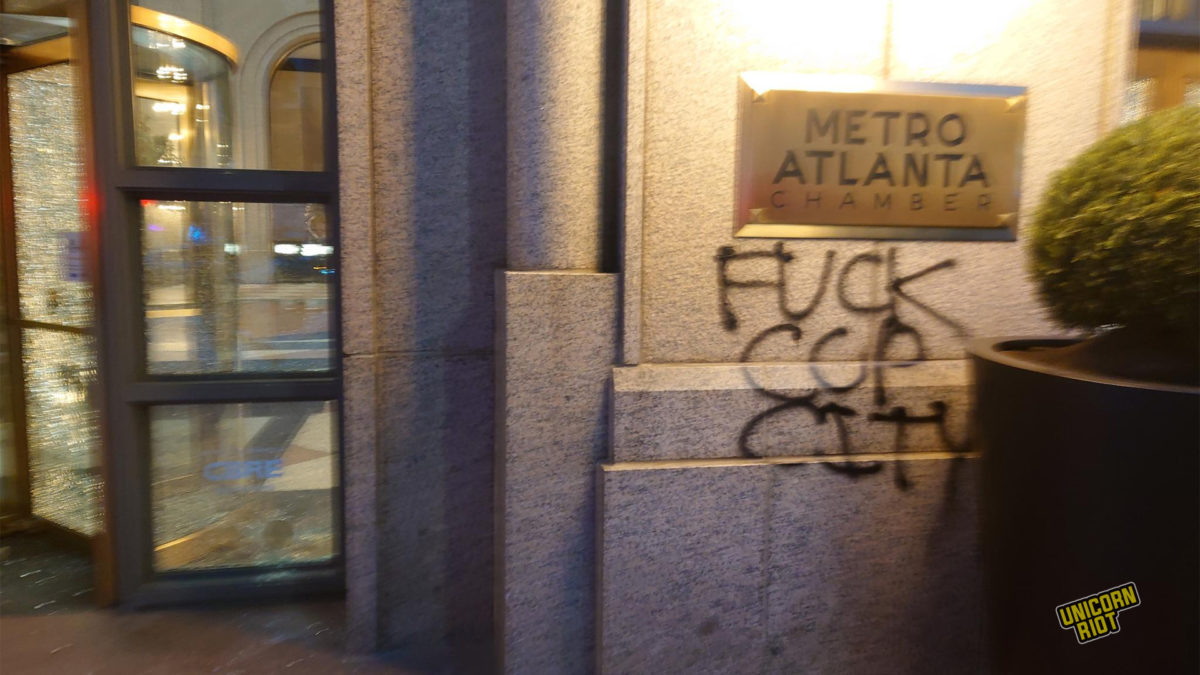 Content Advisory for our video below: Violent arrests by police
We reported on Saturday evening that our on-the-ground reporter saw at least 10 arrests, however more recent counts as of the publishing of this story from a local jail support team and the Atlanta Police Department put the number at six.
After our on-the-ground coverage, we learned from some eyewitnesses that they believe Atlanta Police hit a protester with their vehicle before arresting them.
"I heard a car screeching and then a thud. The guy was lying on the ground in front of the cop car."

Anonymous Witness
Comrades and loved ones of Tort placed flowers, candles, a turtle shell, an owl stuffed animal, a blanket and other items as a vigil and alter to Tort on the concrete rubble left over from Blackhall Real Estate's contractors tearing up the parking lot of Weelaunee People's Park.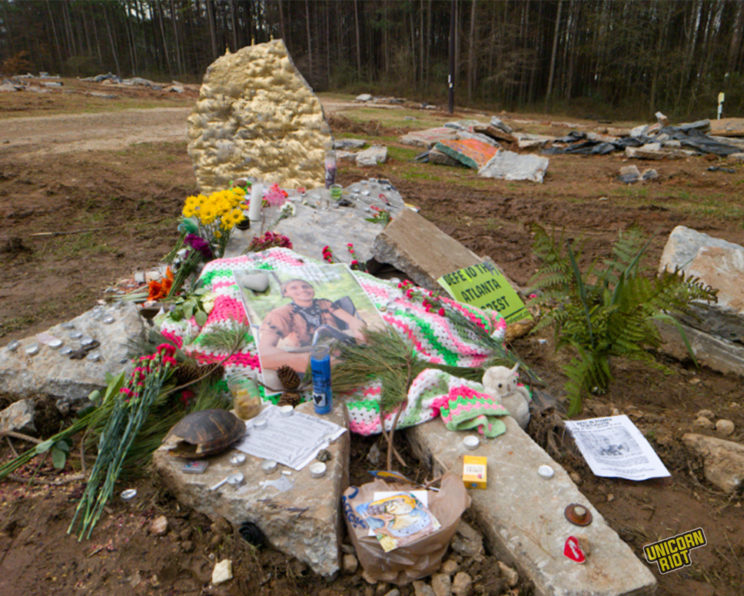 Friday Night Vigil and Saturday March in Minneapolis
On Friday, Jan. 20, nearly 100 community members showed up to a vigil to remember Tort. In below freezing temperatures, organizers presented the outdoor space near the Minneapolis Greenway off 11th Ave. with a several table set-up allowing for arts, food and beverage distribution.
Candles were lit, hugs were had and a recording of a song made with Tort's voice in it was played. During the vigil, several speakers shared memories of meeting and spending time with Tort in the Atlanta Forest. One speaker read excerpts from an article Tort was featured in, while also passing out copies of some collaborative collages they made with them.
Another speaker, DJ, said that Tort's killing was a part of the government's response to the George Floyd Uprising and said they felt the government was asking the public if it's okay to kill protesters.
"Right now the government is asking permission to kill protesters. They're asking people do they care? Is this okay?

And we need to tell them this isn't fucking okay!"

DJ
Another speaker was equipped with statements of international solidarity in regards to Tort, from those fighting against coal mining in Lützerath, Germany to Greek anarchists in the Zizania Squat. Hear the statement from Zizania below.
Watch our live stream of the Jan. 20 vigil below.
On Saturday, Jan. 21, a couple hundred community members gathered in Uptown Minneapolis for a protest that started outside the library and ended at Bank of America. The bank was spray painted with messages to stop 'Cop City' and about the bank's funding of the police training facility.
Two of the signs in the protest read, "Our revenge will be a world with no police and no prisons" and "Trees gives us life, police take it."
Speakers again shared some memories they had of Tort and also made mention that they were seeking bail money for the forest defenders in jail in Atlanta and calling for more people to pick up the mutual aid efforts that Tort devoted their time to.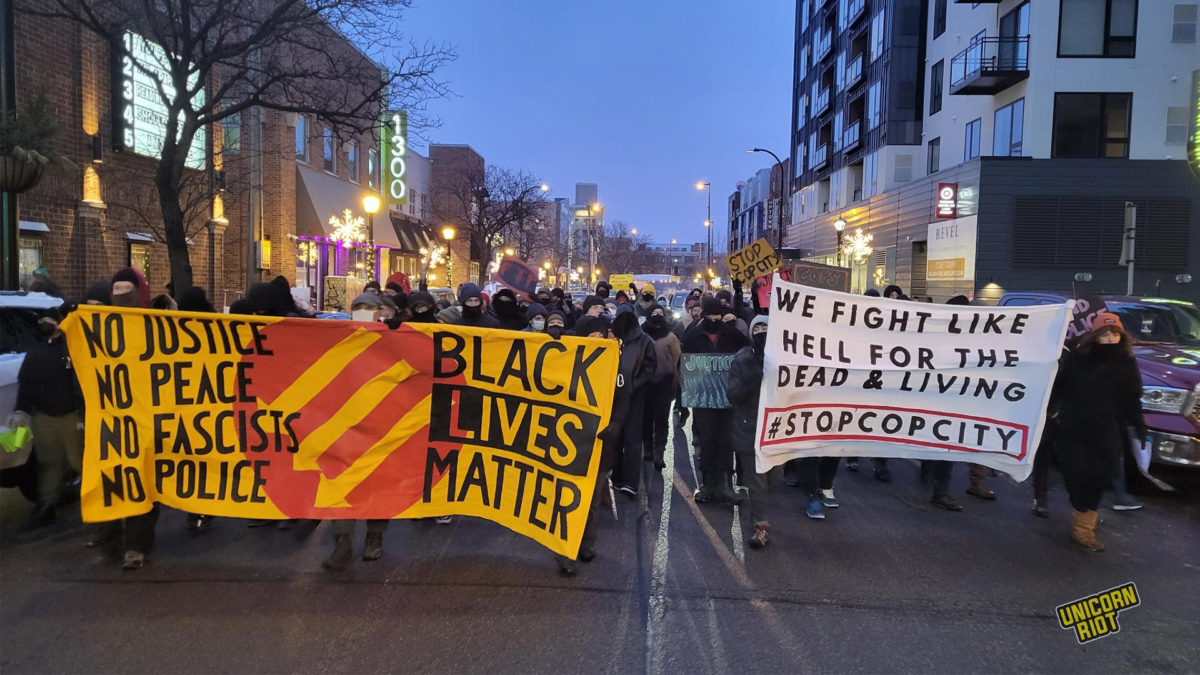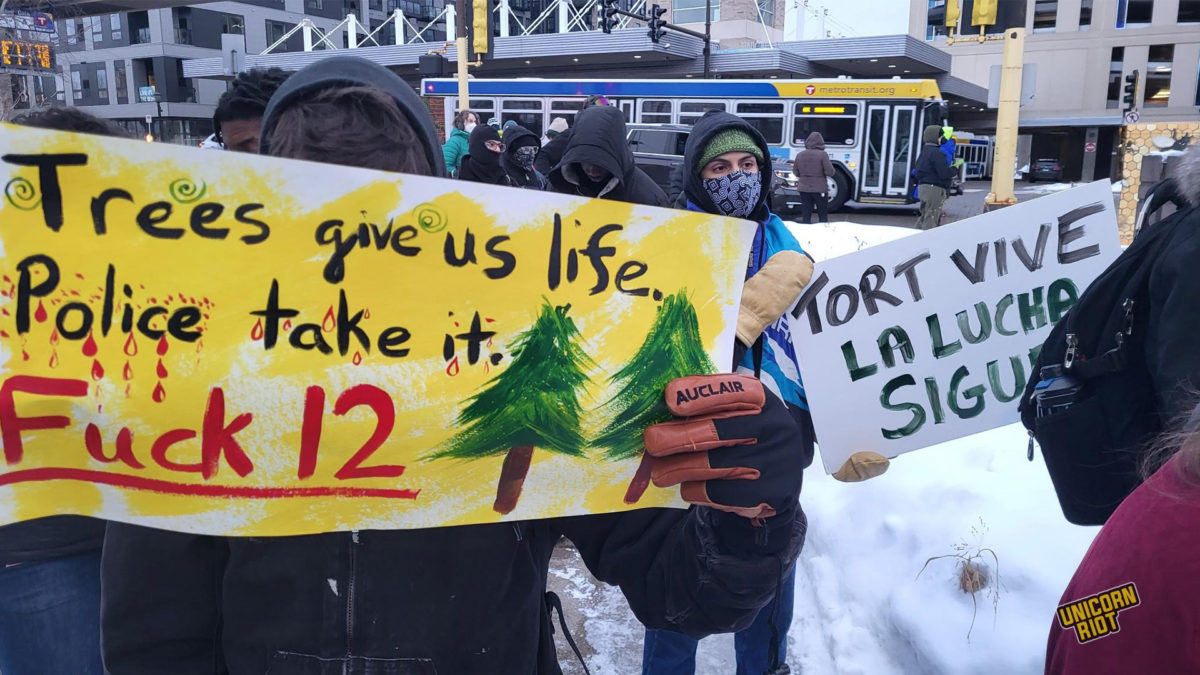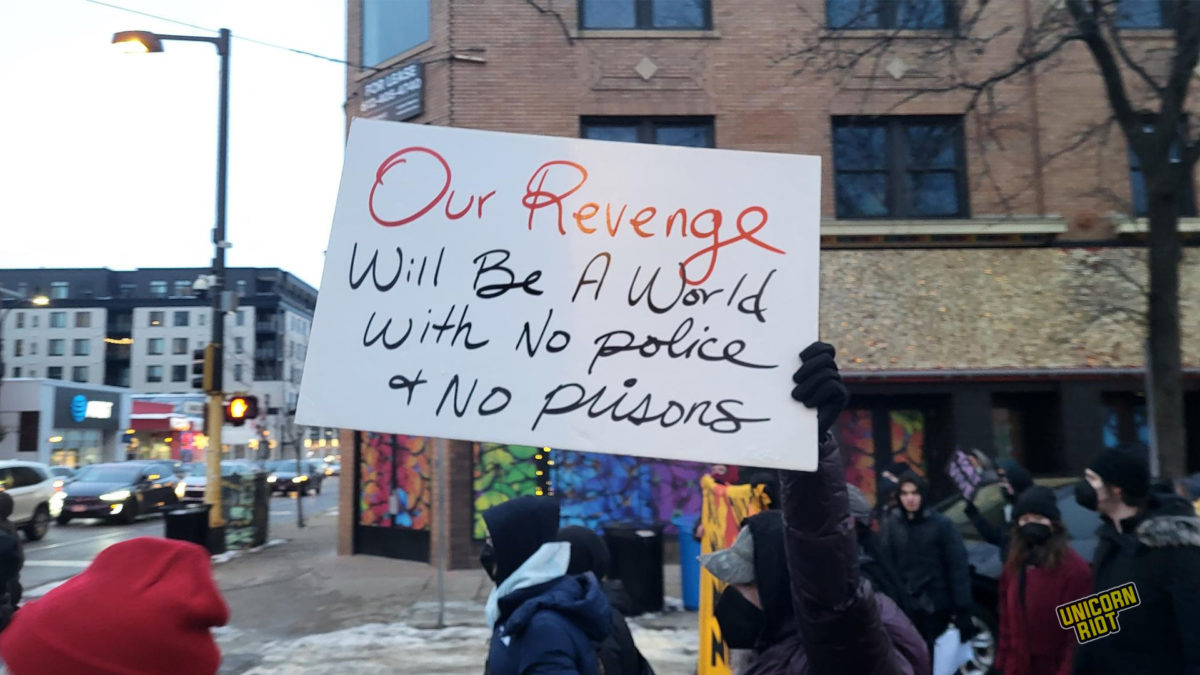 A large banner led the march that said, "We fight like hell for the dead and living. Stop Cop City." One of the many chants that rang through the streets was "TC, Memphis, ATL, all you cops can go to hell," ringing in solidarity from Minneapolis to Memphis, where Tyre Nichols was recently beat to death by police.
The crowd stopped in front of 'Wince Way' where Winston Smith was killed to pay respects to him and Deona Marie. Marie was killed by Nicholas David Kraus when he drove his vehicle into her when she was protesting in response to Smith's killing by police. Kraus was sentenced to 20 years in prison.
Saturday Night Vigil in West Philadelphia
In West Philadelphia, community members held a candle-lit vigil at a turtle sculpture in Clark Park to remember Tortuguita. About 70 people joined the vigil and talked about local struggles. One shared a memory of meeting Tort in the forest last year.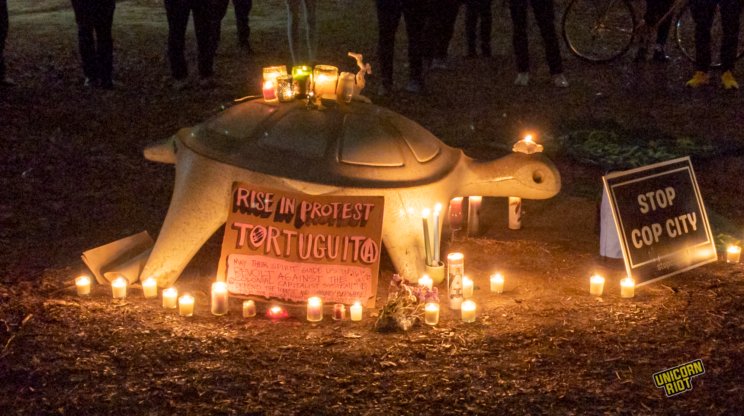 A small breakaway march from the vigil at Clark Park looped through the streets and someone tagged "RIP TORT" on a Jersey barrier.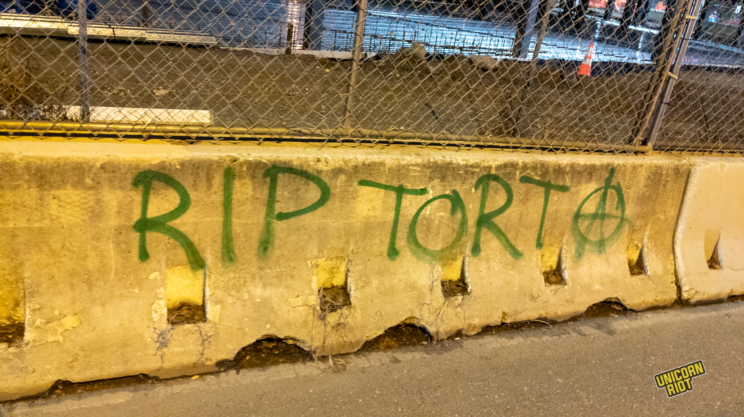 Commemorations for Tort in Other Cities
In Tucson, AZ, a group calling itself the Tucson Chapter of the Weelaunee Defense Society held a demonstration at the Bank of America on Broadway Blvd to call attention to the corporation's funding of the Atlanta Police Foundation and the killing of Tort. During the demo, a banner was dropped from the top of the bank's roof saying, "B-of-A Funds ATL's Murderous Cops. Stop Cop City."
In Nashville, TN, a vigil was set up outside the Davidson County Court House and City Hall.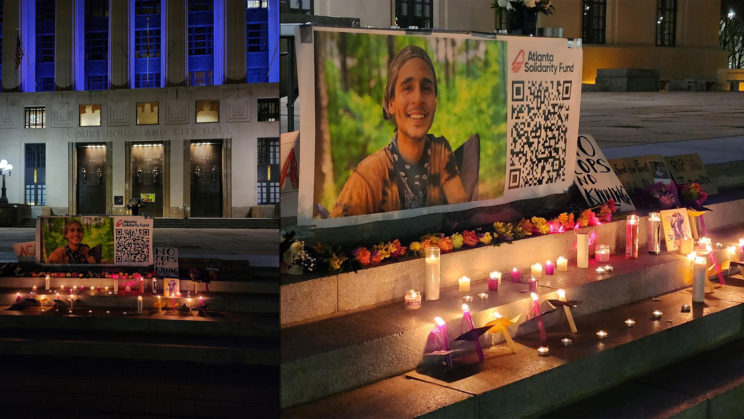 Among other vigils across North America was a vigil in Bridgeport, CT organized by the Connecticut John Brown Gun Club and on Sunday morning in British Columbia, a small group rallied and marched.
Note to our audience: We misspelled Manuel Terán's name in some previous reporting, as their last name has an accent on the 'a,' however since realizing our errors, we will be diligent in spelling their name correctly in future coverage.
---
Unicorn Riot's coverage on the movement to defend the Atlanta Forest:
---
Follow us on X (aka Twitter), Facebook, YouTube, Vimeo, Instagram, Mastodon, Threads, BlueSky and Patreon.
Please consider a tax-deductible donation to help sustain our horizontally-organized, non-profit media organization: