January 6 Documents Reveal Plans to Overturn 2020 Election as Military Questions Deepen
Congress investigates military role in Jan. 6; Generals warn of rogue military personnel in future coup attempts
Washington, D.C. – Clearer evidence is slowly emerging from January 6, 2021, when hundreds of organized far-right rioters raided the U.S. Capitol while top-level military authorities hesitated to respond. New documents produced in recent days for the Congressional Select Committee to Investigate the January 6th Attack on the United States Capitol highlight the shadowy contours of when the U.S. government nearly succumbed to an armed uprising early this year. More levels of detail have surfaced regarding the "stand-down" behavior of law enforcement and the military on that deadly day. Just three months before the attack, a key Army general making decisions on January 6, Michael Flynn's brother Charles, posed for a photo with Sidney Powell, one of the main attorneys that sought to overturn the election via deceptive legal maneuvers (a project nicknamed "the kraken", details below), an encounter this report looks at in detail.
Three retired generals, Paul D. Eaton, Antonio M. Taguba, and Steven M. Anderson warned in a December 17 Washington Post opinion piece, "we are chilled to our bones at the thought of a coup succeeding next time." Contemplating "rogue units organizing among themselves to support the 'rightful' commander in chief," they added "a total breakdown of the chain of command along partisan lines — from the top of the chain to squad level — is significant should another insurrection occur. […] It is not outlandish to say a military breakdown could lead to civil war." Examining the conflicting timelines and key players around January 6 raises even more questions about what actually happened inside the U.S. military.
In recent days a flurry of revelations about the Capitol attack have come to light, and we have mirrored a convenient list of difficult-to-locate primary source documents at the end of this report. The new material raises many questions, including about whether the Pentagon is being honest about the chain of events, whether Generals Charles Flynn and Walter Piatt told the truth to Congress about January 6, and the future impact that military decision-makers could have on the stability of the United States. As the cover image on this story suggests, the January 6 events pushed the United States toward an unraveling, details of which are captured in digital documents, photos, and memos.
---
Political operatives discussed how to forcibly overturn 2020 election
Congress' attempts to investigate political appointees at the White House and prominent conservative movement leaders have proven slippery. Trumpworld insider Steve Bannon and former White House Chief of Staff Mark Meadows have fought to avoid giving out information about their activities and communications. Bannon faces a contempt charge in Washington, DC and Meadows elected to sue the Committee to block its subpoenas three weeks ago.
On Monday, December 13, U.S. Rep. Liz Cheney (R-Wyoming) read aloud text messages Meadows received during the most intense hours of the January 6 armed rebellion around the U.S. Capitol. Conservative luminaries like Fox News host Laura Ingraham privately urged the White House adviser to convince then-President Trump to "tell people in the Capitol to go home" because "this is hurting all of us." Meanwhile publicly, Ingraham was seamlessly promoting false claims on Fox News about 'antifa' and leftist groups being responsible for January 6.
On December 12, the House Committee investigating the Capitol Riot released a 51-page report about Meadows including some of his correspondence: "Mr. Meadows sent an email to an individual about the events on January 6 and said that the National Guard would be present to 'protect pro Trump people' and that many more would be available on standby."
Politico reported on Sunday, December 12,
"Mark Meadows indicated in a Jan. 5 email that the National Guard was on standby to 'protect pro Trump people.' […] It comes amid intense scrutiny of the Guard's slow response to violence at the Capitol on Jan. 6 and conflicting timelines about their efforts from the Pentagon and National Guard leadership. […] The exchange is of high interest to congressional investigators probing whether Trump played a role in the three-hour delay between the Capitol Police's urgent request for Guard support and their ultimate arrival at the Capitol, which had been overrun by pro-Trump rioters."

Meadows Jan. 5 email indicated Guard on standby to 'protect pro Trump people,' investigators say – Politico, December 12
That day the committee released a 51-page report about Meadows including some of his correspondence.
On December 9, it emerged that Meadows turned over a PowerPoint presentation recommending former President Trump "Declare National Security Emergency," falsely claim "foreign influence and control of electronic voting systems," "declare electronic voting in all states invalid," and implement a "LEGAL & Genuine Paper ballot counts or Constitutional remedy delegated to Congress," which would overturn the Electoral College and the election of current President Joe Biden.
A letter from Committee chairman Bennie G. Thompson to Meadows mentions "a November 7, 2020 email discussing the appointment of alternate slates of electors as part of a 'direct and collateral attack' after the election [… and] a January 5, 2021, email about having the National Guard on standby." The PowerPoint presentation proposes using federalized National Guard troops to take over election counting nationwide, and shifting authority over invalidating ballots to the Department of Homeland Security. (Generally local election officials regulated by Secretaries of State control elections, while governors, not the President, control National Guard units.)
The PowerPoint also states, "The legality of each ballot will be determined based on the Constitution and therefore the laws enacted by the state legislatures and in effect at time of the election." In a Dec. 6 investigation in The Atlantic, Barton Gellman wrote, "The strategic objective of nearly every move by the Trump team after the networks called the election for Joe Biden on November 7 was to induce Republican legislatures in states that Biden won to seize control of the results and appoint Trump electors instead."
Further developments unfolded on December 9 as well: January 6 organizer Ali Alexander testified at a closed-door deposition for eight hours after nearly a year out of the public eye.
In the case of Thompson v. Trump, the DC Court of Appeals ruled in a 3-0 decision against former President Trump, who sought to hide his January 6 communication records under an 'executive privilege' claim. The judges wrote, "[…] public interest is heightened when, as here, the legislature is proceeding with urgency to prevent violent attacks on the federal government and disruptions to the peaceful transfer of power." However, Trump has 14 days (as of Dec. 9) to petition the U.S. Supreme Court. The judges noted that on January 6 Trump was "urging the crowd to 'demand that Congress do the right thing and only count the electors who have been lawfully slated.'" In conclusion, "The events of January 6th exposed the fragility of those democratic institutions that we had perhaps come to take for granted," wrote the judicial panel in its order. The documents in question are under the control of the National Archives and Records Administration (NARA).
On December 9, news outlet Axios considered former President Trump's "hunt for 'disloyal' Republicans," concluding "if most or all of Trump's candidates win, he will go into the 2024 election cycle with far more people willing to do his bidding who run the elections in key states."
Before January 6, the far-right Claremont Institute and Texas Public Policy Foundation war-gamed a violent simulation of a contested election (PDF). Comparing its paramilitary, paranoid vision to the white supremacist "Turner Diaries," conservative writer Christian Vanderbrouk described the report as "an instruction manual for how Trump partisans at all levels of government—aided by citizen 'posses' of Proud Boys and Oath Keepers—could, quite literally, round up opposition activists, kill their leaders, and install Donald Trump for a second term in office." Among the war simulation participants was John Eastman, author of a memo which proposed a scheme for former Vice President Pence to alter the method of ballot counting so that there would be "232 votes for Trump, 222 votes for Biden." This tactic would involve Pence announcing "that he has multiple slates of electors," Eastman advised.
Six other political figures were subpoenaed by the January 6 Committee on December 9. Ed Martin, president of the 'Phyllis Schlafly Eagles' and reportedly a member of the Council for National Policy, is among them. Unicorn Riot has reported on data leaks linking CNP to the Prince/DeVos family and widespread protests at school boards. CNP has been a keen focus of interest for its members' roles in January 6.
Unicorn Riot also found 18 other Discord chat servers contained granular details about individuals near and within the attempted coup on January 6. Several Minnesotans traveled to join the effort including Victoria White (aka 'Janice Marie Evans') who was hit with federal charges in early April.
Robert Peele, Jr., Max Miller, Brian Jack, Bryan Lewis, and Kimberly Fletcher were also subpoenaed. In November, the Committee subpoenaed John Eastman, William Stepien, Jason Miller, Angela McCallum, Bernard 'Bernie' Kerik, and Michael Flynn.
On December 21, Michael Flynn submitted a restraining order request (PDF) seeking to throw out any January 6 Committee subpoena "targeting General Flynn or members of his family," or any possible "Verizon Subpoena regarding General Flynn or his family's records." (A judge turned down the order on December 22.) As detailed below, his brother had a pivotal role in the U.S. Army on January 6, and any intrafamily communications could be of particular interest to the Committee.
---
"Absolute and unmitigated liars:" January 6 controversy over 'civil disturbance' emergency military actions
"Why didn't the National Guard launch immediately? We had people on the street, and my plan was just to remission them, abandon the traffic control points, abandon the Metro stations, and get to the Capitol. I had the civil disturbance gear in the vehicles."

General William J. Walker (Ret.) – Washington Post (Nov. 18, 2021)
The PowerPoint Meadows provided isn't the only "national security emergency" concept in play—as another new document shows, rarely used military assets beyond standard National Guard riot control measures were briefly considered on January 6 as "Continuity of Operations" of the U.S. Congress (namely certifying final steps of the election) were endangered and delayed.
Key officials have claimed that the main Department of Defense Inspector General report (153 pg PDF) about the Capitol protest and its aftermath is deceptive, inconsistent and/or incomplete.
However, the level of military coordination, or lack thereof, around January 6 has major consequences. Col. Earl Matthews, a former D.C. National Guard (DCNG) official, accused General Charles Flynn and Lieutenant General Walter Piatt of lying to Congress, claiming that a fictitious timeline of events was put together by the Pentagon Inspector General to benefit them in hindsight. Flynn was deputy chief of staff for operations and Piatt was the director of Army staff during January 6. (Read the 36 page Matthews memo PDF here.)
Initial reports of Flynn's presence in meetings and conference calls were hazy, due to military-issued denials. "HE WAS NOT IN ANY OF THE MEETINGS!" one Army official emailed the Washington Post on January 12. On January 20, the Post headlined their report, "Army falsely denied Flynn's brother was involved in key part of military response to Capitol riot."
Col. Matthews dubbed Flynn and Piatt "absolute and unmitigated liars" in a 36-page memo titled "The Harder Right: An Analysis of a Recent DoD Inspector General Investigation and Other Matters" (PDF). He also says that the Army's internal report (PDF), "Report of the Army's Operations on January 6 2021," misstated the truth of what happened to benefit Flynn and Piatt.
On November 18 the Washington Post reported that William J. Walker, former commanding general of the D.C. National Guard, called on the Army report to be retracted, and said that it made inaccurate claims—including a call from Army Secretary Ryan McCarthy at 4:35 p.m. that he says never happened. Walker is currently the Sergeant at Arms of the House of Representatives.
Other officials shared varying timings with DOD Inspector General (IG) investigators and Congress. Robert Salesses, another Pentagon official, initially told senators that the Pentagon first told DCNG to move forward at 4:32 p.m. He later added that that was when the Acting Secretary of Defense Christopher C. Miller made the decision, but conceded that General Walker was not told until 5:08 p.m. Salesses is the former Deputy Assistant Secretary of Defense for Homeland Defense Integration and Defense Support of Civil Authorities (DASD[HD & DSCA]), and was responsible for military missions directed by civil governments around the U.S. This would typically include the Request for Assistance [RFA] from the U.S. Capitol Police [USCP] that was issued repeatedly in the afternoon of January 6 over conference calls.
The DOD IG report concluded that January 6 preparations were appropriate: (PDF)
"…the actions the DoD took before January 6, 2021, to prepare for the planned protests in Washington, D.C., on January 5 and 6, 2021, were appropriate, supported by requirements, consistent with the DoD's roles and responsibilities for DSCA [Defense Support of Civil Authorities], and compliant with laws, regulations, and other applicable guidance. […] We concluded that the DoD's actions to respond to the USCP's RFA [Request for Assistance] on January 6, 2021, were appropriate, supported by requirements, consistent with the DoD's roles and responsibilities for DSCA, and compliant with laws, regulations, and other applicable guidance."

"Review of the Department of Defense's Role, Responsibilities, and Actions to Prepare for and Respond to the Protest and Its Aftermath at the U.S. Capitol Campus on January 6, 2021" (page 8)
According to Matthews, DC National Guard staff led by Walker are taking the fall for unreasonable, dangerous delays caused by Flynn and Piatt, and a subsequent set of deceptive after-action statements combined into the DOD IG report.
U.S. Army spokesman Mike Brady officially denied any such misstatements occurred: "We stand by all testimony and facts provided to date, and vigorously reject any allegations to the contrary."
---
The crux of the issue involves a conference call that started at 2:30 p.m., which connected the national Pentagon leadership and DCNG. How exactly did the senior military leadership effectively pause during the riot and drag its feet in the process of considering how to send in several hundred already trained and equipped D.C. National Guard members?
Col. Earl Matthews points out Piatt gave statements under oath to the January 6 Committee which falsely portrayed the Guard as not having any preexisting readiness to deploy on that type of crowd control mission. Matthews adds that controlling civil disturbances with riot gear operated by trained personnel is one of the core missions of DCNG.
Then-Capitol Police Chief Steven Sund "pleaded" on an earlier conference call that started at 2:13 p.m. for immediate deployment, requesting 200 DCNG 'Quick Reaction Force' (QRF) personnel.
At 2:21 p.m. Matthews emailed Acting Secretary Miller: "Army has DCNG on stand down despite request for support." (page 15)
Matthews added:
"[T]he Director of the Army Staff, by his own admission, was contemplating at least one course of action to present to the Secretary of the Army wherein the D.C. National Guard would not be used at the Capitol, but elsewhere away from the locus of the emergency. This key point has been obfuscated by Piatt's subsequent self-serving statements and by the less the accurate timeline he helped engineer. Piatt's suggestion astounded MG Walker, Chiefs Sund and [DC Metropolitan Police Chief] Contee and all the speaking participants on the call, except Piatt and Flynn. The DCNG had a great deal of experience handling civil unrest in Washington in support of local and federal law enforcement. It had a 40-member Quick Reaction Force and MG Walker could pull troops off of the traffic control points or could direct other trained and experienced personnel present at the Armory to immediately don riot gear and respond to support USCP and MPD at once. To everyone else on the conference call, immediately re-establishing or reinforcing the security perimeter at the U.S. Capitol was the only acceptable course of action to consider."

Col. Earl Matthews, "The Harder Right: An Analysis of a Recent DoD Inspector General Investigation and Other Matters" (page 18)
Matthews goes on to accuse Piatt and Flynn of "perjured testimony" before Congress:
"Piatt, Flynn and LaNeve engineered a multitude of demonstrable falsehoods and misstatements about Army activities leading up to and on 6 January, especially on the afternoon of 6 January, and then submitted this report to select members of Congress in an effort to absolve Army leadership (especially Piatt who was slated to be nominated for promotion) of any missteps on 6 January. The document is an effort to mislead the Congress and to retroactively change history. The very existence of the document calls into question the honesty and integrity of LaNeve, Piatt and Flynn. The Army Staff most significantly has avoided releasing this document to the public, but we know it contains a few things from Piatt and Flynn's perjured testimony before Congress. The report states, quite falsely that McCarthy contacted Walker at around 3:05PM and at 4:35PM gave him a go order to deploy to Capitol Hill. At 4:35PM the link up location and the name of the name of the lead law enforcement officer were provided to MG Walker (according to Piatt's testimony)."

Col. Earl Matthews, "The Harder Right: An Analysis of a Recent DoD Inspector General Investigation and Other Matters" (page 19)
---
"Dominate the battle space:" January 6 contrasts with George Floyd protest policing
A striking contrast emerged between military actions on January 6, 2021 and the policing of George Floyd protests the summer before. The D.C. National Guard is trained in 'civil disturbance' doctrine, which was applied extensively during heated protests in D.C. after the death of George Floyd. Some troops were sent with bayonets, while some units from outside D.C. did not have civil disturbance training when they arrived. The National Guard was mobilized in 33 states during the protests, with governors and D.C. activating 41,500 National Guard members, the National Guard Bureau told Military Times.
U.S. Senator Tom Cotton proposed mobilizing active-duty troops during the summer protests and pushed for activating the Insurrection Act, which can enable federalized troops to bypass the authority of governors. This authority was used to send troops to Los Angeles in 1992 during the riots stemming from the police brutality incident with Rodney King, with the approval of then-Gov. Pete Wilson, as well as after 9/11 to send active duty troops to guard U.S. airports.
On July 9, 2020, then-Defense Secretary Mark Esper testified about the mobilization orders he gave to Congress (more here). On June 5, Esper decided to disarm the guard members without consulting the White House, the Washington Post reported. In a call with Trump and governors on June 1, 2020, Esper urged state authorities "to dominate the battle space" around George Floyd protests.
(A Department of the Interior Inspector General report falsely exonerated Trump for a June 1, 2020 crackdown at Lafayette Square. Later on June 22, Trump said that authorities should "bust some heads and make some arrests" as protesters sought to topple an Andrew Jackson statue.)
A review of National Guard actions around the country was ordered by Esper on June 12, 2020, but the final report seems to be unavailable to the public today. Trump fired Esper on November 9, 2020 and replaced him with Acting DOD Secretary Christopher C. Miller.
---
D.C. National Guard Timeline conflicts with DOD Inspector General Report
Alongside Matthews' scathing memo, a never-before-seen 6-page timeline produced by DCNG shows crucial details. Dated January 7, the Joint Force Headquarters 'Memorandum for Record' on 'Civil Unrest on 6 January 2021 timeline of events for National Guard Activation,' (PDF) signed by 1st Lt. Timothy E. Nick, conflicts in major ways with the DOD Inspector General (IG) report.
Matthews points out on page 14 of his own memo that Nick, the aide-de-camp, and Matthews himself were never interviewed by the DOD IG, even though they were "constantly by MG Walker's side during the events in question." Also the Command Sergeant Major of DCNG, CSM Michael Brooks, was not interviewed by DOD IG even though he was likewise present with Walker.
Nick's DCNG timeline document highlights that top U.S. Army staff prevented the DCNG from heading to the Capitol campus at numerous moments in that deadly afternoon. It says that at 2:36 p.m. Sund again repeated the call for DCNG support while Flynn and Piatt responded by recommending DC Guard "standby and start drafting a plan for courses of action." Sund repeated his request 4 minutes later. Lt. Gen. Charles Flynn responded by advising them to standby "until the request has been routed to the McCarthy [sic]," referring to then-Secretary of the Army, and acting Secretary of Defense Miller.
Notably this directly conflicts with Piatt's sworn testimony on June 15 (PDF, page 2): "At no point on January 6 did I tell anyone that the D.C. National Guard should not deploy directly to the Capitol."
Events accelerated after 3 p.m. on January 6.
At 3:11, "Miller directed CG Walker to mobilize and encamp the DC National Guard."
At 3:12, "Continuity of Operations plan in place for members of Congress."
At 3:13, "Congress being evacuated and going to Fort McNair due to safety concerns but some members of Congress still barricaded in House Chamber."
At 3:28, Walker again requests to use the QRF to support the Capitol Police.
At 3:31, Flynn recommends "REDCON1," the highest readiness condition.
At 3:34, "Walker was advised by Chief that the [sic] Miller told DC Guard to standby on deployment."
At 3:42 p.m., a rarely spotted federal authority to mobilize troops is referenced: "North Command Title 10 members not to be used." This seems to refer to US Army North, a command under the U.S. Northern Command (NORTHCOM) which has its own contingency plans for emergencies. "Title 10" is shorthand for active duty military or federalized National Guard personnel.
One of these NORTHCOM plans, entitled 'Civil Disturbance Operations' and indexed as "CONPLAN 3502," is not available via FOIA. CONPLAN 3502 is the successor to "GARDEN PLOT," a set of once-secret civil disturbance plans created in the aftermath of the 1960s domestic riots and in reaction to the recommendations of the 1968 Kerner Commission. (Here's the Army's 1978 Garden Plot PDF.) NORTHCOM also maintains "CONPLAN 3501" (PDF), the concept of operations plan for 'Defense Support of Civil Authorities' (DSCA). The latest implementation details are in the May 2021 "Domestic Operational Law Handbook for Judge Advocates" published by the Center for Law and Military Operations (CLAMO) at the U.S. Army's Judge Advocate General's Legal Center and School in Charlottesville, Virginia. (PDF via PublicIntelligence.Net) See more Unicorn Riot reporting about NORTHCOM and CONPLAN 3502 here.
Page 55 of the DOD IG report includes the following key passage, showing major dissonance amongst officials during the conference call. In claimed timelines, goals, and methodology, there are gaping discrepancies between this document and the other accounts. Below is a long passage which conveys the 'official story' around the few hours when the federal government faced its greatest instability in decades:
MG Walker told us that during the call, LTG Piatt and LTG Flynn asked him for his operational plan, and he answered, "The operational plan, I'm going to give it to you right now. Get on the buses, get to the Capitol, and take direction from Metropolitan, I mean from either the Metropolitan Police or the United States Capitol Police. That's the plan."

During his interview with us, LTG Piatt commented on MG Walker's plan. LTG Piatt told us that he commanded a division in Iraq and could not imagine sending a subordinate element into a violent situation without that element clearly understanding the mission. LTG Piatt added, "It would be like me saying, 'Go to Baghdad and just find somebody and see what they need.'"

Mr. Sund told us that during the conference call, LTG Piatt commented on the "optics of [the] National Guard standing in line with the Capitol in the background," and that he [LTG Piatt] "would rather relieve your [USCP] officers off traffic posts" so the officers could respond to the Capitol.

The DCHSEMA Director told us that either LTG Piatt or LTG Flynn said it would not look good to have Soldiers confront "peaceful protesters." [Metropolitan Police] Chief Contee told us that an Army official commented on the "optics" of having "boots on the ground" at the Capitol.

MG Walker stated that LTG Piatt and LTG Flynn said they would not advise Mr. McCarthy to send Guardsmen to the Capitol; it would not be a good optic and could incite the crowd. MG Walker said that he was "stunned" and "frustrated" at these comments.

LTG Piatt told us that optics were a concern as the Army prepared to deploy Soldiers into downtown D.C. in response to the D.C RFA [Request for Assistance], but he did not recall making that statement during the telephone call specifically about the USCP's RFA. Two Army witnesses who were on the conference call told us that during the call, LTG Piatt questioned the impression that the image or "optic" of uniformed Soldiers rushing into the Capitol would make with the public. One Army witness said that LTG Piatt thought that the "optic" was not appropriate in the absence of a good plan for deploying Soldiers to the Capitol. The other Army witness told us that LTG Piatt was trying to emphasize that law enforcement, not the DCNG, was best suited for the mission of clearing the Capitol. [….]

The other witness said that the civilian officials did not want to hear any questions, and wanted every available Soldier to immediately rush to the Capitol. This witness told us that LTG Piatt explained that DCNG personnel were not armed or equipped for riot control and if the DCNG reported immediately, as requested, the USCP would only get "a bunch of bodies that [would] be able to reinforce the perimeter" but would not be equipped or prepared to conduct building clearance operations.

Mr. Sund told us that LTG Piatt said his recommendation to Mr. McCarthy was to not support the request. He said that Chief Contee then said, "Hold on. Let me get this right. You're denying [Mr. Sund's] request for National Guard?" According to Mr. Sund, LTG Piatt said that he was not denying the request and that he would discuss the request with Mr. McCarthy.

Chief Contee described his exchange with LTG Piatt to us. He said that he asked Mr. Sund if Mr. Sund was asking for the support of the DCNG on the grounds of the Capitol and Mr. Sund responded, "Yes." Chief Contee told us that he then told LTG Piatt that [Mr. Sund] was requesting the support of the DCNG and asked LTG Piatt if he was denying the request. According to Chief Contee, LTG Piatt replied that they were not denying the request. One witness described LTG Piatt as the "calm voice" on the conference call and recounted how LTG Piatt told the group the he was not disapproving the plan but was saying that we needed a plan so that he could recommend approving it. Another witness said that Mayor Bowser and Chief Contee were frustrated that LTG Piatt told them that Mr. McCarthy was getting the approval from Mr. Miller, rather than saying, "Yes, we're coming."

According to LTG Piatt, he told the conference call participants that the DCNG was better suited to establish a cordon around the building and not do room clearing operations, a task suited to law enforcement. He told us that he stated three times that he was not denying the request and was, instead, telling the group it needed to develop a plan while Mr. McCarthy secured Mr. Miller's approval. He said that he was unable to calm the group down, and finally someone on the call stated they would tell the media that the Army denied the USCP request. According to an Army witness on the call, Mayor Bowser made the statement about telling the media the Army denied the USCP request.

"Review of the Department of Defense's Role, Responsibilities, and Actions to Prepare for and Respond to the Protest and Its Aftermath at the U.S. Capitol Campus on January 6, 2021" (page 55-56)
The claim in the IG Report that Piatt said "DCNG personnel were not armed or equipped for riot control" comes under scrutiny in Matthews' memo—"all [DCNG] personnel preparing to go to the Capitol were already fully kitted out with riot gear." (page 8) Matthews adds that the lengthy detour around "planning" was superfluous and aimed at giving political cover for Flynn and Piatt.
"[T]he assertion that the DCNG required the Secretary of the Army to provide tactical level planning and coordination support to DCNG personnel preparing to deploy to the Capitol is patently absurd. DCNG maintained a Joint Task Force, led by BG Robert K. Ryan, at the D.C. Armory to plan and conduct domestic operations in the city. LTC Craig Hunter was the senior DCNG officer located at the U.S. Capitol during most of the day on January 6, 2021, serving as the Task Force Guardian Commander."

Col. Earl Matthews, "The Harder Right: An Analysis of a Recent DoD Inspector General Investigation and Other Matters" (page 11)
Piatt's testimony on June 15, 2021, at "The Capitol Insurrection: Unexplained Delays and Unanswered Questions (Part II)" asserts that the Army staff needed to micromanage the National Guard, which justified the hours-long delay. (PDF)
"We needed to: (1) assist with the redeployment of the DCNG from 37 locations throughout the District, (2) alert and recall Soldiers from their civilian workplace, (3) organize into unit configurations, (4) properly equip these Soldiers, (5) prepare an employment plan (which included communications, specific routes and link up locations, and casualty evacuation), (6) develop and brief the rules for the use of force, and (7) determine how and where the D.C. National Guard would be deputized to support enforce federal law enforcement."

Piatt Testimony (June 15, 2021)
Matthews responded that the Army Staff didn't need to repeat the prep work which DCNG had already thoroughly prepared for—and that false claims were made to justify the delays in deployment:
"Piatt is falsely asserting that the Army Staff is performing the delineated actions on behalf of the DCNG, which it was not. The DCNG Joint Task Force under BG Robert K. Ryan had a very capable staff on 6 January that was not in contact with the Army Staff. None of the tasks Piatt lists in the preceding paragraph were performed by the Army Staff to support DCNG. Piatt implies that the Army Staff was planning for the 're-mission' and 're-equipping' of DCNG personnel employment of the DCNG and that this was a source of delay in getting SecArmy or SecDef's approval to deploy to the Capitol. This is false. […]

Piatt states that 'we' needed to determine whether they would be with or without riot control gear. This is similarly an absurdity and altogether implausible. MG Walker had been adamant about his troops having helmets and body armor when the traffic control mission was being planned on January 4, 2021.

The troops at the TCPs [traffic control points] had riot control gear in their vehicles (although admittedly they weren't suppose to have this equipment, they did have it). The QRF had riot control gear on their persons. The DCNG had over 500 individual riot control kits stored at the Armory, left over from summer 2020 civil disturbance operations. There is no way MG Walker would have brooked a discussion about his troops not having riot control gear in the midst of a riot. […]

Piatt mentions communications, specific routes, link up locations, CASEVAC routes. These were all tactical issues handled internally by the DCNG Joint Task Force on January 6th without any Army Staff involvement. These issues were certainly not addressed or handled by the 3 and 4-star generals, and civilian political appointees on the secure teleconference started by Charlie Flynn. These issues were the purview of BG Robert K. Ryan, COL Jon Ebbert and LTC Craig Hunter, LTC Sekou Richardson, and other DCNG officers on 6 January. Ultimately the issues belonged to MG Walker. These matters were not an Army Staff responsibility. In short, the Army Staff was not involved in the planning of any of the matters on January 6, that Piatt references before the House Overnight Committee during his opening statement. […]

Piatt's statement is misleading. MG Walker, the DCNG CG, BG Dean, the DCNG TAG, BG Ryan, the JTF-DC CDR and LTC Craig Hunter the TF Guardian CDR, were all experienced combat veterans. With the exception of LTC Hunter, they were all also experienced in riot control operations in the District of Columbia. They all wanted to send as many DCNG personnel to the as they could as Capitol as soon as possible. They had a plan to do that if allowed to exercise it. […]

DCNG estimates 131 riot gear-equipped troops could have been mustered immediately and an additional 200 Guardsmen within the following 2 hours."

Col. Earl Matthews, "The Harder Right: An Analysis of a Recent DoD Inspector General Investigation and Other Matters" (page 22-24)
In the evening of January 6, the DC National Guard, DC Metropolitan Police Department, Virginia State Troopers, the Department of Homeland Security, the FBI and the Capitol Police eventually regained control of the U.S. Capitol. Finally at 3:42 a.m. on January 7, Congress officially certified Joseph Biden as the winner of the election.
---
Last-second change to standing DC National Guard "Quick Reaction Force" orders
Matthews called attention to one more detail of the tangled mess surrounding military deployments around the Capitol (PDF memo pages 27-30). On January 4, the memo "Employment Guidance for the District of Columbia National Guard" (PDF) was signed and sent by Acting Secretary of Defense Christopher Miller that ordered DCNG to not bring riot control gear. It forbade them from being "issued weapons, ammunition, bayonets, batons or ballistic protection equipment such as helmets and body armor," the use of "riot control agents," and conducting "searches, seizures, arrests or other similar direct law enforcement activity."
The memo adds "You may employ the DCNG Quick Reaction Force (QRF) only as a last resort and in response to a request from an appropriate civil authority." This effectively took the normal 'civil disturbance' gear and tactics away from DCNG just two days before January 6. However this memo may not have been the final version of the orders, Matthews seems to argue.
Earlier on January 4 according to Matthews, DCNG Director of Operations Colonel Jon Ebbert emailed Walker and himself with subject "Triggers for QRF Deployment," saying QRF would deploy if the MPD Chief of Police (Santee) requested it. According to Matthews, this email stated: "Indicators that the QRF may deploy include the following events: Flash crowd that is not manageable by assembled Law Enforcement; Civil unrest not manageable by assembled Law Enforcement Civil Disturbance Units; Large scale vandalism and looting (ie City Center area); Vandalism or damage to National Monuments or Museums; Attempts to breach Federal or District government buildings; Acts of arson."
According to Matthews the 'delegation memo' from the Secretary of Defense was changed by an "Army Staff action officer" in the evening of January 4 to read: "I withhold authority to approve employment of the DCNG Quick Reaction Force (QRF) and will do so only as a last resort, in response to a request from an appropriate civil authority. I will require a concept of operation prior to authorizing employment of the QRF. If the QRF is employed, DCNG personnel will be clearly marked and/or distinguished from civilian law enforcement personnel. You will notify me immediately of any requests for QFR employment."
If true, this policy shift removed Walker's option to deploy the QRF himself at Chief Santee's request, requiring the Secretary of Defense to be involved. Matthews argued, "Now Piatt and Flynn were deceitfully testifying that the QRF was never at all contemplated to be employed in those scenarios," and hence required their sluggish delay for more Army Staff planning before deployment.
---
Michael Flynn, the CIA general and the 'long game'
Today, Charles Flynn is the commanding general of the U.S. Army Pacific. His brother, former Army Lt. Gen. Michael Flynn (the former director of the Defense Intelligence Agency fired by former President Barack Obama and later fired as National Security Adviser by former President Trump on February 13, 2017), continues to attract political controversy for promoting an army of "digital soldiers." Flynn pleaded guilty on December 1, 2017, to making false statements about conversations with Russian Ambassador Sergey Kislyak in December 2016. Trump pardoned him after the presidential election on November 25, 2020.
In a recent cover story by Matt Farwell, The New Republic asked, "What is Michael Flynn's Long Game?": "Is the man who wanted Donald Trump to declare martial law prepping for some American Armageddon? Or is he doing something more subtle that the press is missing entirely?" Many observers believe Michael Flynn was closely linked to other aspects of the January 6 Capitol riot. Flynn's testimony to January 6 investigation Committee has recently been postponed.
Likely the oldest surviving player of the Cold War's 'long game' is 100-year-old Major General John Singlaub, a master architect of America's covert empire, intertwined with its secret history since the days of the CIA's predecessor the OSS. Farwell recaps 'Jack' Singlaub's "absolutely insane career" which has turned to boosting the Flynn family:
"Singlaub was the chief of staff for U.S. Forces in Korea, but President Jimmy Carter fired him for insubordination. Then he really got started, becoming a key figure in Iran-Contra, running clandestine networks of moneymen and smugglers in Oliver North's Enterprise. In his nineties, he'd taken a shine to the Flynns, becoming one of the loudest advocates for Mike Flynn's pardon, along with Flynn's family and the Q people. Flynn found in Singlaub a kindred spirit, an Obi-Wan looking for a Luke before becoming one with the Force, with a priceless Rolodex full of sympathetic right-wingers with means who owed him favors. 'It takes a network to defeat a network,' was [Stanley] McChrystal and Flynn's mantra in Iraq. And now, Mike Flynn was out in the American political wilderness, building a network."

Matt Farwell, "What Is Michael Flynn's Long Game?" – The New Republic, Nov. 29, 2021
Demoted and fired by then-President Jimmy Carter, Singlaub was among the inner circle of CIA figures that sought to replace Carter with Ronald Reagan. By 1985 he was organizing meetings of the World Anti-Communist League, which had at least three European chapters controlled by former Nazi SS officers—and even openly involved SS officer Otto Skorzeny. Singlaub's many other projects included the Western Goals Foundation, founded in 1981 as a right-wing intelligence group, whose members included leaders of the John Birch Society; he also organized the U.S. Council for World Freedom and advised the National Defense Council Foundation. While he denied a role in the terroristic counterinsurgency 'Phoenix Program' in wartime Vietnam, Singlaub was director of the 'Military Assistance Command, Vietnam, Special Operation Group' (MACV / SOG) for two years as it executed covert operations across the country.
Since-deleted Flynn family-Powell photo draws attention
Unicorn Riot believes that a now-deleted photo from Twitter contains three of the Flynn brothers (Michael T., Charles A. and Joseph J.), and Michael Flynn's attorney Sidney Powell. Powell with Charles Flynn is worth close attention because she executed a highly partisan post-election legal strategy, while Charles executed the slow response of US Army Staff during January 6.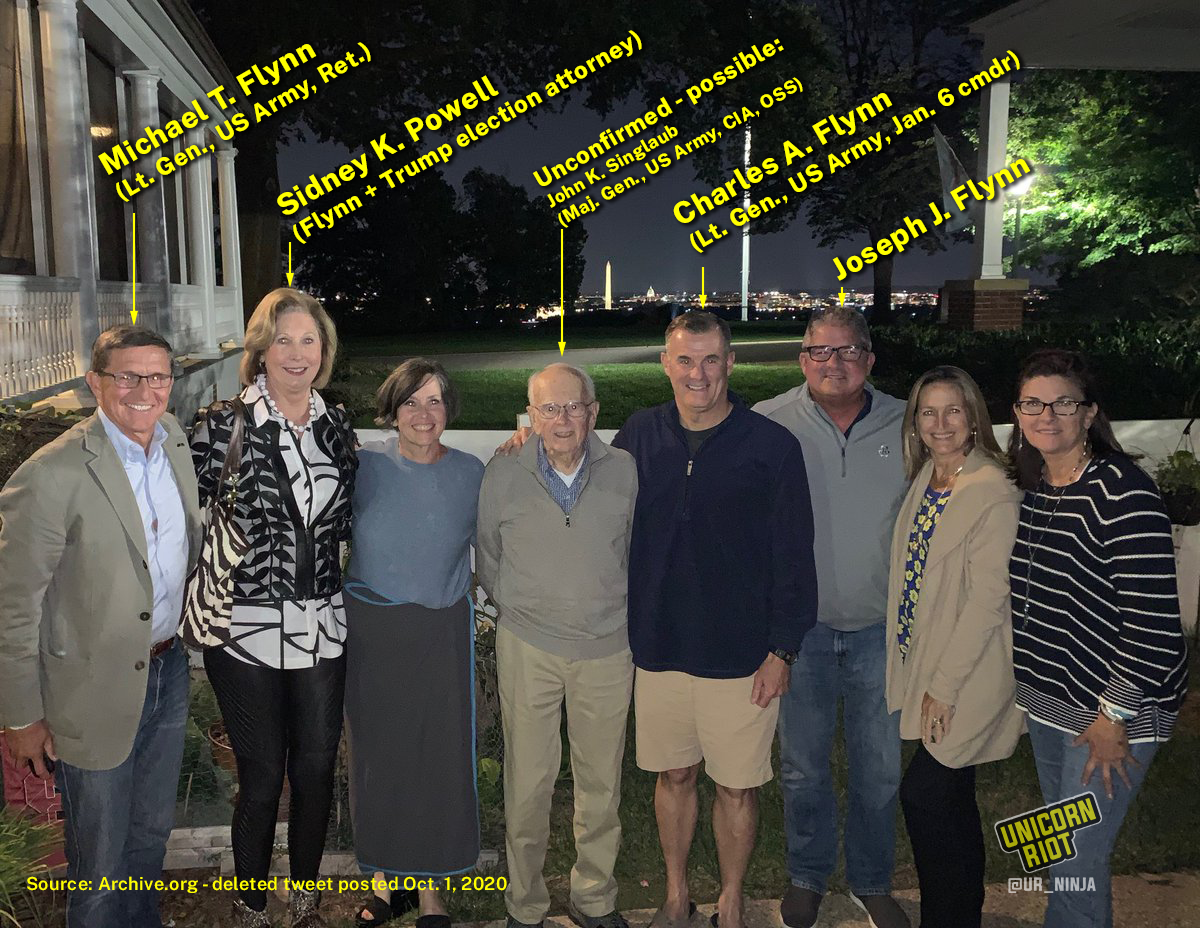 It was cheerfully published to Twitter (archived) by Flynn's youngest brother Joseph, on October 1, 2020. The 2020 election was just over a month away, and Flynn's pardon from Trump would follow weeks later. At left is Michael Flynn's attorney Sidney Powell, who would soon go on to carry out unconventional, long shot legal tactics attempting to reverse President Trump's election defeat, a project dubbed 'unleashing the kraken' in right-wing circles.
We cannot confirm that General John Singlaub is in the October 1 photo. Regardless, other sources like Farwell emphasize the closeness of Singlaub to the Flynn family in recent decades—as well as the Trump pardon for Michael Flynn Singlaub successfully advocated for. Mike Flynn posed at least once with Singlaub in online media posted during late 2020. It would be hard to imagine a more storied, and startling, figure to find in the middle of this photo. The older man whom some researchers suspect is Singlaub has a similar, distinct hairline; however, other features like skin marks, nose and ear size make us question a visual match. This picture has a wide lens effect, from a longer distance than typical portraits, and is taken from an elevated position nearly above their heads (note the railings), which appears to shorten Joseph's and Charles' faces vertically. The effect here may be similar to the Hollywood "dolly effect" which distorts the size of facial features—thus a common optical illusion could reduce the size of the man's ears. Here are examples showing how we compared the Oct. 1 digital photo to other known photos. (A higher-resolution version is here). A confirmed photo (in bright daylight, at much closer distance) with Mike Flynn and Singlaub was posted about two months later (excerpted on the right of the comparison chart). The excerpts are rotated to align the eyes.
In 2021, Joseph Flynn continued to show support for Sidney Powell in other projects, like promoting her "Restore the Republic PAC" and visiting political supporters at events with his older brother Michael.
In 2018, the 'Phyllis Schlafly Eagles' organization republished a 1977 Singlaub lecture where he attacks cold war détente and the Carter Administration's policy against white apartheid rule in Rhodesia (now Zimbabwe), to "destabilize the internal Rhodesia peace between blacks and whites," adding that while South African apartheid is "abhorrent" he says universal suffrage will bring "chaos and collapse of an industrialized economy […] turning over to the Communists one of the richest sources of minerals in the world."
The Phyllis Schlafly Eagles hosted speeches praising Singlaub's "moral leadership." In 2018 Mike Flynn received the "Gen. Jack Singlaub Award for Service to America" from the organization. Steve Bannon spoke at the following year's September 2019 Eagles event, and like Singlaub, attacked détente. The 2019 event also featured a panel with Ali Alexander, who testified to the January 6 Committee.
These events were co-hosted by Phyllis Schlafly Eagles President Ed Martin. Martin, Bannon and Flynn all face subpoenas from the January 6 Committee, and Bannon has been charged with contempt for refusing to testify. Martin posted a photo with himself, Michael Flynn, and Singlaub on November 25, 2020.

Michael Flynn promoted 'martial law' election rerun
On December 1, 2020, Flynn tweeted a press release from an Ohio-based group that wanted Trump to "immediately declare a limited form of Martial Law, and temporarily suspend the Constitution and civilian control of these elections," putting them under military control. At a December 12 'Jericho March' event in DC, Flynn declared, "we are actually standing in the middle of Jericho because we have penetrated the walls of Jericho, alright?"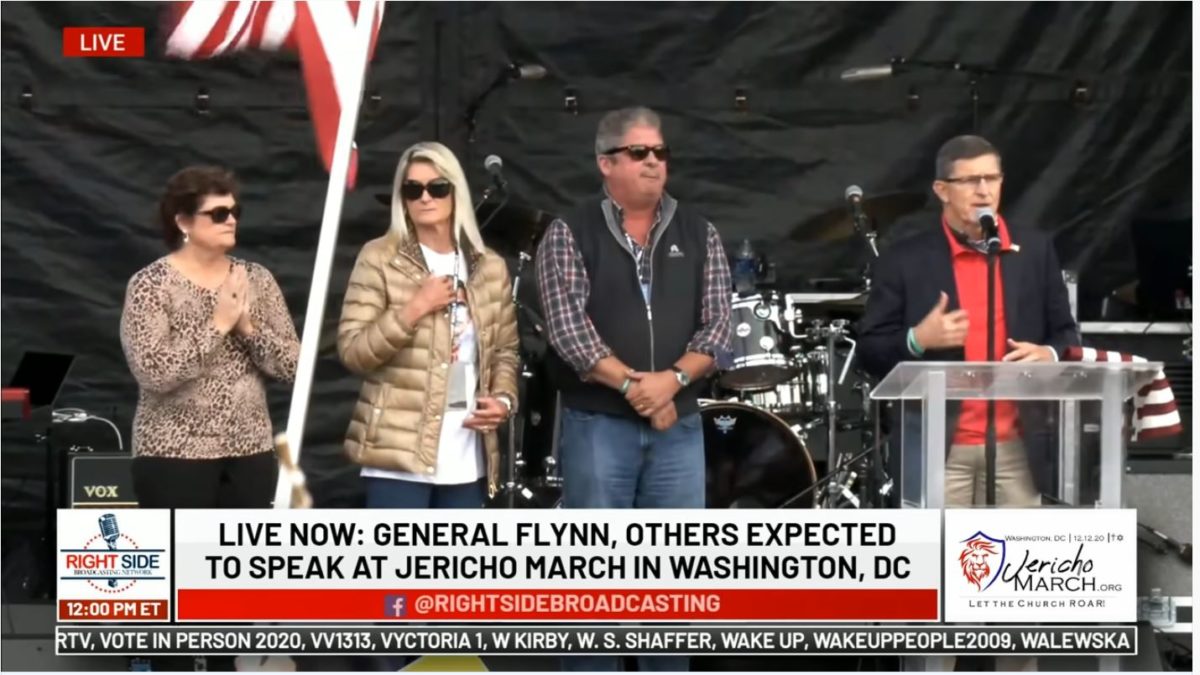 Flynn told Newsmax on December 17,
"[Trump] could immediately on his order seize every single one of these machines around the country on his order. He could also order, within the swing states, if he wanted to, he could take military capabilities and he could place them in those states and basically rerun an election in each of those states. It's not unprecedented […] These people out there talking about martial law like it's something we've never done. […] Martial law has been instituted 64 times. I'm not calling for that. We have a constitutional process. … That has to be followed. But I will tell you I'm a little concerned about Chief Justice John Roberts at the Supreme Court. We can't fool around with the fabric of the Constitution of the United States."

Michael Flynn to Newsmax, December 17, 2021
Flynn's provocation on Newsmax prompted ten former defense secretaries, including the recently fired Esper, to declare, "Involving the military in election disputes would cross into dangerous territory" in an opinion piece by that ran in the Washington Post on January 3, 2021, just three days before the insurrection unfolded.
The 'kraken' motif, calling for bold legal maneuvers based on falsehoods, promoted by Flynn's attorney Powell, would also turn up on one of the 36-page set of slides distributed by Mark Meadows before January 6 (PowerPoint PPS file). If one removes a white rectangle obscuring it from slide 29 (via PowerPoint or LibreOffice), 'Kraken Intel' appears underneath (originally located here). (Click to play the animation below.)
Powell and her team were ordered to pay $175,250 in legal fees for a dismissed 'kraken' 2020 election lawsuit by U.S. District Judge Linda Parker, in the Michigan Eastern District on December 2, 2021. Attorneys L. Lin Wood, Howard Kleinhendler, Gregory Rohl, Stefanie Lynn Junttila, Emily Newman, Julia Haller, Brandon Johnson and Scott Hagerstrom were also ruled responsible for paying the fees, according to Detroit Free Press, which added the affidavits in the lawsuit contained falsehoods including "proffering claims not backed by law [and] proffering claims not backed by evidence."
While the congressional investigation is ongoing, there will undoubtedly be continued scrutiny of political operatives, attorneys, and more informal paramilitary groups. The interplay between Meadows, 'kraken' operatives close to Powell, other White House officials, protest organizers, and the military leadership continues to be investigated by the January 6 Committee, which has issued subpoenas demanding evidence from many key players. As the three retired generals warned in the Washington Post, future political instability in the United States could involve top levels of the military.
---
Selected documents: January 6, election investigation and domestic military activity
For more files see the JustSecurity.org "January 6 Clearinghouse" page.
"Coup Powerpoint" note
Note: to get the "36-page 'Coup Powerpoint' to become editable, change the file extention from '.pps' to '.ppt' before opening in LibreOffice.
Cover digital video effect by Dan Feidt, image from original January 6 video courtesy Sandi Bachom.
Please consider a tax-deductible donation to help sustain our horizontally-organized, non-profit media organization: