'Like the Doors of Hell Were Open': East Palestine Train Disaster Casts Toxic Cloud Over Future of OH/PA Region
East Palestine, OH – A major chemical disaster displaced around 2,000 people for days. Residents living even dozens of miles away could smell chlorine-like odors; the evacuation order was lifted Wednesday. A Norfolk Southern train carrying the carcinogenic industrial chemical vinyl chloride from Madison, IL, to Conway, PA, derailed and the train cars crumpled. Late on Monday, Feb. 6, enormous columns of dense smoke rose from the site after authorities generated a "controlled" explosion, as they said pressure buildups risked more debris from a larger uncontrolled one. An eerie dark cloud became trapped in an inversion layer, preventing it from rising further.
This report takes a closer look at the deadly chemicals, evidence, crisis management, derailments and political influence of Norfolk Southern leading up to the disaster. Visible on radar and a weather satellite, the dark toxic cloud spilled into western Pennsylvania then was largely pushed north into Ohio's Mahoning and Trumbull counties on Saturday. Nearby residents at the fringes of the evacuation zone described unsettling physical reactions, sensations in their lungs and palpable residues. By Friday people in the region were still experiencing health effects; reports of dead fish, chickens, and at least one fox mounted during the week.
On Tuesday, according to Mahoning County Hazmat Chief Steve Szekely, the disaster was "like the doors of hell were open… the flames were shooting up in the air at least 100 feet… We didn't know what chemicals there were. But once on the scene, we can smell. You can smell it in the air that there was something."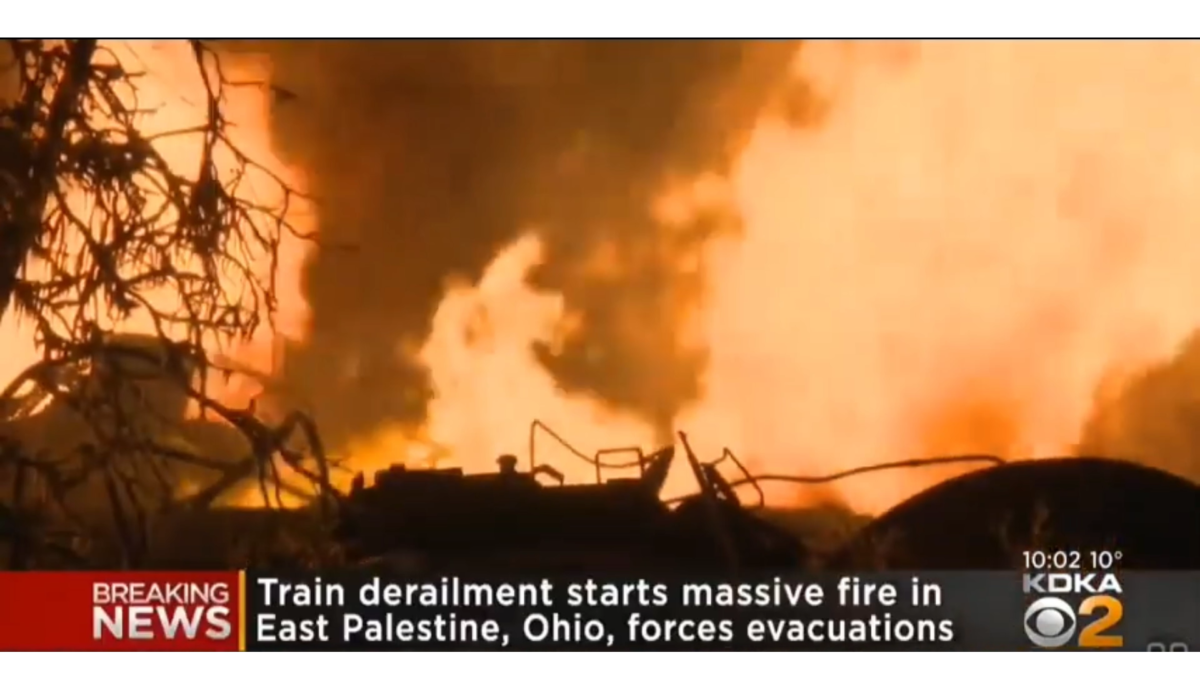 WKBN added that "there were highly flammable materials on board but no manifest was readily available." A KDKA report also said hazardous materials were unknown at 10:02 a.m. Saturday, more than 12 hours after the derailment. And at a Feb. 8 press conference involving Ohio Governor DeWine, journalist Evan Lambert was tackled, arrested and charged with trespassing while reporting on the official response.
Our 10-minute video shows two security camera angles and a photo of the glowing train before the crash, the toxic plume spreading over Darlington, Pennsylvania, and more.
---
"Nothing Alarming," Not "Toxic or Dangerous," Said Authorities as Dark Plume Spread
Fears intensified of a larger explosion over the weekend, and warnings were announced from vehicles before an official order was given. Ohio governor Mike DeWine said on Sunday, Feb. 5, "You need to leave, you just need to leave. This is a matter of life and death." Police and the Ohio National Guard sealed off the area.
The governor of Pennsylvania, Josh Shapiro, warned around 1:30 p.m. Monday, "If you are in this red zone that is on the map and you refuse to evacuate, you are risking death. This is very serious. If you are within the orange area on this map, you risk permanent lung damage within a matter of hours or days," but by 8:07 p.m. on Monday Pennsylvania's Emergency Management Agency posted, "we are being told that everything was carried out according to plan. … Both @PennsylvaniaDEP and @EPA are monitoring air and water quality and have detected nothing alarming."
A pollution sensor in Youngstown spiked for PM2.5 particle count late on the 6th. (Note: PM2.5 is a measure of smoke-like particles, not volatile organic compounds [VOCs].)
A WKBN27 report late on Feb. 6 said emergency managers didn't consider the vinyl chloride-laden cloud "toxic or dangerous." Another report released late on the 6th featured residents saying "I think they hid things from us," expecting damage to be permanent.
That same night on WKBN27, a TV anchor even smelled it outside their station. In contrast to other officials Mahoning County Commissioner Anthony Traficanti struck a note of caution about the "very toxic" "plume of poison" warning people should shelter as an "advisement" but it was not an official order.
Jim Kosior, a nearby resident of Darlington, PA, provided Unicorn Riot with videos he filmed over the days of the disaster and on Feb. 7 described experiencing the toxic chemicals with his wife:
"There was a taste in our mouths.. A burnt chemical pasty taste.. I knew that we had to get indoors, because we were both experiencing something from whatever exposure we had. There was a constant reminder a tender burn in my chest like a warning of oncoming Bronchitis because I've suffered with Chronic and on and off Phenomena many years. So there was that constant then feeling short of breath. Watching my breathing, it was noticeably more shallow. It was a strong smell and I felt like I had had a dose of something. My body was reacting to whatever it was. It's hard to describe. I felt like I was being quickened to move.. It wasn't adrenaline. I felt real fatigued and was shaking. My wife was feeling the same way.."

Jim Kosior, Darlington PA resident describing toxins on Feb. 7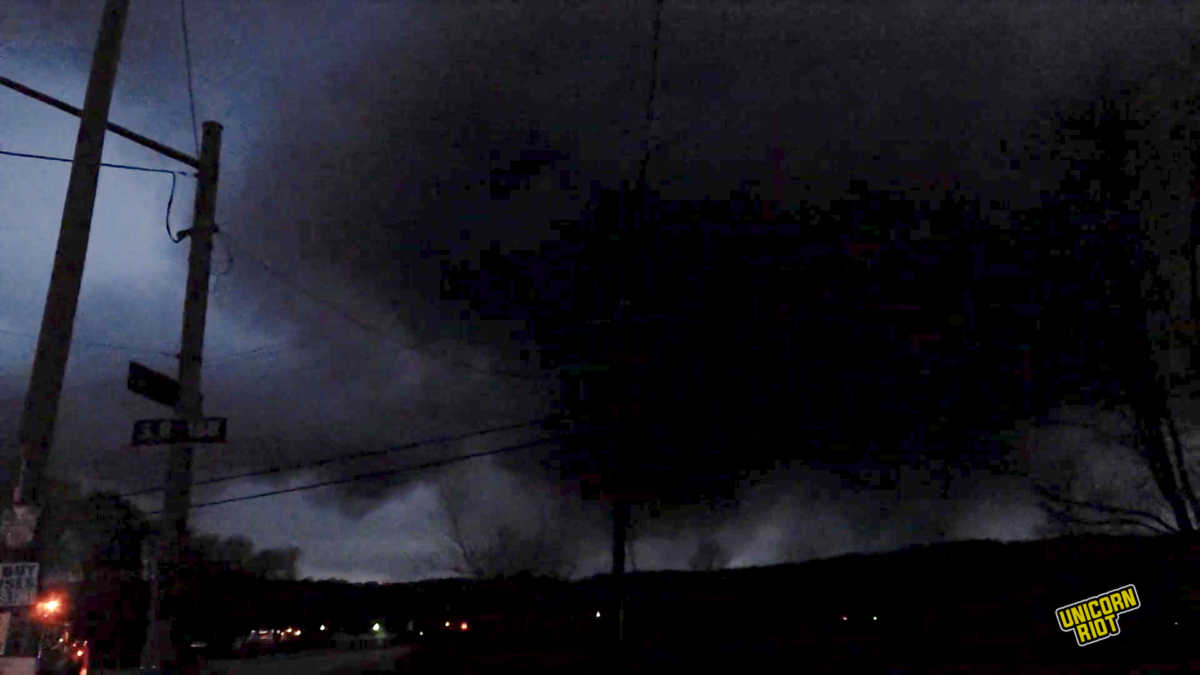 On Feb. 7, residents sued the Norfolk Southern railway, alleging negligence.
In combustion, vinyl chloride can turn into deadly phosgene (Carbonyl chloride), one of the main chemical weapons used in World War I. It shows the recklessness of authorities here that phosgene's likely presence from the crucible of the burning train tanker cars has largely been ignored.
Vinyl chloride's other byproduct, hydrogen chloride, is unstable acidic gas and reacts with water to form hydrochloric acid. Importantly, these chemicals are heavier than air and can settle in low lying areas like basements.
In a Feb. 7, 1 p.m. press conference streamed by the Ohio State Patrol, local authorities, a federal Environmental Protection Agency official and Norfolk Southern gave assurances that the toxic chemicals had been removed. Odors, chemical clouds, and fish and poultry dropping dead across the area seemed to indicate otherwise.
"The air isn't supposed to smell like anything," Ned Ketyer, President of Physicians for Social Responsibility Pennsylvania warned readers of The Allegheny Front. "If you can smell it, it's already in your bloodstream," adding people should trust "their eyes and their ears and their nose to figure out whether it's safe for them to return or not." In contrast, another report dismissed heightened concerns, saying there was "no need for hysteria," but didn't report the likely presence of phosgene or hydrogen chloride.
The story is still moving fast: In the last 48 hours the EPA added ethylhexyl acrylate, ethylene glycol monobutyl ether and butyl acrylate to the list of toxic chemicals that leaked. A February 13 Morning Journal News editorial said this should put more pressure on the railroad company, and a February 12 report from WFMJ says locals are demanding long-term testing beyond a 1-mile radius. Hazardous material expert Sil Caggiano told WKBN-27, "We basically nuked a town with chemicals so we could get a railroad open." He warned residents to get health checkups for documentation as cancer clusters could develop in future years. Many observers suspect Norfolk Southern prioritized a quick cleanup over a slower, more careful one — which would have blocked the line's reopening longer.
---
Videos Show Glowing Train 20 Miles From Site
It appears that videos from locations in Salem, Ohio, show glowing or fiery conditions developing on a car of the soon-derailed Norfolk Southern train at least 20 miles away from the disaster site. The National Transportation Safety Board's initial take is that a rail car axle caused the disaster.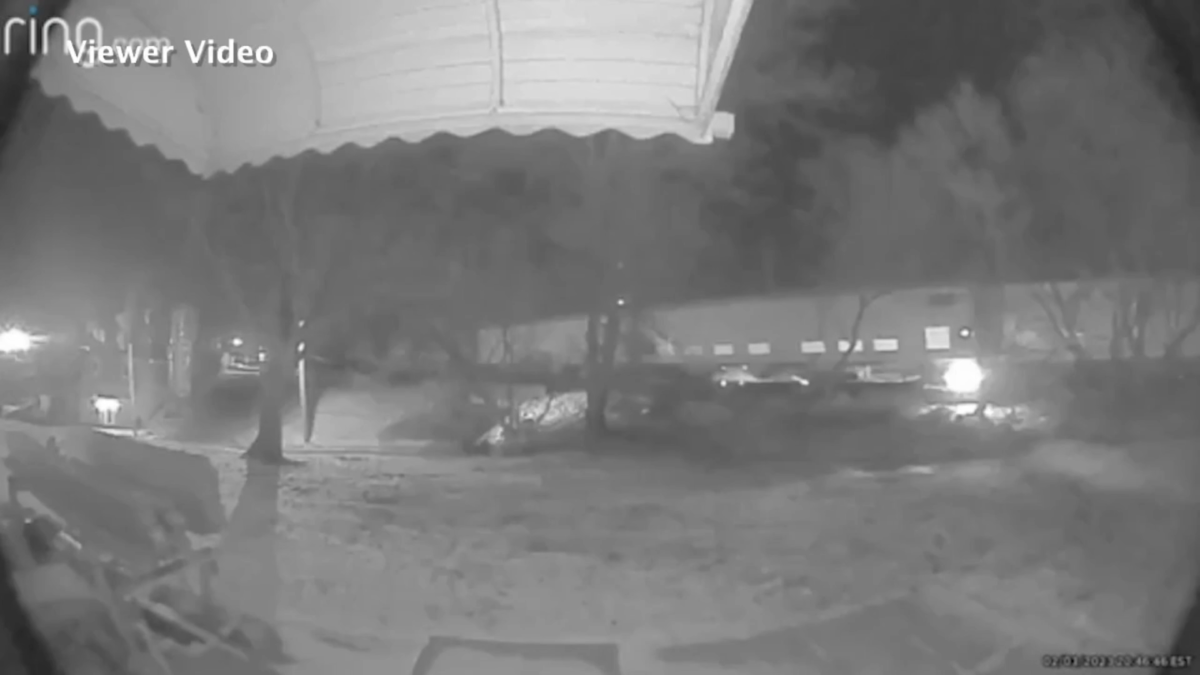 A "hot box" occurs when a train wheel bearing's friction results in enough heat to damage the bearing, axle or "truck" assembly. Infrared hot-box detectors (PDF) can spot these conditions before they get dangerous enough to derail a train, although these failures can happen quickly — 800°C (1472°F) in just 25 minutes, or even less than 100 seconds after passing a sensor. This defect detector safety measure appears to have failed in East Palestine.
A Feb. 10 report in the Pittsburgh Post-Gazette shows a hot box detector near a Salem meat processing plant called Fresh Mark should have been triggered, and the train should have stopped there immediately. Another hot box detector just west of the derailment site is believed to have alerted the train crew.

Unicorn Riot found an image passed around by local residents, ostensibly from the Fresh Mark facility on County Highway 444. A 2015 Google Street View capture shows the same fence, guard rail, and likely security camera as this image. The time, 8:13 p.m., matches the Post-Gazette report; that report also includes a surveillance video showing a glowing train car, courtesy of Butech Bliss, an equipment company northwest of Fresh Mark.
---
Rail Labor Flags Lack of Safety: "Carriers … Cut Corners"
The lack of safety comes as little surprise to long-beleaguered union railroad workers, who got saddled in December with a deal forcibly imposed by Congress and the White House that does not even include sick leave. US Labor Secretary and former Boston Mayor Marty Walsh, who orchestrated the deal, is quitting his post to run the NHL Players Association.
Railroad companies have splurged on billions in stock buybacks amid record net profits. By slamming workers with "precision scheduling", massive layoffs and now exhausting long shifts are institutionalized while damaging supply chain stability.
Railroad Workers United, a labor caucus with members in all U.S. rail unions, blamed both precision scheduling and the way weight was distributed:
"At this time, the immediate cause of the wreck appears to have been a 19th century style mechanical failure of the axle on one of the cars – an overheated bearing – leading to derailment and then jackknifing tumbling cars. There is no way in the 21st century, save from a combination of incompetence and disregard to public safety, that such a defect should still be threatening our communities.

"40% of the weight of NS 32N was grouped at the rear third of the train, which has always been bad practice and made more dangerous with longer heavier trains. This fact almost certainly made the wreck dynamically worse. But increasingly the PSR driven Carriers, driven to cut costs and crew time by any means necessary, cut corners and leave crews and the public at risk.

"The crew was able to uncouple the locomotives and move them to safety, preventing an even bigger tragedy. This would not have been possible under the various management schemes now being proposed to operate such trains with single person crews. Further, because Train 32N carried the standard crew of two or more workers, they were able to immediately take the necessary emergency measures to ensure a safe and effective response."

Railroad Workers United – Feb. 7 press release
The rail line itself re-entered service before Friday night; Industry analysts noted the scale of disruptions. The train consisted of "141 loaded cars, nine empties and three locomotives, included 20 rail cars carrying hazardous materials. Of those 20, 10 derailed, and five of those 10 carried vinyl chloride," according to the National Transportation Safety Board.
On Wednesday, West Virginia Governor Jim Justice said that the town of Weirton along the Ohio River had to switch its water supply due to contamination from the disaster, although local officials say water is currently safe. An Ohio River source, the Little Beaver Creek, which has long faced pollution issues, seems to be experiencing fish kills from the toxic event. WKBN independently verified dead fish in Leslie Run, which comes out of East Palestine and heads downstream in Bull Creek. Endangered hellbender salamanders may be threatened by toxic chemicals as well.
---
Amid Norfolk Southern Derailments & Crumbling Bridges, Freight Rail Future Looks Dark & Cloudy
Norfolk Southern has a long history of derailments and other incidents. A new investigation by The Lever identified how, along with other companies, Norfolk Southern lobbied to prevent modernized, instantly triggered Electronically Controlled Pneumatic (ECP) brakes from becoming national policy. American railroads' current air-brake system dates back to 1869 — it triggers car brakes one at a time from the lead locomotive, leading to more pressure, kinetic energy and crumpled cars in "pileups."
The industry also prevented trains like the East Palestine one from being defined as "high-hazard flammable unit trains" or HHFUT. The Obama Administration issued a ruling on ECP brakes in 2014 that was much softer than safety advocates wanted, and the Trump Administration rolled that regulation back in 2017.
Norfolk Southern has experienced between 112-171 derailments every year between 2019 and 2022 (and logged dozens of fatalities from various causes each of those years).
On Oct. 8, 2022 a Norfolk Southern train carrying paraffin wax derailed in downtown Sandusky, Ohio, and the company's repairs are still not completed to the city sewer system, underpass, and nearby roads. The 10-car Sandusky derailment also blocked Capitol Limited and Lake Shore Limited Amtrak routes, causing detours and delays.
At least 26 Norfolk Southern cars derailed in Fairplay, Maryland near Sharpsburg late on Wednesday, Jan. 11, 2023. The Herald Mail reported "residents estimated the crash happened sometime between 8 to shortly after 8:30 p.m.," however the Washington County Emergency Dispatch was not notified until 9:17 p.m. No hazardous materials were reported but the hazmat team still needed to be dispatched, an estimated 25 to 30 first responders in all. A Norfolk Southern spokesman said 10 and 16 train cars landed in "pileups" amid a set of 40 initially deemed "affected," essentially two sets of derailments. Local farmer Tom Shaw said the ground compression from recovery vehicles would ruin planting in that area for five years.
The Fairplay report notes that the railroad completes its own reports to the Federal Railroad Administration, which then decides to certify them or not. Here's a typical Norfolk Southern derailment report from 2019 (PDF) which describes how an accordion-style derailment in Perry, Georgia was caused by what the Federal Railroad Administration deemed an onboard computer failure causing too much pressure from braking, resulting in a nearby natural gas pipeline rupturing and venting more than 2.8 million cubic feet of the fossil fuel.
Pittsburgh residents including Rail Pollution Protection Pittsburgh (RP3) and Breathe Project are warning that after eight derailments in the region in five years, another rail disaster could require evacuating more than 30,000 residents if an East Palestine-like incident hit the East Liberty neighborhood. Norfolk Southern owns much of the rail (PDF) in the region. In a Feb. 4 press release (PDF) after the crash RP3 warned 40 to 50% of volatile Bakken Crude transits through Pittsburgh and so-called 'bomb trains' are going to increase. "How long will it be until one of these trains explodes in a major metropolitan area like ours?" asked Glenn Olcerst of RP3.
In 2018, a Norfolk Southern train derailed and seven intermodal container cars fell into Pittsburgh's Station Square T transit station. Locals said the area "came very close to having a tragedy." The company blamed a broken or fractured rail. Sperry Rail Services detected the problems in July 2018 and should have been able to prevent the derailment, according to the Federal Railroad Administration. Pittsburgh's deteriorating bridges continue to be a subject of concern — rail bridges need to support far more weight than automobile bridges.
In Baldwin, PA, a train traveling from Chicago to New Jersey derailed on Dec. 12, 2021, because of a rockslide in a section lacking a slide fence to hold back debris, and the conductor and engineer sued last fall for the track design flaw and not being warned. In New Brighton, PA, on Oct. 20, 2006, a Norfolk Southern train derailed from a trestle of 86 cars of ethanol — 24 either derailed, were damaged or leaking. An ethanol fire burned for two days.
Norfolk Southern causes worse delays than the five other major Class I railroads per Amtrak Host Railroad Reports & Report Cards.
Passenger rail largely depends on lines where freight rail gets priority in the U.S., outside of the Northeast Corridor. The Federal Railroad Administration is promoting new investments funded by the Biden infrastructure law, but can American passenger rail thrive while Class I railroads neglect maintenance and safety on vast stretches of rail? (The Infrastructure Act also requires new details on accident reports.)
North of Baltimore a Norfolk Southern train derailed at 2 a.m. in Perryland, MD, March 5, 2022 blocking Amtrak service between Washington, D.C. and Philadelphia on the Northeast Corridor. 20 of 130 train cars derailed, dumping coal onto a mile of a line also used by Amtrak.
A 35-minute delay from detouring around a Norfolk Southern train in Juliette, Georgia in July 2021 endangered the survivor of an accident who had to be slung "under a train car on a gurney so she could get medical help." Juliette Road has been reported blocked at least 92 times between June 2020-Sept. 2022. "There are people that live on the other side of the tracks that are medically fragile… some terminally ill and having to go 20 miles out of their way. That could be life or death," said local resident Andrea Goolsby. Staffing problems are also linked to the Juliette crossing.
Elsewhere a merger between Canadian Pacific and Kansas City Southern is under consideration at the Surface Transportation Board; a final Environmental Impact Statement for that project says noise could intensify and more than 14 trains a day could be added to a stretch between Iowa and Missouri.
CSX and Norfolk Southern tried to block Amtrak from servicing the Gulf Coast last year, demanding more money for track work. (Amtrak notably took its "beef" to Twitter.)
A new bill in Iowa is seeking to limit train lengths to 8500 feet, 1.6 miles. Lengthy trains can block grade crossings "thus threatening emergency responders' ability to respond to calls quickly," and super-long trains have not been adequately tested said a union lobbyist backing the bill. Union Pacific claimed "state regulations that seek to limit train length are unconstitutional."
---
Missing Train Chemical Manifest, Minnesota Pipeline Regulators Show Evasive Safety Documentation Practices
We know that at least 12 hours after the East Palestine crash, the exact details about which chemicals spilled were still unknown. Why wasn't the vinyl chloride information available to local emergency managers and the media immediately? This pattern where hazardous chemicals are masked as "trade secrets" has marked many industrial projects, harming emergency management, hazmat teams and broader community preparedness.
In the Feb. 4 RP3 press release, Dr. Ned Ketyer warned about the dangers of missing chemical information:
"The exact identities of the hazardous chemicals released into the air from the explosion and fire last night should have been known and disclosed immediately to residents, first responders and local government officials responsible for protecting the public in an emergency. Not knowing that information during and after the evacuation puts those individuals in proximity to the spreading toxic plume at risk for health consequences, some of which may appear days or weeks from now."

Dr. Ned Ketyer, president of Physicians for Social Responsibility Pennsylvania. (Feb. 4 press release PDF)
In the years before Unicorn Riot started I documented how pipeline chemical safety is regulated in Minnesota by the Public Utilities Commission. This 2013 video from an Enbridge Tar Sands Line 67 hearing shows the binder on their desk admittedly has the "trade secret" chemicals, and they sign off on keeping that data away from the local governments, hazmat teams and the residents that live near the pipeline.
It's a reckless way to live, and yet it happened yet again in East Palestine when the hazardous substances carried on the train weren't communicated immediately to the public.
Chip Kroh, a watch officer at the Pennsylvania Emergency Management Agency, explained the source of uncertainty about derailed trains. The train's manifest is "called a consist. It lists everything on the train by car number. All 150 cars would be listed. However, during a derailment, and this one is a good example, all of the cars have a tendency to stack up or bury themselves, making it hard to tell what's burning. Also, in a derailment such as this, the train crew may be injured or dead. The consist is kept by the train's conductor in the cab of the lead locomotive."
A common spill management tactic, as seen in East Palestine, is to dig a big trench and burn any chemical mixture. The chemicals are regarded as too dangerously unstable to pump out in these conditions. Still, with the resources put into an $10 billion dollar stock buyback last March, could Norfolk Southern and other first-class railroads digitize the consists for emergency managers, and develop better containment and recovery technology? The alternative, as always, is simply to keep spilling more toxins next to their rail lines.
---
Freight Rail PAC & Trade Association Campaign Spending; Key Players in Promoting Coal
The railroad industry spends heavily on political campaigns. In 2020, the PACs of four railroads each gave more than a half-million dollars in campaign spending. Of that, Norfolk Southern gave $575,000, at a 45-55 split favoring Republicans. Industry analysts noted U.S. Rep. Peter DeFazio, (D-OR) a public critic of precision scheduled railroading and former U.S. House Committee on Transportation and Infrastructure, received money from the Norfolk Southern, CSX and Association of American Railroads PACs. Some railroad PACs supported U.S. Senator Dick Durbin (D-IL). However, air transportation PACs gave a 38% share of all transportation PACs political spending ($24 million), bigger than rail's 15% share.
In 2021, Norfolk Southern Corporation gave large sums to the National Governors Association Center for Best Practices, both the Democrats' and Republicans' Governors Assocations, and a long list of state-level candidates, as well as $25,000 to Virginia Governor Glenn Youngkin's inauguration. The Norfolk Southern Corporation Good Government Fund aimed widely at federal officials coffers on both sides, including Republican Lisa Murkowski, Roy Blunt and John Thune's Heartland Values PAC, and Democrats like Brian Schatz's Hawaii PAC, Jim Clyburn's BRIDGE PAC, Steny Hoyer's AmeriPAC, and Josh Gottheimer's (D-NJ) primary campaign. (Gottheimer appears to be seeking the governorship of New Jersey).
The Association of American Railroads received $664,056; a coal industry project called America's Power, part of the American Coalition for Clean Coal Electricity, received $27,500; the National Association of Manufacturers and Pennsylvania Chamber of Business and Industry netted smaller sums. Norfolk Southern gave more than $835,000 to the American Coalition for Clean Coal Electricity in 2012, critical to attacking Obama Administration climate proposals. (The Clean Coal, Manufacturers and Railroads associations all oppose climate legislation, more below.) The Q1-Q2 2019 and 2020 reports show similar patterns.
The Association of American Railroads ranked 116 of 8721 groups for lobbying expenses in 2022 according to OpenSecrets, at $3.6 million. "the organization's PACs, their individual members or employees or owners, and those individuals' immediate family members" donated large sums to the Democratic campaign committees (DSCC and DCCC) as well as to conservative causes like "Fund for America's Future" and the friendly-sounding "Sensible American Solutions Supporting Everyone", a leadership PAC affiliated with former U.S. Senator Ben Sasse (R-NE), who is now the President of the University of Florida. (Seen as a political ally of GOP Governor Ron DeSantis, he was met with protesters on his first day, February 7).
The Association of American Railroads since 2009 has been a major backer of the American Action Network 501(c)(4) "dark money group", and the U.S. Chamber of Commerce. IssueOne says "Dark money groups frequently operate as attack dogs during campaigns, criticizing candidates from the shadows." American Action Network's chairman is former Minnesota U.S. Senator Norm Coleman.
The freight rail industry has long been a key backer for America's coal corporations, despite the damage caused to the climate. A 2019 study and another 2019 report from Brown University's Climate and Development Lab sifted through long term influence projects.
In 2019, The Atlantic reported "for almost 30 years, the biggest players in the freight-rail industry have waged a campaign to discredit climate science and oppose almost any federal climate policy," and the rail industry's support for coal has been at the heart of the "climate-denial movement nearly since it began". BNSF Railway, Norfolk Southern, Union Pacific, and CSX spent "tens of millions of dollars and outlasted individual leaders and coalitions." Around 70% of coal is shipped by rail, and if this is included "the railroads facilitated 16.5 percent of total U.S. carbon pollution last year." CSX pledged transparency in its climate lobbying in 2021.
Fossil fuel influence cut the other way as well: Grist found Big oil, chemical and coal companies backed the railroad companies' successful efforts to get the U.S. Congress to crush the railroad strike. A Norfolk Southern "Climate Lobbying Report" for 2022 (PDF) asserted that the railroad now supports the Paris Climate Agreement and is urging the trade associations it donates to support green climate policies.
---
Background Notes on Incident Management, Hazmat, ICS & More
The federal government regulates hazardous materials under Code of Federal Regulations Title 49 Subtitle B Chapter I Subchapter C. (This is why both the Obama and Trump administrations could choose to narrow safety measures regarding "high-hazard flammable unit trains" or HHFUT.)
The East Palestine rail disaster took place in FEMA Region V and Region III (with central offices based in Philadelphia and Chicago respectively). You can learn more about FEMA Region-tier emergency planning connected with the Cleveland Republican National Convention from our 2016 report.
With references to the "incident commander" in press conferences, that indicates the disaster was likely managed using an organizational structure called Incident Command Systems or ICS. Ohio has a large list of ICS-releated emergency trainings. Here's a FEMA ICS introduction training set of 105 slides and more here. Here's a 2006 FEMA Hazmat Material Tabletop Exercises Manual.
ICS is also designed to interface with the National Incident Management System (NIMS), which is supposed to help manage "all-hazards" events. This helps broadcast and manage information to other government units, emergency services and medical dispatchers in a natural disaster (although it also seems to extend to policing in some cases). A 2008 FEMA manual opens saying:
"NIMS is not an operational incident management or resource allocation plan. NIMS represents a core set of doctrines, concepts, principles, terminology, and organizational processes that enables effective, efficient, and collaborative incident management."

FEMA.gov 2008 manual on NIMS (PDF)
An IS-201 lesson note really highlights how the delayed-in-action Norfork Southern hazardous inventory slows down the fairly agile, looping planning structure of ICS: it delays getting the right information to tactics and planning meetings. The press conference on Feb. 7 also mentions the state activated a 'Joint Information Center' which is also common feature of large events (PDF) like National Special Security Events to centralize messaging. The state's adjutant general also mentioned a rarely spotted military "civil support team" (CST) which appears to be a type of Weapons of Mass Destruction "WMD CST" unit (PDF with more here.)
Also the local Emergency Operations Center (EOC) became endangered and had to be evacuated during the disaster. As Joe Lowry, director of emergency preparedness at the U.S. House, noted, it is a reminder of the importance of "Continuity of Operations Plan" (COOP) which includes the ability to pick up government operations and move in an emergency. COOP was referenced in a January 6 attack official timeline and is a related concept to 'Continuity of Government').
Do you have information about the East Palestine train disaster or other tips on emergency management? Contact our reporter: [email protected]. Cover composition by Dan Feidt. Images from local residents, Jim Kosior, KDKA-2.
---
Follow us on X (aka Twitter), Facebook, YouTube, Vimeo, Instagram, Mastodon, Threads, BlueSky and Patreon.
Please consider a tax-deductible donation to help sustain our horizontally-organized, non-profit media organization: