National 'Free Palestine' Protest in DC
Tens of thousands speak out for Palestinian Rights
Washington, DC – Tens of thousands of supporters of Palestinians are in the nation's capital for a series of protests pushing the Biden Administration to impose a ceasefire on Israel, which has been in an armed conflict for nearly a month against the stateless nation. This may be the largest U.S. protest ever in support of Palestinian rights — dozens of buses were organized for transport.
Unicorn Riot is covering events with photos, videos, and live streams as conditions permit.
A few hundred people are gathered on Pennsylvania Avenue outside the White House ahead of today's #FreePalestine rally: pic.twitter.com/G7eMNbPxej

— UNICORN RIOT (@UR_Ninja) November 4, 2023
LIVE Stream Playlist
VIDEOS
A large march occurred in the afternoon from Freedom Plaza north on 14th Street, then west along K Street to 17th Street, then east near Pennsylvania Avenue to 15th Street, then south again to Freedom Plaza. A permitted vigil from 4-8 p.m. at Lafayette Park is also scheduled.
Photos: Tens of thousands of people are currently protesting in DC demanding President Biden demand a ceasefire and withdraw US support from Israel's bombardment of Gaza: pic.twitter.com/iSf9xRhKCA

— UNICORN RIOT (@UR_Ninja) November 4, 2023
Protests have been called in other cities for November 4; Unicorn Riot covered a protest in Philadelphia on October 28, one in Minneapolis on October 22, and the Hague, Netherlands on October 29.
The conflict has already killed at least 9,600 Palestinians, including more than 130 in the West Bank. 1400 Israelis were killed, mostly civilians, mainly at the outset of this round of fighting on October 7. The Biden Administration has declined to publicly press for a ceasefire although a "humanitarian pause" has been signaled. More than 70 people in Lebanon have also been killed, mostly combatants affiliated with the Hezbollah militant group and political party. As of November 3, 36 journalists and media workers have been confirmed dead, 8 injured and 3 missing, according to the Committee to Protect Journalists.
Domestically an era of "New McCarthyism" is feared as Palestine supporters have faced suppression and the chilling of speech. 35 states already have laws and executive orders to try to prevent speech advocating for the "boycott divestment sanctions" (BDS) movement which aims to impede the Israeli state and its ongoing five-decade occupation of the Palestinian population in the West Bank and Gaza Strip.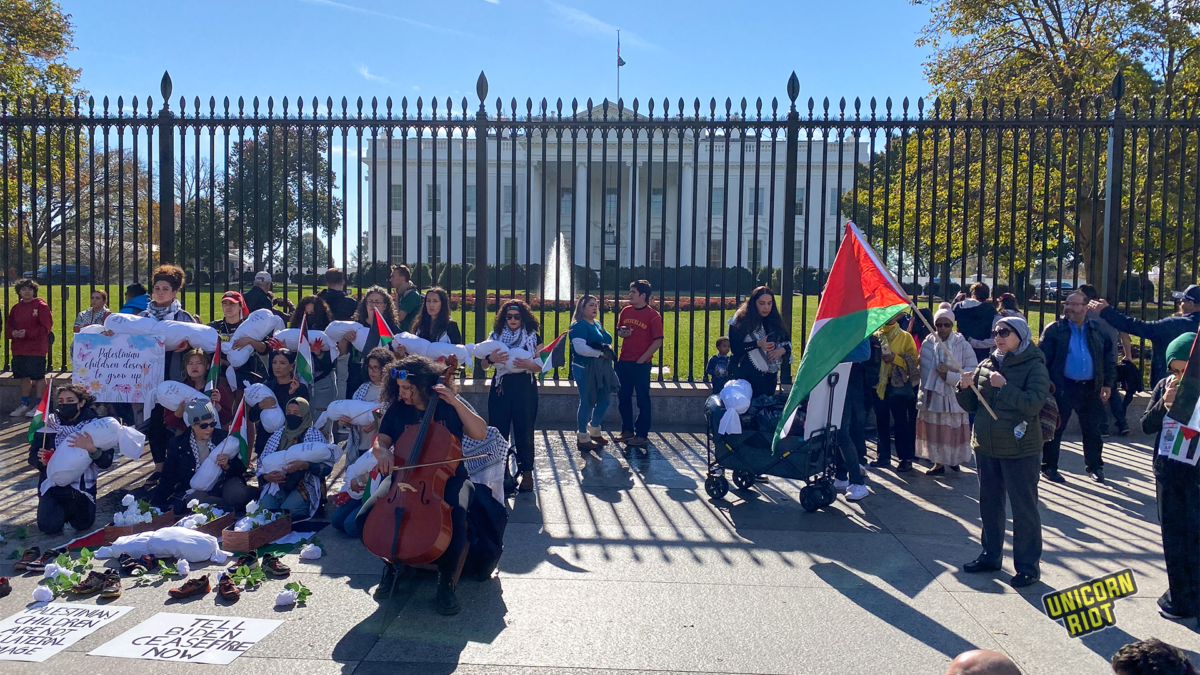 ---
Follow us on X (aka Twitter), Facebook, YouTube, Vimeo, Instagram, Mastodon, Threads, BlueSky and Patreon.
Please consider a tax-deductible donation to help sustain our horizontally-organized, non-profit media organization:

Unicorn Riot's Coverage from Palestine: