Anti-Racist Crowd Overwhelms Small Far-Right Rally in Philly
Philadelphia, PA – Over a thousand anti-racist protesters gathered on Independence Mall on Saturday to oppose a "We The People" rally organized by right-wing groups tied to groups like the Proud Boys and the Three Percenter militia network.
The rally was organized by a Facebook page called 'Sports Beer and Politics', associated with Philly-area far-right organizers Zachary Rehl and Holly Delcampo. Social media postings leading up to the event showed organizers coordinating with members of the violent "western chauvinist" Proud Boys, a group which has been called a "gang" by its founder Gavin McInnes. Members of the neo-Nazi group Keystone United (formerly called Keystone State Skinheads), had also indicated that they would be attending.
Around 10:30 AM, as both the far-right rally and the counter-protest began, Philadelphia police made their first arrest as officers with bikes pushed anti-racists and journalists across the street to create a wider perimeter. After police forcibly created a control zone, the event largely consisted of two opposing rallies on either side of the street. The far-right group had between 12-50 attendees throughout the day, with the anti-racist counter-protest opposing them made up of roughly 1,000 people.
See our livestream coverage from the event below:
(Correction: At times in our livestream Philadelphia Police Chief Inspector Melvin Singleton is misidentified as Police Commissioner Richard Ross. Any reference to Ross in our stream narration actually refers to Singleton. Unicorn Riot regrets the error.)
Many different Philadelphia groups came out for the event, including several unions, the Philly Coalition for Real Justice, and a coven of witches.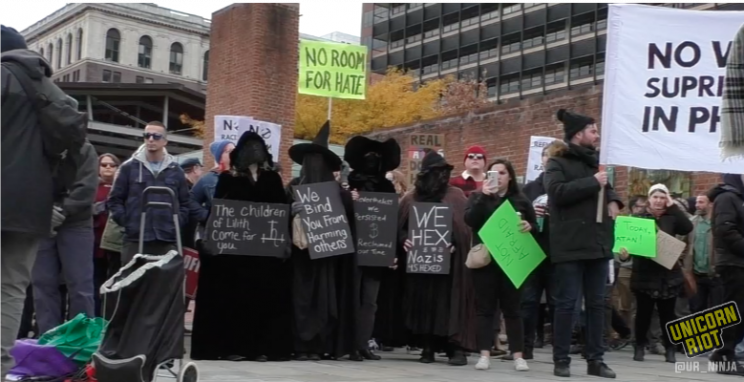 The Philadelphia Flyers' new mascot, 'Gritty', who has become an international antifascist symbol, made several appearances, along with internet sensation 'Grumpy Cat':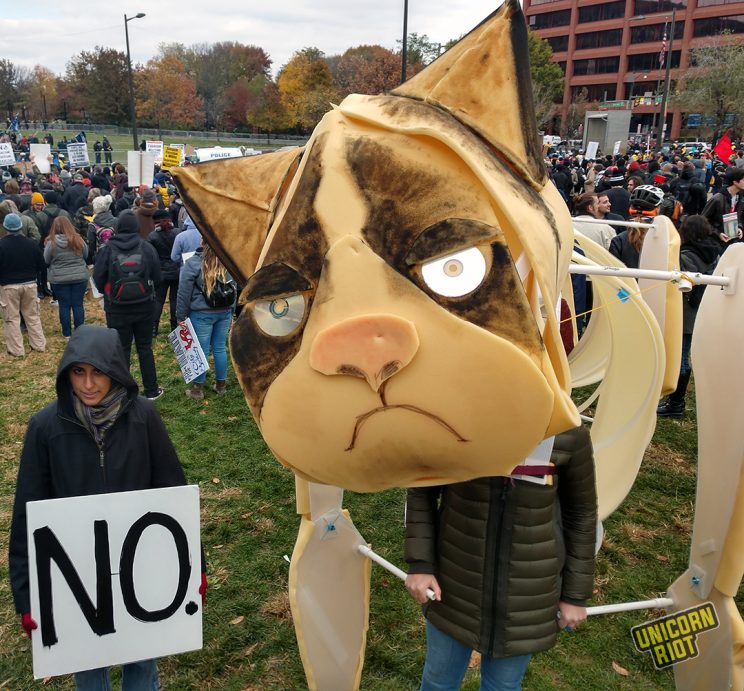 After about an hour of speakers with a sound system and a marching band drowning out the right-wing rally from across the street, two Proud Boys were spotted in the counter-protest crowd. The two men, David Kuriakose and Simon Greenwood, had previously been identified as present at the Proud Boys' gang beating attacks in New York City outside the Metropolitan Republican Club last month. Kuriakose was charged and arrested for his alleged role in the Proud Boys attack, according to the New York Post. The two men were escorted across the street, after some counter-protesters pushed them and threw items like water bottles.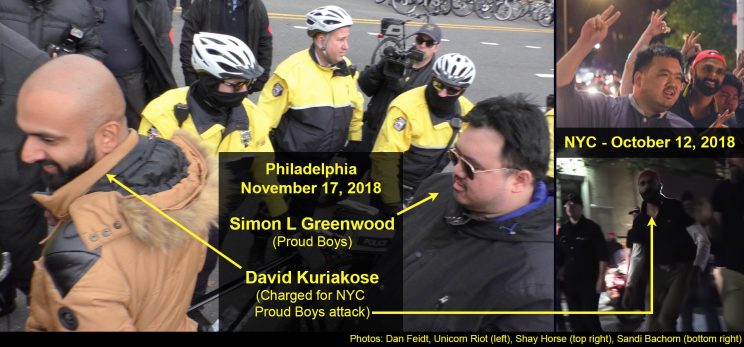 Another altercation occurred down the street a few minutes later, in which a man seen hiding his face from cameras appeared to have been headbutted. Police who were already present at the scene quickly made two arrests. An unconfirmed report claims this scuffle was the result of a case of a man being mistakenly identified as part of the far-right rally.
Shortly after that incident, 48-year-old Proud Boy Alan Swinney, wearing body armor and holding a large flagpole, left the right-wing rally area in an apparent attempt to provoke a confrontation with counter-protesters. Quickly surrounded by anti-racists and reporters, Swinney was quickly escorted back into the fenced-off "We The People" rally area by Philadelphia Police as well as federal park rangers (the Independence Visitor Center where the rally took place is under federal jurisdiction).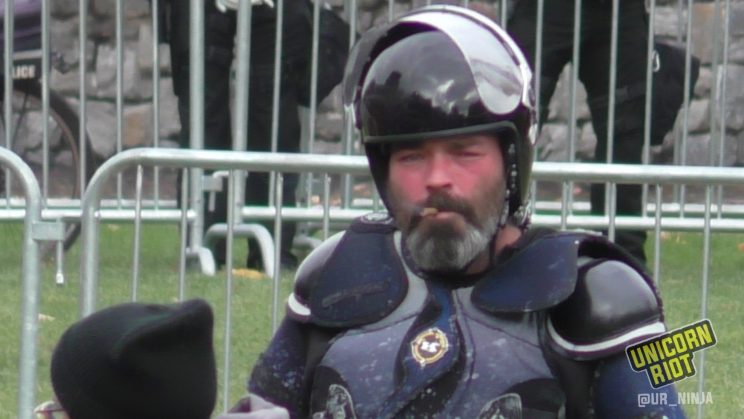 A few minutes later, a group of the "We The People" rally attendees walked away from their rally location on Independence Mall. The group then walked a few blocks, escorted by dozens of police and about as many counter-protesters, to the old Philadelphia police headquarters. After presenting an award to police inside the building, the group waited around behind their police escort waiting to get picked up. However, the group had a hard time getting a ride, as an Uber driver, and later a taxi driver, both declined to pick up the passengers once counter-protesters told them they were affiliated with the Proud Boys.
Around this same time, Philadelphia police made a major show of force by Independence Mall in order to prevent counter-protesters from approaching far-right rally attendees who were leaving. Video by local reporter Joshua Scott Albert shows officers pushing a man into a tree before hitting him on the head with overhand baton strikes. At around the same time, officers were ushering Alan Swinney, the Proud Boy who had shown up wearing riot armor, into his Uber.
Does this still look like non-violence? Take note of the cops cornering a guy into a tree while hitting a civilian with a baton.

source @jpegjoshua: https://t.co/idAkpqtakL pic.twitter.com/Qw5jGsSTt9

— Adryan Corcione (they/them) (@mxthemme) November 18, 2018
Red liquid that seemed to be blood was seen on the ground shortly after the police beatings. Philadelphia Police did not directly respond to an inquiry about whether overhand baton strikes to the head are consistent with policy, instead directing us to visit a webpage that includes PPD use-of-force directives.
https://twitter.com/_grendan/status/1063877169070448641
According to Philadelphia Police Public Affairs, a total of four people were detained or arrested on Saturday, November 17: two for failure to disperse, one for disorderly conduct, and another for allegedly assaulting a police captain. No attendees from the far-right rally were cited, detained, or arrested.
The day after the rally, The Philadelphia Inquirer ran a story incorrectly claiming there was "no indication" that Proud Boys or Three Percenters were present at the rally. The story was eventually corrected two days later, but not before a headline on the front page told readers there had been "no sign of hate groups".
The Inquirer's curious claim was easily disproven by the documented presence of Proud Boys Alan Swinney, David Kuriakose, and Simon Greenwood. Numerous rally attendees were also photographed with clothes bearing the insignia of the Three Percenter militia movement, which provided security for neo-Nazis at Unite The Right in Charlottesville.
The event's official organizers, Zachary Rehl and Holly Delcampo, also have their own unique and checkered backgrounds. Zach Rehl is the son and grandson of Philadelphia police officers, a fact he often uses when explaining the pro-police messaging of his events. However, Rehl himself has a criminal record, including a 2015 incident that resulted in him facing charges of aggravated assault, criminal mischief, terroristic threats, assault, reckless endangerment, and drunk driving.
Comments made by Holly Delcampo on Facebook have claimed that anti-racist protester Heather Heyer died in Charlottesville from a "heart attack" and "was not hit by a car", echoing debunked conspiracy theories spread by the alt-right about the car attack at Unite The Right.
Notably, events organized in 2017 by 'Sports Beer and Politics' under a pro-Trump, pro-police banner, were attended by white supremacist extremists who were seen at Unite The Right in Charlottesville.
Unicorn Riot has previously reported on the involvement of "Three Percenters" in attacks and right-wing activity at demonstrations: Three Percenters attacked a Democratic Socialists of America gathering in Kentucky in September 2018; Three Percenter social media amplified false stories that Georgia police used to craft crowd management in April 2018; Three Percenters participated in an August 2018 rally in Portland; and through data requests Unicorn Riot recently determined that in St. Paul, armed Three Percenters were improperly released from police custody after detainment in the summer of 2016.
Live reporting, photo editing and research contributed by Dan Feidt, Unicorn Riot. 
Editors note: An earlier version of this story had mistaken Holly Delcampo for another person. Unicorn Riot regrets the error. 
---