Arrested D.C. Nazi Marched in Charlottesville, Befriended Pittsburgh Shooter
Washington, DC – After the deadly 'Unite the Right' rally in Charlottesville, Virginia, researchers have kept advancing investigations and documentation of the violent neo-Nazi and white supremacist network that attended. James Alex Fields, Jr., the white nationalist who drove his car into a crowd of protesters killing Heather Heyer, was photographed marching with the neo-Nazi group Vanguard America, which splintered after his attack. Fields faces dozens of federal charges, including 28 counts of hate crimes causing 'bodily injury' and a federal hate crime related to the death of Heyer, for which he could face the death penalty. The connections to Vanguard America do not stop with Fields. Freshly analyzed leaked chat logs, published on the Unicorn Riot Discord Leaks platform point to Jeffrey Clark Jr., from Washington D.C., who went by 'DC_Stormer' or 'Stormer DC' on social media, and attended 'Unite the Right' with Vanguard America.
Content Advisory: Explicit and violent racism
A self-avowed neo-Nazi, Jeffrey Clark Jr, of Washington, DC, is now facing federal weapons charges after being arrested. The Washington Post reports,
"A Washington D.C. man who described himself as a white nationalist to law enforcement officers and became a social-media follower of the suspect in the Pittsburgh synagogue shooting has been arrested on a gun charge after his worried relatives contacted the authorities , according to federal court filings."
Clark Jr., 30, is charged with illegally possessing a firearm and a high-capacity magazine and made his initial court appearance Tuesday afternoon in U.S. District Court in D.C. Clark was ordered held until Friday. After word of Clark's arrest spread, researchers quickly located several important links around his activities in the last two years. Jeffrey Clark Jr. was usually seen alongside his younger brother Edward Clark, age 23, and the two seemed to enjoy acting together as neo-Nazi agitators. The Clark brothers were seen with Richard Spencer at a DC alt-right rally, and later attended Unite The Right in Charlottesville.
Lacy MacAuley, a DC-area antifascist organizer, identified Jeffrey "Raph" Clark in July 2017 after he, his brother and two associates menaced a book reading event for 'Against the Fascist Creep' by author Alexander Reid Ross. The Clark brothers were accompanied by Jamie Troutman, another racist activist who went by 'AltRightVa' on Discord.
Jeffrey Clark Jr., who lives in DC's Bloomingdale neighborhood, was arrested Nov. 9, court filings show, after two family members alerted police to his increasingly agitated outbursts, which reportedly included saying that the 11 victims of the Pittsburgh shooting "deserved it". Clark recently threatened to kill members of the Jewish community in the wake of the Squirrel Hill attacks, where a shooter open fired in a synagogue and killed 11 people.
Robert Bowers, the accused Pittsburgh shooter, has been celebrated by far-right groups including the "National Socialist Legion", a Neo-Nazi group with ties to Vanguard America. Federal agents claim to possess photographs of Clark with a Vanguard America flag.
Shortly before the outbursts leading to his arrest, Clark's brother, Edward Clark, committed suicide. According to the federal affidavit, Edward killed himself upon learning that Gab was cooperating with the police upon Bowers' arrest.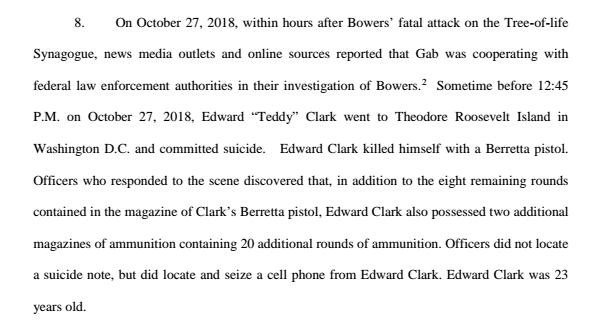 Anti-racist activist Daryle Lamont Jenkins, who closely monitors racist groups and events, told Unicorn Riot that he has become familiar with the Clark brothers over the last few years. Jenkins says that he believes Clark is highly likely to try to kill people after losing his brother Edward, with whom he was very close.
"Jeff and Eddie Clark were damn tight. I don't know their home situation, but it was as if they relied on each other and one always made sure the other was nearby. They were at most, if not all, of the rallies that Richard Spencer was a part of. When Eddie killed himself, that might have thrown Jeff in a tailspin, which led to his family calling police on him. Whenever he gets out he will have nothing, not his brother or the rest of his family. That makes him even more of a danger." – Daryle Lamont Jenkins
Jeffrey Clark, Jr. appears to have been posting as 'PureWhiteEvil' and 'DC Bowl Gang' on Gab and as 'Stormer DC' on Discord. Clark also posted photos of racist mass shooter Dylann Roof and sent messages to Texan neo-Nazi Robert Warren Ray a.k.a. 'Azzmador' who was a major figure at the influential neo-Nazi blog Daily Stormer. It appears that Jeffrey Clark, Jr. drove most of his brother's ideological points of view; there is a self-proclaimed 'Edward – DC' in the leaked 'Charlottesville 2.0' chat server.
Unicorn Riot's DiscordLeaks database shows that 'Stormer DC' is one of the first participants in the 'Charlottesville 2.0' '#dc_va_md' regional planning channel on June 5, 2017.
Clark has posted violent and anti-semitic memes and posts in Discord chat rooms as well as on Gab. Clark's chats from Discord here show multiple violent memes, some depicting shooting Hasidic Jews, as well as posting 'heils', "gas the weebs," and discussing proudly being a Nazi. Specifically, Clark's alias 'DC_Stormer DC' encouraged other white supremacists to open carry firearms at the Charlottesville rally:
"…I support allowing everyone to open carry. I don't want this event, or any for that matter, to be the one where we decide we should have been carrying and that we'll carry 'next time…" – Jeffrey Clark, Jr., aka Discord user 'Stormer DC'
Clark's violent user history on Gab was also noted by the Washington Post:
"Court papers assert that after his brother's death, Jeffrey Clark, Jr. posted on Gab a photo of the brothers wearing masks and holding a shotgun and a rifle, in front of a flag with a skull and cross bones. The FBI affidavit says Jeffrey Clark, Jr. posted a description of himself as a "Meth-Smoking, Pipe bomb making, mailman-murding… Che Guevara of the altright."
Of the attack on the synagogue, the arrest affidavit states that Jeffrey Clark, Jr. posted a picture of the suspected Pittsburgh shooter Robert Bowers spattered in be blood with the caption "This was a dry run for things to come."
Researchers have also called attention to the links between the Clark brothers and right-wing media figure Jack Posobiec, a working relationship which Huffington Post reporters uncovered after the FBI raid. The role of the Clarks in far-right media production also is prominent in a complement that Jason Kessler (username 'MadDimension') paid him on Discord: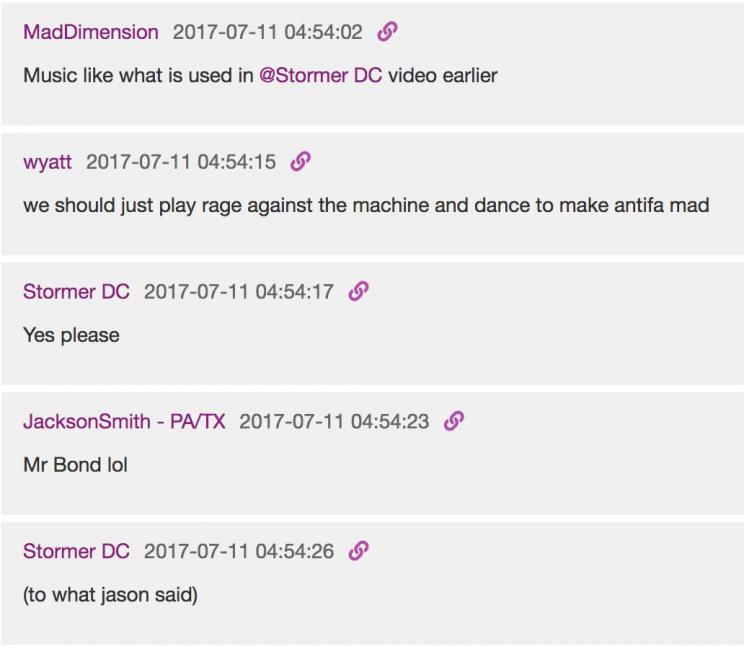 Click here to read leaked Discord chat messages sent by 'Stormer DC' (Jeffrey Clark, Jr.)
Cover photo illustration by Dan Feidt, based on photos published by idavox.com
---