Neo-Nazi Splinter Group's Chats Show A Fractured, Violent Movement
Sale Creek, TN – Following the disastrous Unite the Right rally in Charlottesville in August 2017, the white supremacist movement in the United States fractured into various smaller groups. One of the groups, the National Socialist Legion (NSL), has emerged more recently, founded by former members of Vanguard America.
Content Advisory: explicit racist and homophobic language
A leaked Discord server of the group "National Socialist Legion" sheds further light into the trajectory taken by neo-Nazi groups after the Charlottesville rally in 2017.
Unicorn Riot has gained access to thousands of messages from the National Socialist Legion's Discord server, spanning from July to August 2018 as the group prepared to attend 'Unite the Right 2' in Washington D.C., where a few dozen neo-Nazis were outnumbered by thousands of anti-racist counter-protesters. Leaked National Socialist Legion (NSL) chat logs show members discussed activities such as harassing members of Pittsburgh's Jewish community three months before the murder of 11 members of the Tree of Life Synagogue in Pittsburgh by neo-Nazi Robert Bowers. NSL members later celebrated Robert Bowers and also shared details about their own violent intentions.
The leaked chat logs we obtained begin during a leadership transition for the National Socialist Legion after the resignation of the group's former leader, known as 'Fox', a man from Sulphur Springs, Texas. 'Fox' was previously a member of Vanguard America and organized the group's Texas branch and was active user on the Southern Front Discord server. 'Fox' made an appearance at a September 2017 protest opposing the removal of a Robert E. Lee statue in Dallas, Texas while holding the Vanguard America flag alongside William Fears, who was later charged with attempted murder for firing a gun at protestors following a talk by Richard Spencer in Florida.
After the first Unite The Right in Charlottesville, Vanguard America lost many of its members after being photographed marching alongside James Alex Fields, who drove his car into a crowd of anti-racist protestors, injuring dozens and killing Heather Heyer. Vanguard America went on to splinter into two major groups: National Socialist Legion and Patriot Front (PF).
Another member of the group, Thomas Rousseau, seized Vanguard America's website and founded Patriot Front, taking the bulk of Vanguard's Texas network with him. 'Fox' took several more members under the rebranded NSL, but the group showed little activity other than posting flyers in Indiana, Florida and North Carolina.
By July 2018, 'Fox' was ousted as NSL's leader and Clayton Andrew Hodge — a.k.a. 'Maxon', 'AllFather' and/or 'FashyMedic' — of Sale Creek, Tennessee, took control of the group along with his romantic partner, Katelyn Martin, who posted on Discord as the username 'Kitkat'.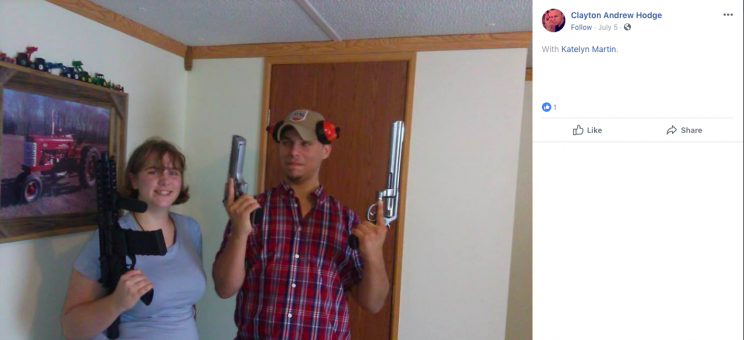 Both Clayton Hodge and Katelyn Martin claim to work as private security guards. Clayton shared numerous selfies on Discord of himself working as a security guard at a Chattanooga hospital; his apparent employer was not available for comment.
The only known public appearance involving NSL members was the 2018 Unite the Right 2 rally in Washington D.C. where Hodge, Martin and two others – Discord users 'johnolithicsoftware' and a North Carolina member of the NSL, 'D3VISTAT0R' – traveled to attend. Hodge posted pictures of himself at the rally on his Facebook page and in the NSL Discord server.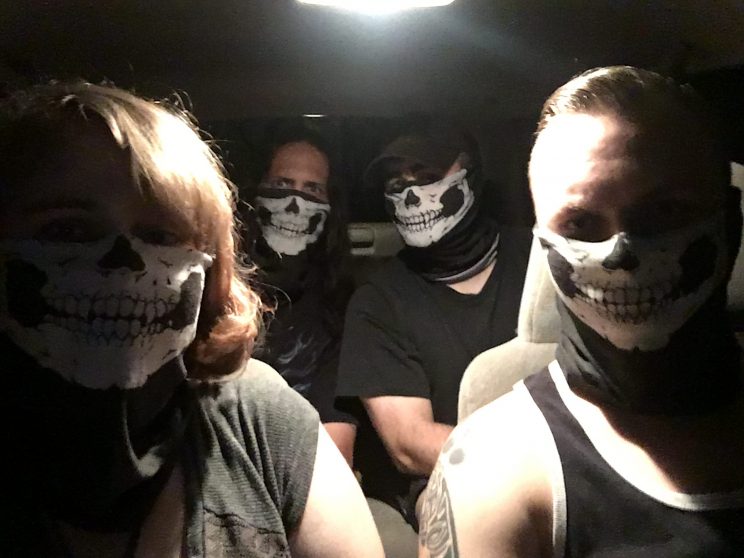 On his Gab profile, the user 'johnolithic' describes himself as part of the NSL's tech division and boasted about being at the D.C. Unite the Right 2 rally. His most recent message on Gab referred to the Pittsburgh synagogue shooter: "Robert Bowers did nothing wrong", he wrote.
Following the D.C. rally, Hodge shared a picture of a taped-together device with attached strings and pull pins. "Got something cooked up for next time", he told the group.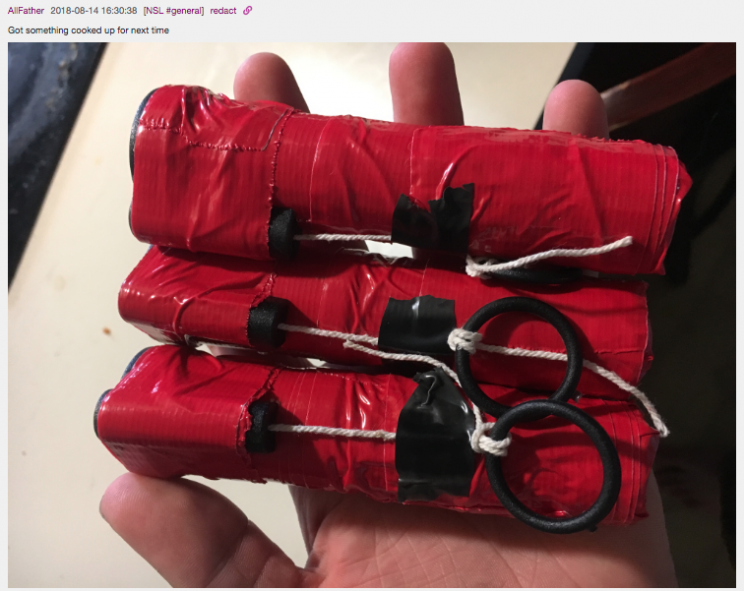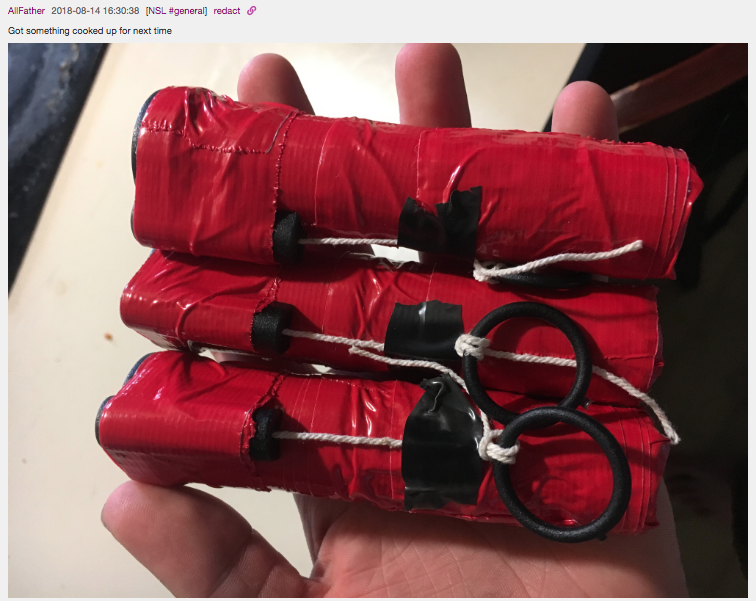 "Whoah, what you got there?" 'johnolithicsoftware' asked. "Those don't look like the smoke bombs I saw."
"I made something out of them," Hodge wrote.
"Nice," 'johnolithicsoftware' wrote. "They look like jihad explosives."
"They aren't," replied Hodge.
Clayton Hodge's girlfriend, Katelyn Martin ('KitKat'), was responsible for creating the National Socialist Library's group reading library, which consists of an archive of books in a shared Dropbox link. Many manuals about making explosives and automatic weapons can be found in the NSL digital library curated by Martin, with titles including 'Improvised Shape Charges', 'Unconventional Warfare Devices & Techniques: Incendiaries', 'Explosives: Propellants', 'Customizing Gun Stocks' and 'Do It Yourself Submachine Gun'.
It is uncertain how many NSL members read the explosives/weapons portions of the library shared by Martin. However, in one exchange in July 2018, NSL members casually discussed bombing the Las Vegas office of the Anti-Defamation League: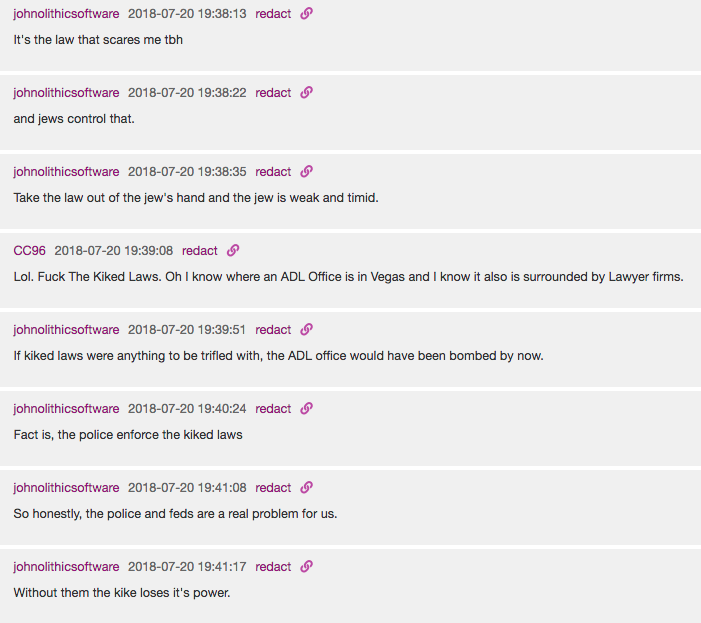 Members of the National Socialist Legion also harassed members of the Pittsburgh Jewish community. In the group's #activism chat channel, a member posting under the username 'Iron Eagle' stole an Israeli flag from a Jewish couple's property along with some of their mail, which he shared pictures of. "I think I may just put flyers in people mail box's lol," 'Iron Eagle' wrote. Other NSL Discord users warned him that tampering with people's mail could result in federal charges.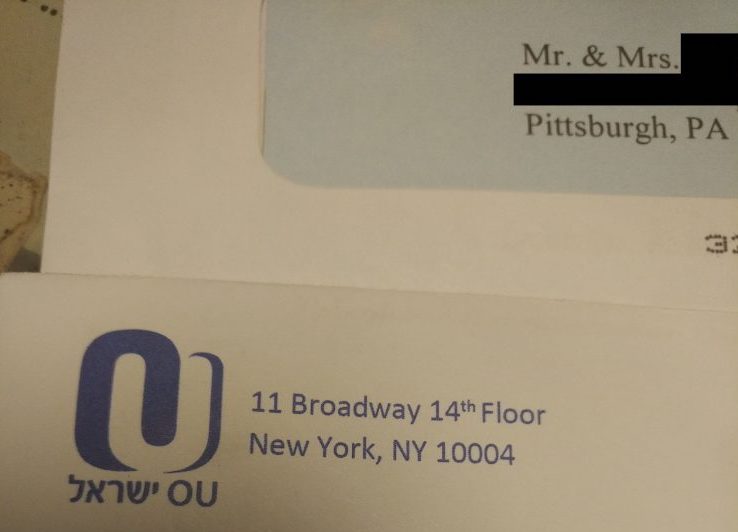 'Iron Eagle' also shared an image of an Israeli flag that he bragged he had stolen as part of his "activism" that night.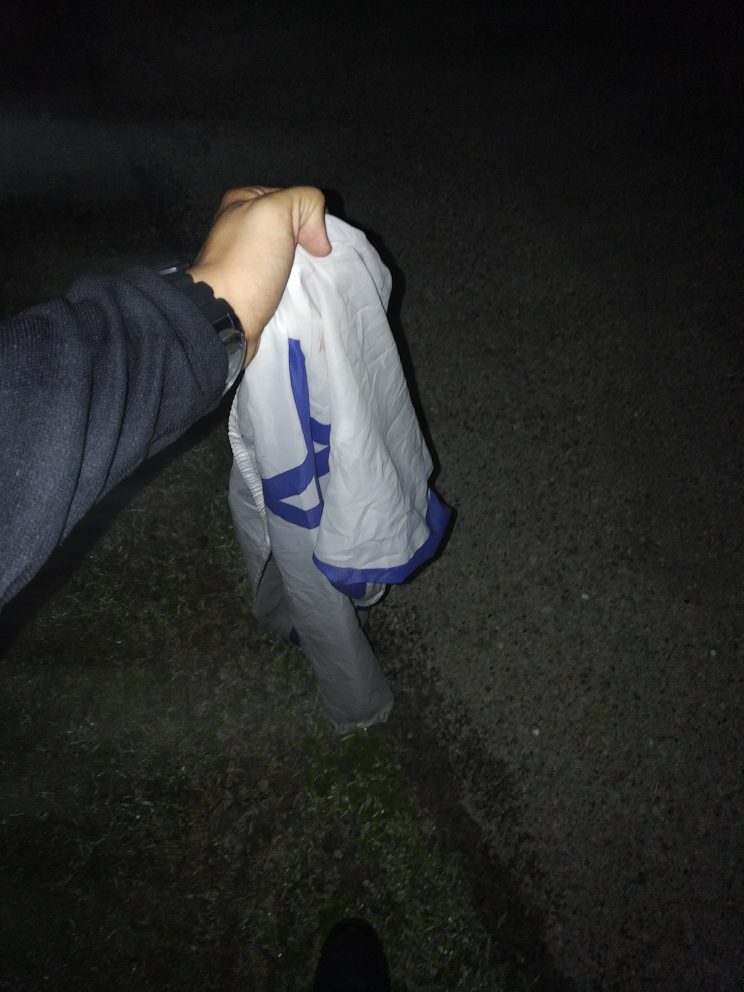 The same NSL member 'Iron Eagle' made several posts claiming to be an active duty soldier working as military police. He makes several references to being part of the "MP CORE" and told another NSL member he had "just left FLW as an MP", presumably referring to Fort Leonard Wood, an Army training base in Missouri.
Members of the NSL server routinely mocked other neo-Nazi groups as either being too extreme or not extreme enough for their preference. While the NSL's rival Patriot Front does not openly present itself as national socialist, opting to camouflage itself instead with American nationalist imagery, the NSL uses the swastika and, more commonly, a Wolfsangel symbol on a shield shared with red stripes. In the United States, the Wolfsangel was used by the deadly neo-Nazi group, Aryan Nations. "Traitors to the white race get death," declared one of the NSL's propaganda flyers.

NSL condemned the neo-Nazi group Atomwaffen Division for integrating Satanic religious beliefs into their neo-Nazi ideology. "Satanism is for the weak and the weak will be crushed" declared one NSL flyer bearing a crossed-out Atomwaffen symbol left in a park in Lafayette, Indiana. Atomwaffen Division, which is connected to five murders, presents itself as one of the most extreme neo-Nazi groups in the United States.
It is difficult to find a neo-Nazi group the NSL likes. Another NSL propaganda poster from April 2018 showed an image of Vanguard America leader Dillon Hopper photoshopped with a rope around his neck. "Fuck Vanguard America. Rats get the bullet" the NSL poster stated. Other members of NSL further decide not to attend Unite The Right 2 after describing Jason Kessler, its primary organizer, as a "a massive faggot", "jewish", and mocked Kessler after his father kicked Jason out of his father's living room during one of his live streams.
Despite the feud, the NSL attempted to patch up its relationship with Vanguard America in September with the offer of a confederation. "Vanguard America has accepted our offer! We're in this struggle together!" declared the user 'REICH.' The alliance fell through a week later. "Vanguard is out of the confederation and NRU is gay as fuck," Clayton Hodge wrote, referring to the National Revolutionary Union, apparently the proposed name of the confederation.
The chat logs contain screenshots of discussions with Dillon Hopper regarding the confederation, and proposed what NSL Discord users described as "SIEGEing his local town." 'SIEGEing' refers the book 'Siege' which calls for random acts of violence by autonomous cells in order to spark a race war.
"We can all have a town," Hopper wrote in the private chat. "We can CLEAN UP a town. And this fucking town needs it with the meth." The NSL were skeptical of the plan. "[Hopper] told me he has over a 100 members," Hodge wrote. "But I know for a fact is 35 about." He then called the plan "delusional," and members said that an attempt at a coup in southern Indiana would be crushed by the military.
Hodge was not opposed to violence. On several occasions he posted messages fantasizing about attacking immigrants. "Something needs to happen to the 'refugees' in my mother's village, something not so nice," he wrote on July 24. "I thought about getting a gang of my uncle and his pals together to gang up on the shitskins." Another user in the NSL Discord server, 'MickyCoy30207,' replied "it is amazing what oxegen [sic] and a match can do just putting that out there."
The NSL's main purpose, however, was to spread propaganda flyers and to attempt to radicalize "normie" conservatives by creating fake Facebook accounts and inserting racist and anti-Semitic messages in conservative Facebook groups. Users discussed white nationalist entryism into the Kris Kobach gubernatorial campaign in Kansas, which the Topeka Capital-Journal reported involved members of the racist alt-right group Identity Europa. NSL Discord user 'p3II3y' wrote,
"Kansas Republican primary is pretty close … if Kobach wins, it means the alt-right in my area is deluded into thinking that they can win through the System … if he loses, hopefully it will shake some of them loose … most of the alt-right in Kansas has been united into a group, which I shall not name, which thinks that the best way to save the white race is to join the GOP and do their intern work." – @p3II3y
The NSL logs also contain a link to a .pdf copy of the group's handbook: "National Socialism: Our Struggle," which lays out the group's Hitlerian beliefs in white supremacy along with a set of rules such as how to dress and act. "Youth should have Hitler or properly kept hair," reads one rule. Another stated: "A National Socialist is a Racialist! He understands the importance of race and racial purity as well as the sacred myth of blood!" The manifesto also advocates violence: "A National Socialist will do what he must for his people even if that means he must use violence to achieve his means."
As part of our in-depth reporting on white supremacist and far-right movements, Unicorn Riot has added the server logs from the NSL's chat server to our public Discord Leaks platform.
–Click here to browse the leaked chat logs from the NSL Discord server
-BONUS: Click here to browse the leaked chat logs from 'ethnoserver,' an alt-right Discord chat formed just days after Unite The Right in Charlottesville in 2017. Notable members in this chat include NSL members like Iron Eagle, as well as Taylor Wilson, a National Socialist Movement member recently convicted for an attempted armed hijacking of an Amtrak train.
PDF documents found in the NSL server:
– National_Socialism_Our_Stuggle_-_NSL_-_Editon_3
– National Socialist Legion – Confidential – Case: 1.5
---