Anti-Fascist Shield Wall Opposes Minnesota Far-Right
Saint Paul, MN – On December 5, hundreds of anti-fascists came with a large shield wall to oppose the weekly post-election far-right gathering at Minnesota's Governor's Residence. Police inserted themselves between the anti-fascists and the weekly 'Stop The Steal' event, which featured armed white supremacists. Far-right groups present included various white nationalists, Proud Boys, Bikers for Trump, and unaffiliated Trump supporters.
A journalist was among several people assaulted by attendees of the far-right protest, someone else had their nose broken by the same assailant. By the end of the Saturday afternoon, two people were cited for disorderly conduct and numerous cars from the pro-Trump gathering had their tires slashed.
After gathering at a park, the large anti-fascist demonstration marched to Summit Avenue. The opposing sides were separated by a unit of bicycle police from the Saint Paul Police Department, the Ramsey County Sheriff's Office, one White Bear Lake officer, and the Minnesota State Patrol. Many State Patrol troopers were in full riot gear. Rifle-toting members of the State Patrol Special Response Team were also present, sporting militaristic camouflage.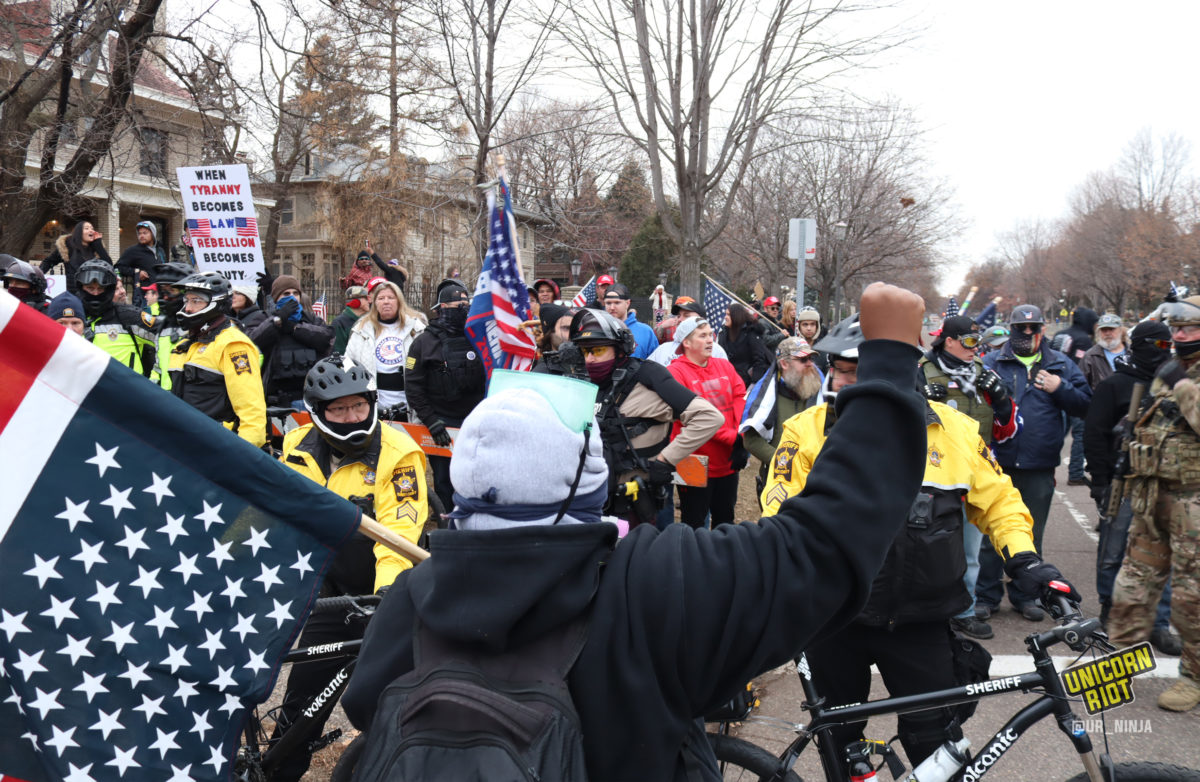 All of the police appeared to be faced towards the anti-fascist side. Saint Paul Police Commander Joshua Lego said that police had their back to the armed far-right crowd and were poised to confront anti-fascists because officers "had eyes on" people with shields who he said were "practicing how to push through crowds" before they arrived. Lego argued that the far-right elements (who were visibly armed) were simply "standing there and having a barbecue."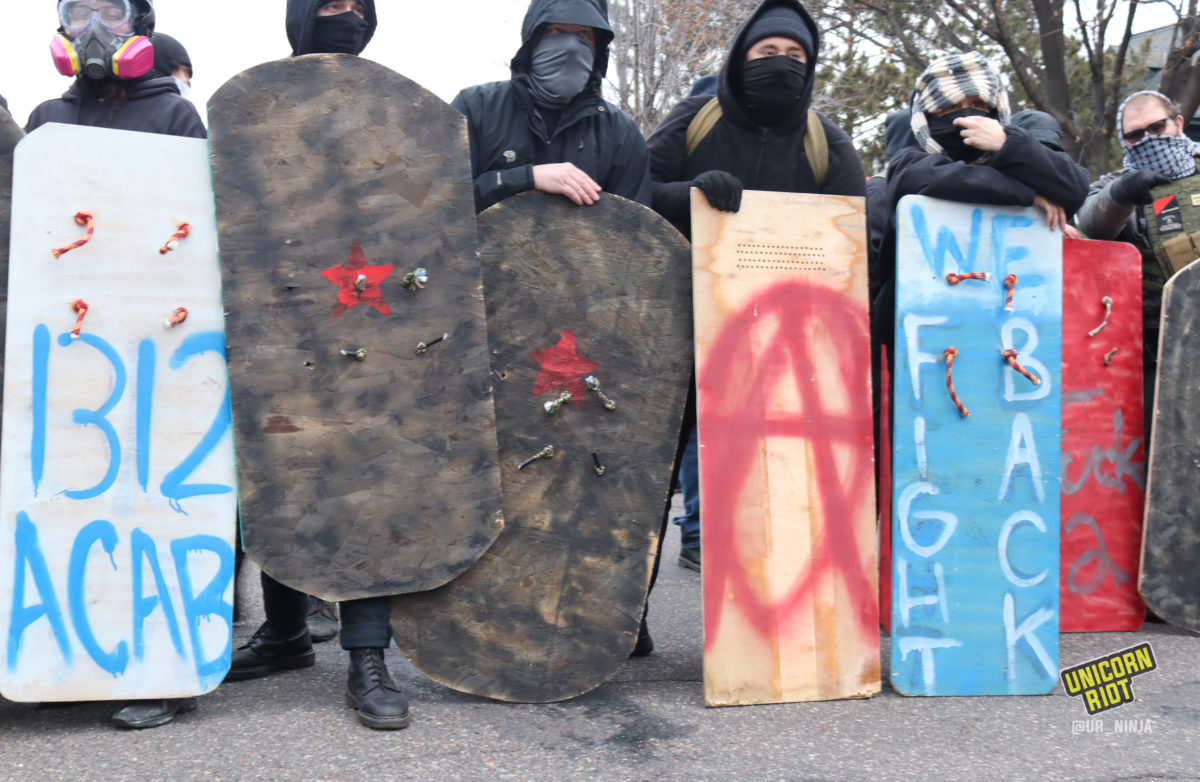 Recent counter-protests to the far-right presence became more urgent after a small group of people were assaulted when walking around at a 'Stop The Steal' protest in front of the Governor's Residence on November 21. The next Saturday, November 28, a group of around 100 anti-fascists rallied to oppose the pro-Trump gathering organized by the Facebook page 'Hold the Line MN'.
At least two fights broke out between opposing protesters on November 28, with pepper spray sometimes being used. An assortment of Proud Boys were active in the scuffles, including a man named Corey Nielson.
Nielson was with the Proud Boys in Washington D.C. last weekend while they terrorized the city with mob violence, carrying out vicious group beatings and damaging the property of several historic Black churches.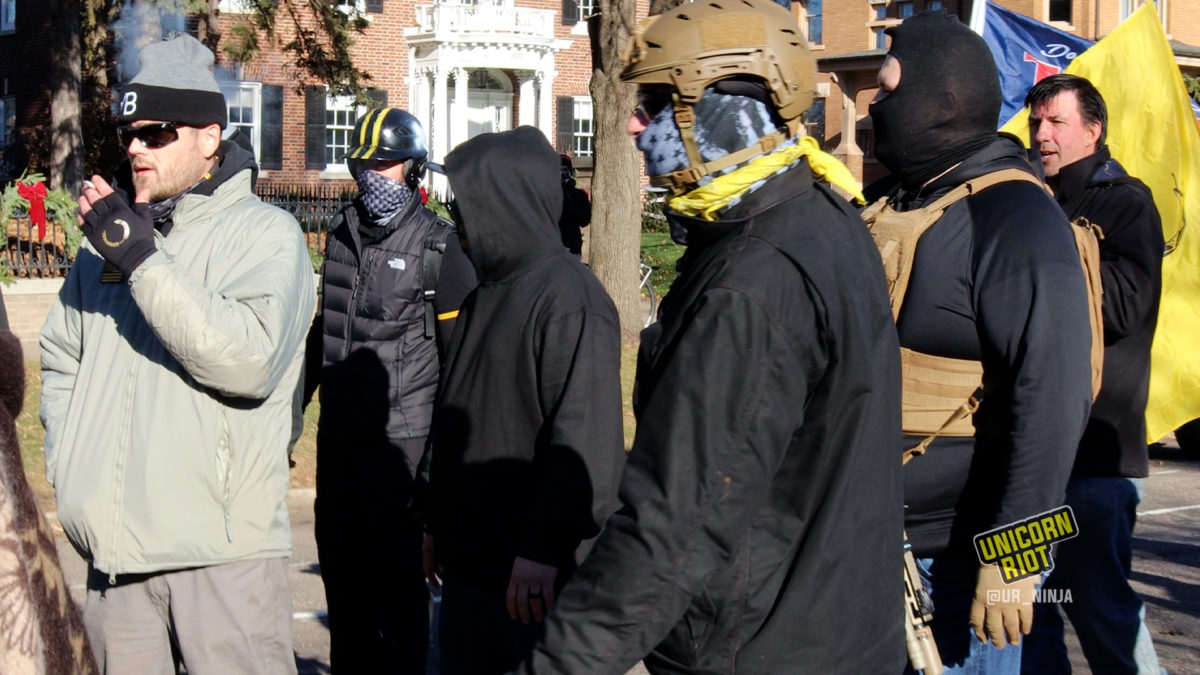 Nielson, a 39-year-old from Robbinsdale, MN, also led an assault in D.C. on December 12, punching a lone Black man several times before dozens of others jumped his victim. Nielson was then stabbed in apparent self-defense, charged with assault, and quickly disavowed by the DJ community he was involved with.
Just what MN needs – a Proud Boy causing chaos in DC – his name is Corey Nielson and he is a DJ for the Timberwolves who i hope fire him https://t.co/YqKga38AhB

— Carol Schuler (@schulersaid) December 15, 2020
During the December 5 events in Minnesota, one of the people assaulted by the far-right side was a Black woman. She was a journalist covering the event and had her phone slapped out of her hand and was then pushed. During the same interaction, just seconds later, the aggressor punched another person in the face, breaking their nose. The attacker then escaped by running away. The Black woman reporter assaulted by the far-right journalist has faced targeted online harassment in the aftermath of the assault.
Topics protested by the far-right crowd included Trump's election loss and coronavirus safety measures. Another pro-Trump gathering also took place at the Capitol in Saint Paul while the opposing sides were in a face-off just a mile away.
Many of the far-right group had come to Saint Paul from out of town to protest while violating COVID-19 containment orders to wear a mask and banning large gatherings. A group of Proud Boys that day later left the Capitol to participate in a 'no-mask' protest at Saint Paul's Midway Target, one of the more racially diverse Targets in the metro area.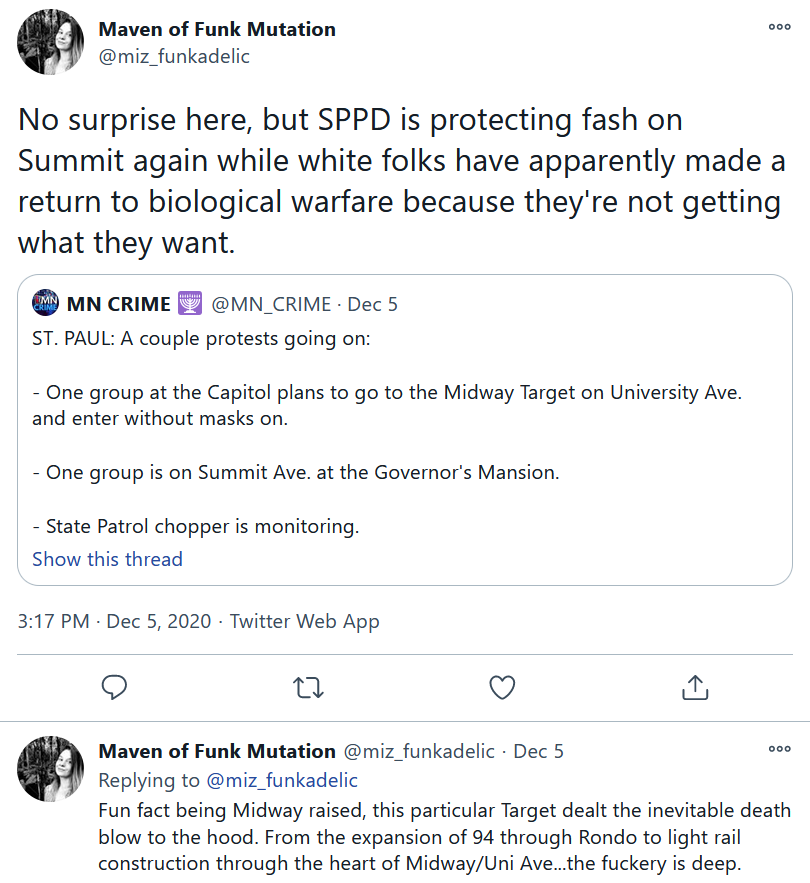 Across the country on every Saturday since the Presidential election, violence from fascists and the far-right has become the norm. With numerous shootings on the west coast and mobs of white supremacists roving the nation's capital this past weekend, far-right attacks can be expected to continue.
Locally, after the December 5 events, in response to having their cars vandalized and tires slashed, far-right organizers claimed officers set them up and allowed their cars to be damaged; many of these organizers have been throwing Back the Blue protests all summer.
VIDEO: Wild end to Saturdays protest in St. Paul. After counter-protesters marched away, armed Back The Blue/Stop The Steal supporters were upset finding out police do not prevent crime after cars were vandalized. "We should fucking defund you, you're not doing your goddamn job!" pic.twitter.com/6m580X4pMV

— daviss (@daviss) December 7, 2020
Since then, online postings from the attendees and organizers have escalated rhetoric threatening violence against anti-fascists and liberals.
For an extended version of the December 5 events, see video below.
Continue to follow Unicorn Riot for more on this topic.
---
Follow us on X (aka Twitter), Facebook, YouTube, Vimeo, Instagram, Mastodon, Threads, BlueSky and Patreon.
Please consider a tax-deductible donation to help sustain our horizontally-organized, non-profit media organization: