Homophobic Stunts in Boston Part of Long-Term Far-Right Pattern
Boston, MA – More than 100 right-wing demonstrators flocked to an August 2019 event promoted as a "Straight Pride Parade" and described more recently as a "white nationalist" gathering by the mayor of a Boston suburb.
Super Happy Fun America (SHFA), the group organizing these events, is also holding a "Back The Blue" pro-police event on Saturday, February 22 in Boston. The language behind Saturday's event echoes the 'Blue Lives Matter' counter-movement that sprang up in response to the 'Black Lives Matter' movement in 2014 and 2015.
This report details some of the culture of organizing behind the 2019 right-wing event, similar homophobic provocations in years past, and a timeline of events last August 31. While this event only took a day to unfold, it's triggered further controversies in the region that have stretched for months.
---
Christian fundamentalists and fans of Donald Trump participated in the event alongside ultra-nationalists and white supremacists on Saturday, August 31. Far-right propaganda referencing 'American Culture' and 'America First' were seen, as well as a giant Trump parade float reading "Build The Wall." Another similar event is expected later in 2020.
#Boston: ~100 right-wing demonstrators in the #StraightPrideParade passed the #StraightPrideIsHatePride counter-demonstration.

1 sign: "America 1st Unity"

Another:
"All Lives Matter
Immigration
American Culture
The Constitution
2nd Ammendment [sic]
Made In USA
Education […]" pic.twitter.com/OWNnmBhC23

— Unicorn Riot (@UR_Ninja) August 31, 2019
More than a thousand people came out to protest the far-right values being paraded through Boston city streets. Two years prior, in 2017, tens of thousands converged in opposition to another far-right gathering in Boston, a "Free Speech rally" which advertised neo-nazi and white supremacist speakers.
White supremacists, homophobic figures key to decades-old right-wing organizing tactic
Although the event was publicized as a 'Straight Pride Rally' the event was organized and made possible by a network of ultra-conservatives and neo-nazis. As detailed below, this tactic of gathering in open hostility towards non-heterosexual people has been utilized for decades by the far-right to strengthen their numbers.
'Super Happy Fun America' was the name chosen for the front group created to publicize the August event. Lead organizer Mark Sahady has organized past events under the banner of 'Resist Marxism' a far-right coalition which includes individuals in the neo-nazi group Patriot Front.
John Camden, a white supremacist and a leader of the recently-formed 'American Guard' (founded by neo-nazi Brien James) also helped organize the Boston "Straight Pride Parade". Camden has tried to intimidate local communities at events both here and in Rhode Island.
Camden recently concealed a neck tattoo of a 'wolfsangel', a ancient rune used as a symbol by Nazi Germany, and still used by neo-nazis today.
Chosen to serve as parade grand marshal was Milo Yiannopoulos, a far-right propagandist who has coordinated extensively with Andrew "Weev" Auernheimer, the system administrator of far-right platform Daily Stormer, to insert white supremacist talking points into Breitbart.com and elsewhere.
"Alt-right get off our streets; no justice, no peace," chants counter-protesters to #Boston #StraightPrideParade. Group of demonstrators stretches from Emerson College down Boylston St back into Boston Public Garden. pic.twitter.com/EqG4of39q7

— Unicorn Riot (@UR_Ninja) August 31, 2019
While those behind this year's 'Straight Pride' claimed they're not anti-LGBTQ+, some attendees espoused deeply homophobic views. One woman wearing a homophobic shirt was witnessed de-escalating a male attendee who appeared to want to physically fight protesters.
The experience had by many protesters was summed up by journalist Molly Conger, who tweeted a video of another woman wearing a homophobic shirt and waving her arms while loudly proclaiming "I am anti-gay!"
Reactionary 'heterosexual pride' rhetoric has been cultivated in the U.S. in response to LGBTQ 'pride' events, themselves rooted in the Stonewall uprising and anti-LGBTQ state repression of 1969.
In 1990 'blue squares' were discovered chalked around the Harvard Yard and campus sidewalks in Boston. The square was said to represent four values: faith, family, country and community. They were considered by pro-LGBTQ students and allies as an attack on the re-appropriated 'pink triangle' symbol originally meant to identify non-heterosexuals during Nazi Germany.
That same year a conservative student group held their own 'Straight-Pride Rally' at the University of Massachusetts-Amherst campus. There, Bibles and American flags were waved as the 'Young Americans for Freedom' leaders "shouted vitriolic denouncements of lesbians, gays, and bisexuals." Later, in fall 1990, students on that campus formed the 'Heterosexual Club.'
The primary goal of this tactic is to normalize far-right presence in the streets.
A secondary goal is to inspire a protest that gets picked up by mainstream media. The resulting media coverage can be spun as Leftist negativity towards straight people, driving more 'normies' (normal everyday folks) into the waiting camps of the right-wing.
In 2011, after the Occupy Wall Street movement had been sweeping the nation for almost two months, Towson University in Maryland held a 'Straight Pride Day' organized by Matthew Heimbach through his campus chapter of Youth for Western Civilization. The year before, Heimbach had founded a chapter of Young Americans for Freedom at his previous school.
Heimbach's 'Straight Pride Day' included a speech by Bay Buchanan (Pat Buchanan's sister) as well as rhetoric against both communists and Muslims. Later in 2011 Heimbach attempted unsuccessfully to organize a white student union through Youth for Western Civilization.
'It's OK To Be White' campus events are similar in aim to the 'Straight Pride' gatherings; the goal is to provoke a reaction that can be spun as unreasonable and irrational.
---
Overwhelming police presence culminates in pepper spray attacks
The homophobic, far-right, and fascist groups who gathered for Sahady's 2019 event did so under a massive escort of Boston Police Department officers (BPD), Massachusetts State Police, Boston's Cops On Bikes for Regional Assistance (COBRA) mounted police, and out-of-town police officers imported from many cities around the state.
Organizer Mark Sahady was observed with an American flag in one hand and a megaphone in the other, yelling at protesters to "get used to" their presence in the streets and making use of the phrase "we shall overcome," a key anthem of the Civil Rights movement.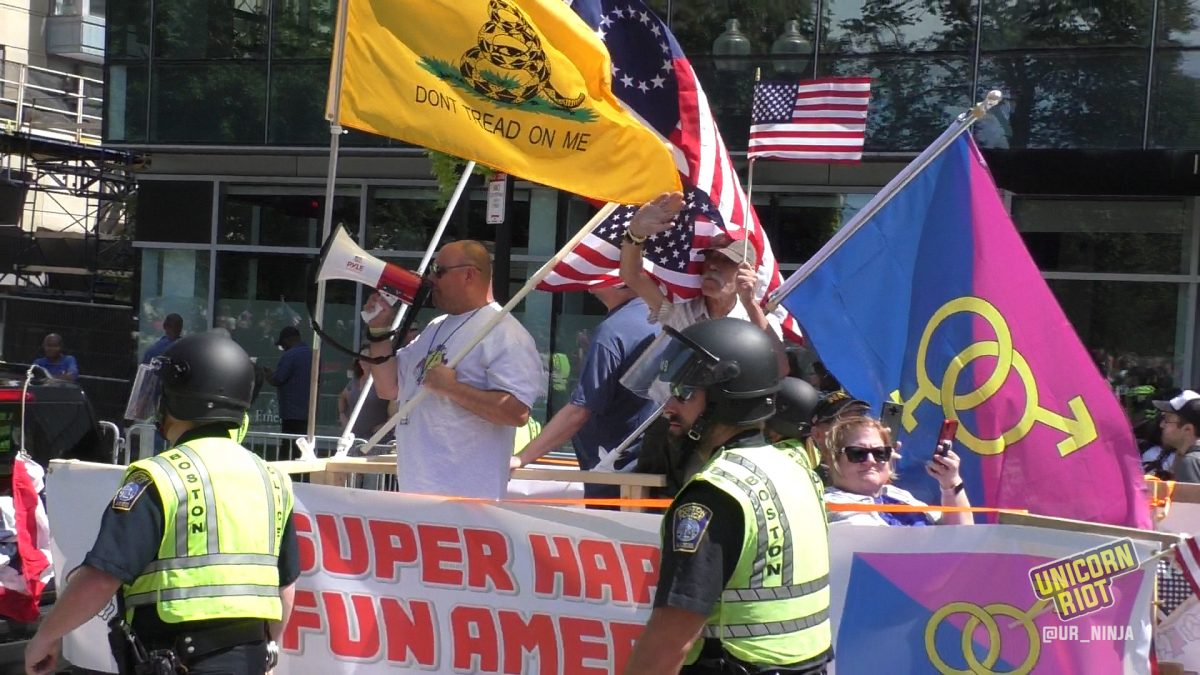 As anti-racists gathered to oppose the rally, BPD repeatedly made sudden arrests and attacked protesters without apparent provocation. It later became known that megaphone seizures and facial coverings were cited as excuses for police advances and arrests.
In dozens of videos shared on social media, many protesters can be seen being battered with batons and bicycles, and doused with pepper spray.
Within the first hour of the rally outside City Hall, a multi-jurisdiction contingent of motorcycle police under the Northeastern Massachusetts Law Enforcement Council (NEMLEC) blasted the counter-demonstrating crowd with high volume sirens, then moved off. NEMLEC coordinates multiple police departments within the NE Massachusetts region, sharing resources, information, and law enforcement personnel "for the benefit of public safety."
#Boston update: NEMLEC motorcycle joint operations unit (from multiple cities) was running its sirens in the middle of the leftist counter-demonstration. They left after ~5min.

Many state police in full riot gear waiting a block away. #StraightPrideParade pic.twitter.com/I2H7SWLqTk

— Unicorn Riot (@UR_Ninja) August 31, 2019
Police periodically broke up a boisterous yet generally fluid counter-demonstration between 1–4 p.m. State police in a pair of armored formations — one with black riot control gear, the other in olive fatigues with heavy riot control weapons — both moved around the periphery of the protesters.
As the right-wing event appeared to be winding down, despite low crowd tension among counter-demonstrators, a motorcycle group rolled south on Congress Street in the midst of the counter-demonstrators. After several protesters blocked the advancing police, COBRA officers with bicycles moved to the front of the police line.
BPD had given neither a dispersal order nor indications of safe directions where the public could egress or exit from the demonstration. Unicorn Riot asked the captain in charge of the mounted unit what their tactical objective was; the captain, brandishing a can of pepper spray, gave no statement besides "Move back," a difficult task due to the density of the crowd.
Moments later the BPD captain lost control of his pepper spray can, dropping it into the crowd. As the captain scrabbled on the ground for his chemical weapon, an outbreak of police violence began. Officers began pepper-spraying many individuals including our Unicorn Riot reporter.
Dozens of individuals were exposed to pepper spray, and many near the Congress Street median fence were struck by COBRA officers wielding their bicycles as blunt weapons.
As medics and bystanders near the wall under City Hall attended to the injured with alkaline-based water mixtures designed to mitigate the chemical agents, the captain advanced ahead of most of the BPD unit to spray more people who did not seem to pose any imminent threat. Many fled down Congress Street towards the financial district at the heart of downtown, while others lay incapacitated.
Several people were temporarily blinded by the police chemical attack and had to be assisted in order to leave the scene.
Many affected by the @BostonPolice pepper spray just now. #Boston #StraightPrideParade pic.twitter.com/HiIo9iWGTb

— Unicorn Riot (@UR_Ninja) August 31, 2019
About a dozen police violently arrested documentarian Rod Webber. Video of Webber's arrest shows him screaming in pain, "I can't use my leg" as officers attempted to force him up onto his feet after having pinned him to the ground. Video from others who were present do not show any apparent provocation on Webber's part, and his own livestream footage appears to show his arrest beginning when an officer came up behind him and grabbed him by the throat.
Officers also arrested a street medic, whose first aid bag was left on the street and then, in an ironic display of police overreach, treated as a potential bomb threat by other officers.
Police reportedly made 36 arrests on August 31, all but two arrestees believed to be pro-LGBTQ protesters or journalists.
---
The homophobic, far-right, and fascist groups who organized the August event did so under an escort of city and state police. Officers ended up attacking the crowd who had gathered to protest the event and arrested 36 people over the course of the day. Dozens were exposed to pepper spray, and many near the Congress Street median fence were struck by officers wielding their bicycles as weapons.
Lingering questions exist from residents of Boston and surrounding suburbs about the actions of their police departments and the violence that was perpetrated at the 'Straight Pride Parade.' Local writer Sophia Belle observed:
"No amount of rainbow crosswalks or tokens of solidarity can mask the intention of their pockets; no affirming Pride month speech can ease the trauma of watching Somerville, Cambridge, Boston, and Quincy police deliver physical blows to queer constituents."
Unicorn Riot will continue to report on the aftershocks of 2019's far-right propaganda event and the violent policing of protesters that took place that day. including responses from government employees and from members of the community during the following several months; and the continuing interactions between the public and the State. As of February 21, 2020, two defendants are still facing charges of the 36 who were arrested on August 31, 2019.
---
Follow us on Twitter, Facebook, YouTube, Instagram, Vimeo, and on Patreon.
Please consider a tax-deductible donation to help sustain our horizontally-organized, non-profit media organization: