New Year, New Outbreaks: Detainees at GEO Group's Colorado ICE Facility Face More Quarantines
Aurora, CO – Since February 20, 2020, a total of 141 detainees remain quarantined due to outbreaks of the flu and mumps at the sole Immigration and Customs Enforcement (ICE) detention facility in Colorado, privately owned and operated by GEO Group. This facility is currently detaining 540 people, meaning 26% of the population is in quarantine.
For the detainees at the Colorado facility, the recent outbreaks and quarantines are nothing new. In the past year at this detention center, there have been at least five viral outbreaks, causing politicians and immigrant advocacy groups to look closely at what may be going wrong inside the for-profit immigrant prison.
Throughout 2019, the GEO facility saw multiple mumps, chicken pox, and scabies outbreaks. Due to the back-to-back infectious flare-ups, Rep. Jason Crow (D-CO6) attempted to tour the facility on February 20, 2019, but was denied entry; he tried two additional times and was furthermore denied.
To make sure he, nor other representatives across the country were denied visitation in the future, Rep. Crow and three other members of congress introduced a bill called the Public Oversight of Detention Center Act (PDF) on May 20, 2019, that would allow any member of Congress to inspect an immigration detention facility within 48 hours of notifying the facility.
According to the press release for the Act's introduction, "detention centers in Texas and Louisiana have also reported similar disease outbreaks resulting in quarantines and a loss of due process." 
Rep. Sylvia Garcia (D-TX29) highlighted the need for oversight, especially in the facilities holding unaccompanied and migrant children, citing the deaths of children while in Customs and Border Protection custody:
"That's why Congress's authority to monitor and oversee Executive Branch activity is one of the most important constitutional duties assigned to the Legislative Branch. If our representatives are unable to properly engage with DHS or HHS detention centers to determine whether our laws are being faithfully carried out, our Constitution ceases to operate as it was originally intended.

It is imperative that all members of Congress are allowed timely entry into detention centers that house immigrants and migrant children in order to ensure the safety and well-being of these families." – Rep. Sylvia Garcia (D-TX29)
Even though the Act was not signed into law until December 20, 2019, Rep. Crow has conducted weekly oversight visits at the facility in Aurora each Monday at noon since July 2019.
Another piece of legislation was passed on October 9, 2019, by the Aurora City Council requiring the detention facility report any contagious disease outbreaks to the local fire department.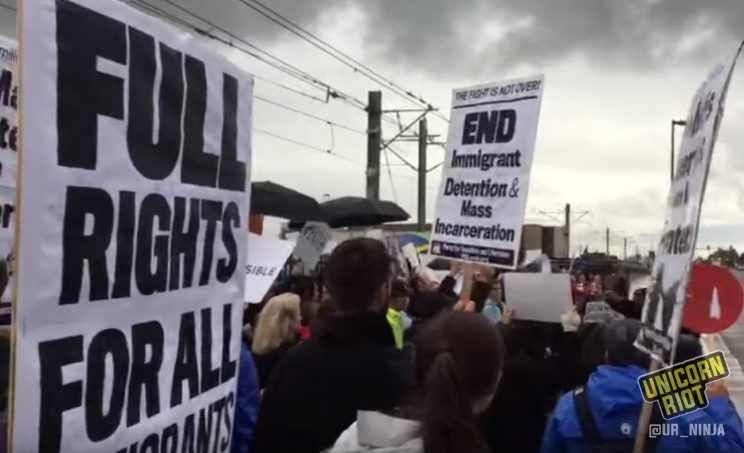 Ana Rodriguez with the Colorado People's Alliance (COPA), a local racial justice group, told Unicorn Riot that months of speaking with detainees and their families make it clear that this detention facility, being for-profit, truly does care more about making money than the well-being and human rights of the detainees.
"One man told us that it took him five different requests to actually get an appointment with the doctor on staff, the only one who is allowed to prescribe a second mattress to address his damaged spine. Multiple times they took him to medical at 5 a.m., made him wait in the medical holding room until 8 a.m. when the medical staff actually gets there, just to tell him that the appointment was not made with the doctor, so they could not get him another mattress." – Ana Rodriguez
Rodriguez went on to say that it can take weeks from the time someone requests a medical visit before they acquire an appointment.
"The only time they take detainees to medical on the spot is when detainees stage civil disobedience by refusing lockdown or lying down on the ground. How is GEO supposed to spot a viral outbreak immediately if they refuse to provide prompt access to medical care?" – Ana Rodriguez
Outbreaks and quarantines are not the only hardships plaguing the people detained at the Colorado facility. Detainees have come forward about being served rotten food, being forced to help maintain and clean the facility, and having their medications withheld and other forms of medical malpractice and neglect.
Amber Skelton, who's husband is a detainee, spoke with COPA about the mistreatment her husband has faced. Mr. Skelton has a condition that causes allergic reactions on his feet, and if he is not able to treat the reactions through soaking and other remedies, his ability to walk becomes threatened. It took three weeks of asking for medical assistance to finally receive foot soaks, and by that time he was already unable to walk or stand. Medical staff eventually gave him a wheelchair.
After he began receiving the foot soaks, which should have started to relieve his allergic reactions, Mr. Skelton felt like he was getting worse. He discovered that the nurse who had been giving him the foot soaks was putting iodine into the soaking solution. Skelton's allergy to iodine is listed on his allergy sheet on file at the GEO detention facility.
Because he was not receiving adequate care in the detention facility, and he still could not stand or walk, he was transferred to an off-site healthcare facility to recover. Staff at the new facility told him he had a staph infection.
Mrs. Skelton says she reached out to Tri-County Health Department to request a medical inspection of the Colorado facility, but the health department told her that they already tried to do an inspection, and that the GEO Group chose to pay a fine rather than let them inside.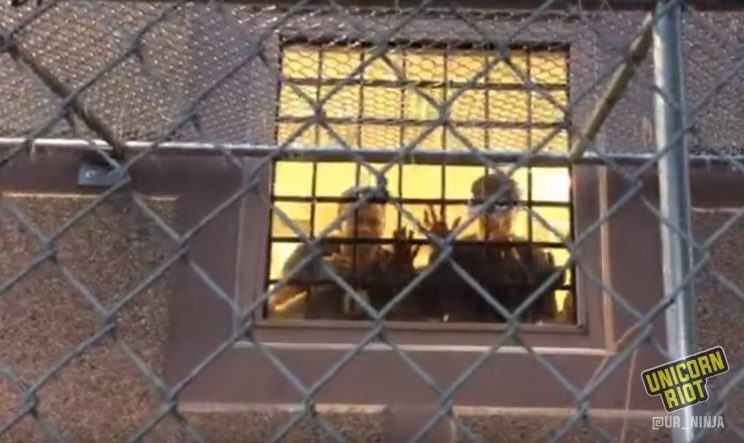 There have been two recorded deaths at this GEO facility leading directly from lack of adequate medical care — Evalin-Ali Mandza and Kaymar Samimi. Detainees' basic human rights have been violated in other alleged or proven ways which can be examined in the six lawsuits filed against the center since 2016 [1] [2] [3] [4] [5] [6].
Four of the lawsuits are active, including a class-action lawsuit alleging the facility has been forcing its detainees to help maintain and upkeep the facility for pay not exceeding $1 per day.
The second ongoing lawsuit is on behalf of a former detainee Mohamed Dirshe, who was targeted and attacked by other detainees for being gay, and who was not sufficiently protected by guards who knew he was vulnerable. It wasn't until a month after being attacked that he was finally taken to Denver Health, according to a new report by the American Civil Liberties Union (ACLU) of Colorado.
The third active lawsuit was filed on behalf of another former detainee named René Lima Marín, who according to the official complaint "was suffering so greatly and receiving so little care" that he resorted to legal assistance to try to force the detention center into providing him medical relief.
The fourth active lawsuit (PDF) was filed on January 17, 2020, on behalf of Lawrence Ritchie, who on January 17, 2018, was attacked by fellow detainees while GEO Group employees allegedly did not intervene. Ritchie then spent three months in a segregation cell meanwhile suffering ongoing physical and psychological pain from the attack.
According to Rep. Crow and his team, the Colorado facility has recently hired two more doctors, bringing the total to three, as well as, hired more nurses, a dentist, and a physiologist. Perhaps with more medical staff, once this set of outbreaks is over, there won't be more. Although Ana Rodriguez points out that "because they are a profit motivated corporation, they cut every corner they can to save money."
Unicorn Riot reached out to the GEO Group ICE detention facility in Aurora for comment, but they have not responded.
---
Please consider a tax-deductible donation to help sustain our horizontally-organized, non-profit media organization:

---
Unicorn Riot's Coverage of the Sanctuary Movement and Immigration: