National Guard Soldier Who Deployed to DC Identified as Neo-Nazi
Columbus, OH – When Ohio sent one hundred National Guard troops to Washington D.C. to assist the Trump administration's repression of protests, they also sent at least one soldier tied to neo-nazi and white supremacist ideology. Last week, Ohio Governor Mike DeWine confirmed that one of his soldiers sent to assist Trump's crackdown has now been withdrawn from DC after being tied to a racist and nationalist YouTube channel.
The soldier's white supremacist affiliations have been reported by the Associated Press as well as Jared Holt, an investigative journalist at Right Wing Watch. According to Right Wing Watch, the Ohio National Guard "stated the member was part of Company C, 1st Battalion, 148th Infantry Regiment." The white supremacist soldier has also been tied via Jared Holt's reporting to a YouTube channel operated operated under the alias 'Zoltanous HN'.
A message on a Telegram chat channel tied to the 'Zoltanous HN' YouTube channel shows that the man behind the 'Zoltanous' persona indicated he suspected he would be reported on in the news. He also commented with enthusiasm about "my unit" being "activated" with "real ammunition" alongside a call for 'RaHoWa', a neo-nazi slang term that is short for "racial holy war."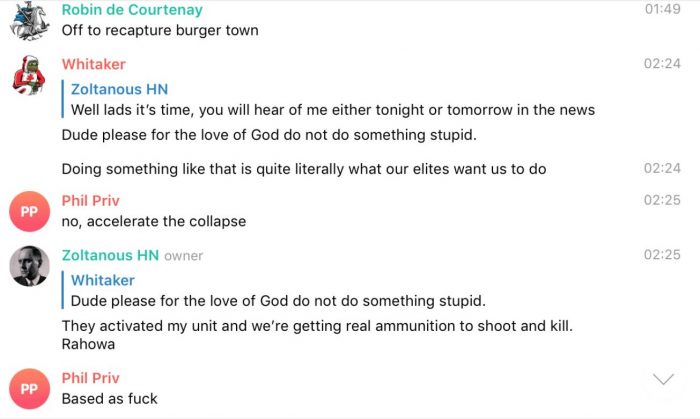 Today, Unicorn Riot is the first to confirm the soldier's identity, providing a new angle of insight into the presence of neo-nazi ideology in the ranks of the US military.
Facebook profile pages associated with an Ohio man named Shandon Simpson both match his active-duty military status as well as the 'Zoltanous' alias already tied to the soldier withdrawn from duty.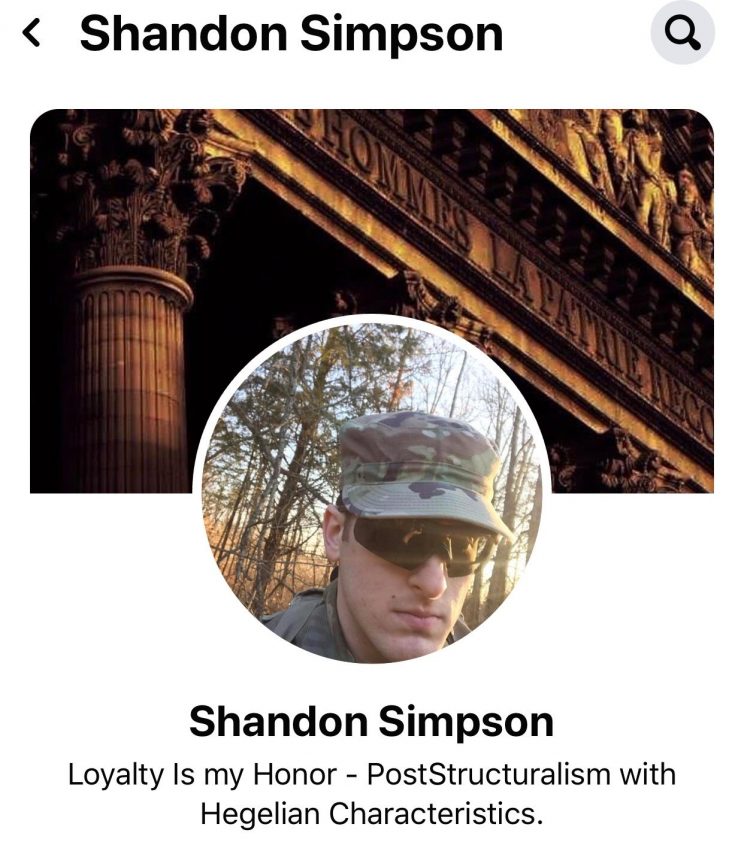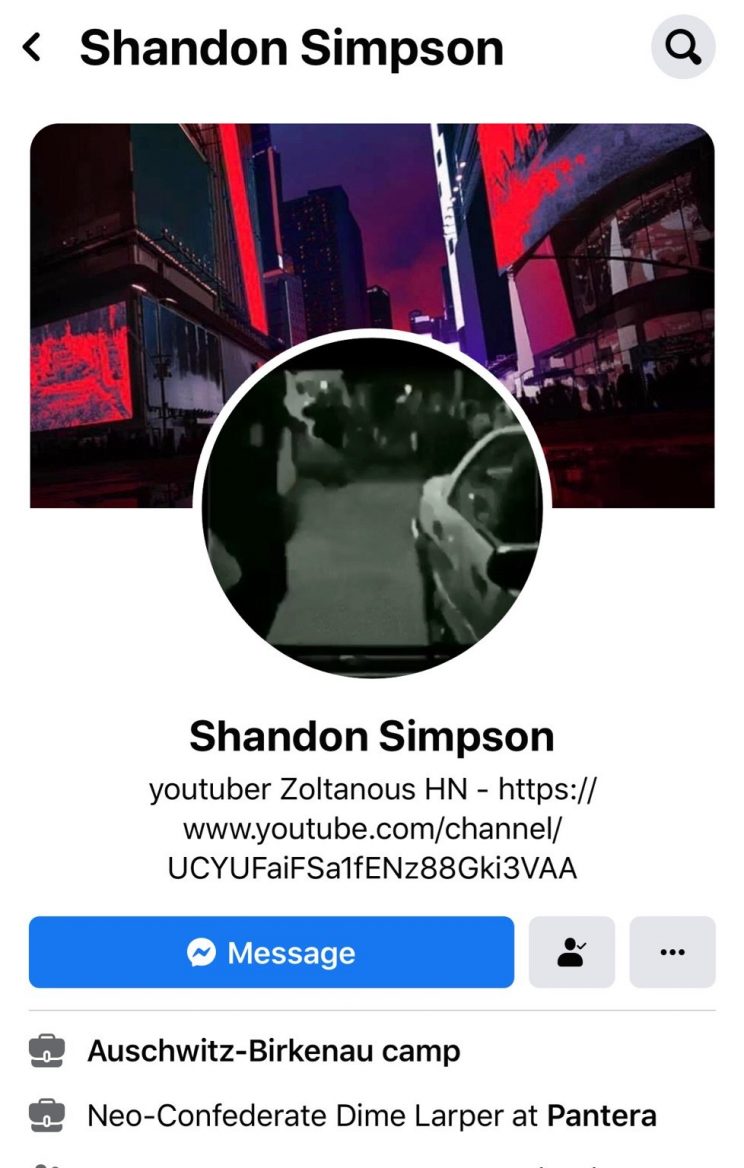 An archive of Simpson's Facebook page, saved before the profile was deleted, further confirms his identification as the Ohio National Guard soldier in question.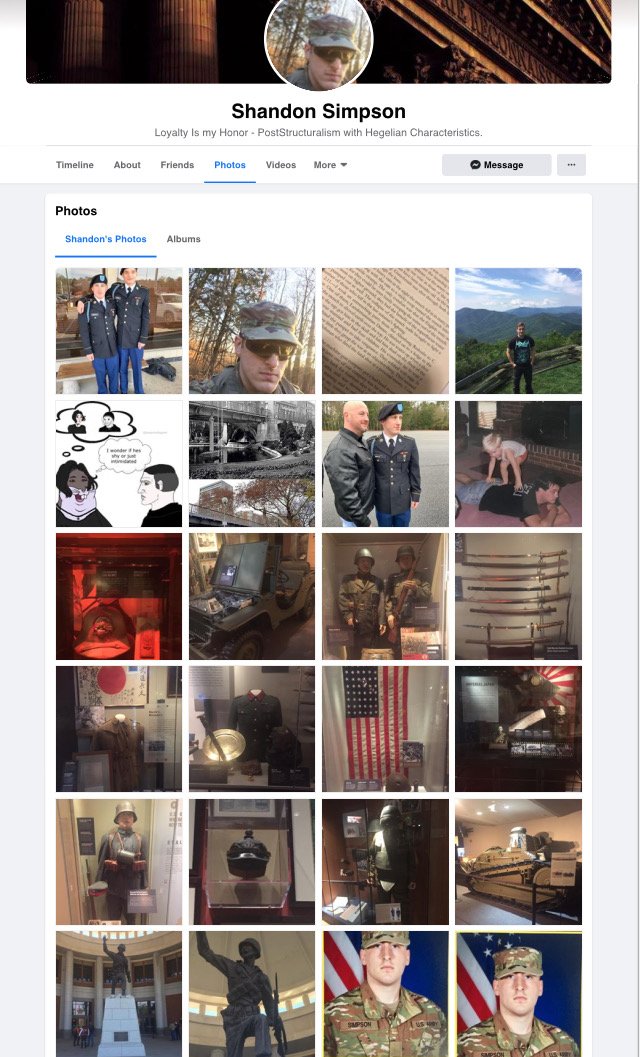 One of Simpson's Facebook posts seems to claim that he tested positive for the coronavirus in May, raising potential concerns about National Guard troops spreading COVID-19 during their deployments to George Floyd protests around the country.

Shandon Simpson aka 'Zoltanous' shows up with several different user names in alt-right and neo-nazi organizing chats held over the app Discord and previously leaked by Unicorn Riot (1 , 2 , 3 , 4).  Simpson posts on Discord that he identifies as a 'fascist.' At least half a dozen Discord usernames believed to belong to Simpson have been identified (he also used the aliases 'Gihren x Zabi' and 'Haze'), implying that his accounts may have often been banned for violating Discord's Terms of Service, which forbid hate speech.
Simpson notably shows up in a fall 2017 chat called 'Pony Power', an informal neo-nazi group that focused exclusively on 'doxing', harassing, and threatening anti-racist activists. Others involved in the 'Pony Power' chat included members of the neo-nazi group Vanguard America, as well as affiliates of the Daily Stormer hate site.
A review of footage on YouTube also shows that Simpson attended the neo-nazi Unite The Right rally in Charlottesville, VA on August 12, 2017. Simpson appears to have attended the rally as a member of Vanguard America, one of the violent fascist groups that organized the event. He can be seen below in a YouTube screenshot wearing an official Vanguard America hat: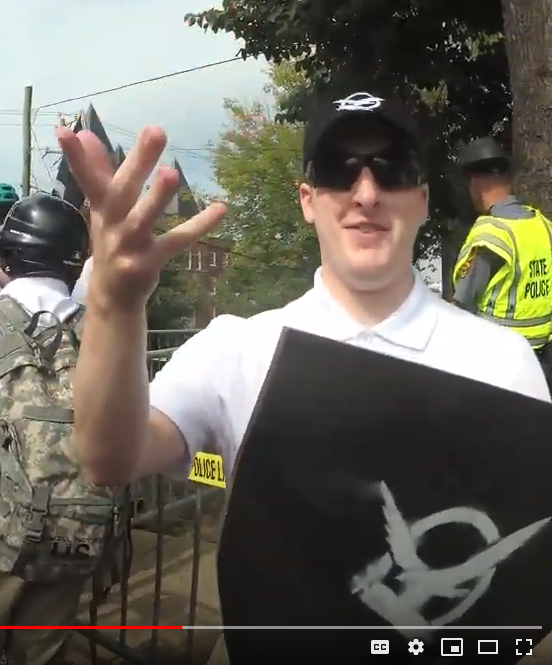 Another video frame shows that for part of the Unite The Right rally, Simpson was standing near James Alex Fields, the young neo-nazi who later that day perpetrated the deadly car attack that killed Heather Heyer and injured many others. Fields would eventually receive several life sentences in federal prison after pleading guilty to Heyer's murder.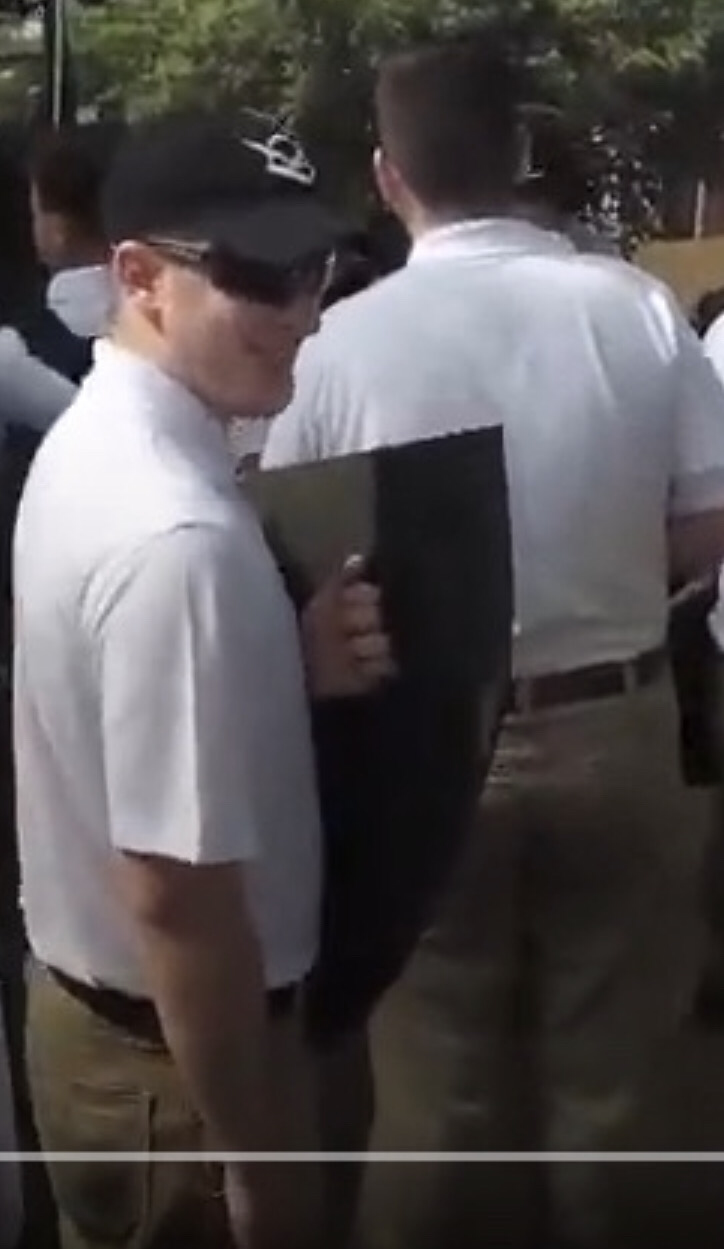 Shandon Simpson is hardly the first member of the US military, or the National Guard, to be exposed as a neo-nazi. In 2017, Unicorn Riot exposed how Brian Brathovd, a soldier with the Alabama National Guard, was also doing paramilitary fascist organizing and bodyguarding neo-nazi leader Richard Spencer.. In 2019, several members of the white nationalist organization Identity Evropa were also exposed in several branches of the military after Unicorn Riot published the group's private organizing chats. One member of the Minnesota National Guard was allowed to keep his job despite being exposed by journalists as an Identity Evropa member.
---