Nine Council Members Vow to Disband Minneapolis Police
Minneapolis, MN – In an historic meeting on June 7, 2020, local elected officials promised to dismantle the scandal-ridden Minneapolis Police Department (MPD).
Time will tell whether this promise will actually be implemented, or if it was simply convenient political posturing during a popular uprising.
The main thing that's clear is that conversations are happening publicly, the first steps to imagining a new world without the MPD for the first time in over 150 years.
Calls to abolish the police hit a fever pitch this past weekend, with nine liberal city council members vowing to rid the community of police terror a day after many thousands marched demanding abolition.
Thousands attended the Sunday meeting in Powderhorn Park, less than a mile away from George Floyd's memorial site and less than two weeks after his murder by 4 MPD officers.
Unicorn Riot was live for the duration of the event. Below is the full video of the meeting.
Organized by Reclaim the Block and Black Visions Collective, the event was called 'The Path Forward: Community Meeting with City Council Members'.
Nine of 12 seated Minneapolis city council members showed up to the meeting to pledge to end the MPD: President Lisa Bender (Ward 10), Alondra Cano (Ward 9), Phillipe Cunningham (Ward 4), Jeremiah Ellison (Ward 5), Steve Fletcher (Ward 3), Cam Gordon (Ward 2), Vice President Andrea Jenkins (Ward 8), Andrew Johnson (Ward 12), and Jeremy Schroeder (Ward 11).
Minneapolis City Council President Lisa Bender said they were all there because they listened to the community. She said that efforts of "incremental reform have failed" and that it was clear that the police are not keeping people safe.
President Lisa Bender of the #Minneapolis City Council says, "We will end our city's toxic relationship with the Minneapolis Police Department" in order to "create systems of public safety that actually keep us safe." pic.twitter.com/Xmn8Fz537y

— Unicorn Riot (@UR_Ninja) June 7, 2020
Phillipe Cunningham, who unseated 20-year incumbent Barb Johnson in 2017 and is one of the first transgender men elected to public office, said that reform is not possible when it comes to policing as we know it. He hopes to rebuild an economy ravaged by COVID-19 and change it from one that's rooted in "white supremacy, racist ideology [to] one that is is rooted in community."
"All that money has been going into the police department, and what have we gotten in return? Pain, trauma, and hurt.

It is time for us to get behind community and get behind the strategies that we know work, and you have a majority of the city council here ready to back that up today." — Phillipe Cunningham, Minneapolis City Council
All nine promised to engage the community to "identify what safety is for all" and "create a new transformative model for cultivating safety."
Banners held up by organizers:

"Decades of police reform proved that the MPD can't be reformed and isn't held accountable.

Begin the process of ending the MPD and create a new transformative model of cultivating society."

(cont. below) pic.twitter.com/z8AhYbh44Q

— Unicorn Riot (@UR_Ninja) June 7, 2020
Council member Alondra Cano said that she believes that they "should and can abolish the current Minneapolis police system."
When Councilwoman Alondro Cano spoke about an hour ago at this #AbolishThePolice event she announced, "I am no longer a reformist."

Though this event has officially wrapped up many community members continue to converse. pic.twitter.com/odbZ2keTIm

— Unicorn Riot (@UR_Ninja) June 7, 2020

Council member Jeremiah Ellison advised against taking moments of silence for George Floyd or Breonna Taylor, "because it is your voice, it is your fight that has got us to this point. So not one moment of silence for those who have died."
"We're gonna be in this fight with you together. We're gonna work, and we're gonna fight, and I think with your support, with you at our backs, we're not gonna fail." — Jeremiah Ellison, Minneapolis City Council
"This council's gonna dismantle this police department."#Minneapolis City Council member Jeremiah Ellison, June 7, 2020 pic.twitter.com/0Hpxh4ZwBa

— Unicorn Riot (@UR_Ninja) June 7, 2020
Black Visions organizer Candace Montgomery told Unicorn Riot it was the steady organizing and communicating with city council members that got them to this point of having a super-majority of members now willing to vow to dismantle MPD.
Montgomery said that they respect "all the tactics" that were taken in the street protests and because of those actions, extra energy fueled their organizing within the political power structure. They said it's now on the community to organize and create the solutions.
We asked Oluchi Omeoga, an organizer with Black Visions Collective, how the community would hold the city council members accountable to their promise of dismantling the police department.
Oluchi said, "the only way to do that is with community […] they said this on live fucking TV, there's multiple news channels from all over the world that are here, so the only way they can be held accountable is if WE hold them accountable."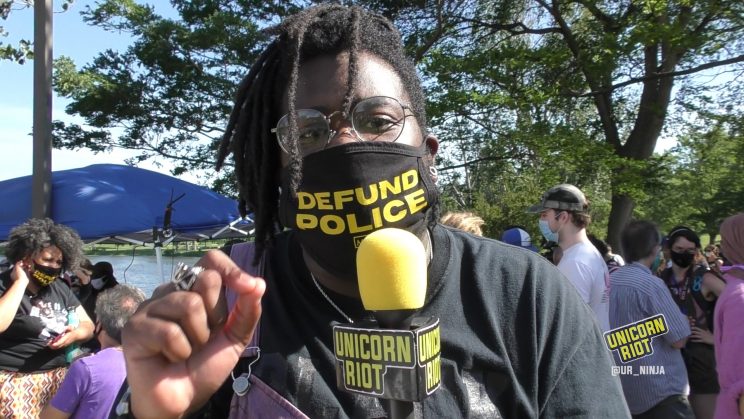 Omeoga also implored the community to get involved in the conversations to help mold what a community-led safety plan looks like without the police.
"Minneapolis residents have to come out, they have to continue to join our community process, because community-led safety without community is just another form of the police, right? That's not what we want.

We want to have the autonomy of saying what our safety looks like in our communities." — Oluchi Omeoga, Black Visions Collective
Sophia Benrud, also with Black Visions Collective, said that as organizers, they aim to hold the city council members "accountable to the end" to make sure that steps are taken to dismantle the MPD.
Yet she added that these were just first steps in defunding the police and that it is going to be a "long journey."
Sophia said they are pushing for community-created, safety-led solutions that don't rely on the police, as plenty of alternatives already exist and funding could be transferred to those programs. She also pointed to how the community had already banded together for mutual aid during the (ongoing) coronavirus pandemic.
One of the openers of the meeting was Arianna Nason, who spoke on behalf of the MPD150 project. Nason described some ways to answer questions from family members and neighbors about "what a police-free future" might look like.
"Abolition is about presence, not absence. It's about building life-affirming institutions," Nason said, echoing a quote from Ruth Wilson Gilmore.
Nason shared how on the Fond du Lac reservation, residents call family members or neighbors instead of police, since police usually aren't personally familiar with the people they're called to assist. "We know best how to communicate with each other because we are connected."
Last week we heard from Yonci Jameson who expressed their abolitionist viewpoints. They said a police-free world would include transformative justice that rids the need for committing any crime, and places a higher value on general community wellness.
Popular momentum after the meeting made headlines across the country and spotlights in international news. Over the following days many of the city council members seemed to roll back their hardened stance on dismantling the MPD, saying they are working with the police chief and balking at the prospect of dismantling — thus upsetting locals already weary of political ploys.
w/ all due respect to the council member, this is the type of reformist language we need to be looking out for. Just yesterday council members made a spectacle of pledging to disband the police, today they are saying we have to work alongside them to do so. FOH https://t.co/DHDgZlG24l

— yonci✊🏾 (@yo_nci) June 8, 2020
Wednesday morning, Minneapolis Police Chief Medaria Arradondo held a press conference in which he spoke about withdrawing from contract talks with the Minneapolis Police Federation, structural reforms to the department, addressing 'race', and utilizing "real-time analytics" provided by the Minneapolis Foundation to help track officer misconduct.
Arradondo said that elected officials can have the defund police conversations but said he will not "leave" those of Minneapolis, "until there is a robust plan that ensures the safety of our residents."
With Minneapolis having become the epicenter of a worldwide uprising, the quest for an abolitionist future has begun to hit the mainstream.
From the modern-day lynching of George Floyd to the burning of the 3rd Precinct to city council members vowing to disband the MPD – whether small roll-outs of reform or full dismantling of the police, Unicorn Riot will continue to document the next phases of the people's quest for police accountability, justice, and a more equitable life.
Jenn Schreiter contributed to this report.
---
Follow us on X (aka Twitter), Facebook, YouTube, Vimeo, Instagram, Mastodon, Threads, BlueSky and Patreon.
Unicorn Riot's George Floyd Coverage:
Please consider a tax-deductible donation to help sustain our horizontally-organized, non-profit media organization: