Winter of Coronavirus: Seeking Shelter in Minneapolis During COVID–19
Minneapolis, MN – With winter setting in, many people experiencing houselessness in Minneapolis are forced to choose between living outdoors in freezing temperatures or entering a restrictive and non-private temporary indoor shelter.
A new scientific study finds that over 400,000 COVID cases and nearly 11,000 deaths across 44 states have resulted from evictions from March–September 2020.
Advocates for unhoused people have emphasized if the government is not offering safe housing, then there is still no real solution to the housing crisis.
Though unhoused people had nowhere to move to, the City of Minneapolis invested tax dollars in forcibly clearing out public parks during summer 2020.
Earlier this year, mutual aid volunteers searched city-owned properties to find non-parks public land that people could possibly move onto. Some people without housing have settled for now on a vacant city-owned lot near North Minneapolis.
Brenda, a 60-year-old Native American woman living with her sons in a tent, is one of the residents at the site. She shared with Unicorn Riot how she came to be taking shelter there:
Though the parcel of land has reportedly been owned for a decade by the city, little has been done to develop or rehabilitate it. City officials and employees of commercial real estate company Wellington Management visited on October 23 to pass out materials about the site's historical use, claiming the land may be unsafe for habitation.
The soil at the lot — formerly used by a "bulk petroleum company" and a "wholesale chemical company" — is reportedly contaminated with chemicals such as "petroleum-related compounds" and "chlorinated VOCs" (volatile organic compounds, substances that release vapors) and heavy metals.
"They weren't concerned about it until they seen the tents being put up. If it wasn't being used then, why wouldn't they let us stay here?" asked Brenda.
Brenda and her family had lived for a month at Loring Park Sanctuary. After Loring Park was forcibly cleared Brenda moved to Columbia Park, where she spent one rainy night before being awoken early in the morning by police.
Brenda described not having been given time to collect her belongings, instead being put in a squad car and dropped off at BF Nelson Park. Her possessions were searched and later returned. This alleged violation of constitutional protections against unwarranted search and seizure is part of a pattern, according to a class-action lawsuit filed against the city and county on October 19.
The lawsuit was filed on behalf of seven individuals and others who have been forced to move locations during the pandemic.
After living at BF Nelson Park for two months, Brenda and other sanctuary residents were given notices that the park would be cleared. Most residents chose to leave ahead-of time, rather than endure further trauma from forcible police eviction.
"Now that it's winter, it's really hard, because when it's – you can see that some of the tents collapsed and stuff. It's just, like… freezing out here."

— Brenda, unhoused Hennepin County resident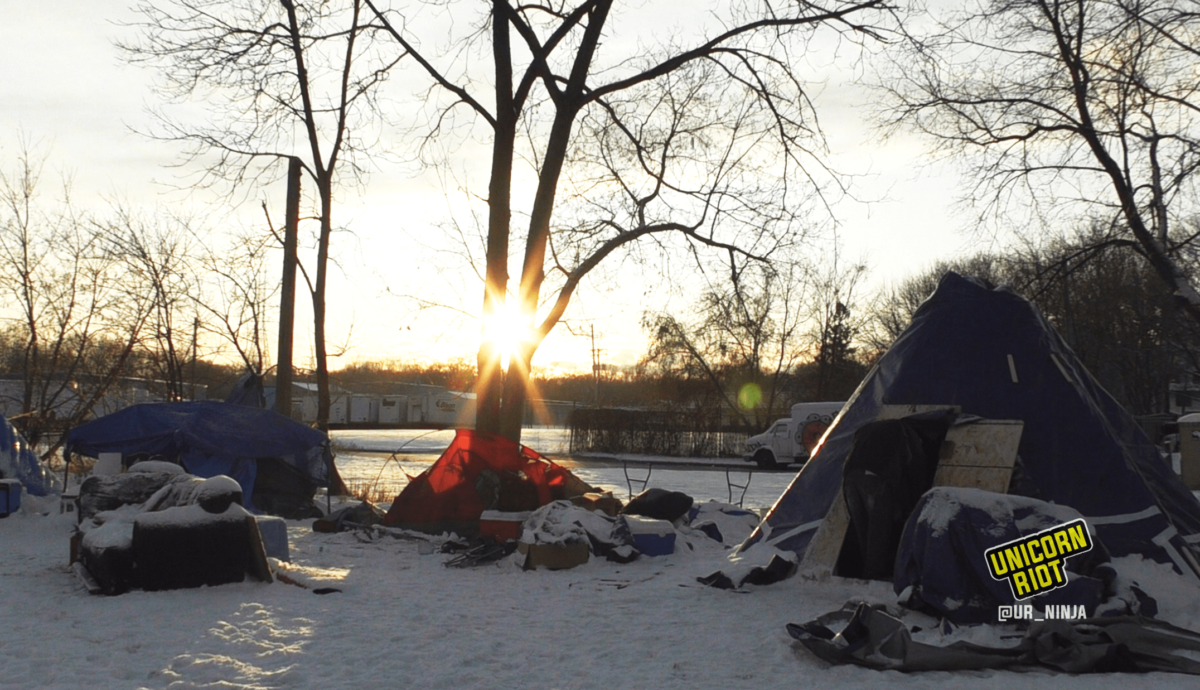 The Tarpee, as pictured above, is an Indigenous structure that reportedly came through prayer to Paul Chiyokten Wagner of the Saanich Nation to help Indigenous elders shelter through winter while stopping invasions of fossil fuel on traditional lands. Local volunteers said they reached out to Wagner and got his permission to construct 'tarpee' structures to aid in the survival of unhoused people in the Twin Cities.
[NOTE: While seeking permission to publish photographs of the tarpees, Unicorn Riot was told that anyone outside the camp wishing to replicate the Tarpee design should contact Paul Chiyokten Wagner.]
Due to the restrictions of the county homeless shelter system, living outdoors during winter is seen as the better option for hundreds of unhoused people in Hennepin County. In 2018, over 11,000 people were experiencing houselessness across the State of Minnesota (including Native reservations within the state's borders).
---
Please consider a tax-deductible donation to help sustain our horizontally-organized, non-profit media organization:

Unicorn Riot's 2020-23 Unhoused Crisis in Minneapolis:
Follow us on X (aka Twitter), Facebook, YouTube, Vimeo, Instagram, Mastodon, Threads, BlueSky and Patreon.