Reports of Forced Sterilizations in ICE Facility Spark Protest
Minneapolis, MN – Nearly a hundred people gathered in South Minneapolis to protest recent revelations of non-consensual hysterectomies sterilizing detained immigrant women in U.S. Immigration and Customs Enforcement (ICE) custody in Georgia.
Unicorn Riot was live for most of the protest at the Emiliano Zapata statue on E. Lake St. Watch the stream below:
Rooted in racist eugenics philosophy, the practice of forced sterilization has a deep and continuing history in the United States – often bordering on or constituting acts of genocide, particularly against Black, Indigenous, and immigrant women.
It's not hard to find those roots when looking at a man whom the modern Western world reveres as the "Father of Gynecology", J. Marion Sims. Statues and busts of Sims are still upheld for worship in numerous places. However, his institutional, nearly godlike, status has become controversial in the last decades as many have questioned his methods.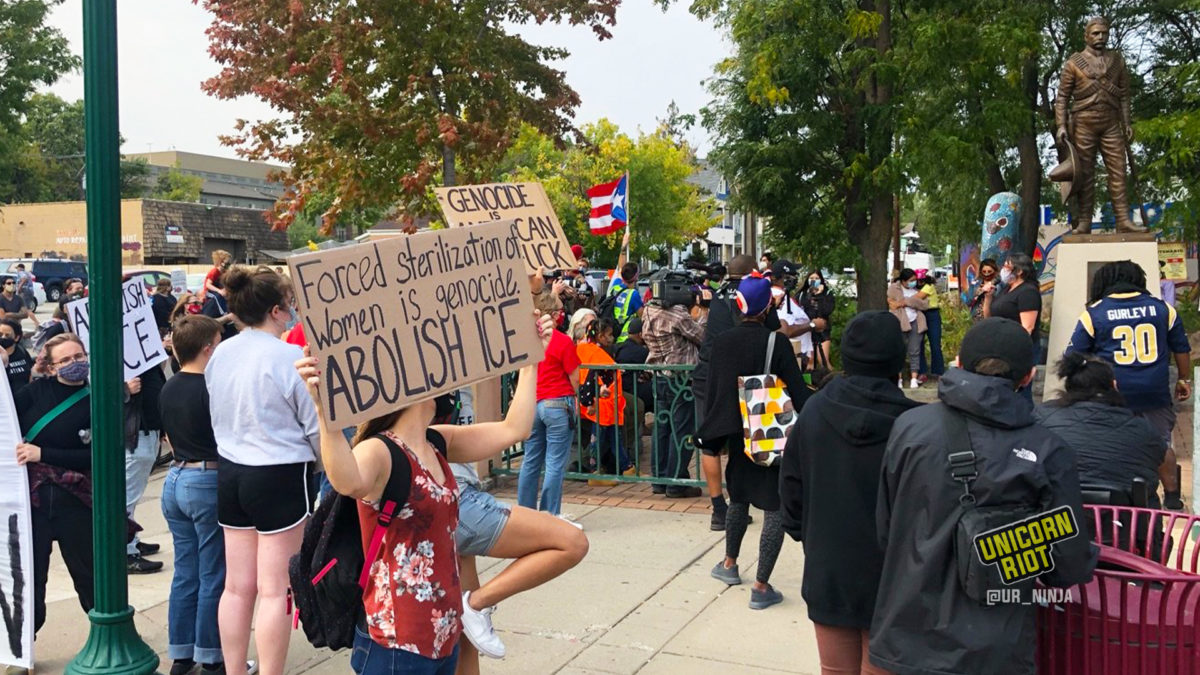 J. Marion Sims based his studies off of tortuous experimental procedures done on enslaved Black women in the U.S. in the mid-1800s. These sorts of racist medical malpractice continue today, as seen in recent reports alleging that ICE doctor Mahendra Amin has been acting as a "uterus collector".
Forced tests and surgeries by white doctors on women of color and poor white women continued into the 1900s. Upwards of hundreds of thousands of women were forcibly sterilized in the U.S. through eugenic legislation during the 1900s along with one-third of the women aged 20-49 living in Puerto Rico.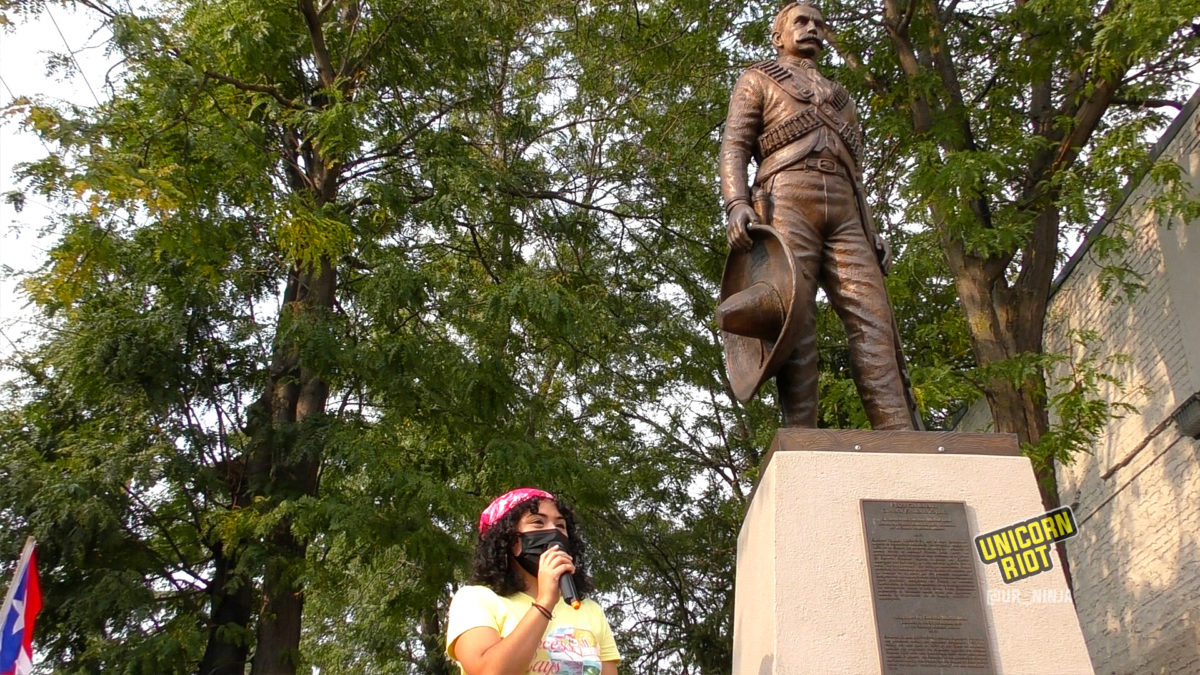 Sterilizations without clear intent continue to be practiced on people diagnosed with mental illness and have been prevalent in America's prison systems. Recently, from 2006 to 2010, at least 148 women in California prisons were sterilized non-consensually, according to a 2013 investigation.
Last week, Dawn Wooten, a Black nurse working inside the Irwin County Detention Center (ICDC), a private prison in Georgia, filed a complaint alleging medical abuse of immigrants detained by ICE. Attorneys with Government Accountability Project and Project South are representing Wooten, a legally protected whistleblower, in her complaint.
Most of the 27 pages of Wooten's whistleblower complaint detail negligent practices involving COVID-19 prevention and restrictions within the detention center. However, two of the complaint's pages bring forth new, troubling allegations of unwanted sterilizations.
"When I met all these women who had had surgeries, I thought this was like an experimental concentration camp. It was like they're experimenting with our bodies." — Immigrant woman detained in ICDC, quoted in whistleblower complaint
In 2019, immigrant women started reporting non-consensual hysterectomies to Project South, an institute working to eliminate poverty & genocide. Women detained at ICDC, some who were seeking medical care from such things as having heavy menstruation, were reportedly being sent to a non-board-certified doctor, Mahendra Amin, who was allegedly performing non-consensual hysterectomies and other such invasive and unnecessary surgeries on them.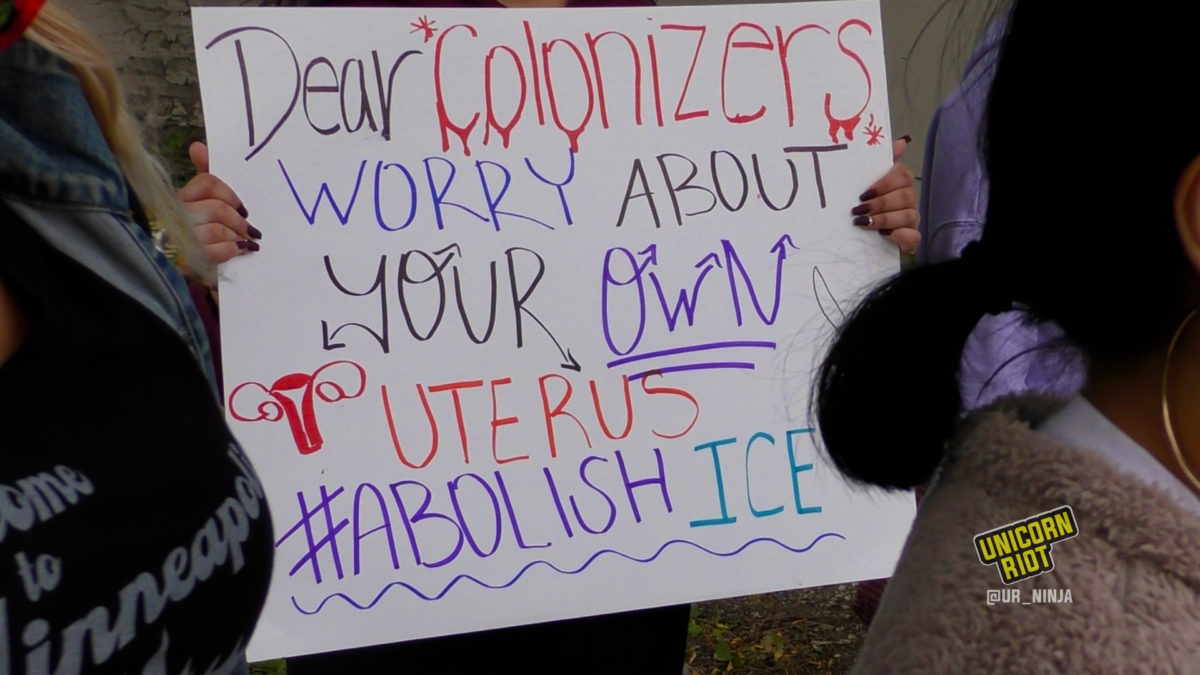 Located in Ocilla, Georgia, ICDC is run by a for-profit company called LaSalle Corrections. In Congress, the House Homeland Security and Oversight Committees have opened an investigation into ICDC.
While working in ICDC, Wooten was made aware of the alleged practices of hysterectomies. In her September 2020 complaint, Wooten reported mostly secondhand stories alleging serious violations of medical ethics.
One of the stories relayed by Wooten was about a young woman needing an ovary removed from having a cyst on it, with Mahendra Amin reportedly taking out the wrong ovary during surgery. Later, doctors had to remove her other ovary, thus giving her a full hysterectomy.
"Everybody he sees has a hysterectomy—just about everybody. He's even taken out the wrong ovary on a young lady [detained immigrant woman]. She was supposed to get her left ovary removed because it had a cyst on the left ovary; he took out the right one. She was upset. She had to go back to take out the left and she wound up with a total hysterectomy. She still wanted children—so she has to go back home now and tell her husband that she can't bear kids… she said she was not all the way out under anesthesia and heard him [doctor] tell the nurse that he took the wrong ovary." — Dawn Wooten
Pauline Binam has a similar story to the one above. Binam, a Cameroonian woman who was detained inside ICDC before being relocated after ICE attempted to deport her last week, is one of 17 women who lawyers have helped go public with their stories of unwanted surgeries and sterilizations.
The more I learn about what happened to immigrant women in the Irwin County Detention Center, the more clear it is that we need immediate action.

I'll continue investigating, following the facts, and getting to the bottom of this. There must be full accountability and justice. pic.twitter.com/U3P7TAzeAD

— Rep. Pramila Jayapal (@RepJayapal) September 19, 2020
During Sunday's protest in Minneapolis organized by Minnesota Immigrant Rights Action Committee (MIRAC) and Native Lives Matter, several speakers brought up the history of sterilization practices against Black and Brown people in America, and the need to respect and honor "womb holders".
Community organizer Aiyana Sol Machado said "this is nothing new." She spoke about the history of intentional sterilization and said the whole OB/GYN medical discipline was based on "the use of women as property during slavery."
"African/Black women were used to develop what we now know as current day OB/GYN tools and technologies. It was our bodies, African/Black women's bodies that were being mutilated. No anesthesia." — Aiyana Sol Machado
After the gathering, Unicorn Riot heard from several of the protest organizers. They stated they wanted to act fast, to organize the demonstration while the topic is still in the news, so that people could show solidarity with immigrant women at the border and imprisoned in detention centers across the USA.
"For us, it was important to bring up the history of sterilization because at the end of the day, it's what binds us together, it's what unites us. It sucks because it's just a form of genocide, its a form of colonization for all BIPoC women." — Isabel Lopez, organizer
Last week, troubled by the allegations, elected representatives in Congress started investigations against the ICDC and these racist practices. Given the extent to which historically entrenched genocidal and patriarchal forces are still shaping medical practices today, it may still be many years before we see any lasting changes.
Read the whistleblowing report below.
OIG-ICDC-Complaint-1

---
Síguenos en Twitter, Facebook, YouTube, Vimeo, Instagram, y Patreon.
#Icebreaker Series - Unicorn Riot series on ICE policy manuals
Por favor considere una donación (deducible de impuestos) para ayudar a mantener nuestra proyecto de medios sin fines de lucro, que es organizada horizontalmente: