Pretrial Begins: County Attorney Freeman Pulled from George Floyd Police Prosecutions
Minneapolis, MN – The pretrial hearings for the officers charged in the murder of George Floyd began on the morning of Friday, September 11. Hundreds of protesters gathered outside the courthouse and chanted for hours as several motions were heard in court.
Hennepin County Attorney Mike Freeman and three others from the attorney's office were disqualified from the case by District Judge Peter Cahill. A response statement released by the Hennepin County Attorney's Office (HCAO) called Cahill's move "meaningless" and stated a reconsideration has been granted.
In a tense scene outside, co-defendants Thomas Lane and Kueng walked through a gauntlet of protesters after leaving the courthouse.
They passed mostly undeterred along with their attorneys and got into a truck a block away as press clamored and protesters yelled, one of whom kicked the truck as it drove off.
A lawyer who watched the incident in person spoke anonymously to Unicorn Riot about what he thought had happened:
"That was a ploy played by the defense to agitate the crowd to prompt an incident that would allow for the case to be moved."

Anonymous lawyer who watched the incident in person on September 11, 2020
Benjamin Crump, lead attorney for the family of George Floyd, emceed a press conference with several of Floyd's family and attorneys speaking to the press after the hearing.
Unicorn Riot covered the developments live in the streets for hours.
Unedited live video stream (4 hours):
Full press conference (35 minutes):
Post-event wrap-up (13 minutes):
Motions discussed at the hearing included the possibility of a joint trial, Blakely law, witness disclosure, change of venue, anonymous jury and jury sequestration, evidence motions, and the motion to disqualify HCAO.
A rundown of the decisions made in the pretrial hearing are as follows (all decisions made are subject to change by the courts):
no ruling on motions to dismiss charges
no ruling on separate trials
trial will likely be held in Hennepin County and not moved
possible jury sequestration for deliberations
jury names will be released after trial
disqualification of Hennepin County Attorney Mike Freeman, Senior Hennepin County Attorney Amy Sweasy, and Assistant Hennepin County Attorney Patrick Lofton (they've been granted a reconsideration)
arrest of George Floyd in 2004 not allowed for evidence
decision of allowing a 2019 traffic stop of Floyd will be revisited at trial
Judge Cahill plans two weeks for jury selection and four weeks for trial
The defendants' motion to dismiss their charges is under advisement by District Judge Peter Cahill who stated the court will likely have decisions made on or before October 15, 2020.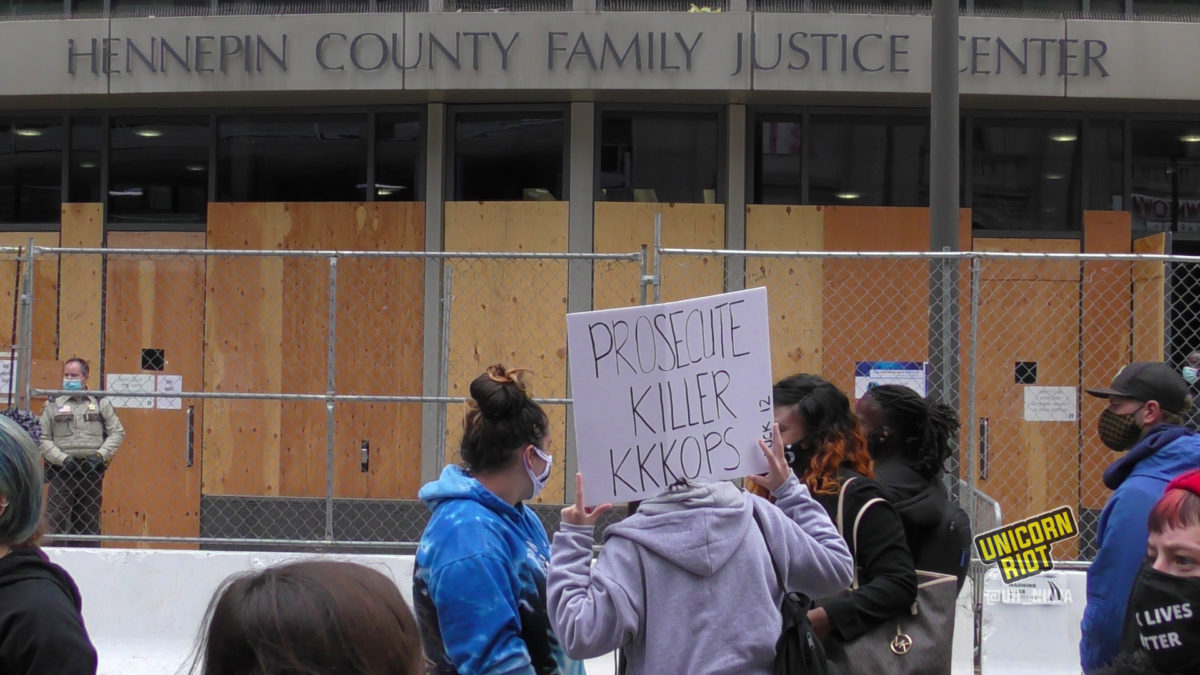 The Hennepin County Family Justice Center venue was chosen instead of the typical government center or public safety facility because it houses the largest courtroom in Hennepin County.
Windows of most of the buildings downtown were boarded up, along with the 'justice center', which had concrete barricades and fences put up by the city over fear of unrest.
Assistant Attorney General Matt Frank, AG Keith Ellison, and high-profile lawyer, Neal Katyal are prosecutors. Several attorneys from the HCAO were also on the team before the disqualification ruling over a meeting with the medical examiner, yet they may be able to return to the case.
Community outside of the courthouse in downtown #Minneapolis just completed 8:46 of silence for #GeorgeFloyd.

We are #LIVE hearing from community members: https://t.co/YtMpIYWcdG pic.twitter.com/iWmFCaF75u

— Unicorn Riot (@UR_Ninja) September 11, 2020
Ex-officer Derek Chauvin is facing trial on charges of second-degree murder, third-degree murder, and second-degree manslaughter for the death of George Floyd. Eric Nelson is his defense attorney.
The other three former police officers involved in Floyd's death are charged with aiding and abetting second-degree murder, as well as aiding and abetting second-degree manslaughter. Attorney Earl Gray represents Thomas Lane, Tom Plunkett (who unsuccessfully represented Mohammed Noor) represents Alexander Kueng, and Robert Paule represents Tou Thao.
Chauvin is still in custody in a secret location while the other three ex-officers are free on bail. Chauvin was ushered out the back of the courthouse with a red bullet proof vest on and into transport vehicles to go back to jail.
#DerekChauvin in his orange jumpsuit being taken out the back door of the hearing to return to jail. #GeorgeFloyd #BlackLivesMatter #Minneapolis @cnnbrk @MSNBC @StarTribune @mspmag pic.twitter.com/hTbcBEx22U

— Bret Ryan (@TheRealBretRyan) September 11, 2020
The George Floyd legal team is lead by Ben Crump, along with William Pintas, Jarret Prussin, Scott Carruthers, Chris O'Neal, Antonio M. Romanucci, Jeff Storms, Laura J. Mullins, Devon M. Jacob, and Aleah Severin.
After the hearing, members of Floyd's legal team spoke to the press about what they heard in the hearing. Benjamin Crump, Tony Romanucci, Chris Stewart, Justin Miller, and Jeff Storm all made statements.
"This family, they saw what happened.

You all, Minneapolis, y'all saw what happened.

America saw what happened.

The world saw what happened.

And, so who are you going to believe, your eyes or these killer cops?" – @AttorneyCrump spoke after #GeorgeFloyd pretrial hearing pic.twitter.com/K8COu5AmR7

— Unicorn Riot (@UR_Ninja) September 15, 2020
"…it hit me – when I told them that 'it was going to be to okay', because I realized that I was lying to children [#GeorgeFloyd & #RayshardBrooks daughters].

Because I don't know if we get justice anymore in these situations." – Chris Stewart spoke after pretrial hearing /\ pic.twitter.com/zVLLUNDpA6

— Unicorn Riot (@UR_Ninja) September 15, 2020
"10 years ago this wk, the @MinneapolisPD killed a man by the name of David [Cornelius] Smith.

They knelled on his back, handcuffed him, didn't let him breathe, & killed him…"

Atty @jeff_storms said the City of Mpls didn't follow thru w a promise of change to the Smith family pic.twitter.com/toyEwkYtGj

— Unicorn Riot (@UR_Ninja) September 15, 2020
Four of Floyd's family members spoke as well. His brothers Terrence, Philonise, and Rodney, as well as his nephew Brandon Williams, all spoke passionately about Floyd, their connection to him and their push for justice and accountability after his death.
"The world witnessed the live execution of George.

Everybody watched him scream for his mom.

He pleaded for help & nobody cared … That was wrong.

They killed him.

This is worldwide.

The nation is standing behind us.

We need justice and we demand that." Philonise Floyd pic.twitter.com/vPdjZMt8p5

— Unicorn Riot (@UR_Ninja) September 15, 2020
"It's times like this when I really miss him the most.

Just a simple phone call or a laugh it brightens up the day.

He would brighten up any day."

Brandon Williams, #GeorgeFloyd's nephew, spoke about how hard it's been without his uncle around, especially as sports is back on. pic.twitter.com/eRXKb210GW

— Unicorn Riot (@UR_Ninja) September 15, 2020
Georgia Fort and Dan Feidt contributed to this report.
---
Follow us on X (aka Twitter), Facebook, YouTube, Vimeo, Instagram, Mastodon, Threads, BlueSky and Patreon.
Unicorn Riot's George Floyd Coverage:
Please consider a tax-deductible donation to help sustain our horizontally-organized, non-profit media organization: