Icebreaker Pt 10 – Leaked ICE Agent Private Bill and Commercial Trade Fraud Investigation Handbooks
United States – Unicorn Riot obtained hundreds of pages of leaked ICE agent manuals. ICE's Homeland Security Investigations (HSI) has a broad jurisdiction that includes both immigration and customs-related law enforcement.
Two areas that HSI works in are "private bill" and "commercial trade fraud" investigations. U.S. Congress has the power to order federal authorities to give residency (green cards) or U.S. citizenship to specific people by name, thus sparing them from possibly dangerous or deadly deportation.
HSI has a process for investigating people who are named in private bills as well as a number of methods for investigating different types of commercial trade fraud, a complex subject that goes back more than 200 years. Both manuals are released by Unicorn Riot below in full.
---
What role do private bills play in U.S. immigration?
The Congressional Research Service (CRS) reported that 170 private laws were passed by Congress between 1986 and 2013, of which 94 related to immigration. (Private laws can also include claims, land conveyance, civil service and vessel documentation)
In 2017, it was reported by ImmigrationImpact that the 'breathing room' granted by private bills in effect has been seriously curtailed by new ICE policies. Deportation proceedings can be delayed as members of Congress submit private bills for consideration. The report states: "Even Members who take a hard-line stance on immigration have introduced private immigration bills when they felt the individual was especially deserving and couldn't get relief through current law."
The specific rules for the House Subcommittee on Immigration and Claims for Private Bill from the days of the Immigration and Naturalization Service (INS, disbanded in 2003), stated that the House would not intervene in deportations except in limited circumstances.
In 2017, U.S. Senators Dick Durbin (D-IL) and Dianne Feinstein (D-CA) stated their objections to intensifying difficulties with private bill proceedings imposed unilaterally by the Trump Administration:
"Children's and families' lives are on the line. Private immigration bills are a critical safety net that Democrats and Republicans alike have carefully used for a small number of the most critical cases. The executive branch for decades—under both Democratic and Republican administrations—has shielded individuals from deportation while private bills are pending. The process for how private bills would work has only been changed in the past after extensive consultation with members of Congress. The department has now unilaterally changed that process without consulting Congress. This is a mean-spirited action that tramples firm, longstanding practice between two co-equal branches of government." – US Senators Dick Durbin and Dianne Feinstein, "Statement on Drastic, Unilateral Changes to Private Bills", 2017
Sometimes private bills are featured in news coverage such as this March 2018 report about the attempt by U.S. Rep. Bob Brady who filed a private bill for the family of Carmela Apolonio Hernandez, undocumented immigrants in the Philadelphia area. Unicorn Riot reported on Ingrid Encalada Latorre, an undocumented mother of three who was recently pardoned by Colorado Governor Jared Polis. Rep. Joe Neguse (D-CO-2) introduced a private bill on June 24, 2019, seeking relief for Encalada Latorre, which if passed, would give her a 6-month stay of deportation.
---
What is ICE's 'commercial trade fraud' policy?
The commercial trade fraud manual covers many details of ICE's lesser-known customs and 'intellectual property' related activities. ICE HSI focuses on intellectual property enforcement, with a fusion center called the "National Intellectual Property Rights Coordination Center".
Commercial trade regulation, an area of law enforcement involving customs enforcement, was once the province of the U.S. Customs Service, which was a predecessor entity of ICE/HSI inside the U.S. Department of Treasury that was originally established in the fifth act passed by U.S. Congress in July 1789. In 2003 investigative elements of the Customs Service were combined into the ICE Office of Investigations (OI), which later transitioned into ICE's Homeland Security Investigations agency.
This "IPR" center, detailed in the manual below, applies an organizational doctrine similar to counter-terrorism fusion centers to the ostensible social ill of vendors selling "unlicensed" shirts at sites like the Minneapolis Super Bowl 52, as we described in part one of our Icebreaker series. (See Unicorn Riot's coverage: Minneapolis Unrolls Corporate Red Carpet & Largest Security Op for Super Bowl LII, Jan. 9, 2018)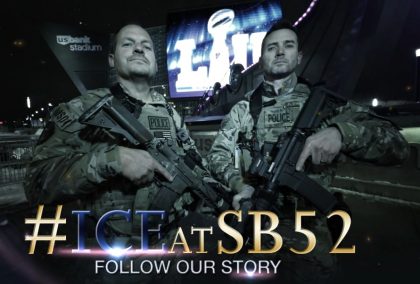 A year-round program aims to protect American society from wearing affordable yet unlicensed pro sports apparel:
"Over the course of the last year, HSI and CBP's efforts have led to the seizure of approximately 171,000 sports and entertainment-related items worth an estimated $15.7 million," said IPR Section Chief Lamar Jackson. "Our joint investigative efforts have also led to 65 criminal arrests and 24 convictions."

During Super Bowl week, HSI has been tasked to assist local law enforcement in the Minneapolis-St. Paul metropolitan area. Fake jerseys, ball caps, t-shirts, jackets and other souvenirs are among the counterfeit items confiscated this week by, HSI, CBP and other state and local partners.

As one of the U.S. government's key weapons in the fight against criminal counterfeiting and piracy, the IPR Center is not only committed to closely coordinating with its 23 member agencies, but also collaborating with industry and anti-counterfeiting associations to develop initiatives, coordinate enforcement actions and conduct investigations related to intellectual property theft.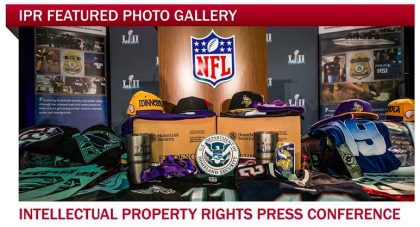 "Intellectual property," as a concept, has been criticized for combining entirely different features of trade like copyrights, trademarks and patents into one large bucket. It was not a widely accepted term until after the World Intellectual Property Organization (WIPO) was established in 1967. As the manual released below indicates, ICE sees itself as a critical spearhead in the maintenance of America's intellectual property system today.
While neither private bills nor commercial trade fraud form areas of ICE/HSI activity that typically attract much public attention, they are significant parts of the overall set of activity that the agency's personnel undertake, and can be expected to continue into the future.
#Icebreaker Series - Unicorn Riot series on ICE policy manuals
---
Private Bill Investigations Handbook
ice-hsi-private-bill

The 51-page Private Bill Investigations Handbook was released in June 2009. It was replaced by a new version in August 2013 according to a FOIA by GovernmentAttic.org.
Download the private bill manual directly here.
p7-8: Overview of how Congress assigns private bills.
p9-10: Assigning investigations based on bills from Congress.
p11: Chapter 6: Conducting a private bill investigation.
p12: "SAs must require proof of termination of prior marriage(s) if there is a possibility of a bigamous or adulterous relationship."
p13: "Grounds of Deportability/Inadmissibility: SAs must inquire into any subversive, criminal, immoral, or drug-related grounds of deportability/inadmissibility, and whether or not a particular ground is being used in removal proceedings. If there is any indication of subversive or other unusual activity, SAs should provide full details of such activity. If arrests or convictions of the beneficiary are other than of a very minor nature, SAs should develop full details of such arrests or convictions. SAs should inquire into any instances of the beneficiary having been a public charge or recipient of public welfare. "
p14: "No information concerning the payment of fees to obtain the introduction of a private bill should ever appear in any private bill report to the Judiciary Committee."
p15: Jobs are assigned under "Treasury Enforcement Communications System (TECS)-II utilizing the proper case category, 19J, and both project code YO0 and secondary project code B71." See Icebreaker Pt 7 for more on TECS.
p19: Chapter 8: Removal proceedings. How ICE/HSI investigations interface with ICE "Detention and Removal Operations" and the "stay of removal" to hold off deportation.
p20: Private bill investigations should be completed in 30 days.
p21-31: Chapter 5-12: Preparing and forwarding the memorandum which goes to the Judiciary Committee.
p34-35: Appendix A: Case Chronology and Review Sheet (ICE Form 73-004)
p36-49: Appendix B, C, D and E: Transmittal Letter (Questionnaire), ICE Form G-79, Related information, ICE Form G-79A, Private Bill Data Sheet, ICE Form G-382, Record of Deportable/Inadmissable Alien (DHS Form I-213).
p50-51: Acronyms.
---
Commercial Trade Fraud Investigations Handbook
ice-hsi-commercial-trade

The 74-page Commercial Trade Fraud Investigations Handbook was released December 2007. It was still an active policy handbook at the end of 2016, according to a FOIA by GovernmentAttic.org. While this subject area is different than other ICE areas of activity, its coverage of general investigative techniques (for example checking trash of targets) applies to other types of activity undertaken by ICE agents.
Note that in this manual "OI" refers to the ICE Office of Investigations which was later turned into HSI, a full-fledged federal law enforcement agency.
Download the commercial trade fraud manual directly here.
p7: "The commercial trade fraud priority programs are aimed at stopping predatory and unfair trade practices that threaten the economic stability of the United States, restrict the competitiveness of U.S. industry in world markets, and place the public health and safety of the American people at risk. Combating commercial trade fraud is the basis for important links to the international trade community and, more importantly, to the war on terrorism. Commercial trade fraud investigations have identified import system vulnerabilities which could facilitate the illegal importation of weapons of mass destruction and chemical/biological agents. Such investigations have also shown how fraudulent importations may generate illegal revenue for organizations engaged in international organized crime and terrorism. The principal agencies responsible for enforcing U.S. international trade laws and regulations are ICE and CBP. The common mission of ICE and CBP is to ensure that all goods entering the United States do so in compliance with these laws and regulations. ICE commercial trade fraud investigations are a powerful enforcement tool for ensuring that these goals are met. Commercial trade fraud investigations encompass all criminal and civil violations and are the sole responsibility of ICE 0I. Commercial trade fraud investigations are unique in the sense that, to successfully investigate alleged violations, ICE and CBP must work together. This working relationship can best be described as being 'conjoined twins' sharing the same heart and the same mission."
p8: The priority program areas are: "General Commercial Trade Fraud" including contraband and mislabeling; In-Bond Diversion of Merchandise into the Commerce of the United States; Textile Transshipments; Trade Agreement Enforcement; Public Health and Safety/Environmental Crimes; Forced, Child, Convict, or Indentured Labor; Tobacco Smuggling; Intellectual Property Rights.
p9: "Operation Cornerstone targets the alternative financing mechanisms that criminal organizations use to earn, move, and store funds. OI's goal is to disrupt and dismantle alternative funding mechanisms before these organizations can exploit them for their own purposes. To achieve the Operation Cornerstone goal and add another deterrent factor, commercial trade fraud investigations should aim to remove the "profit motive" from the crime. Every commercial trade fraud investigation should include a money laundering component, as the object of commercial trade fraud violations is to increase profits." Also "Asset Identification and Removal Groups" are to be used for asset forfeiture. See Icebreaker Pt 2 for more on ICE asset forfeiture.
p9: "Special Agents should develop contacts within the importing, broker, transportation, and warehousing communities."
p10-11: "The CBP Trade Enforcement Plan" includes enforcing tariff mechanisms.
p11-13: Structures of types of investigations.
p13: "Premature or inappropriate use of the grand jury as an investigative tool can severely limit the ability of CBP's Fines, Penalties and Forfeitures office (FP&F) to pursue civil penalties due to grand jury secrecy rules."
p17-24: Various criminal statutes involved including copyright.
p24-27: Civil offenses and how these are connected to criminal offenses.
p27-39: Sources of information including attorneys, digital forensics and "the cyber component", "0I Cyber Crimes Center (C3)".
p29: "Trade Transparency Unit (TTU) identifies anomalies related to cross-border trade that present indications of international trade-based money laundering." "The Data Analysis and Research for Trade Transparency System (DARTTS) is an ICE proprietary system that helps Special Agents analyze foreign and domestic trade data and Bank Secrecy Act information."
p29-30: The "National Intellectual Property Rights Coordination Center" is a "multiagency center responsible for coordinating a unified U.S. Government response to IPR enforcement issues" that includes "Serving as a collection point for intelligence provided by private industry, as well as a channel for law enforcement to obtain cooperation from private industry (in specific law enforcement situations); Integrating domestic and international law enforcement intelligence with private industry information relating to IPR crime."
p32: "Fonnal rulings issued by [National Import Specialists] NISs are released to the trade through the Rulings Module of the Automated Commercial System (ACS) and through the Customs Infonnation Exchange (CIE) in New York."
p33: "The Office of Strategic Trade (OST) coordinates enforcement and compliance efforts involving primary focus industries and trade enforcement priorities."
p35-36: Computer systems include "Treasury Enforcement Communications System II (TECS)" and "Automated Commercial System" (ACS) which uses the "Automated Broker Interface" (ABI). "ACS contains a significant amount of information regarding import transactions. Importers, consignees, and foreign manufacturers are assigned unique identifying numbers that may be located through queries based on name, address, or other data. Those numbers may, in tum, be queried to identify import transactions, examination histories, and penalty files linked to the queried number. In addition to standard queries, Special Agents can request customized searches of the ACS database known as "data queries," either through their local FAS or the Commercial Fraud and IPR Investigations Unit at 01 Headquarters. Additionally, Special Agents may ask the FAS to enter enforcement lookouts ("selectivity criteria") into ACS, at the port or at the national level, to designate cargo shipments for intensive examination". See Icebreaker Pt 7 for more on TECS.
p36: "Data Analysis and Research for Trade Transparency System (DARTTS) is a proprietary ICE system that helps the ITU analyze foreign and domestic trade data and information disclosed pursuant to the Bank Secrecy Act. Access to this database is restricted to current licensing requirements. Commercial Fraud Program Managers at ICE 0I Headquarters have access to DARTTS and can complete queries to support commercial trade-related investigations. Special Agents requesting DARTTS queries for their investigations should complete a written request and route it to the attention of the Commercial Fraud and IPR Investigations Unit through appropriate channels. […] CBP Analytical Tracking Systems: CBP has an Intranet-based series of databases accessible through the Automated Targeting System (ATS), which includes data for inbound cargo. Two useful databases are ATS/Narcotics and the Trend Analysis and Analytical Selectivity Program (TAPS) 2000. [….] The Customs Rulings Online Search System (CROSS) "
p37: "Informants may also include current and former employees of suspect customs brokers or importers."
p39: Chapter 9: Investigative methods. Includes various summons and search warrant info, informants and grand juries.
p48: "The use of certified Undercover Operations is the only appropriate method of entering contraband, i.e., counterfeit cigarettes or IPR material, into the commerce of the United States." That is, informants may be used to smuggle 'counterfeit' t-shirts internationally into the U.S.
p49: Controlled deliveries, trash runs, and surveillance.
p50-53: Chapter 10: Coordinating investigations with other agencies, especially Customs and Border Protection (CBP). Before the establishment of ICE, elements of ICE HSI (OI at the time of this manual) were inside the Treasury Department's US Customs Service, which managed this kind of investigation.
p53-55: Chapter 11: Seizing merchandise. "Documentary, physical, and other evidence seized, purchased, or otherwise acquired by Special Agents that is subject to forfeiture is known as 'dual-status evidence,' i.e., such articles have dual status as both evidence and as property in which the U.S. Government has forfeiture interest."
p55-60: Chapter 12: Reporting the investigation.
p60-62: Chapter 13: Criminal prosecutive procedures.
p62-67: Chapters about civil penalties.
p69: Coordinating between criminal prosecutions and asset forfeiture efforts.
p70: Chapter 19 on aiming for publicity: "The deterrent effect of commercial trade fraud cases can be greatly enhanced by publicizing the results of criminal prosecutions and civil penalty actions." Discussions of how to get publicity for law enforcement are not commonly featured in manuals like this.
p72-74: Acronyms.
#Icebreaker Series - Unicorn Riot series on ICE policy manuals
---
Please consider a tax-deductible donation to help sustain our horizontally-organized, non-profit media organization: