COVID-19 Deaths in Minnesota Prisons Continue to Rise
Faribault, MN – At least eleven people in Minnesota state prisons have died from COVID-19 as of February 17, 2021. Nearly 4,000 inmates, or two out of every five prisoners, have tested positive for the coronavirus. Families and advocates of prisoners have consistently staged protests, honk-ins at the prisons, and other demonstrations to demand the Minnesota Department of Corrections (MN-DOC) follow pandemic guidelines put forth by the Center for Disease Control.
On November 29, 2020, dozens participated in an emergency honk-in outside of Minnesota's largest prison, Faribault. Cars drove by different entrances, honking and holding up signs saying "no more deaths", "not one more", "home alive for the holidays", amongst others. Advocates, family, and friends, spoke into a sound system at a few stops around the prison. They talked about the harsh realities that prisoners are facing when trying to stay safe from the coronavirus.
The action was organized by the Twin Cities Incarcerated Workers Organizing Committee (IWOC), Communities United Against Police Brutality (CUAPB), Families Supporting Families Against Police Violence, and Black Lives Matter Minnesota.
Around 2 p.m. the crowd greeted correctional officers (COs) outside on the sidewalk as the CO's left the main entrance during shift change. When the officers reached their vehicles, they reacted by revving their engines and quickly peeling out, attempting to drown out the noise of the speaker with automobile noise.
Minnesota's Faribault prison houses nearly 1,700 inmates. At the time of the honk-in action in late November, reports were coming in from the inmates detailing how the prison wasn't following guidelines or sanitizing things to keep prisoners safe from COVID-19.
IWOC said since March 2020 they've been calling on the DOC to "release those who are serving time on technical violations, are medically compromised, and who are eligible for work release or have less than 90 days remaining of their sentence so those remaining behind bars can meaningfully socially distance. We have been asking for the prisons to do everything they can to stop the spread of COVID within the walls. They have neglected to do so, and the consequences are unacceptable and cruel."
See our Spring 2020 coverage surrounding prisoners and the coronavirus pandemic: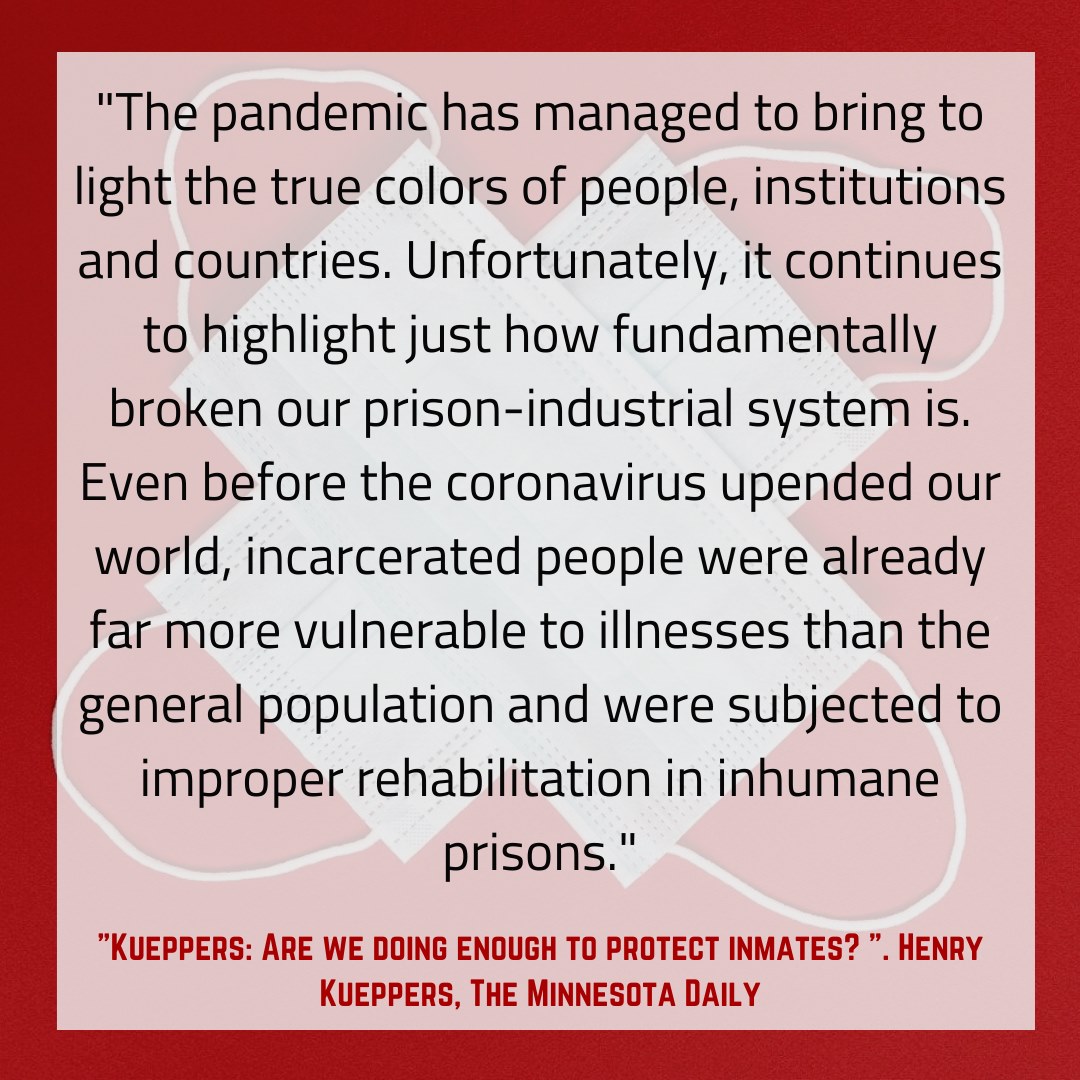 An early February Facebook post by Twin Cities IWOC gave the statistics of the pandemic in each Minnesota Correctional Facility.
An attendee of the honk-in action outside Faribault prison said that his friend is an inmate who has pre-existing conditions, applied for medical release and was denied, had contracted COVID with only four months left on his sentence. Many of the inmates in Faribault are short-term and it has both medium and minimum security buildings.
At least seven inmates in MCF-Faribault have died from COVID-19 and over 1,100 inmates and over 140 staff test positive. As of February 17, the reported numbers show 3,882 positive cases in Minnesota State facilities, 1,738 cases in federal facilities, and 51 cases in ICE detention centers.
Watch a portion of the honk-in as it happened live, below:
For further pandemic research and data from prisons, jails, and detention centers, see UCLA Law's 'COVID-19 Behind Bars Data Project'.
---
Follow us on X (aka Twitter), Facebook, YouTube, Vimeo, Instagram, Mastodon, Threads, BlueSky and Patreon.
Please consider a tax-deductible donation to help sustain our horizontally-organized, non-profit media organization: