MN Demonstrations, Demands to Free Prisoners Escalate
Maple Grove, MN – Demonstrators have been ramping up organizing efforts to ensure the safety of incarcerated and detained people during the coronavirus state of emergency. The repeated message is that no imprisoned person deserves to die from COVID–19.
---
Update: On May 2 we covered a rally at Stillwater prison live:
---
As of Wednesday, April 29, 79 incarcerated people in Minnesota have tested positive for SARS–CoV–2 infection. 38 more people are "presumed positive" with 42 additional tests still pending.
Organizers made known their displeasure with Senator Warren Limmer, the chairperson of the Minnesota Senate Judiciary Committee, with a noisy caravan protest outside of his home on Saturday, April 25.
Demo at Senator Limmer's House
Protesters have accused Sen. Limmer of refusing to allow bills to be heard by the judiciary committee regarding criminal justice reform, including legislature that would allow qualified low-risk prisoners to be temporarily released amidst the COVID–19 state of emergency.
Unicorn Riot covered the physically-distant car picket in Maple Grove, a suburb north of Minneapolis:
Protesters asserted that the prison population needs to be reduced to below 60% to allow for meaningful social distancing, based on information from imprisoned people. Many agreed that the appropriate course of action regarding low-risk prisoners during a pandemic is to "free them all."
Sen. Limmer recently co-sponsored legislation to ensure police and corrections officers, along with medical staff and other front-line workers, will be eligible for workers' compensation benefits if they contract COVID–19. The senator's office has not responded to requests for comment regarding allegations that he has refused to hear bills about keeping incarcerated people safe.
Five recommendations for slowing the spread of the coronavirus pandemic from the Prison Policy Initiative were expanded-upon by local community organizing groups, who delivered the recommendations in a petition to Governor Tim Walz on March 27 during another physically-distant protest outside the governor's residence.
The April 25 protest was co-sponsored by the following groups: Twin Cities Incarcerated Workers Organizing Committee (IWOC), Communities United Against Police Brutality (CUAPB), Minnesota Educators Against ICE, Interfaith Coalition on Immigration (ICOM), Twin Cities Never Again Action, Pueblos de Lucha y Esperanza, No Cages Minnesota, Women's March Minnesota, and the Racial Justice Network.
Fasting & Protesting to #FreeThemAll
Antonia Alvarez, co-founder of Pueblos de Lucha y Esperanza (Peoples of Struggle and Hope, PLE), has been holding a daily fast in front of Governor Walz' residence since April 13. Because facilities that hold ICE detainees are high-risk environments for infection, Alvarez and PLE have been demanding all prisoners be released.
Until this goal is realized, Alvarez and other PLE organizers are asking for all detainees to have free access to phone calls, adequate medical care, and for their rights to be respected regarding organizing and protesting while being detained.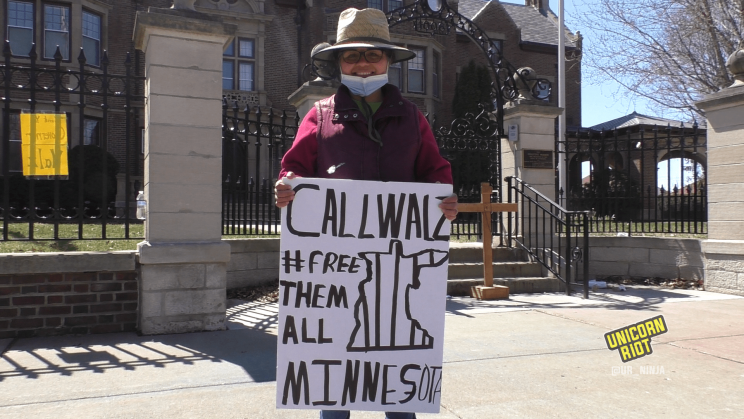 Unicorn Riot spoke to Alvarez and other demonstrators at a press conference regarding COVID–19 in MN prisons on Wednesday, April 22, outside the Governor's residence.
Alvarez said that inmate phone calls are expensive, "especially in this time" when many people outside have lost their jobs or income due to the state shut down. The two free phone calls given weekly to imprisoned people "are not for immigrants."
She added that Minnesota Republicans are still seeking to reopen the Appleton prison, a long-shuttered private complex owned by CCA, which she said will not solve any problems regarding the safety of incarcerated people — rather "they are looking for more innocent people to keep it open."
"We are in the slave system, and the prisons are the machines for fabricating money." — Antonia Alvarez, co-founder of Pueblos de Lucha y Esperanza
Adam Zahller, an organizer with PLE said the multi-week fasting campaign has expanded to pressure Gov. Walz, as well as Department of Corrections Commissioner Paul Schnell and other Minnesota state officials, to release as many prisoners as possible.
Zahller told Unicorn Riot that organizers met with commissioner Schnell on April 17. During the meeting Schnell claimed he had no power to meet the protesters' demands, "but we know he has more power than he lets on, and he could be doing more than he already is", said Zahller.
"This is an emergency situation; we expect them to ask as though it's an emergency." — Adam Zahller, organizer with Pueblos de Lucha y Esperanza
Zahller added that for people who remain incarcerated during this time, the expectation is that they will be allowed to practice social distancing.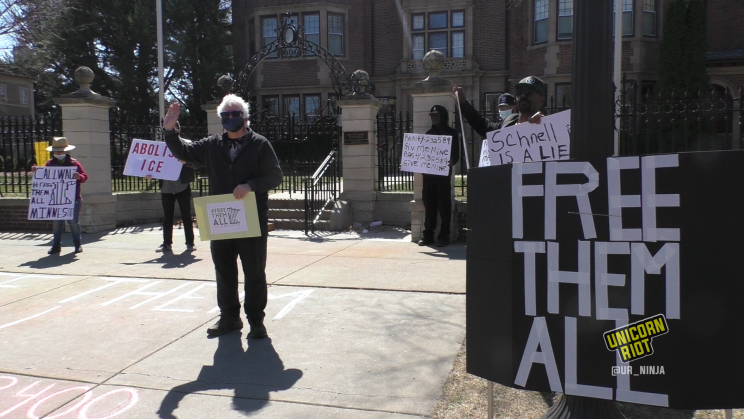 A Call from Inside Rush City Prison
During the press conference on April 22, a phone call was broadcast with Rarity Lampkin, an inmate of the men's prison in Rush City, Minnesota. Lampkin answered questions from IWOC organizer Stefanie B. about current conditions inside the prison.
He described how solitary confinement was the only option offered for those refusing to be locked in a cell with a roommate suspected of coronavirus infection. Lampkin said all inmates are also unable to meet face-to-face with case workers or access the law library due to the coronavirus pandemic.
"We're just left basically in here in limbo, hoping that everything blows over." — Rarity Lampkin, Inmate at MCF–Rush City
The only social distancing inmates have been able to achieve was in the lunch room. "At first they used to make us sit close to each other," but after inmates began complaining about the lack of social distancing, "now they let us sit wherever we want to."
He said in the unit he's in, there are only two single cells; every other cell has two beds. "If the roommate gets sick, we're basically stuck in that cell with him until they feel like letting us out."
"There's no such thing as 'social distancing' in here because it's impossible. One, it's overpopulated. Two, every cell in here is a double cell." — Rarity Lampkin
Listen to the phone call here:
Protest at Sherburne County Jail
The week before, on the same day as many hundreds of right-wing protesters converged at the Governor's Residence pushing for the state to re-open, a caravan of 68 cars under the #FreeThemAll banner did a drive-through protest/vigil outside the Sherburne County Jail in Elk River, Minnesota.
The April 17 protest demanded that the governor, along with ICE officials, release all detainees in Minnesota during the coronavirus pandemic. During any given time, 300 of the approximately 500 immigrant detainees in Minnesota are housed in the Elk River jail. As of April 10, 185 people were held by ICE at that location.
Sherburne County jail contracts with ICE and the U.S. Marshals Service. The jail is the second-largest in the state, holding over 700 inmates and is seeking to expand for the third time in the two decades.
A lawsuit filed in late March by 62 inmates in Sherburne County asks for their release and to be put on home-monitoring. All 62 inmates remain in the county jail and the case has not yet been heard.
"The question is not 'if' a COVID-19 outbreak will occur, but 'when.' We know of two ICE detainees at the Sherburne County jail with serious COVID-19 symptoms, but they released without being tested. Keeping these beds full knowingly exposes detainees and jail staff to a deadly virus, and this is inexcusable." — Greg King, Board President of the Interfaith Coalition on Immigration (ICOM)
On April 29, U.S. Magistrate Elizabeth Cowan Wright recommended against releasing ICE detainees in Minnesota, finding the 'Sherburne 62' inmates hadn't convincingly shown they would suffer "imminent and irreparable harm" if they remained in detention during the pandemic
Frederick J. Goetz, the attorney for the detainees, said there is no way the jail can eliminate risks. Sherburne County jail has no testing capacity, a counterpoint to the magistrate's saying there is "no indication that COVID–19 is presently within the facility."
More Protests Planned
Those who demonstrated outside Senator Limmer's house promised to return every week to protest outside his home until he allows legislation to be heard regarding the safety of imprisoned people during the state of emergency. Decarceration and prison abolition organizers have planned a demonstration outside of Stillwater prison for Saturday, May 2.
Until action is taken by elected officials and those with means to release detainees and low-risk prisoners in Minnesota, organizers and community activists will likely continue to escalate their demands.
Niko Georgiades contributed copy to this report.
---
Follow us on X (aka Twitter), Facebook, YouTube, Vimeo, Instagram, Mastodon, Threads, BlueSky and Patreon.
Please consider a tax-deductible donation to help sustain our horizontally-organized, non-profit media organization:

Unicorn Riot's COVID–19 Coverage: