Three Lock Down Inside Line 3 Pipeline For 6+ Hours
Northern Minnesota – On Tuesday morning, approximately thirty water protectors and Line 3 pipeline resisters walked onto a construction work site in Anishinaabe territory; three activists climbed into a section of the pipe and locked themselves together.
"[We] are in solidarity with the Giniw Collective and the Indigenous leaders here. We're taking a stand against Enbridge which has waged war on this land and is ripping out trees and putting in this pipeline under rivers that are gonna spill into all the lakes and the beautiful rivers up here. And all us three are saying 'no' to that and we're taking a stand today because this is how we believe we can stop them from building it."

Water Protector locked-down inside Line 3 pipeline
Wadena County police and sheriff's deputies arrived about 30 minutes later, yet remained hands-off talking amongst themselves. After an hour, Sergeant Bryan Savaloja, and an unidentifiable person wearing a thin blue line flag mask walked up to the three police liaisons asking how long the rally planned to be.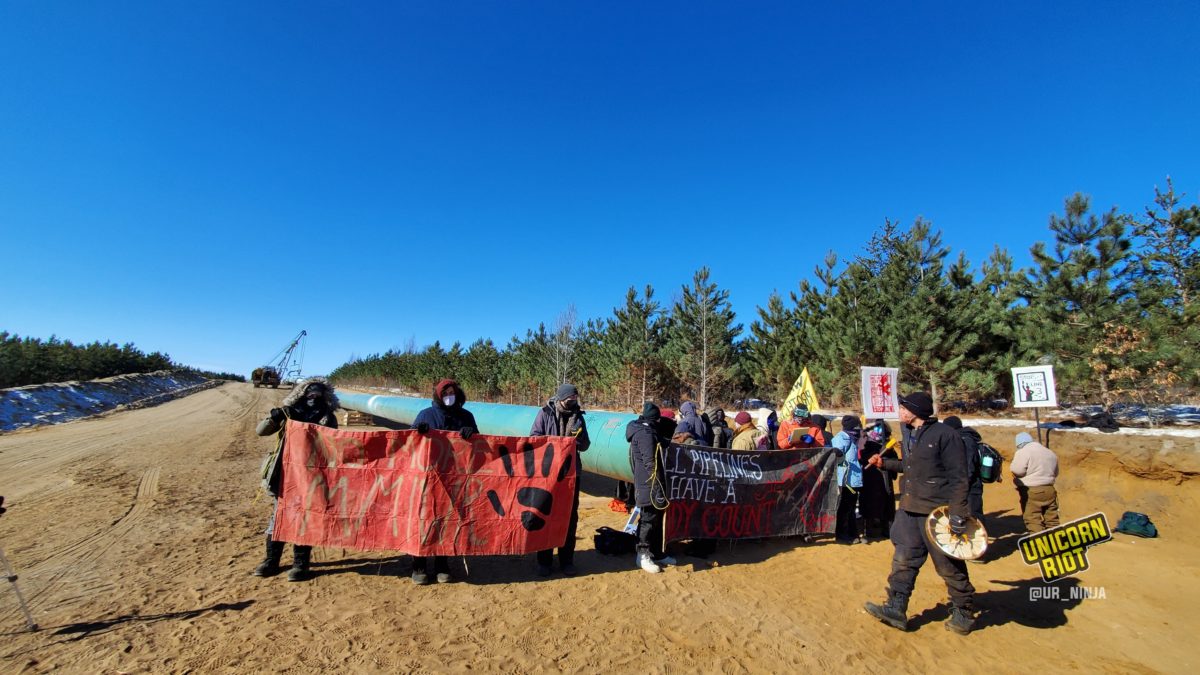 The rally outside of the pipe lasted about three hours with participants chanting and holding signs and banners.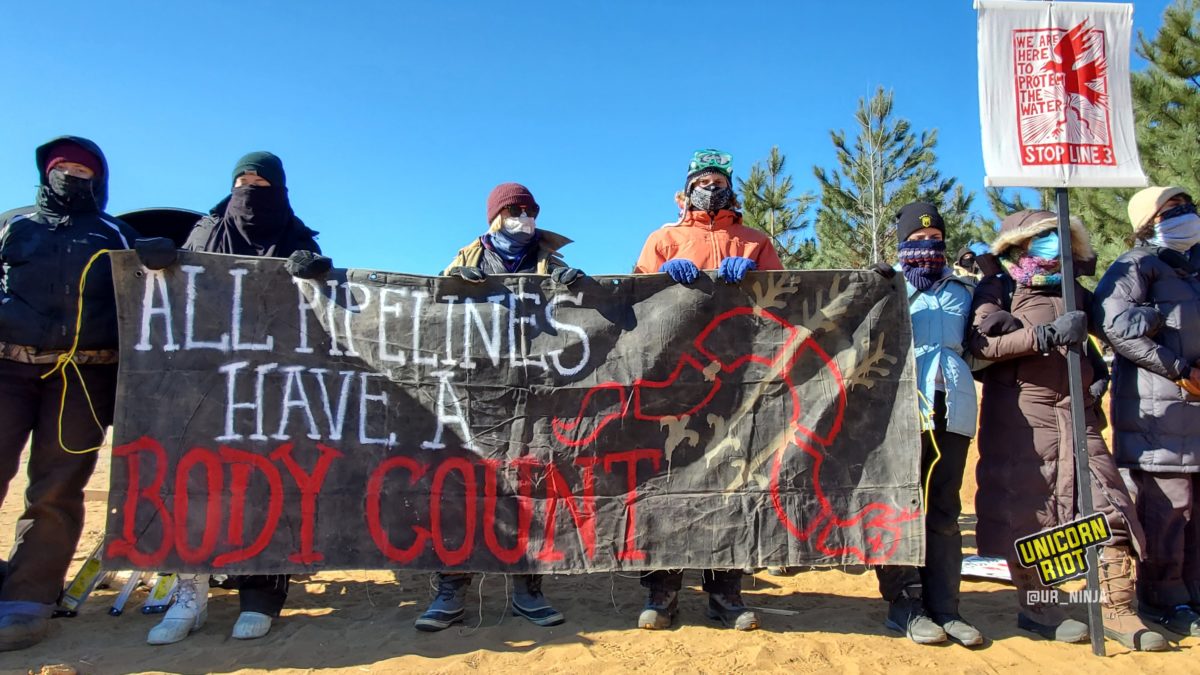 We spoke with Zhaabowekwe, founder of the Giniw Collective, who gave an overview of the Line 3 tar sands pipeline being built:
"Enbridge, when they applied for their Line 3 route, they specifically wanted to go through this new place, so it's not replacing the old line that's currently running through northern Minnesota . . . they want to put it through a brand new place, where it's untouched—hundreds of miles of wetlands, over 800 wetlands and 200 bodies of water.

Zhaabowekwe
At around 1:30 p.m., Savaloja told the liaisons they'd be announcing a dispersal order in 10 minutes, because according to the liaisons, the company told Savaloja their time was up.
The rally left the work site marching down by the Crow Wing River, where the tar sands pipeline plans to cross. Prayers were shared by the frozen water's edge, then the march continued down the snowy river.
"This violates the rights of Native people and it also is open theft from future generations. This is climate disaster all over it. Biden says he's 'climate president'—this is the biggest tar sands infrastructure project in North America and completely opposed by three different Indigenous Nation's whose treaty territory this passes through—Red Lake, White Earth, and Mille Lacs."

Zhaabowekwe
After over six hours inside the pipeline (some estimates are of over seven hours), the three water protectors unlocked themselves and climbed out once they heard all of the equipment turn off at the apparent end of the work day. Although work did continue on the section of the pipe to the east, the section they were inside, which was closest to the river, was halted for the duration they occupied it.
The three were held in Wadena County jail for nearly two days and charged with two counts of a gross misdemeanor—609.6055: Trespass on Critical Public Service Facility; Utility; or Pipeline. Each of the three were also charged with a misdemeanor of 609.50: Obstructing Legal Process, Arrest, or Firefighting.
---
Please consider a tax-deductible donation to help sustain our horizontally-organized, non-profit media organization:

---
Unicorn Riot's Line 3 Oil Pipeline Coverage: