"The Building's Yours" – Search for Clues in Capitol Riot Reveals a Stand-Down Moment
Washington, D.C. – A short video clip from the minutes before the U.S. Capitol was overrun on January 6 shows how federal Capitol Police in armored riot gear descended a crowded staircase, away from the building's east entrance, while someone next to the videographer claims the police have been "extracted" and reaches out to pat one of them on the shoulder as he passes.
This short clip highlights the series of moves among Capitol Police, shown here inexplicably abandoning the high ground around the east side's main door – one small moment among many getting pored over to better understand the flow of events. Several top security officials have already been sacked in the aftermath and concerns have swirled over possible 'insider' help provided to the rioters.
While the video is just under 20 seconds long, it shows a bewildering situation where a person left of the camera, mostly out of frame, is aware that the Capitol Police have very light numbers remaining inside the building.
"We have the building. […] They're withdrawing. There's nobody else inside. […] We just extracted. This is the cops. The building's yours." — Off-camera commentator
An anonymous researcher provided the file to Unicorn Riot while trying to find out more about the attempted insurrection that left five dead last week; it raises questions about what exactly happened on the east side while the west side was the focus of more attention. Unicorn Riot has also covered the Minnesota contingent at the attempted Trump coup.
Below, we will show how data like GPS coordinates can be extracted from these files. The "Parler map" hosted by artist and activist Kyle McDonald shows the geotags of users who posted videos in the days before the service was knocked offline as vendors like Amazon withdrew from operating it. Dell Cameron, at Gizmodo, reported Parler posts collected by researchers just before the outage have shed a wealth of interesting information. (The huge video archive is available via various Internet archival sites.)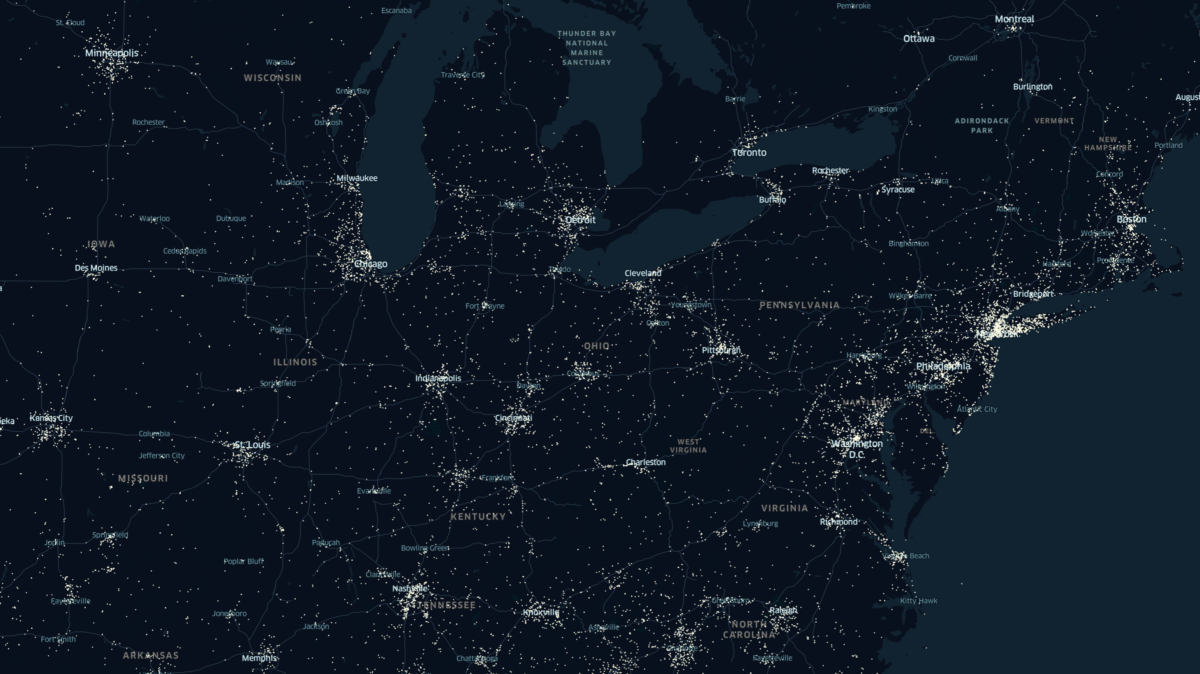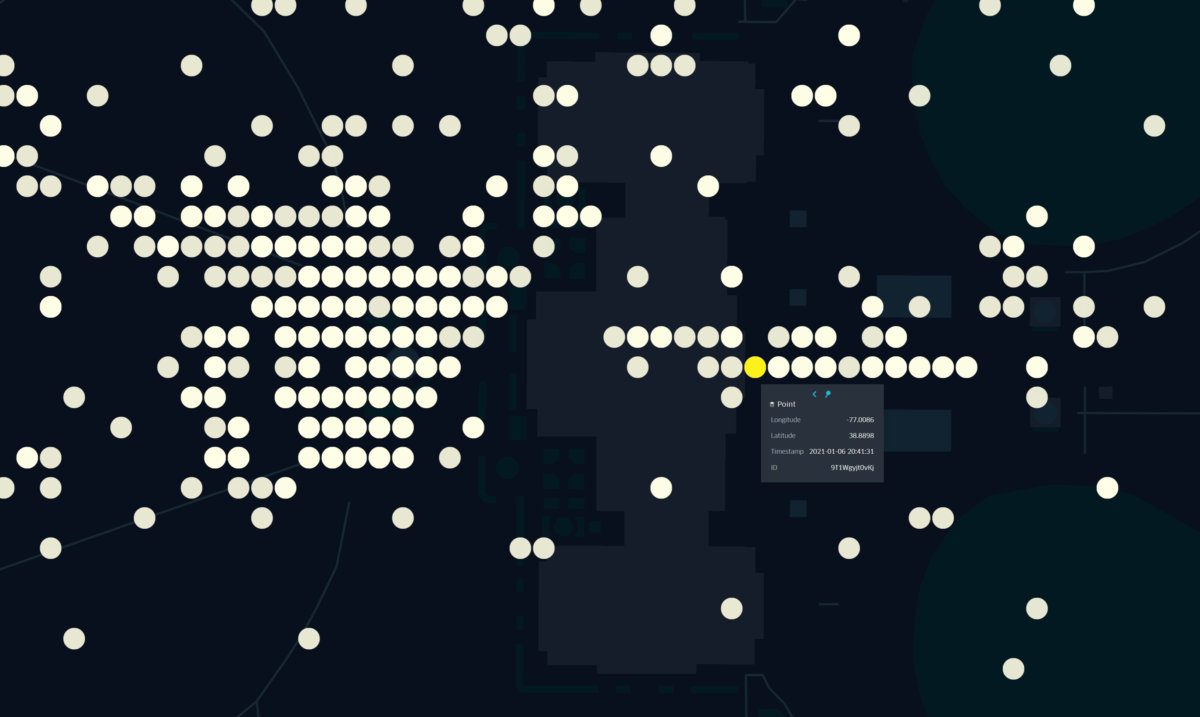 McDonald tells Unicorn Riot how a quick scraping project directed at Parler led to a huge geographically tagged video data set:
"Before Parler was shut down by AWS, @donk_enby on Twitter scraped the site. This process is kind of like hitting "next page" then "save" over and over. She shared the links to the data she scraped, but not the data itself. The links point to millions of public posts, images, and videos. She also shared the video metadata, which included GPS locations and other information that cameras save in videos (like the phone model), but not data generated by the website (like usernames). I took the geocoded data, which is only 68K videos of the 1.1M total, and plotted it on a map to show that Parler users were everywhere. They were not restricted to specific regions the way that some popular narratives suggest. I also showed that there was a clear movement from the White House to the Capitol on the 6th by Parler users, including many videos that were shot inside the Capitol.
GPS locations can be accurate down to a few meters, and they have a history of being abused by police and other people interested in spying like stalkers. Parler was incredibly irresponsible in not scrubbing this metadata. They scrubbed metadata from images, which indicates that they were aware of this problem but too incompetent to fix it for videos."

–Kyle McDonald
This video has code "9T1Wgyjt0vKj". The following timestamp and geographic coordinates are associated with the video, showing it was filmed near the center of the east side of the U.S. Capitol. Time stamps are believed to be generally in UTC, indicating the time of recording (not uploading) but it's possible timezone settings on mobile devices, or other glitches caused issues. (20:41UTC would be 3:41pm EST.)
| | |
| --- | --- |
| Longitude | -77.0086 |
| Latitude | 38.8898 |
| Timestamp | 2021-01-06 20:41:31 |
| ID | 9T1Wgyjt0vKj |
Metadata table based on extracted EXIF fields in the video.
Most casual mobile device users are unaware that detailed metadata fields are added to video clips and other media files. At the end of this report we are including the EXIF field data extracted from this Parler clip by the free utility ExifTool. To generate this kind of report simply download the program and drag media files onto the icon. (It's not limited to videos – PDFs and many other types of files can be scanned this way.) This particular video was filmed on an iPhone XR.
Please consider a tax-deductible donation to help sustain our horizontally-organized, non-profit media organization:

Follow us on X (aka Twitter), Facebook, YouTube, Vimeo, Instagram, Mastodon, Threads, BlueSky and Patreon.
---
Extracted EXIF tags from this media clip:
File Size : 34 MiB
File Modification Date/Time : 2021:01:14 21:32:37-05:00
File Access Date/Time : 2021:01:14 22:15:08-05:00
File Creation Date/Time : 2021:01:14 21:43:52-05:00
File Type : MP4
File Type Extension : mp4
MIME Type : video/quicktime
Major Brand : Apple QuickTime (.MOV/QT)
Minor Version : 0.0.0
Compatible Brands : qt
Media Data Size : 35444445
Media Data Offset : 36
Movie Header Version : 0
Create Date : 2021:01:06 20:41:31
Modify Date : 2021:01:06 20:41:49
Time Scale : 600
Duration : 17.88 s
Preferred Rate : 1
Preferred Volume : 100.00%
Preview Time : 0 s
Preview Duration : 0 s
Poster Time : 0 s
Selection Time : 0 s
Selection Duration : 0 s
Current Time : 0 s
Next Track ID : 6
Track Header Version : 0
Track Create Date : 2021:01:06 20:41:31
Track Modify Date : 2021:01:06 20:41:49
Track ID : 1
Track Duration : 17.88 s
Track Layer : 0
Track Volume : 0.00%
Image Width : 1920
Image Height : 1080
Clean Aperture Dimensions : 1920×1080
Production Aperture Dimensions : 1920×1080
Encoded Pixels Dimensions : 1920×1080
Graphics Mode : ditherCopy
Op Color : 32768 32768 32768
Compressor ID : avc1
Source Image Width : 1920
Source Image Height : 1080
X Resolution : 72
Y Resolution : 72
Compressor Name : H.264
Bit Depth : 24
Video Frame Rate : 29.975
Balance : 0
Audio Format : mp4a
Audio Channels : 2
Audio Bits Per Sample : 16
Audio Sample Rate : 44100
Purchase File Format : mp4a
Matrix Structure : 1 0 0 0 1 0 0 0 1
Content Describes : Track 1
Media Header Version : 0
Media Create Date : 2021:01:06 20:41:31
Media Modify Date : 2021:01:06 20:41:49
Media Time Scale : 600
Media Duration : 17.88 s
Media Language Code : und
Gen Media Version : 0
Gen Flags : 0 0 0
Gen Graphics Mode : ditherCopy
Gen Op Color : 32768 32768 32768
Gen Balance : 0
Handler Class : Data Handler
Handler Vendor ID : Apple
Handler Description : Core Media Data Handler
Meta Format : mebx
Handler Type : Metadata Tags
Location Accuracy Horizontal : 24.446519
GPS Coordinates : 38 deg 53′ 23.28″ N, 77 deg 0′ 30.96″ W, 23.505 m Above Sea Level
Make : Apple
Model : iPhone XR
Software : 14.2
Creation Date : 2021:01:06 15:41:30-05:00
Image Size : 1920×1080
Megapixels : 2.1
Avg Bitrate : 15.9 Mbps
GPS Altitude : 23.505 m
GPS Altitude Ref : Above Sea Level
GPS Latitude : 38 deg 53′ 23.28″ N
GPS Longitude : 77 deg 0′ 30.96″ W
Rotation : 0
GPS Position : 38 deg 53′ 23.28″ N, 77 deg 0′ 30.96″ W
Exiftool also extracted "Detected Face" data saved at multiple times a second, with the -extractEmbedded option. Here's one example:
Sample Time : 17.05 s
Sample Duration : 0.03 s
Detected Face ID : 30
Detected Face Bounds : 0.721606 0.173119 0.773491 0.173119 0.773491 0.265115 0.721606 0.265115
Detected Face Roll Angle : 180
Detected Face Yaw Angle : 0
Detected Face ID : 29
Detected Face Bounds : 0.654257 0.11216 0.689221 0.11216 0.689221 0.175185 0.654257 0.175185
Detected Face Roll Angle : 180
Detected Face Yaw Angle : 0
---