D.C. Riots: A Look at the Minnesota Contingent
Saint Paul, Minnesota – Numerous "patriots" from Minnesota followed incitement from President Donald Trump and took part in the violent storming of the U.S. Capitol in Washington D.C. on January 6. The events resulted in a police officer being beaten to death and four other deaths.
The U.S. Attorney's Office District of Minnesota announced the night of the sixth that they would be prosecuting those who traveled "from MN to DC to commit violent criminal acts" to the "fullest extent of the law." As the City of Minneapolis admits two of its employees are under investigation for making the trip to the attempted coup in DC, at least 17 people from Minnesota took part in the action, with one of them, Melody Black, appearing in a viral video getting kicked off of her flight home.
The storming of our Nation's Capital building is not protest- it's despicable, disrespectful and a violation of federal law. If we can prove you travelled from MN to DC to commit violent criminal acts, then you will be prosecuted by @DMNnews to the fullest extent of the law.

— U.S. Attorney MN (@DMNnews) January 7, 2021
The milieu of Trump coup militants from Minnesota revolves around 'Stop the Steal' and 'Hold the Line' events that have taken place most Saturdays since the November 2020 presidential election. Months of contentious Saturday protests in Saint Paul have been organized around Trump's false claims of election fraud. These right-wing gatherings have also demanded that Tim Walz, the Democratic governor of Minnesota, lift restrictive measures imposed due to the COVID-19 pandemic.
Participants and organizers have a wide array of right-wing viewpoints, from QAnon believers and ardent Trump supporters to rural and suburban business owners, as well as coronavirus deniers and armed white supremacists.
Proud Boys' members like Corey Nielson have been regulars at the Saturday rallies in St. Paul. Nielson traveled to D.C. in December and took part in a mob-style beating of a solo Black man before Nielson was stabbed in self-defense. He was charged with assault and disavowed by his DJ community. Several of the attendees are also organizers of Back the Blue protests and/or affiliated with Bikers for Trump. Others involved in recent far-right unrest appear to be newly politicized.
So Who Went to D.C.?
Since January 6, anti-fascists and other computer sleuths have been collating information from social media postings made by right-wing participants boasting about their participation in the D.C. Capitol riot.
On January 8, Twitter account @MNUnitedAF (MN United Against Fascism) posted a list of some of the known Minnesotans who were verified to have participated in the D.C. events of January 6. They listed the following names: Chad Rafdal, Jason Hakala, Douglas Eichmann, Jonathan Land, Janice Evans (Victoria White), Molly Wentzel, Larvita McFarquhar, Steve Lahr, Emily Hartigan, and Deron Slater.
Along with those ten named by MNUnitedAF, others verified additional names: Melody Black, James Bono, Paul Bergley, Joe Bell, Alleister Voosen, David Hamman, and Jonathan Land's brother Doyle Land Jr.
A majority of those listed have been present at most of the weekly Hold the Line protests in Saint Paul, and many were seen at Back the Blue protests throughout the summer of 2020 and re-open protests in April 2020.
Chad Rafdal, a tall red-bearded Trump supporter from southern Minnesota, went to D.C. and posted his experiences on social media. Rafdal was interviewed by WCCO (CBS) about his trip and after the interview aired, he posted a video to Twitter expressing his frustration with "the haters" that have questioned the interview. He called antifascists the "scum of the Earth" and ended his January 8 video message by saying, "stand up Patriots, it's time – 'murica."
Rafdal streamed to his Facebook blog titled 'Patriot Adventures with Redbeard and his crazy Wife' while traveling to D.C. and while at the Capitol building. He continues to post on multiple Twitter accounts with his latest video stating he's starting a podcast and website.
In the weeks before going to D.C., Rafdal was a consistent attendee of the Stop the Steal and Hold the Line protests. After violence from the right-wing crowd towards a counter-protester in late November, hundreds of anti-fascists started showing up to oppose Hold the Line.
Rafdal was on the front lines of some of the scuffles that happened during the subsequent Saturdays. He also started to post sensitive personal information online of people who showed up to counter-protest, including pictures and names of minors.
While at the Capitol in D.C. on January 6, he said he didn't enter the building, and that he left after being pepper sprayed by police near an entrance. On January 12, the company that Rafdal worked at announced that he is no longer an employee.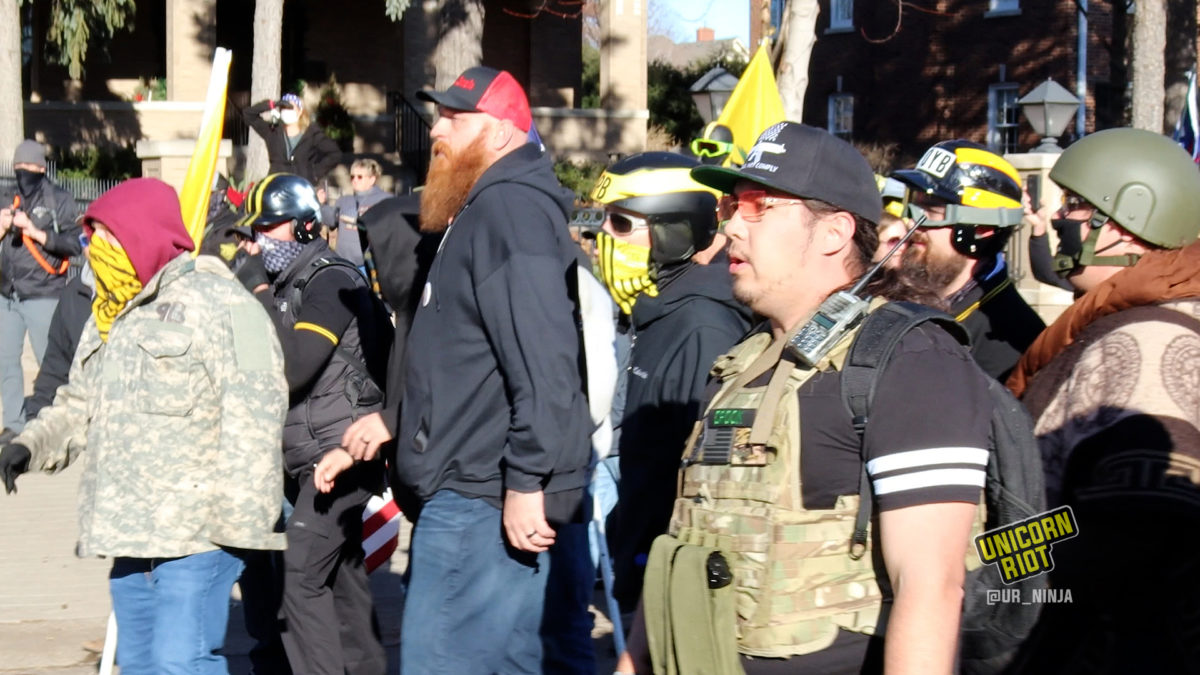 Hold the Line, MN was founded by three women: Becky Strohmeier, Michelle Justen, and Emily Hartigan-Stein. At least one of the trio, Emily Hartigan-Stein, traveled to D.C. for the January 6 action. Hartigan-Stein claims to be a Marine veteran from Shoreview. She's the president of Born to Ride for 45 MN, vice president of Bikers for 45, and the former director of operations for right-wing Senate candidate Jason Lewis.
Here's Emily, she worked with Jason Lewis. She's a known far right agitator. pic.twitter.com/ngfqNk9wcE

— 𝗠𝗡 𝗨𝗻𝗶𝘁𝗲𝗱 𝗔𝗴𝗮𝗶𝗻𝘀𝘁 𝗙𝗮𝘀𝗰𝗶𝘀𝗺🏴 (@MNUnitedAF) January 9, 2021
Hartigan-Stein, an avid Trump supporter, has traveled across the Midwest to attend Trump events over the last few years and has organized Back the Blue protests in Saint Paul and surrounding suburbs. Hartigan-Stein made an online petition in April 2020 calling for the state to lift coronavirus safety measures saying "the People of the Great State of Minnesota will not sit [idly] by any longer." Her petition has thus far garnered 29 signatures.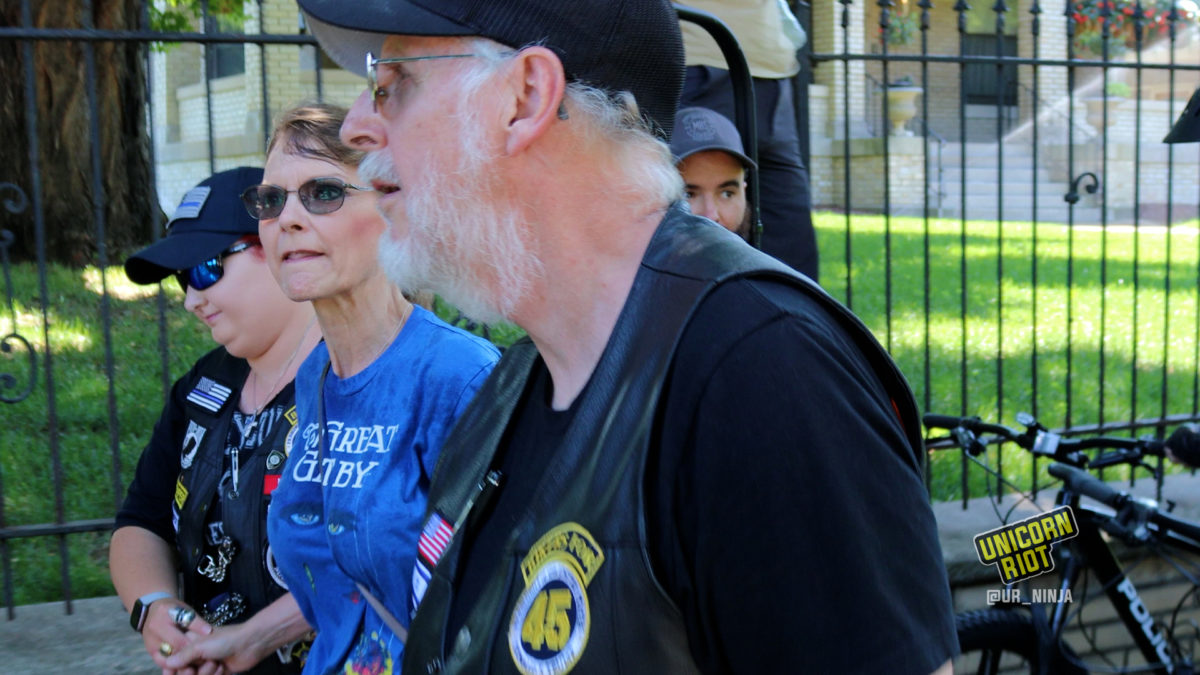 Melody Black, another frequent attendee of the right-wing Back the Blue, Hold the Line, and re-open protests, also traveled to D.C. and was kicked off her Delta flight home after boarding. She told other passengers her name was Melody Marie Black and said she was kicked off for "freedom of speech." She is also recorded attempting to console another man who was screaming about being kicked off of his flight in the gate of an airport.
A few people have pointed out that, Melody Black, a Trump supporter I interviewed in 2019 at a rally in Burnsville, seems to have been a part of the the mob that hit the Capitol.

I couldn't reach her, but she identifies herself, and it's clearly the same person in both videos. https://t.co/o6iv0w9BCc

— Jared Goyette (@JaredGoyette) January 10, 2021
Black, from Red Wing, Minnesota, said "this is America, and we're all here to fight for our freedom" while being interviewed on January 6. The day after the attempted Capitol siege, Black was photographed at a memorial for Ashli Babbitt, the military veteran QAnon supporter who was killed by Capitol police.
Over the last few years, Black has been interviewed numerous times and received media coverage of her right-wing activism. She was very active in 2020 and at one July 'Back the Blue' event in Bloomington while finishing an enthusiastic diatribe directed at a Unicorn Riot reporter she stated, "This is America, land of the free. You don't own America. All lives matter. Blue lives matter."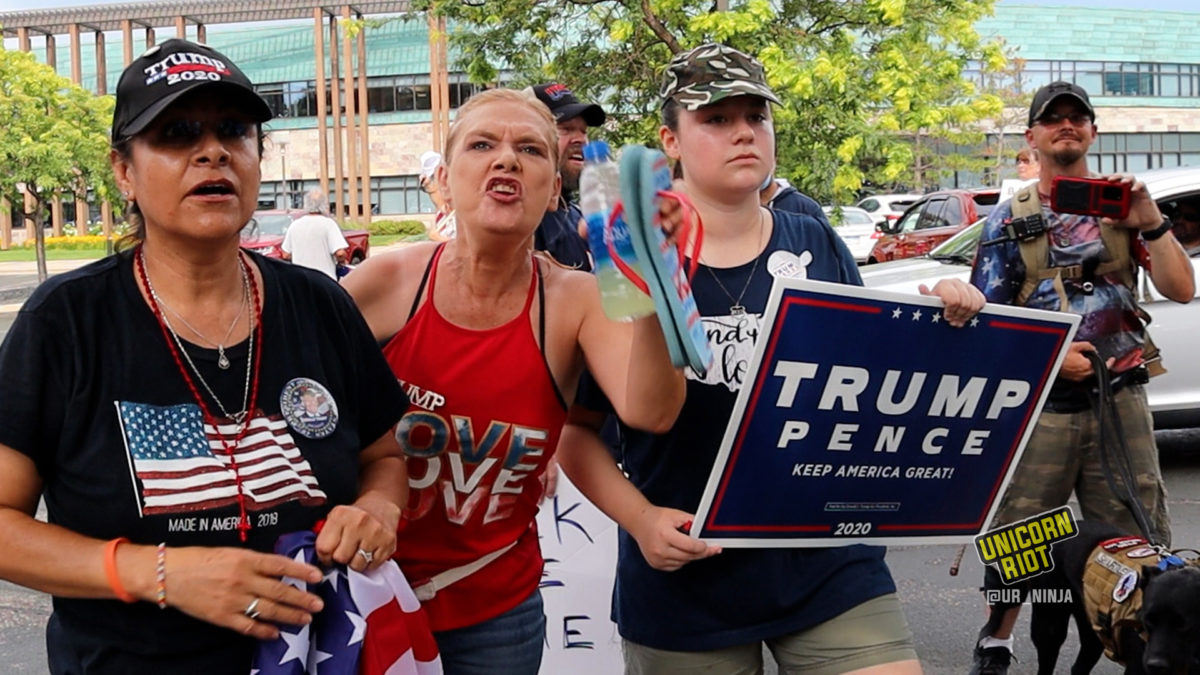 Jason Hakala, a 46-year-old avid Trump supporter living in Bloomington, Minnesota, made the trip to D.C. for January 6. Hakala, a Proud Boy and Three Percenter spent the summer of 2020 knocking on doors for the Trump campaign.
Jason Hakala, 45, drove up from Bloomington. He's been door knocking for the Trump campaign since he was laid off from his union factory job in July.

"Just you wait, there's going to be a red tsunami," he said. "The silent majority." pic.twitter.com/FWNu0TO23i

— Katie Galioto (@katiegalioto) September 30, 2020
Hakala, with past experience in law enforcement and security, received accolades from Eagan's Police chief in 2011 for chasing teenagers away from his mom's house. He has been a frequent attendee of the right-wing Hold the Line and Stop the Steal gatherings and has made numerous trips to D.C. since the election.
Here's Jason Hakala, a Minnesota Proud Boy, and Oath Keeper. pic.twitter.com/GTlzI2S76d

— 𝗠𝗡 𝗨𝗻𝗶𝘁𝗲𝗱 𝗔𝗴𝗮𝗶𝗻𝘀𝘁 𝗙𝗮𝘀𝗰𝗶𝘀𝗺🏴 (@MNUnitedAF) January 9, 2021
Hakala has consistently made militant right-wing social media postings over the last two months. One of Hakala's first posts on a Telegram channel used by Minnesota Proud Boys called 'NorthsideUhuru' was a picture of Hold the Line organizers posing with Proud Boys and throwing up the white power gang sign in front of the Governor's Residence in St. Paul. On December 1, 2020, Hakala replied with two laugh emojis and an OK sign emoji "😂😂👌" to a racist meme picture of George Floyd in front of a Christmas tree holding a bottle of fentanyl. Hakala has often fixated on threatening anti-fascists on social media.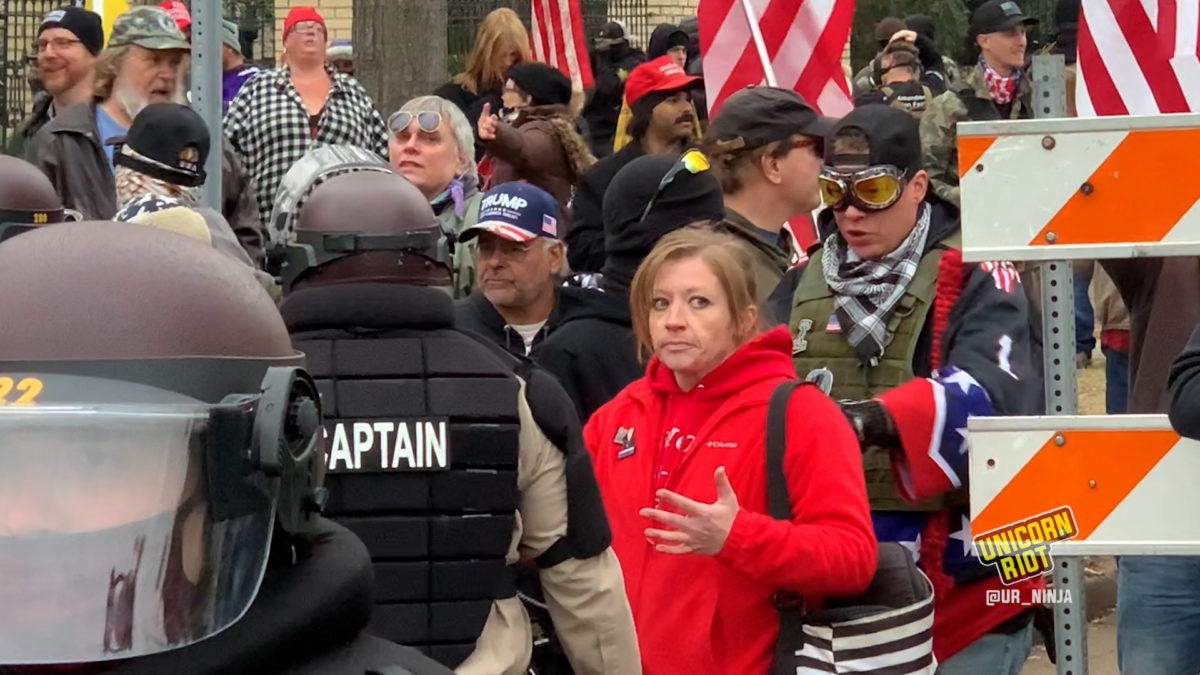 Deron Slater, a pro-Trump Christian vlogger and founder of recently created 'Yeshuas Patriots', also traveled from Minnesota to D.C. for the January 6 violence where he live-streamed numerous times from the Capitol. During one of his live-streams, another Minnesotan, James Bono, can be seen. It's unclear if Slater or Bono entered the Capitol building. Slater has been a consistent figure at the Hold the Line and Stop the Steal events in Saint Paul and traveled to D.C. in December, as well.
Deron Slater who livestreamed most of the felonious actions. pic.twitter.com/VvsAoSVu6W

— 𝗠𝗡 𝗨𝗻𝗶𝘁𝗲𝗱 𝗔𝗴𝗮𝗶𝗻𝘀𝘁 𝗙𝗮𝘀𝗰𝗶𝘀𝗺🏴 (@MNUnitedAF) January 9, 2021
Slater posted a video online on January 11 saying "Democrats are a terrorist organization" and that the Capitol Police deserved to get injured and killed because they were hurling grenades and macing "patriots."
Slater and the others frequent the Alibi Bar in Lakeville, MN, known for it's defiance of pandemic safety restrictions and as a hang-out for right-wing extremists. Alibi's co-owner, Ricardo Baldazo, is charged with two counts of first-degree attempted murder and first-degree assault from a September incident, which ended in an armed police standoff and without Baldazo incurring injuries. Baldazo is out on bail and his bar continues to be open. A recent picture posted to social media shows Slater with Jason Hakala, as well as, Adam Dryke, from Shakopee, Minnesota.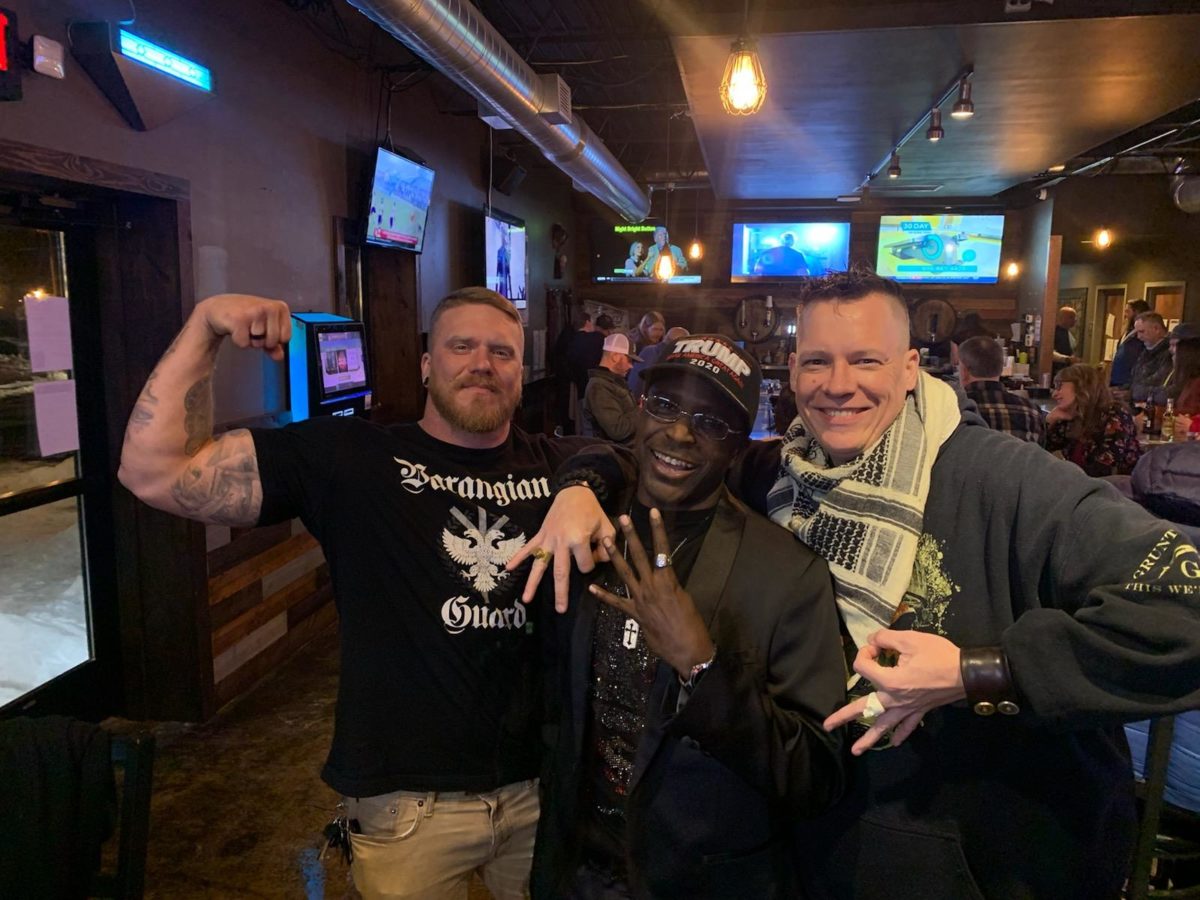 Dryke is a Minnesota operative of Operation Werewolf, a branch of the white supremacist crypto-fascist Wolves of Vinland. Dryke's social media features quotes by Wolves of Vinland Co-Founder Paul Waggenor and Italian occultist and anti-semite, Julius Evola. His posts have become increasingly violent in their words and imagery.
A December 24, 2020, Facebook post by Dryke has an image symbolizing the murder of anti-fascists: A masked man shooting two hostages in the back of the head as four bodies hang from nooses on the gallows and an anti-fascist flag burns. Dryke's last words in a January 5 post read, "the time for war is upon us."
We have no evidence of Dryke making the trip to D.C. Yet, it's clear that the relationship between hardened white supremacists seeking war like Operation Werewolf and the increasingly extremist participants of Hold the Line is a possible threat to communities across the Twin Cities and beyond.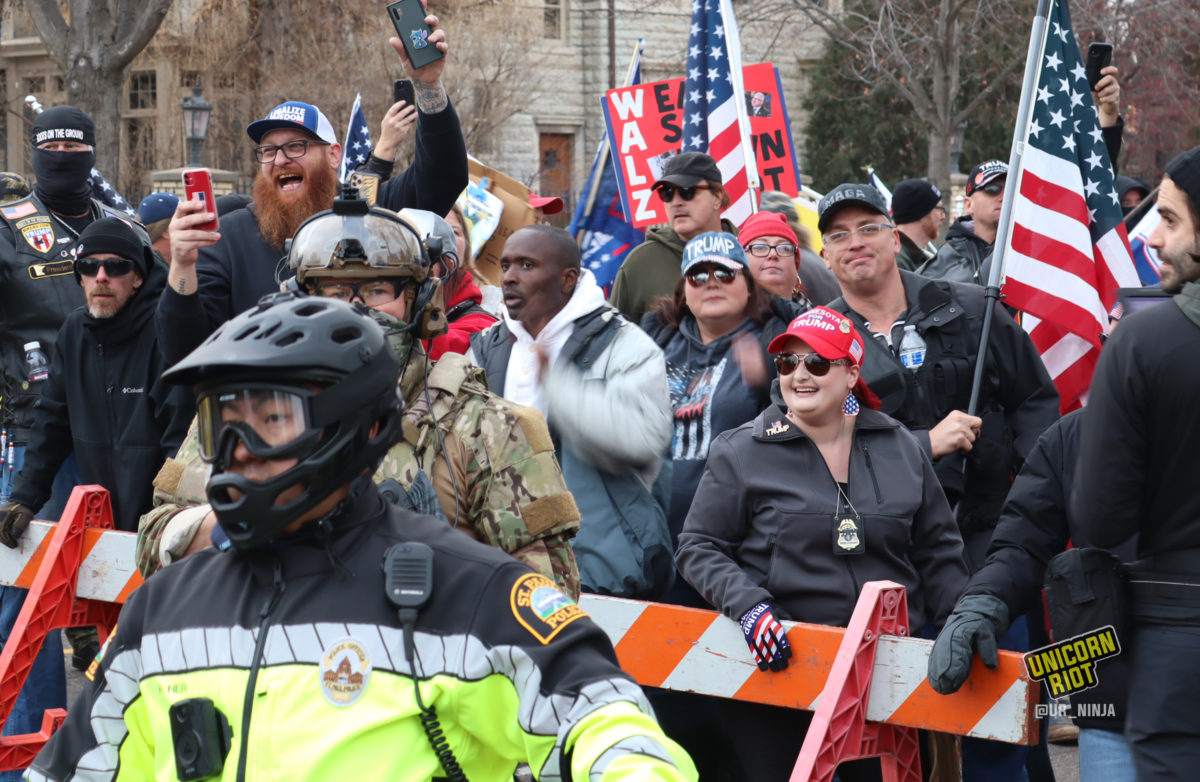 Larvita McFarquhar, owner of Haven's Garden restaurant in Lynd, Minnesota, who's faced fines for keeping her restaurant open, took the trip to D.C. with a crew of her friends—Janice Evans (Victoria White), Molly Wentzel, and Steve Lahr. On their trip, they stopped in Gettysburg to live-stream about how they weren't allowed into five different bathrooms for refusing to wear masks.
Janice Evans (Victoria White), who traveled with McFarquhar, claims to have taken "down a antifa" who she claims was breaking a window at the Capitol building. Video shows her jumping on a man after others started to assault him. Janice went inside the Capitol and later posted to Facebook that she was "maced, Beat with metal baton, and detained by capitol police."

The four talked about their experiences in D.C. during two live-streams posted on Molly Wentzel's Facebook on January 8. They all repeated the debunked theory that the violence that happened at the Capitol was orchestrated by "antifa and BLM." White and Wentzel said they went into the Capitol building while Lahr and McFarquhar didn't enter the building.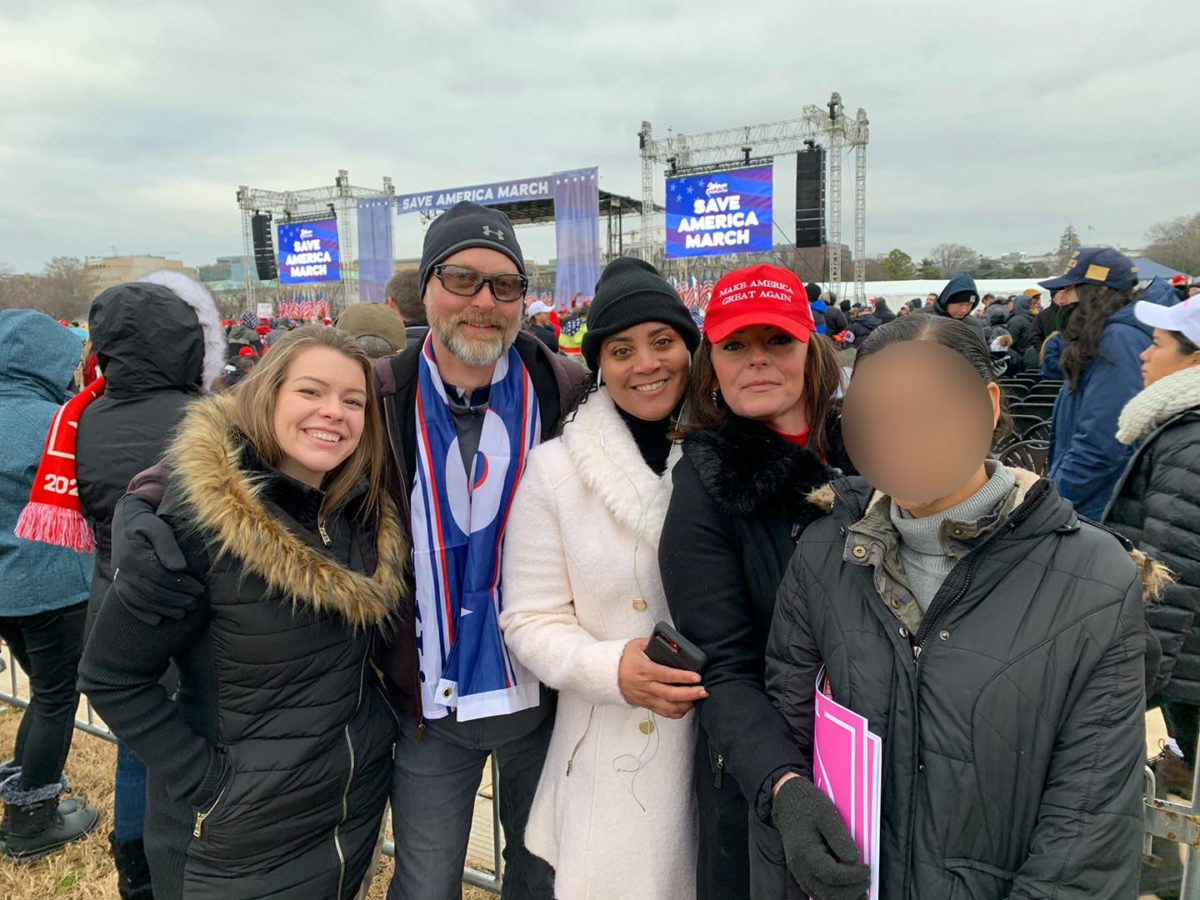 Douglas Eichmann, another avid Trump supporter from Minnesota, took the trip to D.C. He's another frequent attendee of the Hold the Line and Stop the Steal events.
Eichmann's Facebook post on January 9 shared pictures from the storming of the Capitol on January 6. He wrote, "I've never been in a fight, at 60 why would I start now!! Thought I was gonna get my ass kick, I came out NO injuries!" In two pictures he posed with Chad Rafdal. Eichmann says he "never got in."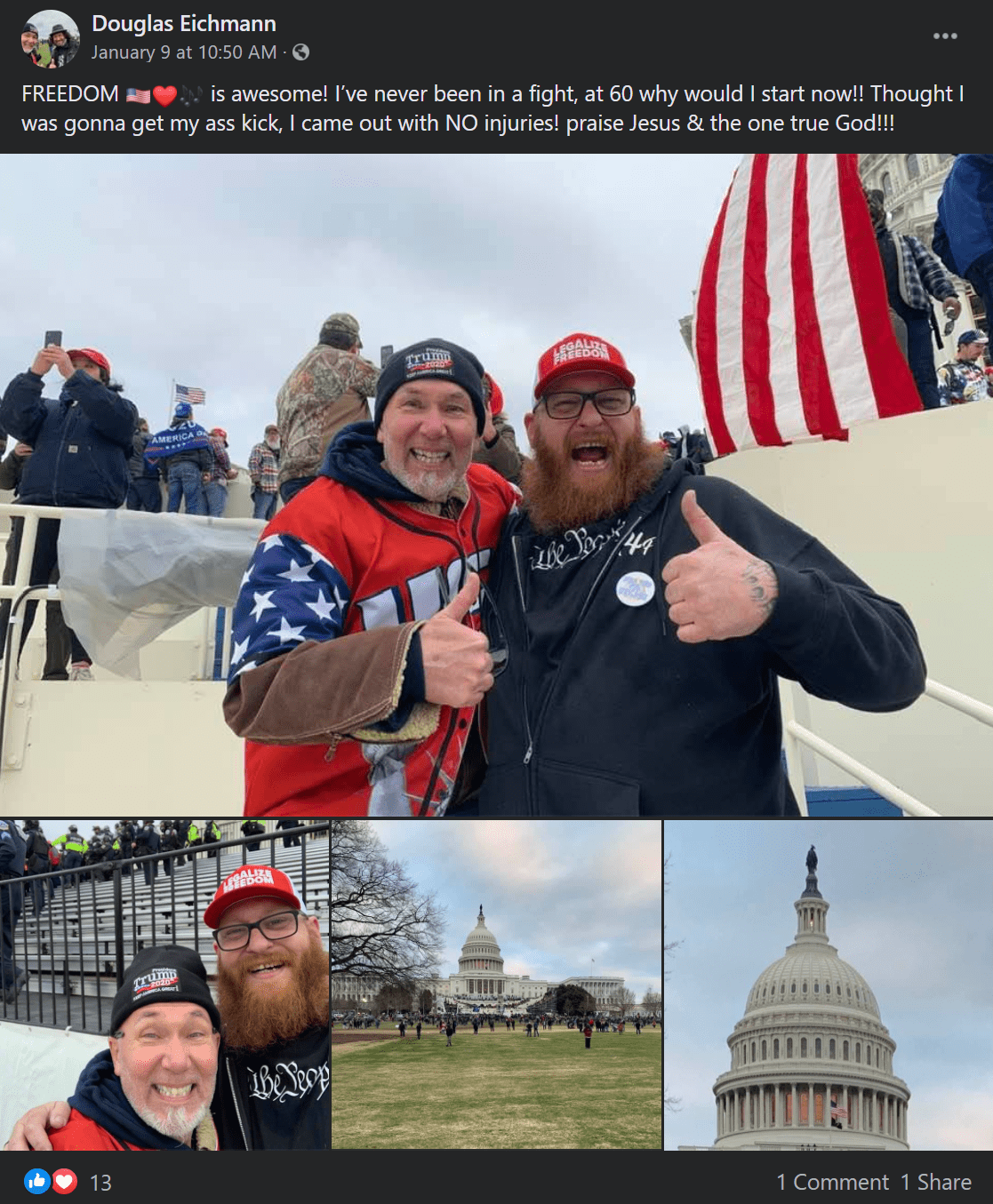 Trump supporter Jonathan Land and his brother Doyle Land Jr. made the trip to D.C. for the Storm the Capitol event on January 6. From Forest Lake, Jonathan is president of a business called The Glass Guru in Blaine, Minnesota. Land has been a frequenter of Stop the Steal and Hold the Line actions and brings audio equipment to the rallies. Land Jr., from Chisago City, is the owner of Northland Home Exteriors. It's unclear if either of the Land brothers went into the Capitol building.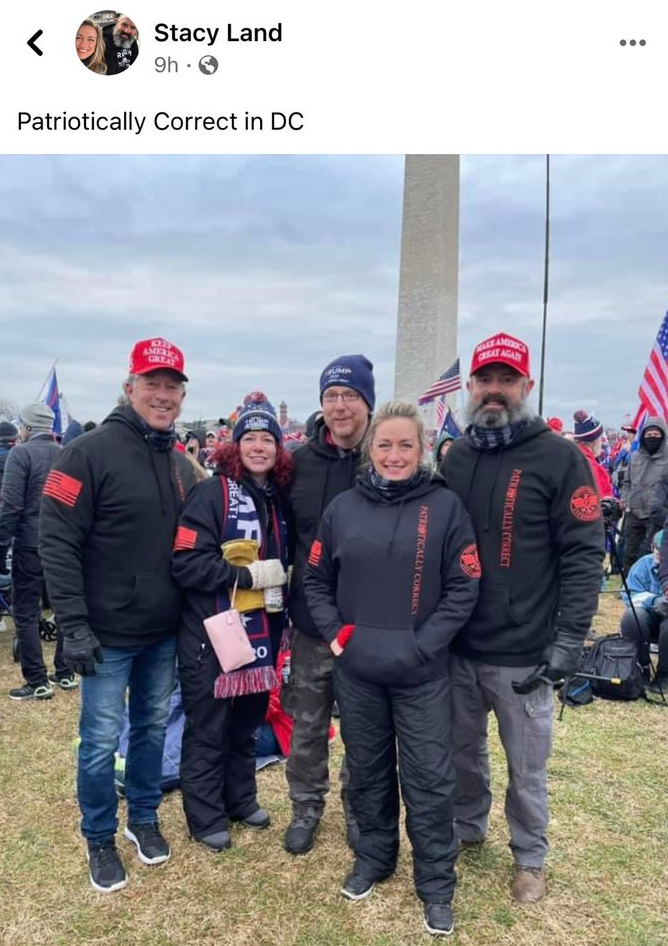 Alleister Voosen is another Minnesotan who made the trip to D.C. He posted live-streams to Facebook while participating in the events. It's unclear if he went into the Capitol.
From Minneapolis, David Hamman made the trip to D.C. on January 6. Hamman posted to Facebook on the eighth that he "was in Washington DC for the Trump rally" and that he'd "like to thank and salute all of the people that are taking action to protect our Freedoms that our forefathers fought for our constitution." Hamman updated his Facebook cover collage to show images from D.C., including two selfies. It's unclear if Hamman went into the Capitol.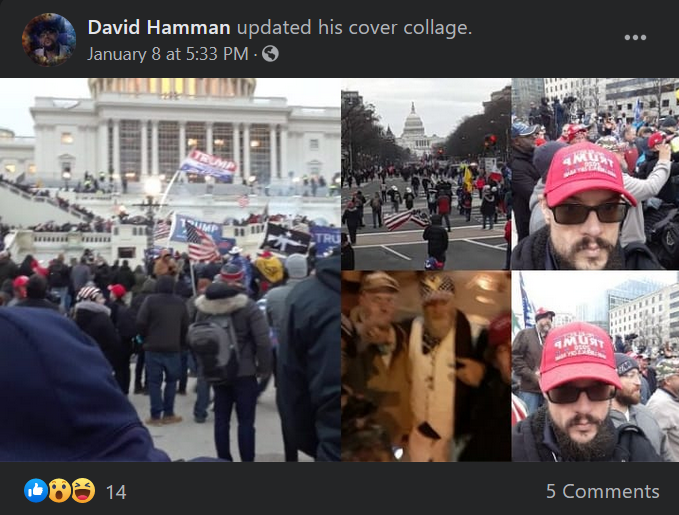 Joe Bell is another Minnesotan who went to D.C. for January 6. He is from St. Paul and has also been an attendee at the weekly Hold the Line events. A post on Bell's MeWe account claims that he was once a corrections officer. It's unclear if Bell went inside the capitol building.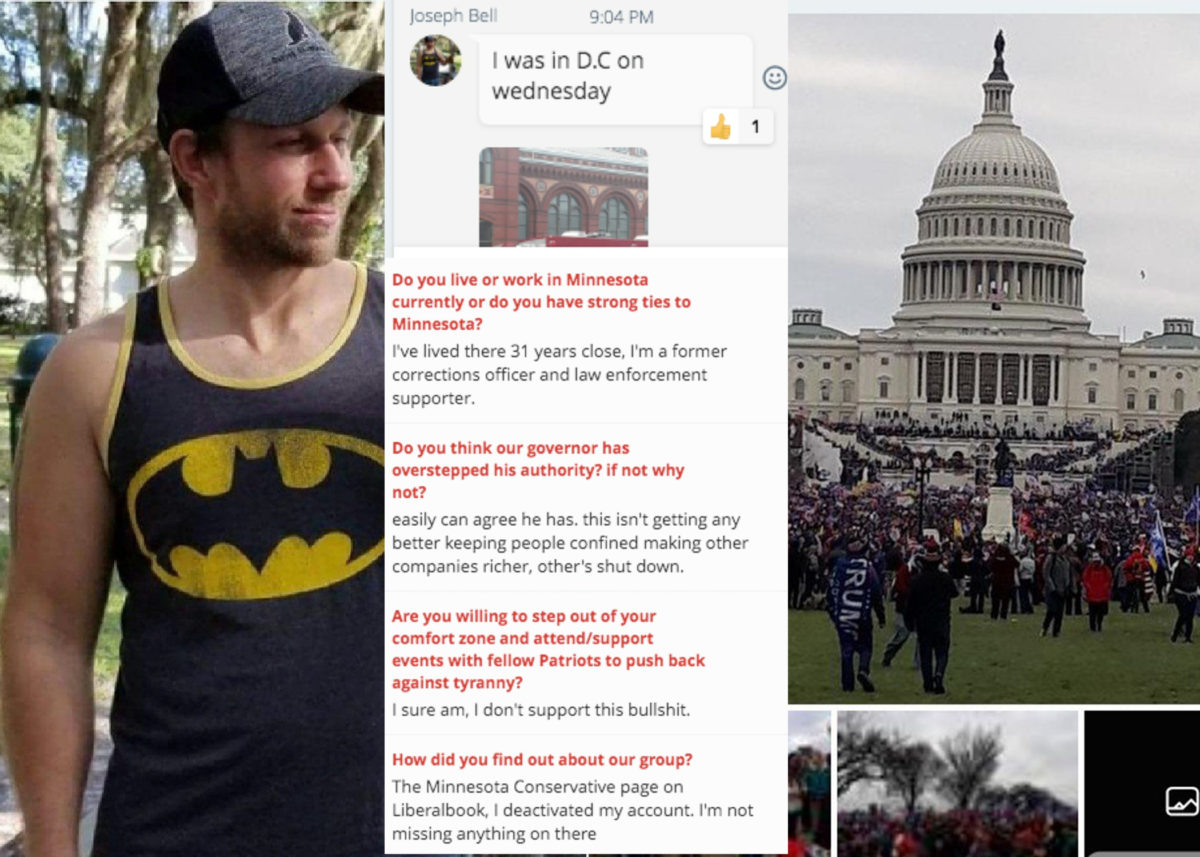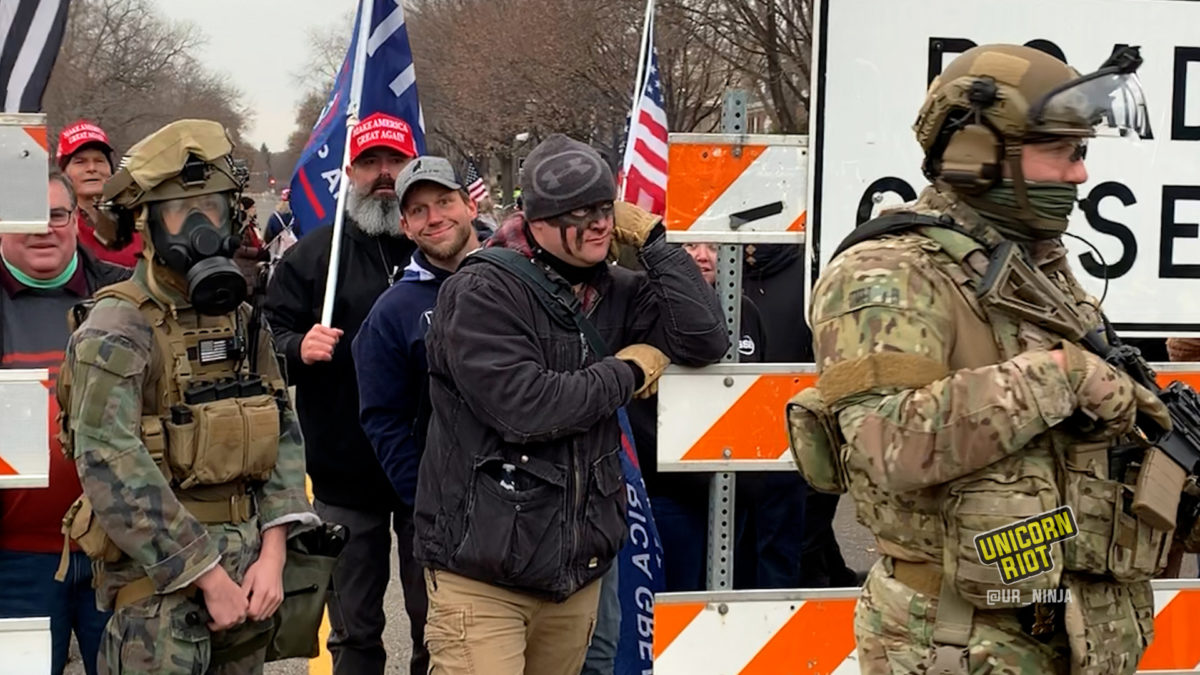 Stop the Steal protests continued in Saint Paul after the storming of the Capitol. During last Saturday's "Storm the Capitol" protest at the Minnesota Capitol building, numerous others raised their hand to show they went to D.C. and Paul Bergley, a chiropractor in Isanti, Minnesota, spoke about his trip. Right-wing podcaster Stew Peters is said to have mentioned being in D.C. on his podcast, and further evidence of more Minnesotans who participated continues to be posted online.
The Minnesota Bureau of Criminal Apprehension and the Minnesota Department of Public Safety are now investigating the involvement of six GOP House members that attended last Saturday's Storm the Capitol protest outside of the Capitol building in St. Paul, which featured violent rhetoric. The six state Representatives are: Susan Ackland of St. Peter; Steve Drazkowski of Mazeppa; Mary Franson of Alexandria; Glenn Gruenhagen of Glencoe; Eric Lucero of Dayton; and Jeremy Munson of Lake Crystal.
The increasingly extreme actions of Trump supporters, coupled with their cozy connections to military and law enforcement, puts the spotlight on many police officers across the country who are being outed and even reprimanded for participating in the D.C. event.
With country-wide threats of armed protests by mostly white and male Trump supporters continuing, it's clear this problem is going nowhere and could get increasingly violent in the future.
FBI says there *might* be armed protests at US Capitols next week?? I've been watching these happen every week since November at both the Minnesota State Capitol and the Governor's Mansion. pic.twitter.com/ff0F00uu1m

— daviss (@daviss) January 12, 2021
The true number of Trump supporters that traveled from Minnesota to D.C. is still unknown. We know that at least 17 went. Those who made the trip continue to organize more events, and many still openly call for violence.
Cover image features photos and text posted to social media and/or screenshots from live-streams posted by participants while in D.C.
EDIT: Original wording in the opening sentence has been changed from *orders by* to *incitement from*.
Names of some other participants that were not in the above report: Jacob Preuss, Robert McCabe, Bruce Vogel (formerly on the MN House of Representatives), and Becky Webb Zondervan. On March 19, 31-year-old Moorhead resident, Jordan Stotts, was arrested by the FBI for his involvement. [updated March 22, 2021]
---
Follow us on X (aka Twitter), Facebook, YouTube, Vimeo, Instagram, Mastodon, Threads, BlueSky and Patreon.
Please consider a tax-deductible donation to help sustain our horizontally-organized, non-profit media organization: