Washington, D.C. – Since Trump supporters stormed the U.S. Capitol on January 6 in an attempt to stop the 2020 presidential election from being certified, extensive media reporting has focused on identifying those involved. Many implicated in the violence during the siege on Congress have turned out to be police, soldiers, and members of racist groups such as the Proud Boys.
Much of the internet activity documenting involvement in the far-right D.C. riot has centered on right-wing Twitter clone Parler. A large amount of organizing for the event also took place over Facebook as well as encrypted chat platforms such as Matrix and Telegram.
Another chat site, the gaming-oriented platform Discord, is associated with far-right violence after organizers of the 2017 neo-nazi rally in Charlottesville had their planning chats leaked by Unicorn Riot, leading to lawsuits and an FBI probe. While Discord has since cracked down on hate activity on their service, the company relies on user reports to ban users and chat groups, and still hosts many racist and far-right users to this day.
18 publicly accessible Discord servers, chat logs from which have been obtained and released by Unicorn Riot, show some granular details about some of the individuals present in, or near, the Capitol during the attempted coup on January 6.
Logs released here also include months of server chatter before the event, well over two million chat messages. (Sets of Discord chat rooms are referred to as 'servers' by the company but do not constitute distinct web servers.)
Discord chat logs sent on, or about, January 6, show attendees trying to meet up with their fellow believers at the event, sharing their desires to see violence take place, and sometimes bragging about their adventures during the storming of the Capitol grounds.
[NOTE: You can click on hyperlinks for Discord usernames, chat servers, and messages to browse the raw chat data in Unicorn Riot's DiscordLeaks database. For more related reporting, see our Far-Right Investigations Desk page.]
---
Numerous users from '4Deep News', a Discord chat of QAnon conspiracy believers, attended the Stop the Steal Trump rally in D.C., which led to the attack on the Capitol building. A woman from Georgia posting on Discord as 'vlynnQ' was eager to meet up with others from the 4Deep News chat – "people staying at outlying hotels can take the metro in and we can all meet up and walk together…we're meeting outside the Washington Marriott at Metro Center at 7am on the 6th to walk en masse to the hill."
'vylnnQ' shared her belief that she and her fellow believers owed it to President Trump to answer his call to storm the Capitol on the day of the election's certification. "Trump has stood up for us for 5 years- since he rode down that escalator he's been our voice, our champion. In all that time he's asked one thing of us- to go to DC on January 6 and be his voice. He's not let us down. We cannot let him down." She also told the chat that she expected to see "perp walks" of Congressional Democrats on January 6th "if things go as planned." 'vlynnQ' attended the January 6 rally along with her husband 'Mic,' whom she claimed was a veteran.
Discord user, 'a lil rain', another Q believer in the 4Deep News chat, also attended the event and remarked that "the cops, secret service, and national guard were nice and super helpful to me and everyone."
Another 4Deep News chat participant, 'Qdot4', told their compatriots "I was there" and wrote "that building needs to be burned down" – presumably referring to the U.S. Capitol.
A woman from Baltimore posting with the username 'Lori' in the 4Deep News Discord shared detailed blow-by-blow updates from Capitol siege. As the afternoon progressed she told the chat group that her and another member with the username SUNS3T were by the capitol steps. Her updates grew increasingly excited as events unfolded – "So I'm storming the Capitol", Lori wrote at about 2 PM eastern time. "We're at the door… I'll try to get inside lol." "We're taking the house", she added at about 2:40 p.m. "Doors are open."
After posting a picture of a tightly-packed crowd pressed outside a door to the Capitol building, 'Lori' apparently gained access to the halls of Congress – "we're in." She then found her way to the office of House Speaker Nancy Pelosi, where she seems to have helped herself to some snacks and drinks. "We stole soda and pistachios from Nancy", she told the 4Deep News Discord. "I have a soda stolen from Congress lmaoo."
Lori also bragged that she saw Nancy Pelosi's office computer – "her email was left wide open."
Around 6:45 p.m., 'Lori' jumped into a conversation in the Discord chat to share her observations of the events she participated in. "It wasn't antifa storming the Capitol," she told her compatriots, "it was a patriot occupation." However, by around 11:15 p.m., 'Lori', perhaps considering impending consequences, changed her tune, claiming that "antifa dressed like patriots, antifa broke stuff and blamed patriots."
That evening, Lori also shared her tactical analysis of the Capitol breach, reflecting that "the cops straight up let us in so I'm convinced this was allowed to happen… there was tons of riot control out and then they just disappeared."
Lori's companion, someone using the Discord username 'SUNS3T', also shared updates from her adventures in the halls of congress, remarking how they got "inside the senate building…I even got stuff from inside." Later that evening, 'SUNS3T' shared a picture of a bag of pistachios apparently taken from House Speaker Pelosi's office: "ok I'm about to open these nuts I got from Nancy's office. Wish me luck."
4Deep News Discord chat member 'President Elect Frankie G' (real name Frankie Giustino) posted on January 6 that he was part of a group "walking up to the capital building", later adding "they're firing tear gas at us" and "this is FUCKING awesome." He claimed to have taken a bus from New York to D.C. that had been rented by Alex Jones. It's unclear if 'President Elect Frankie G' went inside the Capitol building.
According to a Tinder screenshot he shared in the 4Deep News Discord chat, Giustino is a massage therapist in Suffolk County, New York. Giustino's massage business website promotes a controversial, pseudoscientific alternative therapy called "the water cure" which claims that most health conditions can be cured by drinking large amounts of salt water. A Facebook page for 'Frankie Giustino – Massage Therapy and Digestive Symbiosis' that shows up in Google search results appears to have been recently hidden or removed.
Recent tweets by 'Frankie G' parrot the outlandish QAnon belief that "there won't be an inauguration" of Joe Biden on January 20. An Instagram photo he posted last fall shows that he dedicated his Halloween costume to mocking health workers saving lives during the coronavirus pandemic. An email asking Mr. Giustino for comment about his involvement in events at the U.S. Capitol has not received a response.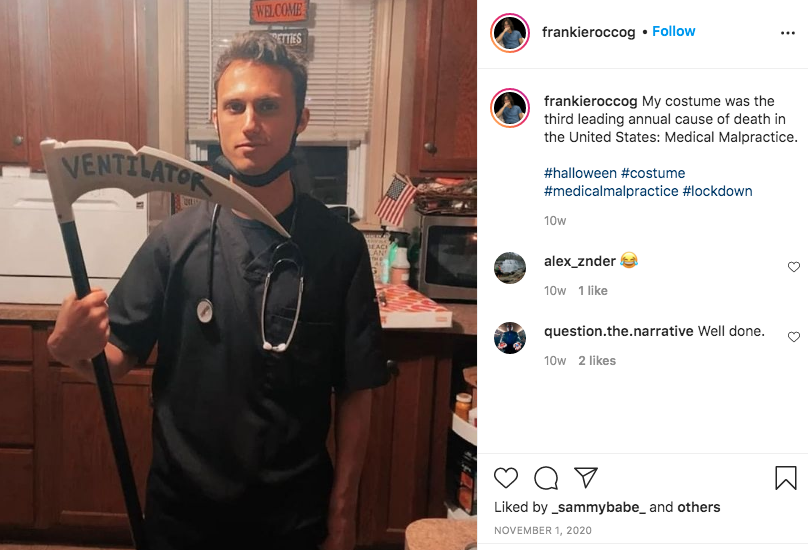 'DeplorableJanet', another QAnon diehard from the 4Deep News chat, was able to attend the D.C. coup attempt after others from the 4Deep News chat paid for her travel. At least six other members of the '4Deep News' QAnon Discord chat – 'NancyP', 'woots', 'Cart', 'Beckster3882', 'Tay', and 'Spiritof1776' – apparently attended the January 6 Trump rally that led to the Capitol attack, according to chat logs obtained by Unicorn Riot.
---
Another Discord chat – 'God Emperor Trump EPIC Gamers' and a connected chat called 'God Emperor Trump (Official): Discord Edition' contain numerous users who were involved in storming the Capitol on January 6 or shared their plans to attend. "Ya'll better fucking be in DC," wrote Discord user 'DankVader192' on December 27. "I just lost my job and i'm gonna be there." 'DankVader192' claims to live in Orlando, Florida, is apparently a recently laid-off IT contractor for Disney, and said he was recently "inspired" by a "student action summit" organized by pro-Trump group Turning Point USA. He appeared to implicate himself in the storming of the Capitol on January 6, telling his Discord buddies, "I'm here we climbed the steps. Pushed back police…" Previous messages sent by 'DankVader192' indicate he was likely concealed-carrying a pistol in D.C. during the riot and may have brought a rifle.
As he shared updates from his D.C. trip on Discord, other chat users encouraged 'DankVader192' and others present to carry out various acts. 'C4X3' asked him to "tear down some BLM propoganda and burn it for me"; 'jussshash' wanted to see the right-wing mob in D.C. "burn the jewish banks."
Another Discord chatter posting as 'Bog Wizard' wrote in the God Emperor Trump group on January 6, "I want to see the fucking halls of congress being raided." Others in the lead-up to January 6 told those who planned to attend that "I want them all hung publicly…the 6th is going to be absolute show of force!!!" While receiving live updates from 'DankVader192' over Discord on January 6, 'TheMousez' encouraged him and others present in DC to "drag the traitors to the street & set them aflame," referring to members of Congress.
Once the Capitol was breached, others in the chat specifically called for the hanging of House speaker Nancy Pelosi ("she gets the rope first"). Other chat users demanded "to see the blood of (((D)))emocrats" while others called members of congress to be "hanged, drawn and quartered."
'TheMousez', one of the more bloodthirsty members of the 'God Emperor Trump' Discord chats, became more embittered as it became clear the attack on Congress was winding down and had failed to stop the certification of Joe Biden's electoral victory. "I'll kill whomever comes after me," he wrote. "I'm about to be a felon under biden anyways…time for lone wolf attacks."
Another participant in the same chat posting with the username 'Carlclausewitz' reflected on the strategy of right-wing pro-Trump coup insurgents moving forward after the attempted coup failed and the Capitol siege ended:
"The only thing that matters is that the tension keeps ratcheting higher. Today we came within one breached door of a full blown revolution. All that matters is that tension keeps rising. We're at [or] near the boiling point already. These crises are always and only resolved by large scale violence. That moment is approaching."

– God Emperor Trump Discord user 'Carlclausewitz'

'President-Elect ZupDogg', another Discord chat user from 'God Emperor Trump EPIC GAMERS' had indicated he planned to be in D.C. on January 6. Another user in the chat, 'jday1516', who fondly called the Discord group "a terror cell (for liberty)" and shared specific preparations for violence, indicated he also planned to attend. However, it is not clear from logged chats sent by 'jday1516' if he actually made it to the Capitol that day.
---
A 'based zoomers' Discord chat made up of fans of anti-semitic vlogger Nick Fuentes also contains a few self-identified attendees of the January 6 riot. (Discord user 'Kaiser' wrote "a lot of the fellas in this server are going," suggesting that perhaps not all members of the chat who attended made it obvious in their Discord posts.)
A man with the Discord handle 'Joe Capello' said he planned to attend on the sixth and also expressed excitement that "the protest on the 6th will be more aggressive than past protests." Capello's previous message history in chats obtained by Unicorn Riot show a litany of racist and anti-semitic messages, as well as a selfie he took with Nick Fuentes during a December 20, 2020, pro-Trump rally in D.C., which he posted on Discord after blurring his own face.
From the same 'morbbasedzoomers' Discord chat, the usernames 'Robo' and 'Kirk Ronan' indicated they planned to attend the January 6 D.C. event. Another, 'Richmondbread', also said he was going but it's not clear if he actually went. One man in the the 'based zoomers' chat, 'Stanke', posted what appears to be a selfie with a hat and flag featuring the neo-nazi group Patriot Front's logo; it's unclear if 'Stanke' was in D.C. on January 6.
---
Several Discord users who claimed to have been present at the January 6 events at the U.S. Capitol also show up in logs from a chat called 'RobertGulerEsq', a Discord server created by Robert Gruler, a right-wing attorney in Arizona. Gruler hosts a regular YouTube vlog series on which he has previously defended Kenosha shooter Kyle Rittenhouse. It's unclear if Gruler himself was present for recent events in D.C. but several regular participants in the chat room bearing his name definitely seem to have been there.
Discord user 'Massie1223' in Gruler's chat, who introduced himself as "Joe Johnson from Asheville NC", posted that he planned to be in DC for the rally on the sixth. 'Massie1223' had also made posts praising Kenosha shooter Kyle Rittenhouse as a "courageous hero."
'paunchybird4709,' another member of Robert Gruler's Discord chat, also claimed to be in D.C. on January 6, and shared a video of crowds amassing outside Congress. He bragged to others in the chat that "I was in D.C. with a crew…they let us storm the capitol." However, 'paunchybird4709' later began having second thoughts, complaining that "we played into a deep state move…we were conned."
Another participant in Robert Gruler's Discord, 'macsen' also seemed to have been present for the Capitol riot, and shared this observation: "I must say from my experience at the Capitol today, it appears that the police were withdrawn from the building before the march. There was practically no security, no barricades, no bike cops, nothing."
Previous chat messages sent by 'macsen' thirsted for political violence ("best to have civil war now rather than later") and praised Kyle Rittenhouse as "a fucking hero."
At least one more Discord user in the Robert Gruler, Esq. Discord chat, 'SANCTIONED', had indicated they planned to be in D.C. on January 6.
---
Several people who were present at the Capitol riot in D.C. on January 6 also show up in chat logs from a Discord chat called 'Zeducation', set up by Minneapolis-based far-right YouTuber Tyler Zed. (It's not clear whether Zed himself attended the D.C. rally that led to the attack on the Capitol.)
A middle-aged man using the Discord handle, 'Pal3Rid3r', who claims to be an unemployed Marine Corps veteran, documented his attendance of the January 6 event, sharing photos of himself and his family amongst the crowd outside the Capitol. One video he shared in the Zeducation Discord chat shows a man getting his eyes washed out after being pepper sprayed by police. Older Discord chats sent by 'Pal3Rid3r' show he is a devoted QAnon conspiracy theory adherent.
Another person present in the Zeducation Discord chat, posting as 'Mcgoober', said that they traveled from their home "in south Georgia" to attend the January 6 D.C. event. On the afternoon the Capitol building was stormed, 'Mcgoober' wrote "it's long past time to be aggressive and shit [lmao]." Also posting in Tyler Zed's Discord, someone with the username 'BobaMilkTea' boasted "U know I stormed the capital?"
At least four other participants in the Zeducation Discord chat – 'nerdyowly', 'Innocentsmith S.C.A', 'Winter Soul' and 'TuneJam'- posted that they were present at or near the Capitol riot on the sixth.
---
A racist and anti-semitic Discord chat called 'The Right Server' also played host to messages from several apparent attendees of the January 6 Capitol putsch. One man posting as 'Six' in 'The Right Server' shared on the sixth that "I was on the capital today when shit went down…" and added that he planned to hoped to go "back to the capitol tomorrow to see the damage."
'The Right Server' Discord participant 'Chrisdub2010' was likely among those who engaged in violence and pushed into the Capitol building that day, based on his posts in the chat. "We had them cornered to fuck and back," he boasted in messages sent in the early hours of January 7. "We were armed to the teeth…I was right in front of the steps and I was there when we broke the first barricade." 'Chrisdub2010' also shared identifying details about himself that day "…yeah i was there. Maga hat black jacket pink white blue shirt."
He was also eager to tell his compatriots about how he was armed while joining in the push to storm the Capitol – "I had a gun in DC so did my two besties." According to his chat logs, 'Chrisdub2010' and his travel party "stayed in Virginia, stowed our long guns here and conceal carried in dc…we had 2 shotguns a rifle and 3 pistols…only took pistols…I brought a smith and wesson mp40 and two armed friends."
He also expressed disappointment that President Trump eventually told his supporters to withdraw from the siege on the Capitol building:
"I was biting at the bit waiting for the Trump text/tweet/announcement to go Weapons Hot and so were a few thousand others."
At least three other people with Discord usernames active in 'The Right Server' made posts implicating their presence at the Capitol riot – 'Nero,' 'Thomas the Thermonuclear Bomb' and 'PIGEONS.'
---
Someone running the Discord server for 'The Modern Conservative', a recently suspended far-right pro-Trump YouTube channel, posted that he was "en route" to attend the D.C. rally. 'The Modern Conservative' claimed to have once been a "military cop."
---
In another Discord chat called 'Political Sensation', at least one person – someone with the username 'ANA-Mopar' – said he planned to "march in dc on the sixth." If ANA-Mopar's chat history is to be believed, he "was caught with explosive materials in [his] car in 2003", has a hobby of making napalm and pipe bombs, owns "20+ guns", buys grenades from "a dealer in a military base", and works as an underwater welder. He also boasted about going into stores while he was knowing he was infected with COVID-19.
---
Another Discord server called 'The New American Patriots' reveals chat logs from a user posting as 'aceareux1!' who claimed to be traveling to DC for January 6. 'aceareux1!' told others in the chat to "go in on the 6th" and "if you have guns bring them."
---
In a Discord chat entitled 'G4T' (short for 'Gamers For Trump') someone with the username 'Elvis Presley' posted a few updates from D.C. on January 6. They claimed to have been tear gassed at the Capitol and heard shots fired. They also described seeing people break into the Capitol building: "I saw three men breaking into a side window…three became 10…then an entire mob…then I heard "to the house"…then they all ran to the house and that's when me and my dad [ran] off."
---
In a Discord chat called 'r/Conservative' (named after the subreddit of the same name), someone with the username 'Cringing', apparently from South Carolina, claimed to have been a part of the January 6 Capitol riot. 'Cringing" posted that they "I got tear gassed and batoned in DC" and "I was there mixing it up with the capitol police." "I was at the Capitol building…I was black masked in a black hoodie with a hood that was damned near over my eyes…" Previous posts by 'Cringing' indicate they hold racist views ("I hate black culture.")
---
'Paleoconservative Network', another far-right Discord chat, featured at least two people – usernames 'Haute Huncho' and 'ClhCgu45' – who planned to attend the January 6 rally.
---
In a chat called 'The Adorable Deplorable', Discord user 'K0rruptDumplingz' said they were "going to dc on the 6th." "I got a group going with me."
---
In the Discord chat 'A Place for Conservatives', 'Jaxon' indicated they planned to be in D.C. on January 6.
---
---
Right-wing YouTuber 'JDMOONAN' posted in his personal Discord server that he was present for the Capitol riot.
---
'Cool Guy Ranch', a Discord chat run by white nationalist vlogger 'Beardson Beardly', contains at least one username – 'Big Guy' – who posted he was "going to dc" and "stormed the capitol."
---
Discord server chat logs released as part of this reporting can be browsed below in the DiscordLeaks site. (Message totals may have increased beyond the noted amounts as fresh data is added.)
For more about our reporting see the Far-Right Investigations Desk page.
---