Murals of Eyes in Silwan Remind Jerusalem of Palestinian Struggle
Silwan, Occupied East Jerusalem, Palestine – Large murals of eyes, faces and flowers have been painted on the walls of dilapidated hillside homes and easily visible to Jewish settlements with intent to draw attention to the displacement of Palestinians.
Painted in the occupied East Jerusalem neighborhood of Silwan by the international public art project I Witness Silwan, the murals not only feature the eyes and faces of Palestinians but also Americans George Floyd and Alex Nieto, who were killed by police and Rachel Corrie, who was killed by Israeli Defense Forces in Gaza in 2003.
"These eyes are the idea that there are eyes to witness the crimes committed by the Israeli army."

Manar Shreiteh, Project Manager of I Witness Silwan
Madaa Silwan Creative Center has worked with international artists since 2015 to create and maintain a total of over 2,000 feet of paintings and graffiti in Silwan. Project Manager Manar Shreiteh and American artist Leora Rozner spoke with Unicorn Riot as they painted on a beautiful August afternoon.
Shreiteh said the eyes are "for Palestinian personalities and international figures such as activists and philosophers, and for people who struggled and rose for freedom." Rozner added they're representing those who fight for the "liberation of all oppressed peoples."
Along with the images of people are goldfinches, the Palestinian national bird, and Palestinian roses.
"These eyes represent the faces of many people in Palestine and also throughout the world to represent figures in the fight for human rights and the liberation for all oppressed peoples."

Leora Rozner, American muralist with I Witness Silwan
Organizers of the art project say they're aiming to counter the rise in Israeli settler groups. Near the Old City of Jerusalem, Palestinians in Silwan face daily house raids, home demolitions, arrest and threats of eviction. Residents say Israeli forces and settlers are working to drive them out of the city. Israeli policy for decades in Jerusalem has been to Judaize the city to make way for Israeli settlers.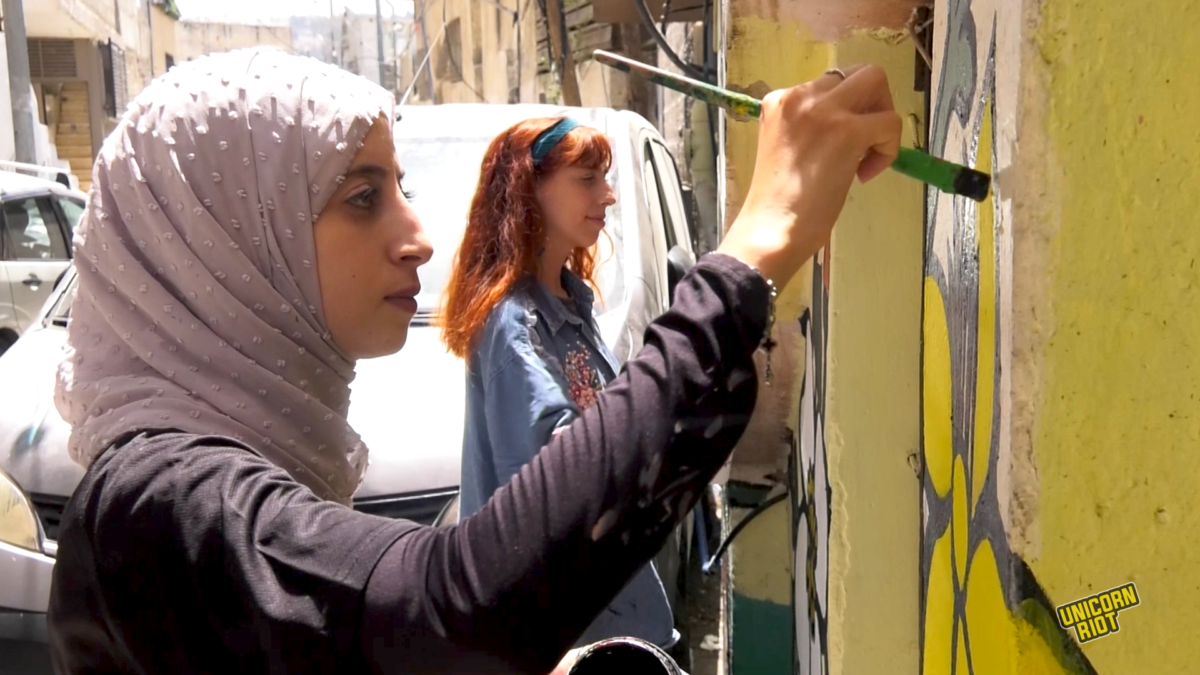 Shreiteh said at the time of the interview that there were "more than 87 homes threatened with eviction" in the Batn al-Hawa neighborhood alone.
Demolitions in Silwan
Nearly 60,000 Palestinian homes have been demolished by Israel since they started their occupation of Palestinian lands in 1967 according to the Israeli Committee Against House Demolitions. The number one reason given for demolition of homes that Palestinian families have resided in for centuries is the lack of an Israeli building permit.
Although land usage regulations go back to the British Mandate over Palestine, Israel's Planning and Building Law was amended in 2017. Known as the Kaminitz Law, the amendment has fast-tracked the demolition of Palestinian homes.
"When we passed the Kaminitz Law, the goal was to toughen the enforcement over illegal construction mainly in the Arab sector."

Former justice minister Ayelet Shaked, 2019
Palestinian residents in Silwan have not been able to obtain a single permit in 10 years in Silwan after 13,000 applications. All the while, activists say, there are over 7,800 administrative and judicial demolition orders, meaning that more than 40% of the homes are threatened with demolition. At the same time, settlers are continuing to build extensively.
At least 13 Palestinian homes have been demolished by Israeli authorities in Silwan in the first nine months of 2022, leaving 61 people displaced, according to the United Nations Office for the Coordination of Humanitarian Affairs (OCHA).
One of the homes demolished this past May was the home of the Al-Rajabi family, a large structure with five apartments housing more than 30 residents (featured in the video above). Despite paying 50,000 shekels [$14,470], the home was demolished after years of refusals by Israeli courts to license the building, said the owner Faris Al-Rajabi.
Since 2009, the OCHA reports that over 13,000 people have been displaced, 160,735 people have been affected and over 8,800 structures demolished by Israeli forces in the occupied West Bank.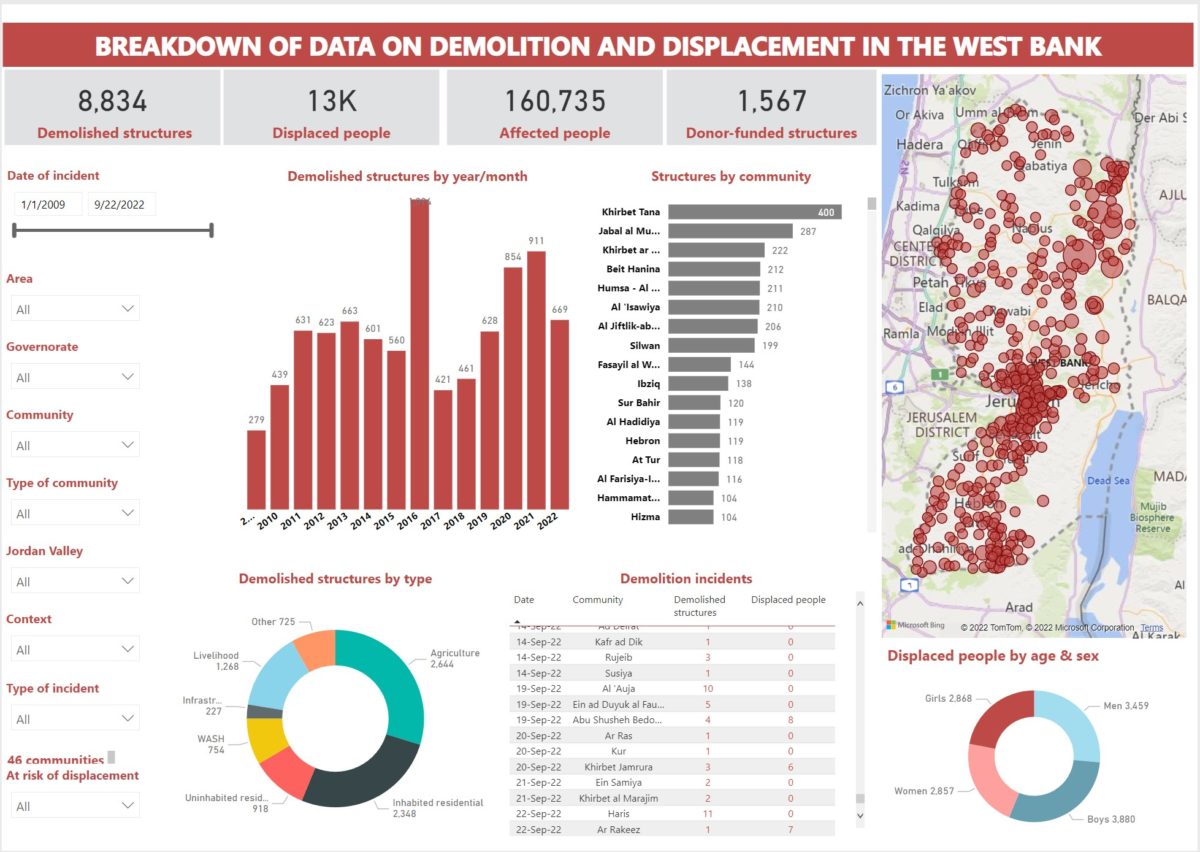 As they did during the eviction and demolition of the Al-Rajabi home, police regularly assault residents and press attempting to film Israeli forces during demolitions.
An emotional homeowner Faris Al-Rajabi said five families with children and married couples were thrown to the street because of the "systemic policy inside Jerusalem. We have applied for home licensing many times but they refused every time."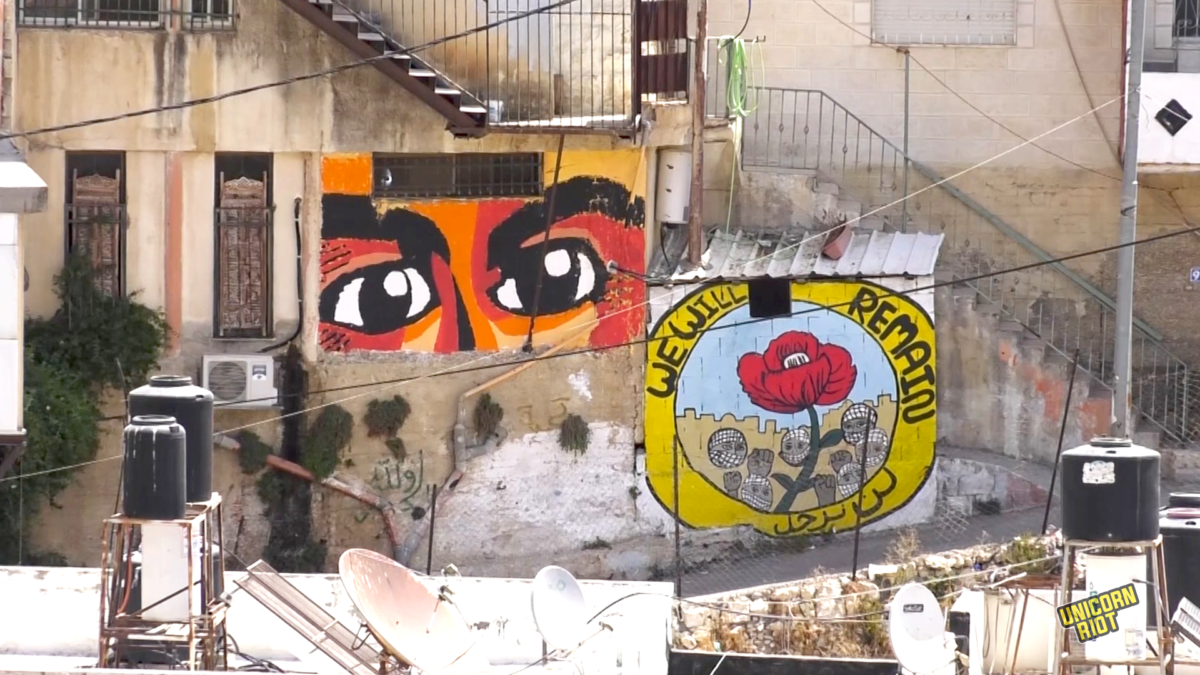 For more from Palestine, see below.
Unicorn Riot's Coverage from Palestine:
---
Follow us on X (aka Twitter), Facebook, YouTube, Vimeo, Instagram, Mastodon, Threads, BlueSky and Patreon.
Please consider a tax-deductible donation to help sustain our horizontally-organized, non-profit media organization: