Palestinian Protesters Fight Occupation on Mount Sabih, Nablus
Nablus, Occupied West Bank, Palestine – Israel Defense Forces (IDF) opened fire on Palestinian civilians during confrontations on March 25, 2022. The clashes happened amid olive tree groves in Beita, a village south of Nablus in the occupied northern West Bank. At least 33 Palestinians were injured that day by the Israeli occupation army, according to the Palestinian Red Crescent (PRC).
IDF soldiers fired live gunfire, rubber-coated rounds and stun grenades at anti-colonization protesters in Beita. 30 cases of exposure to toxic teargas were reported. Four protesters also sustained injuries after falling on the ground while being chased by IDF soldiers.
For months now, Beita has witnessed almost daily protests in opposition to Israeli control over private Palestinian lands in Jabal Sabih. Beita's daily clashes between Palestinians and the Israeli occupation forces are part of the protests struggling against the establishment of "Givat Evyatar," an Israeli settlement outpost on the mountain.
On March 25, Israeli forces violently dispersed Palestinians who continued to converge atop Jabal Sabih (Sabih Mountain), near Beita, to confront settlers who planned to reach the hill to rebuild the evacuated colonial settlement outpost.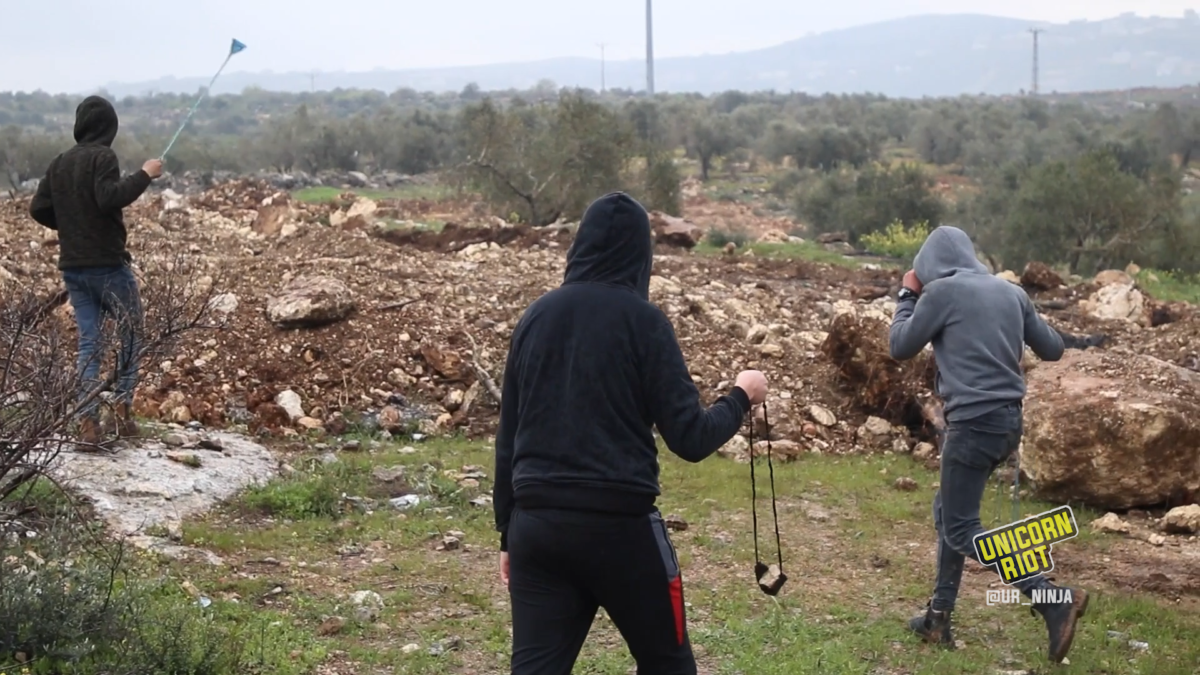 According to Israeli human rights organization B'Tselem, since May 2021, at least seven Palestinians from the town were killed and thousands of others were exposed to teargas, and dozens otherwise injured while trying to oust the colonial settler outpost built atop Mount Sabih (Sbeih).
The Palestinians killed were victims of Israel's "open-fire policy" of using live ammunition on protesters, according to B'Tselem.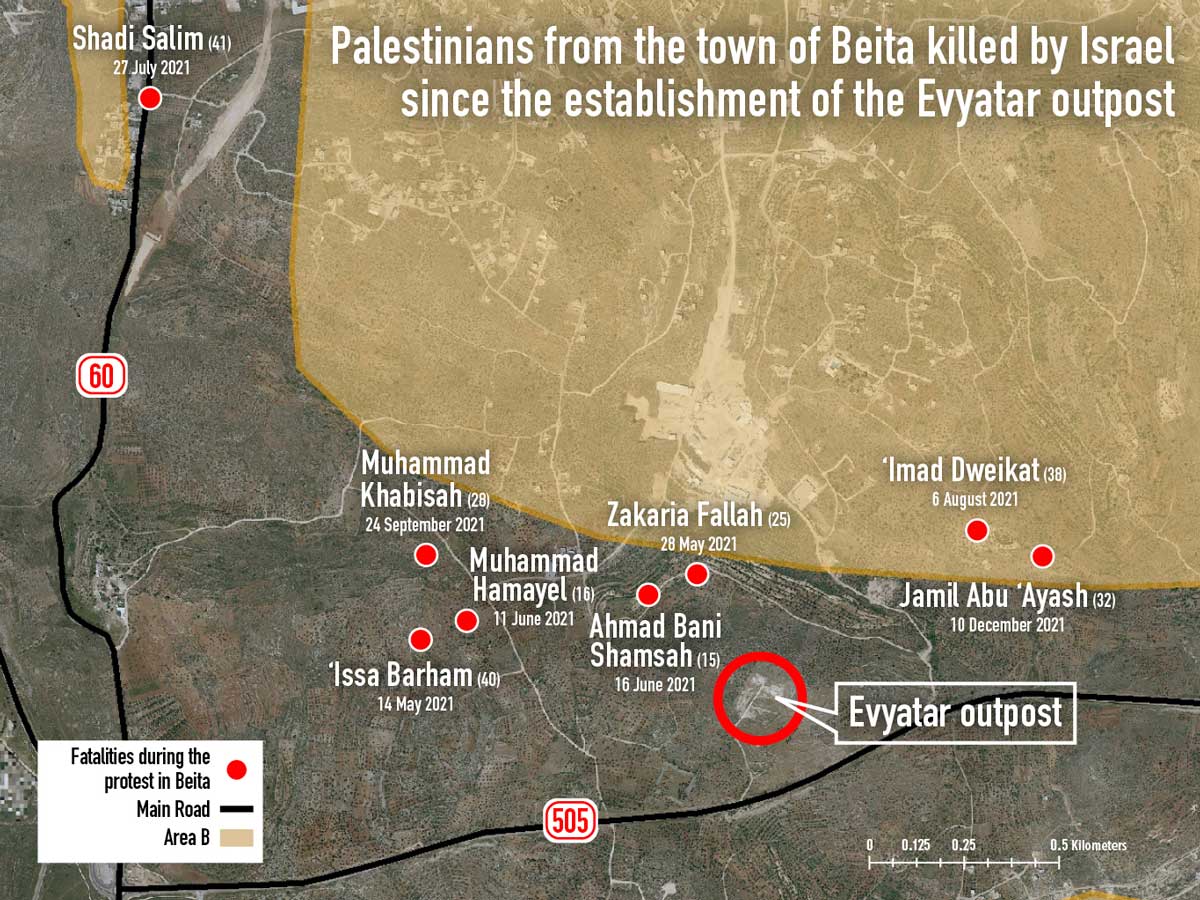 Unicorn Riot recently covered other similar stories of resistance to Israeli expansion into Palestinian lands just a short distance from Beita. On March 18, Palestinians protested another settler outpost at Beit Dajan, about four miles northeast of Beita, aimed at cutting off Nablus from access to the Jordan Valley.
A few days after the Mount Sabih protest and just three miles southeast of Beita, IDF soldiers forcibly prevented Palestinians from accessing their agricultural land near Qusra.
Palestinian news agency WAFA reported on earlier attacks on Palestinian protesters in Beita:
"Palestinians across in the territories occupied since 1967 and the rest of Historic Palestine have been rising up against decades of Israeli settler- colonialism and apartheid. The villagers of Beita have not only been protesting decades of Israeli oppression, but also intensified Israeli land pillage of their land.

In addition to Mount Sabih, Israeli forces have erected another colonial settlement outpost atop Mount Al-Arma, north of Beita, a few months ago, as both mounts enjoy a strategic location as they overlook the Jordan Valley, a fertile strip of land running west along the Jordan River which makes up approximately 30% of the West Bank.

Seizing the two hilltops represents a panoptical defensive tool as they would grant the Israeli occupation with a panoramic view over the Jordan Valley and the whole district of Nablus. This is why the Israeli occupation authorities have assigned them a place in its settlement expansion project.

The construction of the two colonial outposts atop Mount Sabih, south of Beita, and Mount Al-Arma, north of the town, besides to a bypass road to the west is an Israeli measure to push Palestinian villages and towns into crowded enclaves, ghettos, surrounded by walls, settlements and military installations, and disrupt their geographic contiguity with other parts of the West Bank.

The number of settlers living in Jewish-only colonial settlements across occupied East Jerusalem and the West Bank in violation of international law has jumped to over 700,000 and colonial settlement expansion has tripled since the signing of Oslo Accords in 1993.

Israel's nation-state law, passed in July 2018, enshrines Jewish supremacy, and states that building and strengthening the colonial settlements is a 'national interest.'"

WAFA, "Over 60 injuries as Israeli forces crackdown on anti-land-pillage protests in Nablus", February 18, 2022
Al-Monitor reported that "night confusion" tactics by Palestinian protesters aim to disrupt Israeli settlers' construction of illegal outposts:
"Since the beginning of the construction of the outpost on Jabal Sbeih on May 3 [2021], the residents of Beita began to resist the settlers as they were inspired by the 'night confusion' activities during the return marches that erupted in March 2018 in the Gaza Strip near the barbed wire fence with Israel. […] The night confusion is a popular night protest activity during which young people use various means aimed at disturbing the settlers and confusing the Israeli army, such as igniting rubber tires near the outpost so that the smoke rises toward the army. […] The Beita residents say they will continue their efforts until the settlement outpost is removed from the top of Mount Sbeih even if they had to resort to all means of struggle and confrontation."

Al-Monitor, "West Bank town draws inspiration from Gaza 'night confusion' activities to confront settlers," June 2021
While the Palestinian Authority has recently adopted the idea of popular resistance to settlements in the West Bank, Israeli expansion continues in the region, despite longtime opposition from most of the international community.
Unicorn Riot's Coverage from Palestine:
---
Follow us on X (aka Twitter), Facebook, YouTube, Vimeo, Instagram, Mastodon, Threads, BlueSky and Patreon.
Please consider a tax-deductible donation to help sustain our horizontally-organized, non-profit media organization: