Historic Squats, Rosa Nera and Terra Incognita, Raided by Greek Police
Chania, Crete – Early Saturday morning, Greek riot police invaded and evacuated the historical Rosa Nera, a squatted social center on the island of Crete. Police made 16 arrests and injured a journalist with a flashbang during the raid.
Those living in the center, including refugees, are now left without a home or belongings. All electronics found in the building, including the area of K-Pax Radio, are reported to have been confiscated and investigated by police.
Κατά την μεταφορά των συλληφθέντων απο την κατάληψη Rosa Nera. H συγκέντρωση αλληλεγγυης στην Κανεβαρο αντέδρασε, τα ΜΑΤ έκαναν χρήση χημικών. #rosa_nera #εκκένωση #κατάληψης #antireport #chania pic.twitter.com/I6ew9uRWXj

— ΚΡαΧradio (@kpaxradio) September 5, 2020
Large demonstrations immediately occurred against the police raid. "Social solidarity and self-organization shall prevail despite the state repressions!" read a statement from Rosa Nera after the eviction.
"Today the Greek government has evicted yet another occupied building – this time it is the squat Rosa Nera on the island of Crete. Both the current right-wing government, as the previous supposedly left-wing one, have led a harsh policy against citizen interventions in the public space. Social solidarity and self-organization shall prevail despite the state repressions!" — Rosa Nera
Communities have shown a broad range of solidarity towards the Rosa Nera squat from towns, villages, and cities across Crete. Assemblies and gatherings of thousands of supporters have taken place since the evacuation.
Rosa Nera is one of the longest-standing squats in Greece and has been occupied, accepted, and celebrated by the community for 16 years.
Formerly a military outpost and building called the 5th Division, positioned atop Kastelli Hill, Rosa Nera has a dynamic past and was serving as a theater, library and archive, and event/meeting/film/concert space, as well as containing a kitchen and housing for many occupants.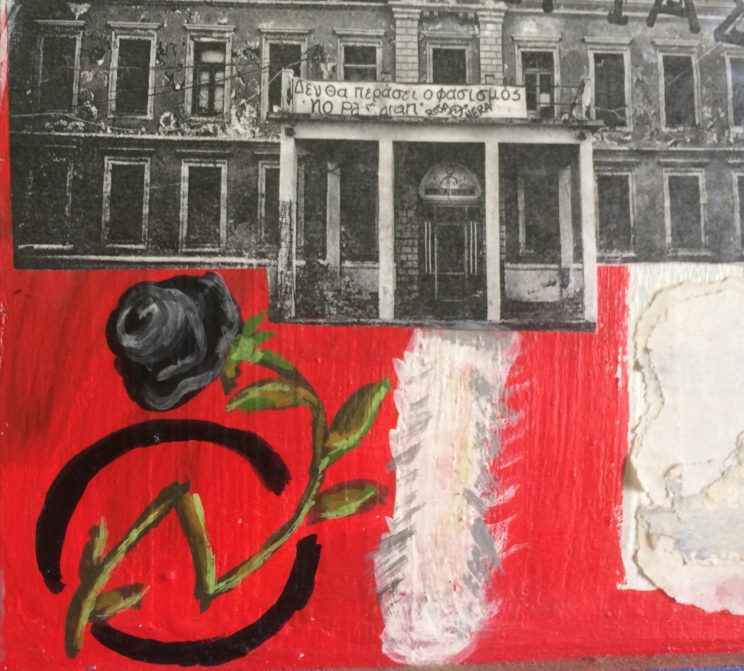 The building sits on prime real estate close to the sea and it's no secret that eviction has been threatened for years. Since 2017, there have been plans between politicians in the New Democracy party and the Technical University of Crete to sell the buildings and create a hotel on the property.
As recently as November 2019, the Greek government issued a 15-day ultimatum for squats to clear. In response to the ultimatum, those involved with Rosa Nera stormed a local TV station carrying banners in support of refugees and squats, interrupting the programming to air a political statement.
Though not surprising, the police raid and evacuation is a major blow to the residents of the self-managed social center, those that worked and volunteered there, and the broader community.
Two of the 16 arrested remain in jail; they were refugees, taking refuge in Rosa Nera without proper paperwork. Many critics of the raid felt the timing was especially harsh with summer ending and certain quarantine restrictions still in place during the coronavirus pandemic.
The raid on Rosa Nera came after two other high profile police actions against squats in Thessaloniki, Greece's second largest city.
On August 23, police arrested 12 people doing repairs on the roof of the historical Libertatia squat. The repairs had become necessary after the building was burned by fascists in 2018.
A couple days before the August arrests at Libertatia, nearby squatted social center, gym, and print shop, Terra Incognita, was also raided and evacuated.
A 50 meter radius has been blocked by Greece in order to raid the Terra Incognita social center in Thessaloniki.

The alt right government wants to distract from their disastrous handling of the economy leading to a second Covid pandemic. https://t.co/xMpgHke1pk

— Exiled Arizona (@exiledarizona) August 17, 2020
Occupied since 2004, the significant history of Terra Incognita serves as a foundational landmark for resistance in the city.
Police seized everything they found in the building. Decades-old prints and papers were confiscated by police along with all of the equipment, medical supplies, and books in the library.
In a statement responding to the raid, Terra Incognita said in part:
"When the state signs agreements with large tourist businesses and 'ecological development' contractors for the benefit of the capital, when it fights for the interests of energy giants by playing openly with the possibility of armed conflict, when it warehouses helpless people in detention centers for immigrants and forces them to live their daily lives in deplorable conditions, when it shoots people at the border and drowns people at sea, when it violates the right to protest and attempts to smash workers, when it blames people for the spreading of corona virus in order to cover its own crimes against the healthcare system, it also does not tolerate any voice of resistance in its interior. …

Our squats and infrastructures are a very important instrument in the struggle for social revolution and anarchism, as well as our daily resistance in the world defined by authority. Definitely, such a move constitutes a significant attack against the movement as a whole.

But buildings can be reoccupied. Infrastructures can be built again. The relationships and processes which take place within them can never be repressed by states, cops or authorities." — Terra Incognita, August 17, 2020
While police forces throughout Greece enforce the far-right-wing policies enacted by the government, movements for human rights continue to push back with marches and demonstrations against state repression.
#Greece
Several hundred comrades are demonstrating in downtown #Thessaloniki in solidarity with Terra Incognita squat.
Against police States and State repression. pic.twitter.com/VBBXyqyJxH

— th1an1 (@th1an1) September 8, 2020
As Greeks take to the streets, on September 8, Greece's largest refugee camp, Moria Camp, with up to 13,000 refugees suffered through one of the largest fires in the history of the refugee crisis. Families from Afghanistan, Syria, Iraq, Pakistan, and throughout Africa, are now stranded on Lesvos Island (Lesbos, GR: Λέσβος) in the Aegean Sea, according to the latest reports.
Stay tuned for more out of Greece from Unicorn Riot.
Cover image via Libertatia/Facebook.
---
Unicorn Riot's Specials From Greece [2018-2021]:
Unicorn Riot's Special Reports From Greece [2017]:
Access to all 13 Stories:
Follow us on Twitter (aka 'X'), Facebook, YouTube, Vimeo, Instagram, Mastodon, Threads, BlueSky and Patreon.
Please consider a tax-deductible donation to help sustain our horizontally-organized, non-profit media organization: