'Cop City' Panel Member Posted Slurs Online, Archived Tweets Indicate
Atlanta, GA — Mayor Andre Dickens recently announced a new 'Community Task Force' in an apparent effort to appear open to community dialogue around the increasingly unpopular and environmentally-harmful proposed police training center nicknamed 'Cop City.' The new panel was launched in March 2023 after another similar entity, the 'Community Stakeholder Advisory Committee,' faced controversy from alleged conflicts of interest and misconduct.
As public opposition continues to mount against the paramilitary Atlanta Public Safety Training Center pushed by the private corporate-funded Atlanta Police Foundation, new information emerges indicating that a member of Mayor Dickens' new 'Cop City' Task Force has made social media posts promoting racism, homophobia, transphobia, and misogyny.
Content Advisory: Bigoted Speech
Michael Blake Fortune II is "a Partner and Chief Compliance Officer at Hamilton Capital Partners," which describes itself as an "investment advisory firm specializing in forward-thinking asset management solutions," according to its website. His online presence sometimes uses the names M. Blake Fortune II or just Blake Fortune.
Meeting records for what Mayor Dickens established as the 'South River Forest and Public Safety Training Center Community Task Force' list Fortune as appointed to the 'Atlanta Prison Farm Site Subgroup' as a "Community Member."
In recent weeks, Atlanta-area activists and researchers shared screenshots from tweets and Facebook posts apparently written by Fortune showing him using racist, homophobic and sexist slurs.
Unicorn Riot could not verify the authenticity of a Facebook screenshot that shows Fortune using the N-word, as his Facebook post history is now set to private. A tweet in which he called Democratic Congressman Adam Schiff a "p-ssy" could also not be verified as Fortune's Twitter appears to have been recently deleted or otherwise taken offline.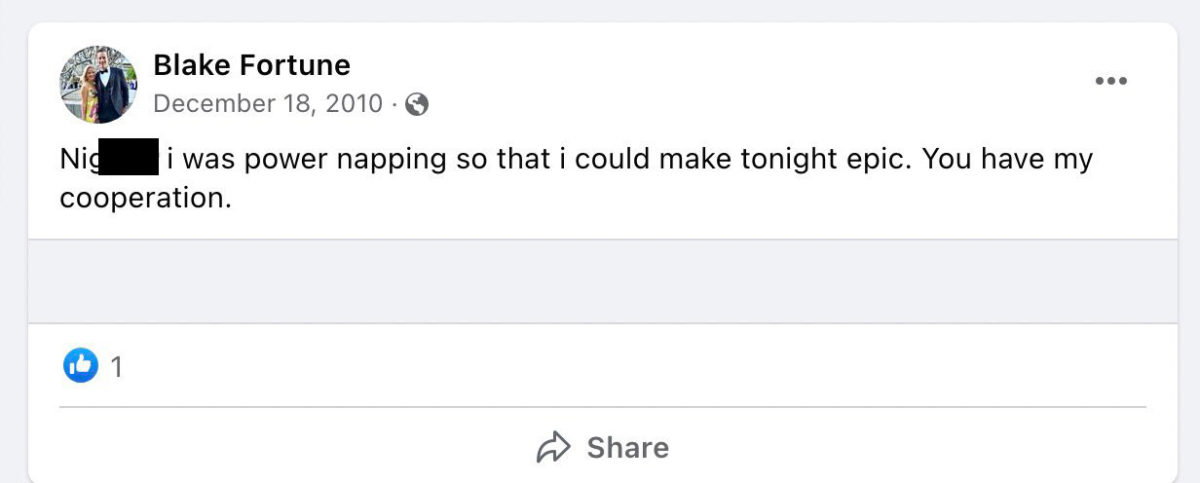 However, Unicorn Riot has been able to verify the authenticity of three tweets sent from the @blake_Fortune Twitter account that refer to gay people as "f-gg-t" and a nonbinary person as a "c-nt." These tweets as well as several others were saved in the Internet Archive's Wayback Machine, which allows the preservation of the contents of webpage URLs and has been ruled a source of admissible evidence in several U.S. courts.
The now-offline Twitter account is most likely authentic as the profile picture showing Fortune with his wife matches with other publicly available photos of the couple. Archived tweets from the account also corroborate publicly verifiable details about his family history and match up with information posted by Fortune to his LinkedIn profile.
In a May 7, 2018 tweet saved in the Wayback Machine, the Blake Fortune Twitter account wrote that former CNN anchor Don Lemon, who is openly gay, "looks like a f-g."
Another archived tweet from June 6, 2018 shows how the Blake Fortune Twitter profile replied with additional homophobic vitriol to a tweet by Don Lemon that criticized Donald Trump, writing "F-gg-t or f-gg-t? I'll take D. For F-gg-t."
On April 22, 2018, the Twitter account showing Fortune in its profile picture wrote "good morning c-nt" in a reply to a tweet by podcast host Leslie Rising (who uses they/them pronouns) that said "good morning to everyone except cops and troops," Wayback Machine data shows.
Another archived tweet sent from the Blake Fortune Twitter account on July 26, 2018 shows a proclivity for sexist language, bemoaning the use of the hashtag #NationalInternDay while complaining that "there's something else for everyone to b-tch about today… #QuitB-tchingAboutEverything."
A partial archive of the Blake Fortune Twitter account's timeline shows it has retweeted posts by Benny Johnson, Chief Creative Officer of Turning Point USA, a far-right and pro-Trump political advocacy nonprofit with ties to white supremacists.
Michael Blake Fortune II also used his official LinkedIn account to praise anti-trans legislation passed in South Dakota as well as right-wing lifestyle brand Black Rifle Coffee Company, comments reviewed by Unicorn Riot show. He also shared a LinkedIn post celebrating racist anti-immigrant remarks by former U.S. President Teddy Roosevelt. Due to the design of the LinkedIn platform, every single comment made by Fortune's LinkedIn profile denotes that he is "Managing Partner at Hamilton Capital Partners."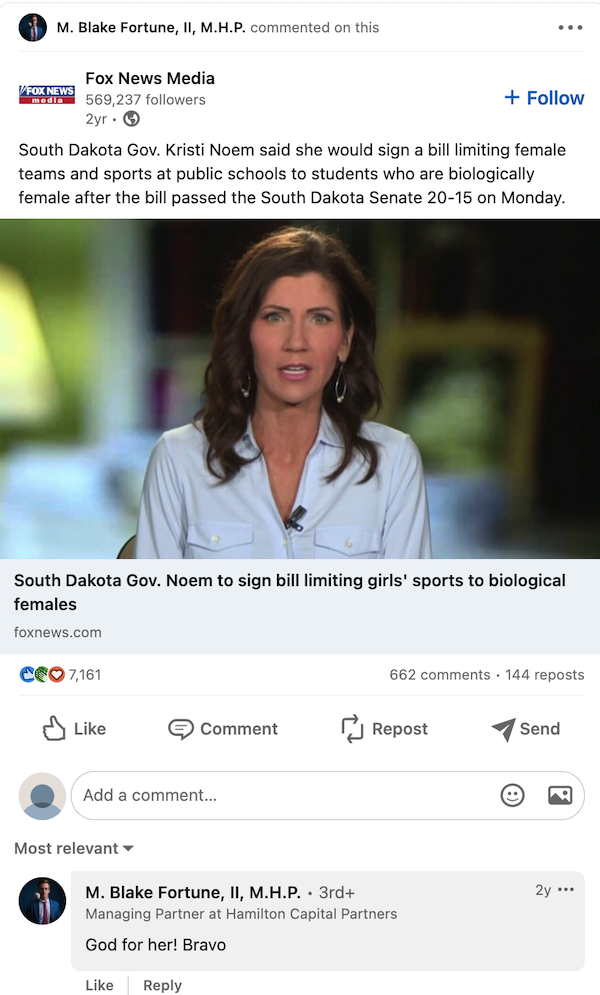 Hamilton Capital Partners did not reply to a request for comment. Neither did the office of Atlanta Mayor Andre Dickens, nor the Atlanta Police Foundation, which co-manages the so-called Community Task Force for 'Cop City.'
---
Unicorn Riot's coverage on the movement to defend the Atlanta Forest:
Follow us on X (aka Twitter), Facebook, YouTube, Vimeo, Instagram, Mastodon, Threads, BlueSky and Patreon.
Please consider a tax-deductible donation to help sustain our horizontally-organized, non-profit media organization: