Exposed: State Department Official Posted in Nazi Charlottesville Chats
Washington, DC – Today, an investigation by reporter Michael Hayden for the Southern Poverty Law Center (SPLC)'s Hatewatch revealed that US State Department official Matthew Q. Gebert has been active in the neo-nazi movement over the last several years. Leaked Discord chat logs obtained by Unicorn Riot also prove that Gebert's username was posting in racist groups throughout 2017 and indicate he may have attended the deadly Unite The Right rally in Charlottesville.
Gebert currently works as a foreign affairs officer in the State Department's Bureau of Energy Resources. His career at the State Department began in 2013 via a "presidential management fellowship" focused on "developing a cadre of potential government leaders" according to academic and government records.
Gebert has made repeated appearances on anti-semitic alt-right podcasts such as 'The Fatherland', according to reporting by SPLC. His podcast appearances as well as his leaked Discord chats also indicate he has hosted white nationalist gatherings at his home.
Matthew Gebert's Discord chat handle is 'Coach – DC', and his leaked Discord posts links directly to his Twitter profile @DC_Pilots, which was conclusively tied to Gebert by Hatewatch.
Gebert's Discord is active in two different servers in the logs obtained by Unicorn Riot. The majority of his 22 leaked messages are in the server 'Vibrant Diversity', which users referred to as  "the most elite discord server in the Alt Right". Posts by 'Coach – DC' in 'Vibrant Diversity' include a meme of Hitler and Mussolini, a swastika-shaped cookie, and a picture of a pro-diversity yard sign riddled with bulletholes.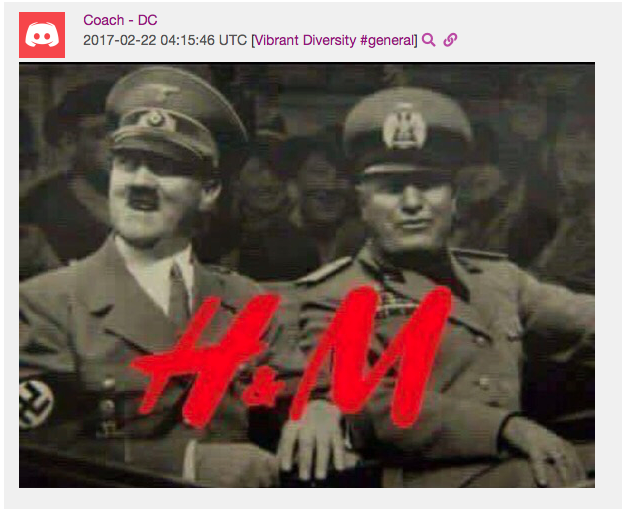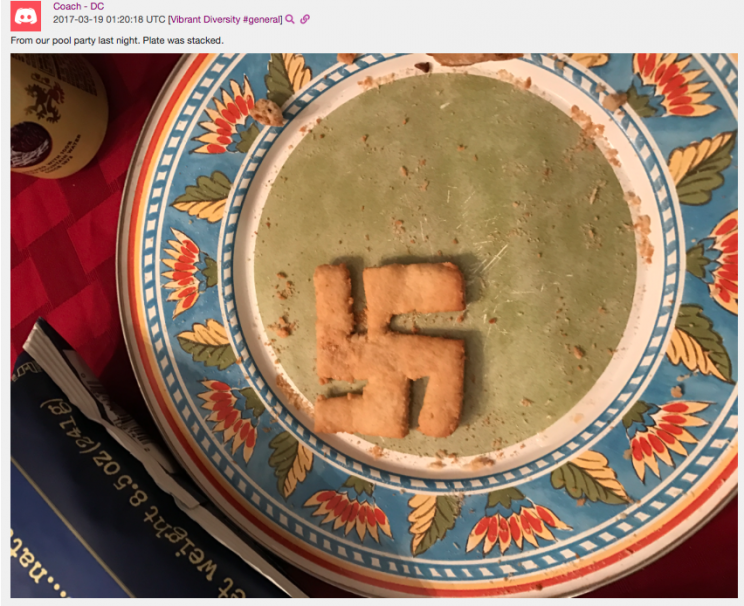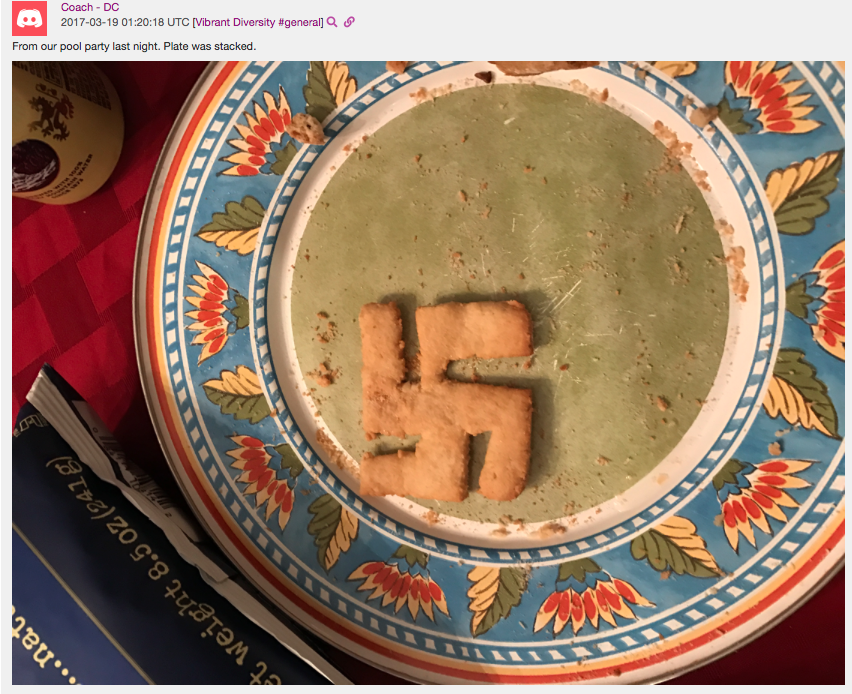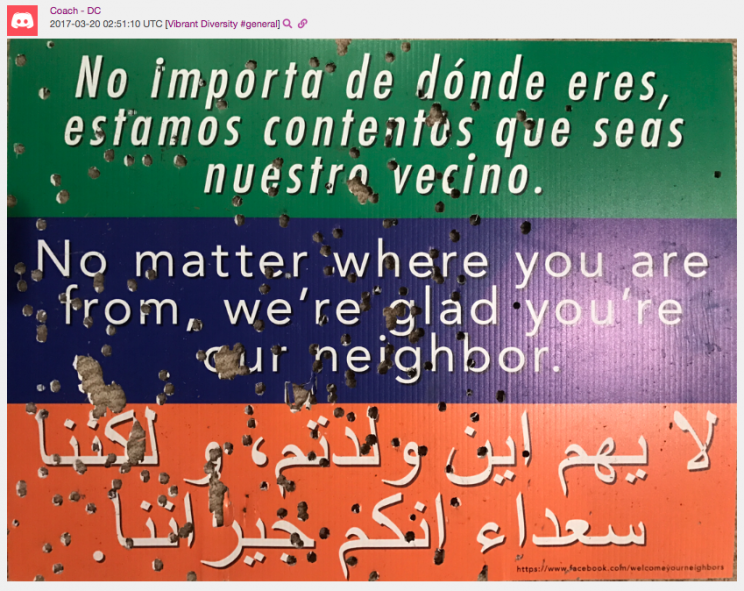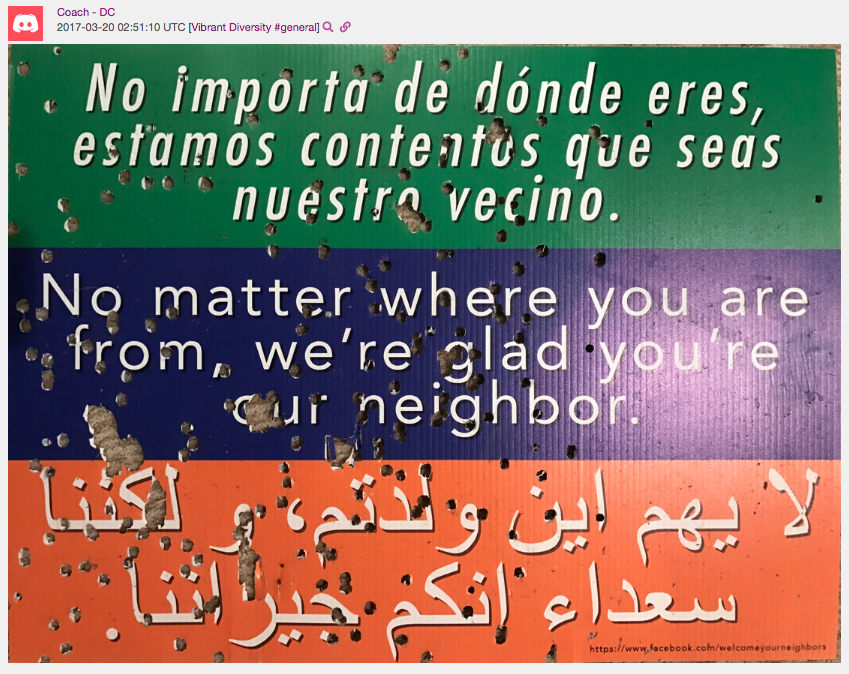 One message shared by Gebert on March 19, 2017 suggests he hosted a "vetted" white nationalist gathering at his home the night before, and also wrote that his wife was "out of town on an altright mission" and that the guests at his house included Mike Peinovich (aka 'Mike Enoch') of the neo-nazi The Right Stuff podcast network (Enoch was also present in the Vibrant Diversity chats).


Other neo-nazis present in 'Vibrant Diversity' chat logs included Elliott Kline (aka Eli Mosely), former Identity Evropa leader and principal organizer of the Unite The Right Rally. Also in the chats were Brian Brathovd (aka 'Caerulus Rex'), a National Guard soldier who served as neo-nazi leader Richard Spencer's bodyguard. Other notable figures present alongside Gebert in 'Vibrant Diversity' were Andrew Anglin and Andrew Aurenheimer (aka 'weev') of the The Daily Stormer, as well as Greg Johnson from the white nationalist publishing house Counter Currents.
Matthew Gebert was also present in the leaked chat logs from the 'Charlottesville 2.0' Discord server used to plan the Unite The Rally. While he only appeared to post twice in the Charlottesville chat, he wrote "Confirmed 1,488%"  in a chat channel specifically dedicated for users to formally confirm their plans to attend Unite The Right on August 12.

A State Department statement to the Hatewatch claimed the federal agency is "committed to providing a workplace that is free from discriminatory harassment and investigates alleged violations of laws, regulations, or Department policies, taking disciplinary action when appropriate."
Unicorn Riot's leaks from Charlottesville:
Unicorn Riot reporting in Charlottesville & beyond:
---