Greek Police Raid Squats and Evacuate 269 Refugees, Community Symbolically Reoccupies Spirou Trikoupi 17
Athens, Greece – An early morning police raid on two housing squats forced 269 previously-sheltered refugees into homelessness, detention camps, or out of the country through sudden deportation. While two police drones flew overhead on September 19, authorities from several agencies evacuated 2nd School (Jasmine) and Acharnon 22 in Athens.
Among the 269 evicted were 98 children, more than a third of the total number of evacuees.
https://www.facebook.com/spiroutrikoupi17/posts/726902021089934
The 'squats' in Athens number a bit less than 50 and are typically abandoned state or private property occupied by members of the community. In recent years of the refugee and migrant crisis, squats provide a space for free housing to help shelter many refugees from Syria, Iraq, and Afghanistan. The squats are operated entirely by the residents or by volunteers who have set up networks of infrastructure and support for refugees and migrants.
Food, health care, mutual aid, clothing, safety, schooling, and emotional and psychological support, are some of the necessities that squats provide.
These latest raids of the refugee housing squats showcase the willingness of the police to attack and vilify the most vulnerable populations first – refugee and migrant children and their mothers.
"The ND [New Democracy] government is trying to do the 'law and order' doctrine, not by hitting organized crime in downtown Athens, but by continuing to show its teeth to the weakest in this society, refugees" – George Psychogios, deputy commissioner of Migration Policy, SYRIZA
The raids came just five days after over 7,000 people marched through Athens in solidarity with squats and refugees' rights.
— Nikolas Georgiou (@mpodil) September 14, 2019
Five squats have now been raided in Athens in the last month as the new right-wing mayor and government settle in.
The campaign to shut down social centers and squats parallels similar right-wing government intervention in neighboring Italy, including XM24 in Bologna.
In Exarcheia in late August, refugee squats Spirou Trikoupi and Transitio and anarchist squats, Rosa de Foc and Gare, also suffered early morning raids. 143 refugees were evacuated from their residences that day.
Less than 36 hours after Thursday's raid, and less than a month after the police's first raid and evacuation, the building of Spirou Trikoupi 17 was symbolically re-occupied by the community on its three year anniversary.
Both Acharnon 22 and 2nd School had been occupied since 2016. Similar to the operations last month, both sites had their entrances bricked over with concrete cinder blocks in an attempt by the state to prevent re-occupation.
The greek state seals up a building that until this morning was a squat hosting #refugees. #Greece pic.twitter.com/Cm62PUoLdT

— Savvas Karmaniolas (@savvaskarma) September 19, 2019
An array of Greek law enforcement agencies and special forces participated in the raids, as was the case last month.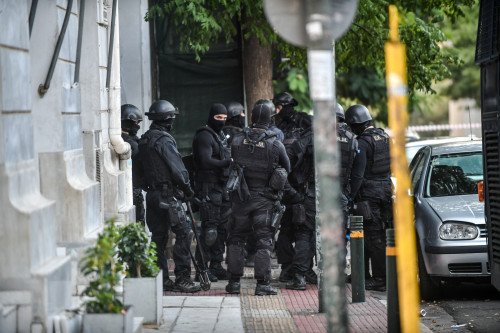 Part of the government's pretext for these operations is the need to clear out alleged drug use and unsafe living conditions in these squats. No drugs have been found in any of the squats.
Well Greek police has evacuated #refugee squats in #Athens since last weeks alleging 'security' reasons and search of drugs. However, no drugs have been ever found therein.

Yet, shipping tycoons face no sanctions for transporting huge amount of heroine.#Greece #Refugeesgr

— kazi (@katia0) September 19, 2019
All refugees evacuated were sent to Petrou Ralli detention center where their papers will be checked. Those with legal papers will be sent to a new migrant detention center in Corinth, west of Athens, and those without papers will be deported.
In a twitter thread from @mariamjxde, who has spent "extensive time" in Acharnon 22 and 2nd School, she said the refugee squats raided Thursday were run entirely by the residents who lived there, who built a community, and who co-existed together with autonomy.
https://twitter.com/mariamjxde/status/1174608829125996546
She continued by saying that life in the camps will be worse, and that is the government's goal, "to isolate them and break the solidarity formed between locals and migrants … They do this by attacking self-organised structures. This helps them threaten anyone who dares to not rely on the oppressive system that has been built for the rich and the powerful."
About yesterday morning in Athens: https://t.co/yMyckHM5Dg

— Savvas Karmaniolas (@savvaskarma) September 20, 2019
Although the September 19 raids were not in Athens' anti-authoritarian district, Exarcheia remains tense and is still essentially under siege by police. With the right-wing New Democracy party at the helm, the anarchist movement and the broader movements providing networks of solidarity for refugees that have fled war-zones are now heavily targeted by police operations.
New plans to "makeover" Exarcheia have been pushing forward quickly.
Police threaten #Exarcheia, an anarchist & refugee hub in Greece, with a new wave of raids. Meanwhile Airbnb continues to drive up rent. But the community vows to fight back. My latest for @thenation #Exarcheia_Resist #exarchia https://t.co/bH4zlswcGa

— Ella (@EllaFassler) September 19, 2019
220 Greek police have been relocated from their regular duties and reassigned to policing Exarcheia. There are now reports of frequent raids on Exarcheia Square and of dozens of riot police constantly roaming the streets.
Many in the area feel like they are now under a military occupation.
Exarcheia, daily.

Raids to arrest anyone in public who look out of place.

A dozen riot squads marching through the streets.

Helicopters and drones in the skies.

Blockades, ID checks, and harassment.

This is our reality.#Exarcheia_resist

— Exiled Arizona 🎃 (@exiledarizona) September 8, 2019
A police bus was recently seen showcasing a captured protester's gas mask in the front window. What seems to be a keffiyeh is draped around the gas mask.
Walking through #Exarcheia spotted this "trophy" in one of the MAT busses, that now seem to be permanently stationed (also during daytime) on Mpoumpoulinas St. pic.twitter.com/yBaB9U5gge

— Michael Trammer (@mic_tra) September 15, 2019
Street police have reportedly been very aggressive in the past month. One of the owners of Antivirus Magazine, Grece's largest LGBTQI free press, was attacked with homophobic slurs by police while walking with his partner near a police bus in Exarcheia.
Riot police also attacked and tear-gassed several public solidarity events that were held after the August raids.
Another squatted social center, K*Vox, was attacked by police three times in four days, the last attack coming on September 1.
K*Vox, containing a free healthcare clinic called ADYE, operates as a self-managed gathering place with books, drinks, and space for conversations and meetings.
Police broke windows, threw tear gas inside the center, and sent a person to the hospital by beating. Local defenders were ready to protect the K*Vox occupation after the first night.
Video via: G.K pic.twitter.com/RRsJqkIERy

— NοControl🏴 (@nocontrolatalll) September 1, 2019
Despite the threats and the police aggression, the neighborhood continues to stay resistant and vibrant.
"In times of mass migration, forced by poverty and wars, they [squats] offer shelter to thousands of people freeing them from the barbaric concentration camps." – Steki of Immigrant Anarchists on Tsamadou 19
The Steki of Immigrant Anarchists (Tsamadou 19) put out a video showcasing the dire need for squats. Squats are described as reclaimed autonomous spaces "that reflect the world of equality and freedom that we desire" and collective bodies that free people from "barbaric concentration camps."
A day after the police raid on the Acharnon 22 and 2nd School squats, Athens city workers entered Exarcheia Square and removed all social and political banners as well as the political kiosk that had been set up.
έρημη ζώνη πια η πλατεία, χάρη στο δήμο και τα ΜΑΤ του. (φωτο από τις 9.30 σήμερα) pic.twitter.com/JikTJ2ohBQ

— Off The Couch (@xoriskanape) September 20, 2019
Exarcheia Square was the site of a public event just hours after the forcible clearing of the square, in celebration of the third anniversary of the occupation of Spiriou Trikoupi 17, which was then symbolically occupied.
A large banner reading "No Pasarán" (Spanish: they shall not pass) was unfurled as many chanted in the street. Flares were lit from various windows, ledges, and the roof of the building, illuminating the night.
#Anarchists in #Exarcheia, #Athens symbolically re-occupy legendary #spirouTrikoupi squat, chanting against cops & mafia. New right wing gov wants to impose law & order in neighbourhood. It has already evicted many squats housing refugees #antireport #εξαρχεια #Exarcheia_resist pic.twitter.com/REmBTiecWf

— Ross Domoney (@rossdomoney) September 21, 2019
The community around Exarcheia has shown it will continue its history of resisting state repression and building up self-organized and self-managed projects. A busy fall is coming for Athens.
Our past coverage from Greece includes initiatives that are providing a network of solidarity and mutual aid for refugees and migrants throughout Greece, filling the void where the state has been absent:
---
Please consider a tax-deductible donation to help sustain our horizontally-organized, non-profit media organization:

Unicorn Riot's Special Reports From Greece [2017]:
Access to all 13 Stories: