143 Refugees Arrested as Greek Police Begin Exarcheia Raids
Athens, Greece – Four squats were raided in a militarized police crackdown in Exarcheia, a heavily anarchist and anti-authoritarian district in Athens. A total of 143 refugees, mostly women and children from Afghanistan, Eritrea, Iran, Iraq, and Turkey, were detained and forcibly bussed to the Petrou Ralli detention center. No narcotics or weapons were found during the raids, and three people were arrested, according to police and Greek media reports.
Many locals say this massive police operation is "only the beginning," as a new day has dawned on Athens with Kostas Bakoyannis, nephew of the recently elected right-wing Prime Minister starting his reign as Athens' Mayor after being sworn in last weekend.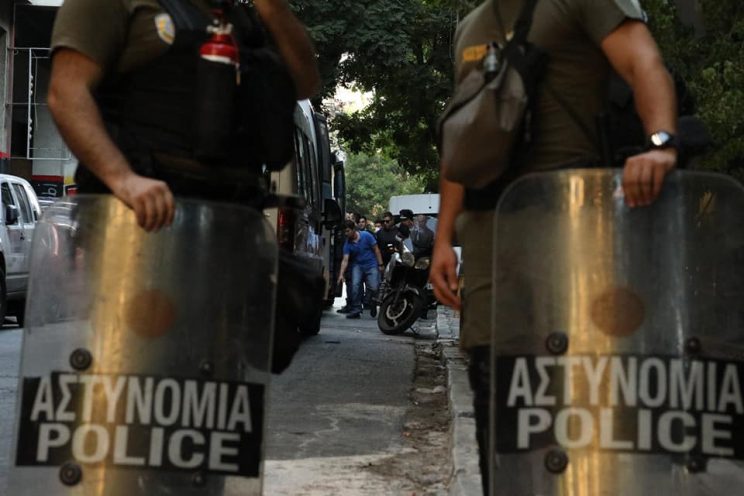 Migrants and refugees fleeing war torn countries and other persecutions have found a safe haven in Exarcheia through an important network of solidarity that has been created. Many buildings have been occupied in the last several years and used as housing squats specifically for refugees and immigrants.
The squats and the letfist and anarchist political organizing they embody, are top targets for Athens' new mayor, Greece's new prime minister, along with their right-wing New Democracy party.
Starting around 6 AM on Monday, August 26, hundreds of police from a myriad of departments, along with prosecutors and municipal workers, descended on four occupied buildings in the Exarcheia district: Gare, refugee and migrant housing squat Spirou Trikoupi 17, Transito, and Rosa de Foc.
By 8 AM, hundreds of refugees and immigrants had been cleared from the five-story refugee housing squat Spirou Trikoupi 17.
A video was published (see below) on Spirou Trikoupi 17's Facebook page showing riot police surrounding the area and forcing refugees and migrants onto buses.
https://www.facebook.com/spiroutrikoupi17/videos/888097688228953/?__xts__%5B0%5D=68.ARBaKWbNxfFbrOpAfI8R1JS6-FhvOL6RGyJ0U6zbKYJmCKJf_GoTsD8wB6L46cp81IQ_M6XxSU5ajZmxJS7EB9Z-88ez6x3OpEyNZQK35yEY4fZFfy6LjccGRAoRsKsRw_jArA-IRvdqTA3mTq-OOOmcLbo6jhYkZmgUTGEZ_aTLKik6vhfy-YLJrIn01ujqgHJq6iUDwvZLGNTTye_hp3eEDczAnKQKQBIEXoaVkL5ACJL2Od97GTVikfkue_Kb-aohz-TVrAuolgIA-hlgDt57XVOCZiaSj1Tei42NQ-8WWPXQgo98ywThDOLW4PLiz390Il9HbchasR_elEDcns1LKHKe3hatN54&__tn__=-R
All 143 refugees and migrants uprooted from new Athens' homes, which were provided to them through community mutual aid, were sent to the Petrou Ralli detention center where they had their papers checked and are now at a hotel awaiting on their eventual internment in a refugee camp.
10 migrants were alleged to not have legal documentation and are reportedly still held in the detention center.
Greek state taking refugees from safe homes to squalid camps to crush the resistance in Exarcheia #antireport https://t.co/7osI5C89Lx

— Exiled Arizona 🎃 (@exiledarizona) August 26, 2019
All of the furniture, houseware, donated items, and houseplants in the Spirou Trikoupi 17 squat were thrown away by the police.
"They removed the furniture, broke it and throw it in the garbage. They even threw out the plants" Pictures from the Greek riot police raid on refugee sanctuary today in Athens #Greece https://t.co/avr0FQk6tH

— Teacher Dude (@teacherdude) August 26, 2019
After clearing the building, Athens municipal workers built a wall at the entrance to Spirou Trikoupi 17 in order to prevent re-occupation of the raided squat. A defiant response was posted by Spirou Trikoupi 17:
"Here, in Spirou Trikoupi 17 we have provided housing to more than 2,000 people, coming from more than 10 different countries, and that have crossed, at least, three borders to get here. This wall that the state is building to seal the entrance will never be able to stop us!" – Spirou Trikoupi 17 statement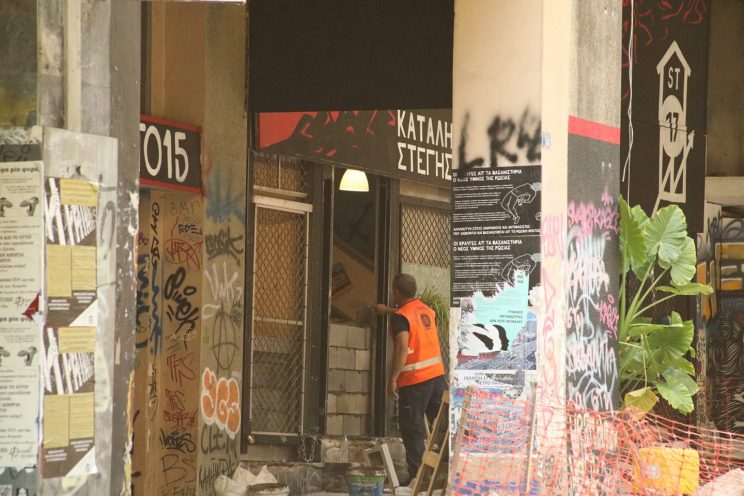 The narrative pushed by Greek police unions, picked up in the mainstream press, paints the refugees and migrants as "garbage" that needs to be swept up.
Vice President of the Greek Police Union compares today's police crackdown of refugee squats in Athens with a finger turning on a "silent vacuum cleaner that will sweep up garbage." https://t.co/QsrW8gQseT

— Zoe Mavroudi (@zoemavroudi) August 26, 2019
"The glorification of the Greek state is not an abstract concept. It begins with the media's criminalization of solidarity, continues with the persecution of immigrants and the evacuation of squatters, established with the rhetorical depreciation of the opponent (rubbish) and the imposition of police." – @Souidos
Reports in the mainstream press say that the squats were in squalid conditions. When Unicorn Riot toured Athens' first refugee and migrant housing squat, Notara 26, in 2017 we saw a clean space that had housed thousands of people over several years.
Spirou Trikoupi 17 provides a classroom for the youth at Notara 26, which has recently had their power cut off by the city. See our tour of Notara 26 below.
Mimi from Notara 26 spoke to us in 2017 about how fascists from Golden Dawn infiltrating the police was one of their biggest safety concerns, as their housing squat had already been firebombed by fascists in 2016.
During Monday's raid, a picture of a police officer taking part in the raid was posted on Twitter with the saying, "In the vest of a cop there is a symbol with a helmet like the ones the fascists had in recent rallies."
Στο γιλέκο του ενος μπατσου διακρίνεται ενα σύμβολο με περικεφαλαία σαν αυτα που είχαν στα πρόσφατα συλλαλητήρια οι φασιστες .

#εξαρχεια pic.twitter.com/8w2iJODbFe

— Panikos Z (@Pa__Nikos) August 26, 2019
Throughout Athens, it is known that the police have all of the squats in Exarcheia mapped out and will continue their police operations when given the go from the government.
There are many plans that the City of Athens have to change the face of Exarcheia, close the occupations, paint the art filled walls, and make a metro station in Exarcheia Square.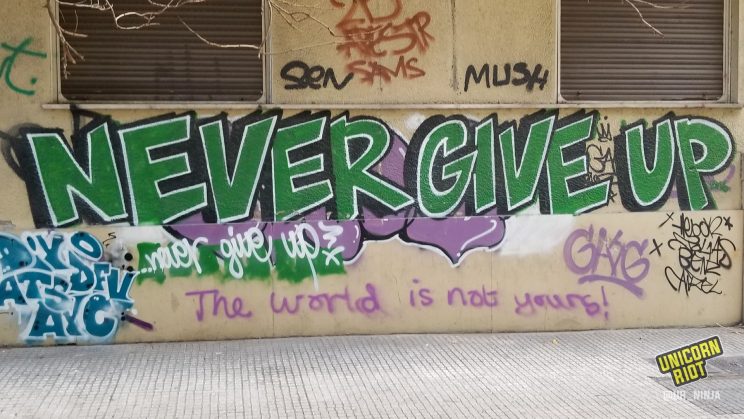 In response to the raid, many met at Notara 26 in the evening and over a thousand people protested in the streets of Exarcheia through the night to express their solidarity with the refugees and migrants and against the police. A spontaneous demonstration also hit the tourist district of downtown Athens.
After seeing the police operation show they were targeting the weakest in immigrants and refugees and as they are casted as the enemy by the state, a local who lives in Exarcheia posed the question,
"Are we safest tonight in our neighborhood (according to their narration of law and order) because 143 immigrants have left from squats in Exarcheia?"
As the neighborhood and overlapping anti-authoritarian cultures of Exarcheia continue to face threats from the state, we've reported on initiatives that are providing a network of solidarity and mutual aid for refugees and migrants throughout Greece, filling the void where the state has been absent.
Cover image via Spirou Trikoupi 17.