Touring Activists Build Momentum Toward Climate Justice
Minneapolis, MN – Dozens attended a presentation by German climate justice activists on mass mobilizations from the front lines of resistance to climate catastrophe.
The event was the second-to-last stop on a U.S. speaking tour organized by Rising Tide North America this past spring. Members Dorothee and Daniel of climate and social justice network Ende Gelände presented media from past actions and shared stories from mass mobilizations in Germany, followed by break-out discussions between attendees about other modes of resistance.
The goal of the "Scaling Up The Resistance" tour was to bring together local climate justice activists with the German organizers in order to spark conversations around the question: "How do we mobilize the numbers needed to truly stop the fossil fuel industry, topple the [Western capitalist] systems that let it run amuck, and create truly decentralized and democratized energy systems?"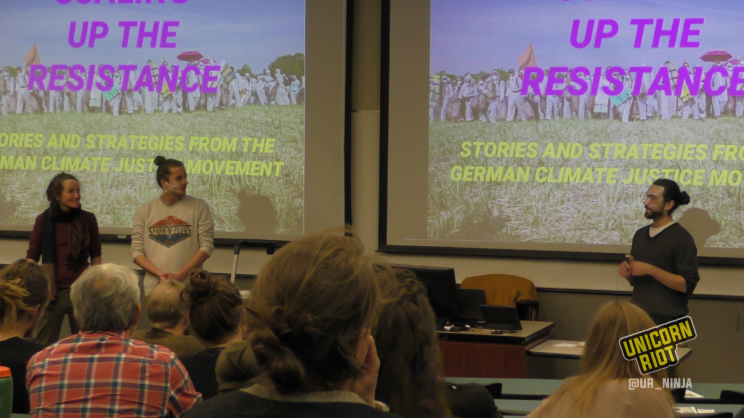 Rising Tide is an all-volunteer environmental and social justice network which formed in 2000 in the Netherlands from a shared conviction that corporations will not save the planet from climate change, and that the efforts from most governments have been inadequate. The international solidarity network promotes social justice as inextricable from environmentalism, and prioritizes local grassroots organizing efforts. The North American network coordinated the 2019 tour, bringing four German activists to share stories from the front lines across more than 20 cities in the United States.
Below is an excerpt from the introduction given by Rising Tide North America local member Lisa when she was introducing Dorothee and Daniel:
[Rising Tide] were looking at [Ende Gelände] as a place of inspiration and some concrete tactics and stuff that we could use here in the United States. What does it look like to actually do direct action? How can you use direct action in struggles where you are, and how can you use it also as a way not only to stop what's happening there, but also as a movement-building piece? [. . .] What are the takeaways that we can use here in our local settings?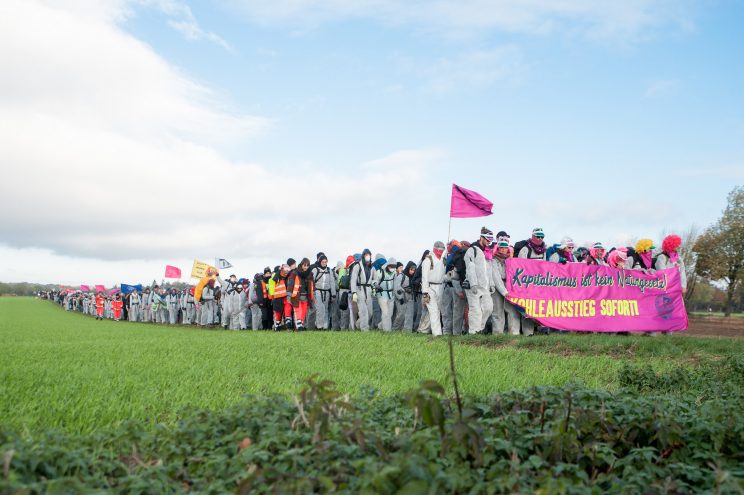 Ende Gelände is a German saying that translates to "here and no further; this stops here". Formalized in late 2014 before the Paris climate talks, Ende Gelände is a wide coalition of people from anti-coal and anti-nuclear movements who all firmly believe that climate change will only be stopped by people themselves taking action to put climate before profit. Unicorn Riot's past reporting on Ende Gelände started in a 2015 episode of Deprogram with an interview with Pascoe Sabido and again in our first "Networks of Resistance" series piece, published in 2017.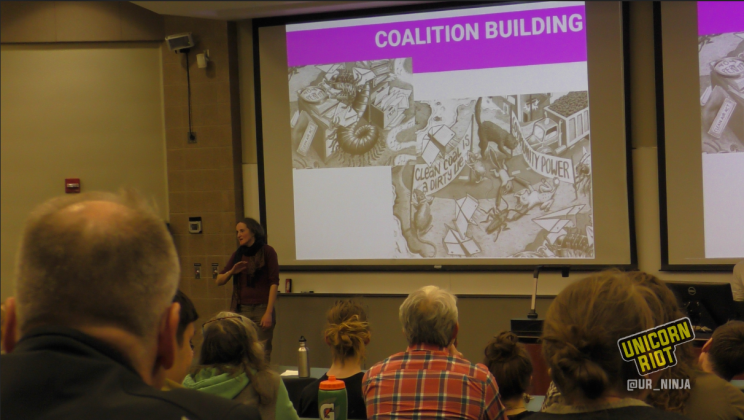 The Ende Gelände organizers began their presentation by highlighting that in Germany, "high school students who are on strike every Friday are the ones who are leading the movement right now, 25,000 students striking. A combination of radical direct action, massive civil disobedience, and more and more of the population joining the marches" is taking place every Friday in Germany, a country that simultaneously touts itself as "one of the 'greenest' most energy-efficient forward-thinking countries" while being the largest polluter in Europe; "40 miles outside of Bonn is Europe's largest source of CO2."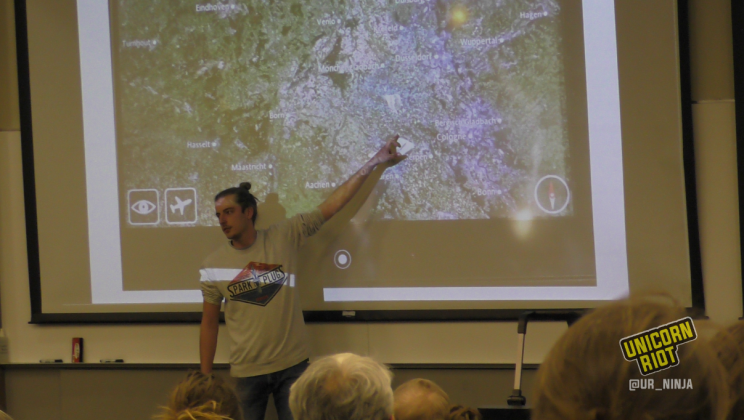 Dorothee described the 2009 U.N. Climate Change Conference in Copenhagen, and said "we used a lot of energy to get to that climate summit, hold a bunch of signs. Not a lot changed." After this, activists began pursuing other modes to build "mainstream" power and solidarity.

The intention with Ende Gelände's action was to make all parts as inviting and accessible to all sorts of participants from a variety of backgrounds and abilities:
"People do different roles (front-line, climbing equipment, affinity group, barrier, charging police line, putting up tents in camp, driving around equipment, making food for people in the encampments, etc.) Without all of that the action could not happen, and that creates a bunch of different entry points [e.g.] 'I'm not gonna run into the mine but I can drive and pick up people who get jailed.'" – Dorothee, member of Ende Gelände
Once people have been motivated to join the mass mobilization, they benefit from the educational components of the corresponding action camp as well as becoming empowered through their participation in a collective action. After the mass action has ended, those who attended return home to their own communities and bring back with them positive energy from the demonstration.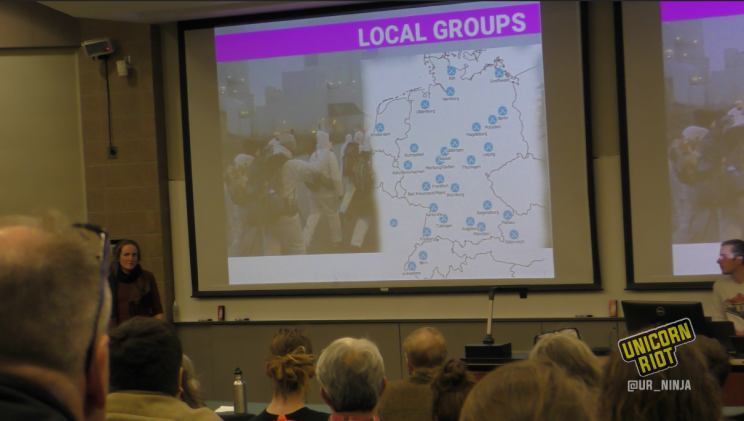 Compared with other political networks who organize direct actions, Ende Gelände communication surrounding their yearly mobilizations is remarkably transparent. Daniel said "Our action trainings are sometimes public, where the media are invited, and we showcase our methods and how transparent we are. We try to make really high-quality videos and photos that are able to fill people with enthusiasm and inspire them." Since the goal is for ordinary people to attend, barriers to entry must be minimized.
"More recently it was that we would try to keep the action more secret, to try to keep the polizei from knowing, but then we realized that it was already keeping regular people from being able to find out! We wanted to be more mainstream and easier to find." – Daniel, member of Ende Gelände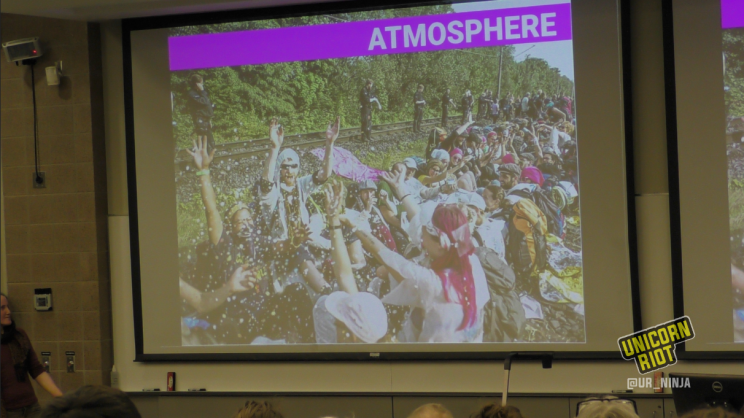 "Action consensus" within Ende Gelände was described as a very strong agreement between organizers and participants regarding the tactics that will be used during the action. As posted on their website, the form of action currently agreed to by this network is "an openly announced mass blockade with many opportunities for participation. We will behave calmly and courteously, no escalation will emanate from us, we will not endanger any people. We want to create a situation that is transparent for all participants and in which we respect and support each other."
Daniel acknowledged that although the German Polizei isn't as violent as the police force in the United States, "they obviously structurally enable capitalistic extraction, capitalistic profit." He mentioned also a saying in Ende Gelände: "Police are not an enemy, but an obstacle; you have to go around them." One tactic activists use during mass mobilizations is to run past/around individual Polizei while they continue forwards/onward to the site of the direct action.
"Obviously the state has to choose a side: do we side with the people, or do they side with the corporations?" – Daniel, member of Ende Gelände
After the presentation and a brief Q&A period, attendees of the event moved into small groups for small group discussions. One group discussed differences between the social and climate justice movement in Germany and that in the United States, where "we have indigenous land issues to contend with here as well." Another mentioned the importance of social media in the struggle: "We feel the fight and we feel the despair, but then social media can also positively present the aspects, more joyful aspects of the movement, that can bring people into the movement and activate them."
As the event wrapped up, organizers told attendees that the audience for the Minneapolis event was the largest they had seen on the U.S. tour. The next, final stop of the tour took place in Duluth, geographically nearby the resistance to Enbridge's proposed Line 3 pipeline expansion, suggested to take a pathway through native wild rice beds. Unicorn Riot has been reporting on resistance to Line 3 for over three years.
Unicorn Riot briefly interviewed Daniel after the event had ended. You can watch the resulting video here:
The event ended with an open invitation to join in the upcoming 2019 Ende Gelände action, scheduled to take place June 19-24 around the Rhineland open pit mines.
cover photo: Ende Gelände
---