Resistance to Line 3 Pipeline Seeks to Save Sacred Manoomin
Fon du Lac Reservation, MN – Indigenous-led resistance to the proposed Line 3 pipeline, one of the largest proposed infrastructure projects in North American history, has dozens gathering on private land in Northern Minnesota, dedicating their time and energy to defending the natural resources of the area, water and manoomin (wild rice).
Line 3 is a 1,097-mile, 36 inch diameter pipeline that runs crude oil from the tar sands in Alberta, Canada through North Dakota, Minnesota, and to Calumet Superior Refinery in Superior, Wisconsin. It was constructed in 1960 by Canadian fossil fuel pipeline company Enbridge.
Enbridge is currently pushing the Line 3 Replacement Project (PDF) to replace the deteriorated 57-year-old pipeline, and is "multibillion-dollar [$5.3 Billion in Canada, $2.9 Billion in USA]," and the largest in Enbridge's history.
Construction on the planned Line 3 Replacement Project (L3RP) is almost finished in the northwest corner of Wisconsin, where several direct actions by water protectors and land defenders have attempted to halt construction and resulted in numerous arrests.
L3RP has yet to be approved in Minnesota, but Enbridge already has yards filled with sections of pipeline being protected by law enforcement agencies in Minnesota. The Minnesota Public Utilities Commission held a public hearing in St. Paul during the last week of September; Unicorn Riot was live at a rally and march in opposition of the project and for five hours of public comments on the proposed project.
The planned Line 3 pipeline route goes through several unceded treaty territories with five tribes, the Fond du Lac Band of Lake Superior Chippewa, Leech Lake Band of Ojibwe, Mille Lacs Band of Ojibwe, White Earth Band of Ojibwe, and the Red Lake Band of Ojibwe, in the direct path of the proposed route which crosses Minnesota and Wisconsin.
In mid-September, Unicorn Riot visited the Makwa Initiative in northern Minnesota to gain an understanding of the resistance to Line 3. We drove along the route of pipeline construction in Wisconsin and spoke to Stuart Perkins from the Red Lake Band of Ojibwe about the growing resistance to fossil fuels, the Makwa Initiative, alternative energy sources, decolonizing, and Standing Rock.
"If it wasn't for our treaties, corporations could've got at this a long time ago. It's the treaties that are helping to preserve Minnesota. Minnesota takes pride in their 10,000 lakes. They take pride in their world-class fishing." – Stuart Perkins
On private land on the checkerboarded Fon du Lac Reservation, Perkins said dozens of people are learning their traditional ways and living in traditional structures, like wigwams, waginogans, and tipis.
"We believe that what we are doing is for our future generations," said Stuart, who also spoke of inter-tribal solidarity in relation to Standing Rock, saying that, "we're in Ojibwe treaty territory. We do have people out here that are standing with us from Standing Rock – I went out to Standing Rock and stood in solidarity with my Dakota and Lakota people, because I believe they need to honor the treaties."
Although there are a multitude of similarities, like fighting for treaty rights, the resistance to the Dakota Access Pipeline last year was different, said Stuart, because they are not only protecting the water, they are protecting manoomin.
"Wild rice is life is not just a slogan, it's a true statement, we live off of it." – Stuart
To learn more about manoomin we spoke to Sawyer, MN native Charles Nahgahnub, who has been harvesting manoomin for over thirty years. He allowed us to interview him while he taught the finishing process to Tara Benjamin. "It's not just a plant that grows on water," Charles said about the significance of manoomin:
"When you say rice, you're not saying rice by itself, you look at what's all around that rice, all these animals, all these insects, all this beauty. Because if they're not there, the rice isn't gonna be there. So think of it, if the rice is gone, all those other things will be gone too. So when you say rice, that means a lot more than just a grain that you can eat." – Charles Nahgahnub
You can tell the eco-system of an area is healthy if the rice is growing, Nahgahnub said. He furthered that ricing is spiritual, and that he feels a "connection" out on the lakes while ricing, "it's kind of like church, serene, there's a benefit there, a connection, especially when you know it's good, timed it right. You know you're gonna live for awhile, you're not gonna starve."
After learning the finishing process, from parching the rice over fire to thrashing the rice, which takes the husk off the rice, and finally "fanning it, or winnowing it," Tara, whose dad "was a really good ricer," said she was very happy to learn the process from start to finish.
When asked about the L3R Pipeline, Charles said,
"I don't think it's a good idea. They should find another way. I guess they don't really care about the eco-system that much. It's almost like an eco-terroristic kind of assault."
Continuing on the topic of manoomin, Unicorn Riot visited Perch Lake and spoke with Jim Northup III, the son of famed Anishinaabe author and activist, Jim Northrup, who passed away last August. "He was a water protector before it was cool," said Jim of is father. He spoke to us about what manoomin means to the Anishinaabe people, treaty rights, and water protectors.
"The Creator wanted us here now," standing on a two-story wooden tower overlooking massive amounts of manoomin, Jim said that "way back, there was a Chief and he had a vision that our people are gonna travel until they find the food that grows on the water." He said for over one hundred years his ancestors split into groups and lived around Lake Superior until they came to the rice lakes in the area of what is now called northern Minnesota.
"The Indians, we were the ones that had the land, that had everything, so it wasn't like we were asking them [settlers] for something," Northrup said, "we trusted them" and said after all these years they can't trust the settlers and that they are "still lying, still cheating, trying to get away with things."
"Right through Fon du Lac here we have six [pipe]lines that go through and natural gas lines that go through our Reservation too … Every lake has a different DNA for the rice on it, so once it's gone you can't just get it back." – Jim Northrup
Manoomin has enough nutrients in it that one could survive solely off of wild rice for a whole year if needed, said Northup, who continued, "That's its sole purpose is to help the people, be here for the people, so now it's time to stand up and protect it."
"A lot of Bear clan people" are following tradition and taking on the role of water protectors, "all these different Anishinaabe people, the Ojibwe, that's our job, to take care of this medicine [manoomin]," said Northrup.
"This one you know, we only have one chance, if that breaks, this water, it moves in all directions, so that oil is going to go in all directions. The elders, they talked about the lakes that are underneath us too, that's what connects all this water." – Jim Northrup
Jim stated that burial sites and the natural habitat are endanger with the new L3RP project, "Wherever these homes are, wherever they have a home, that was a good home five hundred years ago too, you know, so, there's burial sites along these places. Our people, we take care of our relatives who have gone-on and try to be careful with them and have respect for our ancestors."
Northrup spoke about how people have literally given up their everyday lives to come to the Makwa Initiative:
"Every water protector I see, I say 'thank you' to them, I try to go find something good and give that to them, because I know what they did, you know, they're sacrificing their time, their efforts, everything they got to come over here and stand up … they're doing what is right … some of them even sold their homes to come fight for this water." – Jim Northrup
Northrup's knowledge and ability to pass on the traditional knowledge, culture, and ways of living, has been a "wonderful resource," said Scott Kretz, the owner of the land in which Makwa Initiative sits.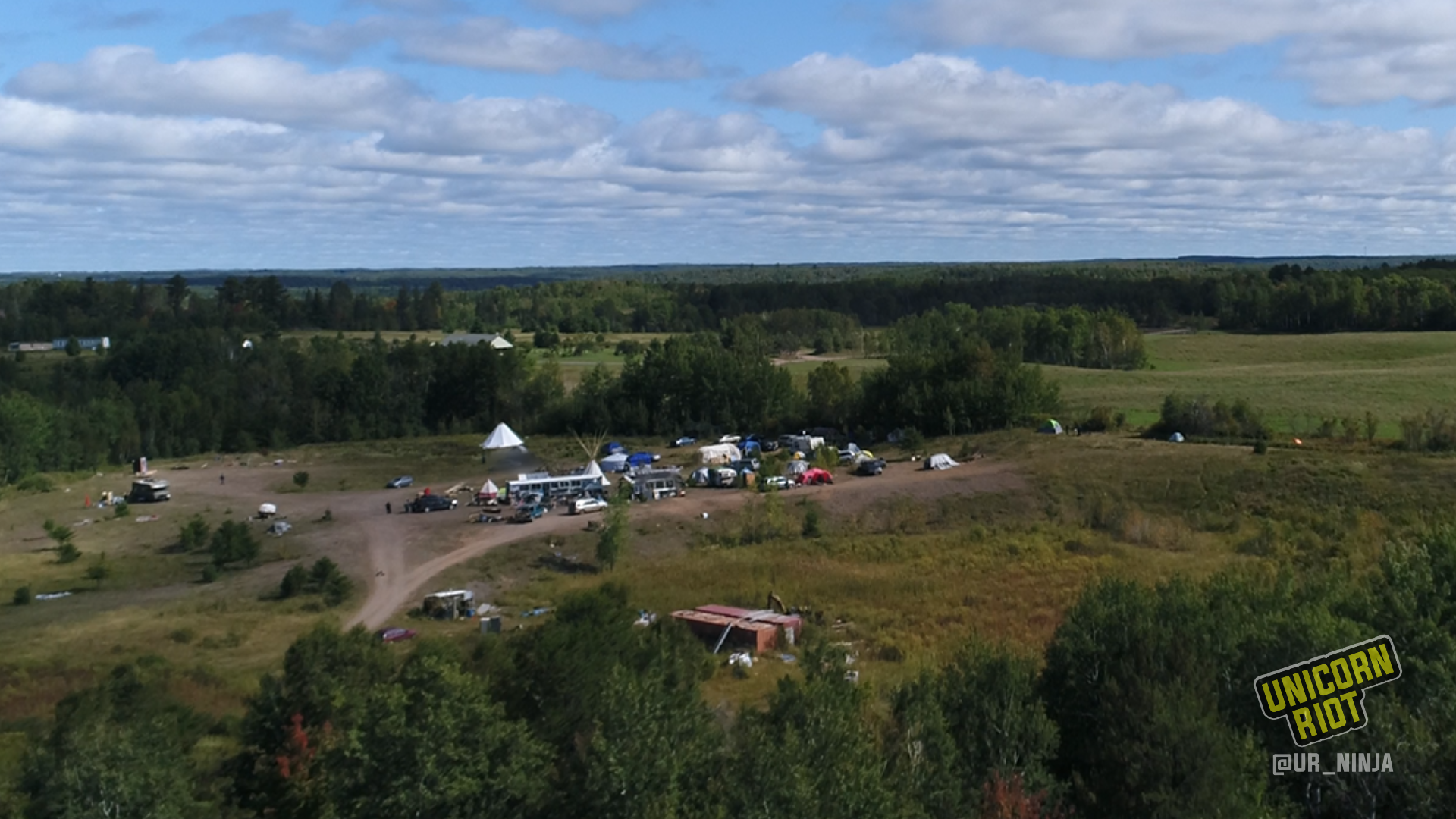 Ownership of land on the Fon du Lac Reservation (PDF) is notably different than other reservations in that there are 780 acres of private allotments of land. For the last fifteen years, sitting on thirty acres of the checker-boarded map, is private land owned by Scott.
"This is a great learning opportunity for me, lots of people coming around that know all the different medicines and foods that are out there, gather those together, and everything's right here, even on this thirty acre parcel, everything we need is right here." – Scott Kretz
"My family and all the other families. Lots of kids" are among the dozens living in the community on Kretz' land, Kretz says. Property rights and the right to assemble were sticking points for Scott, as he shared with us how he felt corporations are being given more rights than humans, "When the easement that goes through has a lease that goes beyond 21 years, right in the Constitution for the State of Minnesota, it says those are void [Article 1 Section 15]."
About treaty rights, Scott said, "treaty rights have been manipulated and played down, so here, they can at least be free to do what they need to do, in their treaty rights … I'm going to help stand for these rights."
Multiple kitchens feed the dozens gathered at the Makwa Initiative, as families, water protectors, tribal members, and more, prepare the traditional structures they have built for the northern Minnesota winter.
Even with Minnesota yet to approve L3RP, the resistance to the project, as seen in just this one location (there are multiple resistance initiatives throughout Minnesota) grows with a self-organized, self-managed, indigenous-led community thriving off of reclaiming traditional ways.
"Our language and anything else, it's disappearing. Right now natives are so much more self-aware and we're so much more self-determined and people are waking up. Standing Rock was a big help for getting that fire lit. From being out there in Oceti, I got a piece of that sacred fire in me too and I want to bring here to my homelands." – Stuart Perkins
Understanding the sacredness of manoomin and the importance of decolonizing, allows one to see that for the people of northern Minnesota, stopping the new Line 3 Replacement Project is deeper than the pipeline, it's the water, the rice, and the way of life.
Watch our coverage from a September 18th direct action that stopped construction and led to one arrest:
For further information on treaty rights and manomin, wild rice, see our August 2015 special: Ojibwe Harvest Wild Rice on Ceded Land to Exert 1855 Treaty Rights.
---
Please consider a tax-deductible donation to help sustain our horizontally-organized, non-profit media organization:

Unicorn Riot's Line 3 Oil Pipeline Coverage: