Canada's Navy Reinstates Sailor Exposed for Neo-Nazi Ties
Calgary, Alberta – An internal video message sent to sailors in the Royal Canadian Navy announced that the Navy has opted to keep on, rather than expel, a sailor who was exposed last year as a prolific user on neo-nazi forum site Iron March.
In November 2019, Unicorn Riot was the first to publicly tie Boris Mihajlovic, the Canadian sailor in question, to his Iron March username 'MOONLORD.' Online he claimed connections to violent racist groups like Blood & Honour and Atomwaffen, and discussed trafficking in arms and explosives. More intensive reporting by CBC reporters Roberto Rocha and Jeff Yates, who contacted Mihajlovic after combing over his Iron March records, also confirmed his identification as 'MOONLORD.'
The video, privately circulated last week amongst Royal Canadian Navy sailors at HMCS Tecumseh, was leaked to Unicorn Riot by a source who asked to remain nameless. It shows Commanding Officer Joseph Banke addressing sailors' apparent concerns about Mihajlovic's continued employment with the Royal Navy.
Banke told sailors that while some of them "felt very victimized by this […] it's still important for us now to find a way ahead together," adding, "I believe in rehabilitation over retribution, and it's the time now for that member to come back and work with us again."
Banke said that while he "had placed the member on restricted duties", naval command concluded that "we cannot counter hate with more hate — we need to build forward together, we need to rehabilitate together, we are going to support this member together".
At one time a member of the Royal Navy, having joined to uphold "Canadian Values, none of them being nazism," the anonymous source who provided the video told Unicorn Riot they are "extremely disappointed" with the Royal Navy's decision to retain MOONLORD/Mihajlovic.
They believe it reflects poorly on the institution and wondered "what someone has to do to get discharged and what other complaints are being overlooked," adding, "There is no place for white supremacy in the Navy":
"The person speaking is the unit's Commanding Officer and he is discussing the situation with Mihajlovic. […] Mihajlovic was never fired but rather placed on restricted duty. He has recently been taken off restrictive duty and has been reinstated. He is back at the unit working in the supply office, in uniform. I can personally confirm having seen him working at the Calgary Naval base. There was no apology made from either leadership or Mihajlovic. We have been told that he's changed, but have not been told how, and the timeline is very short.

The CO mentions last fall's event. We had a big talk about it at the unit, and we have not heard anything since then. He refers to the incident being on national news [and] this is the only incident that happened to our unit that made the news concerning hateful conduct." — Anonymous member of the Canadian Royal Navy
As MOONLORD, Mihajlovic also appeared to make arrangements for carrying out illegal arms deals with other neo-nazi forum users. He claimed to be able to sell handguns, assault rifles, grenades and grenade launchers, and even went so far as making plans online to meet up with a French Iron March user to sell him weapons in Bosnia in August 2017. It is unclear whether the arranged Bosnia arms deal, or any in-person transactions, actually took place.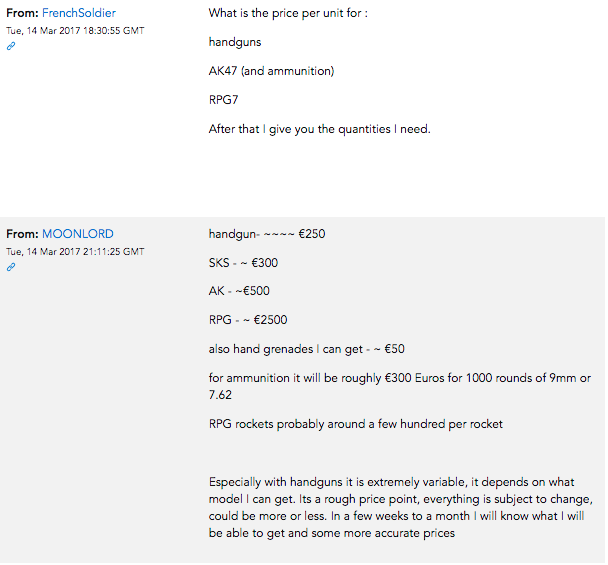 According to the CBC's review of leaked Iron March web server data, Mihajlovic was approached by Canadian Royal Navy command in 2016 with concerns about his involvement with Blood and Honour, but was not asked to leave the Royal Navy at that time. Nearly three years later, in 2019, Blood and Honour was added to the Canadian government's official list of terrorist groups.
Last year, Mihajlovic claimed in his communication with CBC reporters that he no longer holds neo-nazi and racist views and has strived to exit online hate subcultures.
A Canadian Armed Forces statement responding to Unicorn Riot's inquiry confirmed that Mihajlovic was back on regular duty as of July 15, 2020.
Reached for comment by Unicorn Riot, Media Relations staff for the Canadian Armed Forces (CAF) confirmed the leaked evidence that Mihajlovic returned to active duty in the Royal Navy last week. CAF told us that "on July 15, 2020, following the completion of the investigation, a decision was reached to retain him" and that he "will be returned to his regular duties" as a Supply Technician at HMCS Tecumseh in Calgary, Alberta.
CAF Media Relations also clarified that "an administrative investigation into his involvement with alleged hate group activity was initiated as soon as the conduct of LS Mihajlovic was brought to the attention of the RCN in November, 2019." They stated that "in cases such as this, remedial measures such as ethics training could be required," though there is no mention of any such training having been scheduled for Mihajlovic.
The Royal Canadian Navy cited CBC's 2019 reporting on Mihajlovic's alleged change of heart, asserting that "corrective measures" address the behavior of a sailor who has endorsed or engaged in problematic behavior or activities "as the result of a lapse of judgment or inexperience."
"Additionally, where there is an opportunity to salvage the career of a member who has been rehabilitated, the RCN will attempt to do so using formalized administrative measures…"

In a media interview given in December, 2019, LS Mihajlovic publicly stated to CBC News that "he realizes he was wrong and now rejects those views."" — Media Relations, Canadian Armed Forces
CAF Media Relations also noted that their sailor had claimed he had been uninvolved with hate groups since 2017, and that "he wanted people to know that he's a very different person than he was."
Kurt Phillips, a board member of the Canadian Anti-Hate Network (formerly with Anti-Racist Canada, which published the first report about MOONLORD's Iron March logs) responded with skepticism to the news. Phillips told Unicorn Riot that while he was "not against rehabilitation," Mihajlovic's involvement with the neo-nazi movement "did harm to the wider public, not just to the reputation of the forces and the people with whom he served."
"What we need to see is a real, public apology from Mihajlovic addressed to the groups targeted by the neo-Nazis in the Iron March forums in which he takes responsibility for his actions and acknowledges the harm he did in perpetuating the neo-Nazi movement.

We need to see him swear to make amends, and make those amends." — Kurt Phillips, Canadian Anti-Hate Network
It appears that the Royal Canadian Navy believes the former Iron March forum moderator's claims to have renounced racism and fascism. Without substantiation of these claims, many will remain skeptical that rehabilitation has truly occurred.
---