Ingrid Encalada Latorre Pardoned After 2+ Years Claiming Sanctuary
Boulder, CO – Colorado Governor Jared Polis, on Monday, pardoned undocumented mother Ingrid Encalada Latorre, among others. Encalada Latorre has been claiming sanctuary at the Unitarian Universalist Church of Boulder for more than two years, and in September she gave birth to her third child in the church's recreation room due to fears of being detained by Immigration and Customs Enforcement (ICE) at the hospital.
However, with the governor's pardon, her criminal record which triggered her deportation proceedings is now absolved, and at last she has the possibility to leave the church's property. She can also reopen her immigration case.
Encalada Latorre's legal troubles started on April 22, 2010, when the police arrested her at her nursing home job for identity theft. Like millions of other undocumented people in the U.S. who need to support their families, yet do not have timely legal pathways to do so (PDF), Encalada Latorre purchased a social security number for $100. She was told the number was not attached to another person.
Encalada Latorre said she eventually agreed to a felony plea deal, which her lawyer failed to tell her would prevent her from being able to win her immigration case. Per the plea deal, she completed 4 1/2 years of probation, as well as paying $11,500 in back taxes.
From December 2016 to May 2017, Encalada Latorre claimed sanctuary for the first time at the Mountain View Friends Meeting House in Denver. She was able to leave in May because she was granted a temporary stay of removal until August 7, 2017. Those six months were spent fighting to reduce her identity theft-related felony conviction to a misdemeanor, which could have secured her permanent residency in the U.S.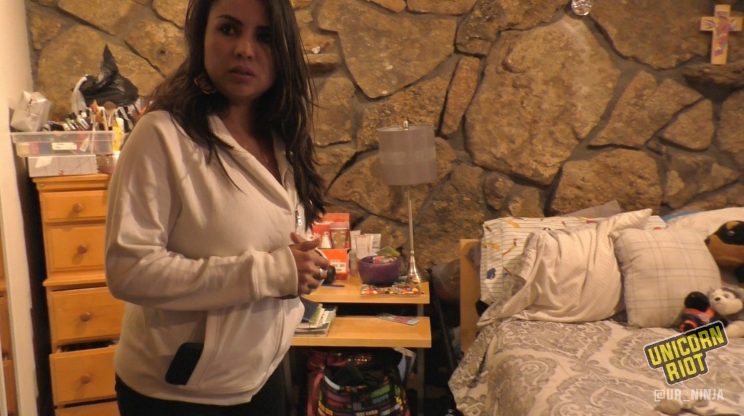 However, on August 29, 2017, a Jefferson County district judge refused to reopen her case, denying her post-conviction relief. The judge ruled that Encalada Latorre had been adequately advised about the risks of entering the plea deal, and the felony charge for criminal impersonation would remain on her record.
She then requested a pardon from then Colorado Governor John Hickenlooper who refused to pardon her because, according to a statment by Hickenlooper, "it would be a step backward in the fight for smart, compassionate and comprehensive immigration reform." 
Unicorn Riot visited Encalada Latorre in January 2019 and we asked what she thought of Hickenlooper's reasoning for the pardon refusal:
"Clemency is not the solution for immigration, but as a governor he can really stop my deportation and that of thousands of immigrants. He can help me clean my record.

I know he said the immigration system is broken. The immigration system has been broken for many years, but he had the power to stop my deportation, but unfortunately he did not do that in 2017." (translation from Spanish to English)
On October 17, 2017, Encalada Latorre refused a court order to board a plane with her two children and be deported back to Peru; and instead claimed sanctuary for the second time.
Throughout her more than two years in sanctuary in Boulder, she started a campaign called No Mas Chuecos to educate other undocumented people that purchasing identity documents can be harmful and can ruin their chance to gain legal status.
During our visit with Encalada Latorre in January 2019, she spoke with us about why she and others take a chance with buying a social security number on the street:
"Well it really was the only option to buy those documents because any company I was going to apply to always asked for my social security. For studying at school, too. Once I was in the park where Latinos hung out and some began to ask me why I hadn't bought a social security number. They asked 'why don't you take a chance?' Because it's as if we know how we can survive in this country." (translation from Spanish to English)
In fact it is much simpler to purchase false identity documents and to pay taxes as an undocumented immigrant, than it is to apply for and receive legal employment authorization. Instead of purchasing a social security number on the street, some undocumented immigrants decide to rely on their Individual Taxpayer Identification Number (ITIN) to acquire work.
The Internal Revenue Service (IRS) issues ITINs to both resident and nonresident immigrants who are required to have a U.S. taxpayer identification number, but who are not eligible to obtain a social security number. ITINs do not authorize work, they are solely for federal tax reporting.
When we spoke with Encalada Latorre, she mentioned that usually companies will not accept an ITIN as a replacement for a social security number, however if an undocumented immigrant applied to a restaurant or construction company, which tend to seek out undocumented workers, then they will not care if someone does not have a social security number.
(Or if the company has enough money, they will provide false identity documents to the undocumented workers, just like what happened at the Trump National Golf Club in Bedminster, New Jersey.)
According to the Institute on Taxation & Economic Policy's Undocumented Immigrants' State & Local Tax Contributions report (PDF), undocumented immigrants pay a collective estimated amount of $11.74 billion a year in state and local taxes.
"Undocumented immigrants nationwide pay on average an estimated 8 percent of their incomes in state and local taxes (this is their effective state and local tax rate). To put this in perspective, the top 1 percent of taxpayers pay an average nationwide effective tax rate of just 5.4 percent." – Undocumented Immigrants' State & Local Tax Contributions report
Therefore while the U.S. does not provide a straightforward nor affordable pathway for immigrants to obtain work authorization, it requires all immigrants to have a way to pay taxes on the work that they are not legally allowed to do.
This fact is outlined in a report by the American Friends Service Committee entitled Beyond Borders: Honoring our Human Dignity (PDF):
"Those who immigrate out of economic necessity, for example, have almost no way to obtain legal status in the U.S. Adjusting one's immigration status is also costly and can take years, even decades." – Beyond Borders (PDF)
On November 14, 2019, U.S. Citizenship and Immigration Services (USCIS) proposed fee increases for 63% of their fees associated with changing application, petition filing, and other forms. The fee for form #I-765: Application for Employment Authorization is proposed to increase by 20% bringing it to $490. USCIS is accepting comments on the proposed fee changes by December 30, 2019.
Rep. Joe Neguse (D-CO-2) introduced a private bill on June 24, 2019, seeking relief for Encalada Latorre, which if passed, would give her a 6-month stay of deportation. Only a week later, she received a letter from ICE's Washington D.C. headquarters informing her that she may be fined nearly $5,000 and had 30 days to respond and argue why she believes she should not be fined. (She was not the only one to receive such a letter.)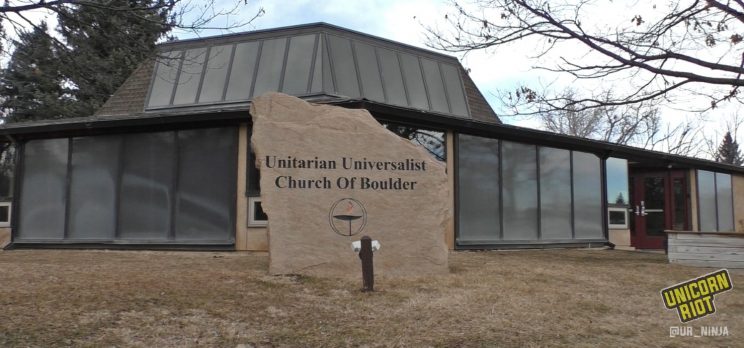 During her years in sanctuary, Encalada Latorre helped start the People's Resolution which created a platform for individuals, organizations, places of worship, etc., to endorse and show support for the people living in sanctuary in Colorado.
Three other people still remain in sanctuary in Colorado places of worship (there may be more who are not public) including sanctuary movement leader and grandmother Jeanette Vizguerra who has been claiming sanctuary for the second time for the last 10 months at the First Unitarian Society in Denver. Araceli Velasquez has been claiming sanctuary at Park Hill United Methodist Church and Temple Micah in Denver since August 2017, yet was able to leave temporarily to finish her pregnancy and give birth to her fourth child this past summer.
Rosa Sabido has been claiming sanctuary at the Mancos United Methodist Church for more than 2.5 years. On December 2, marking Sabido's 913th day in sanctuary (exactly 2.5 years), her and her advocates launched a campaign to encourage Rep. Scott Tipton (R-CO-3) to introduce a private bill to provide lawful immigration status for Sabido.
For Encalada Latorre and her family, they will be staying at the Boulder church until they feel secure enough in Encalada Latorre's immigration status progress, but freedom from the confines of the church is within reach.
---
Please consider a tax-deductible donation to help sustain our horizontally-organized, non-profit media organization:

---
Unicorn Riot's Coverage of the Sanctuary Movement and Immigration: