Climate Activists Arrested for Disrupting Colorado Governor's Speech
UPDATE (1/25/20): The Denver District Attorney's office said on Thursday that they will seek to dismiss the charges of the 33 people arrested. The five minors who were cited have already had their charges dismissed.
---
Denver, CO – On Thursday, 33 people were arrested at Colorado Governor Jared Polis' State of the State address at the Colorado statehouse. Most of the arrestees were part of a coordinated non-violent direct action (NVDA) organized by the Denver chapter of Extinction Rebellion, although there were some people simply sitting nearby who were also taken into custody. A videographer who was filming the disruption while seated in a different section than the disruptors was also arrested.
The NVDA which triggered the mass arrests was a series of organized chants and banner-drops. Erinn Peet-Lukes, spokesperson for Extinction Rebellion Denver, told Unicorn Riot,
"We had a lot of arrests today for very minimal disruption for a very reasonable request, which is to stop this madness of continuing to extract oil and gas from the ground and polluting our earth and rising our global temperatures above 1.5 Celsius, to where we can't live, we can't eat.

Our species cannot survive that kind of temperature rise, so all we're trying to do is guarantee a future for us, not just for our children, but us right now." —Erinn Peet-Lukes, Extinction Rebellion
As the gavel boomed the General Assembly into session, some of the climate activists in the balcony began announcing a 'mic check.' They chanted their demands in unison while passing out flyers to other audience members.
According to a press release by Extinction Rebellion Denver, the goal of the interruption at the 2020 State of the State was to "remind everyone in the chamber that in 2019, Governor Polis said he would 'make sure that all of our communities have clean air' and said he would boldly address climate change." The activist group contends the governor has made little progress in achieving either goal.
Security guards and state police moved toward the outburst and began escorting people out of the chamber. A few moments later, two banners were unfurled over the balcony railing coinciding with the beginning of a second 'mic check' round, which was cut off quickly. The banners were confiscated and all the people involved, or whom police apparently believed to be involved, were escorted outside.
Five minors from the Sunrise Movement, a youth environmental group, were singing in the hallway as state police escorted the disruptors outside. The five were also escorted outside, detained, and cited for Disrupting a Lawful Assembly, Public Building Trespass, and Unlawful Conduct on Public Property.
According to the Denver Police Department, the arrested activists received the same charges. Some may have an additional charge of Obstruction of a Peace Officer.

The activists gave three demands:
Shut down the fracking operations at Bella Romero Academy.
Develop a plan to end fracking and all fossil fuel extraction in Colorado by 2025.
Declare a Climate Emergency and facilitate a just transition to a renewable energy economy.
Last year, Denver-based energy company Extraction Oil & Gas, which is also a Delaware Corporation, completed construction of a fracking site with 24 well-pads approximately 600 feet from the Bella Romero Academy ball field and 1,000 feet from the school building. The school teaches grades 4–8, with a student body between the ages of 9 and 14.
When construction began in the spring of 2018, an environmental activist locked-down to equipment in order to temporarily stall work and to shine light on the injustices they saw.
Cullen Lobe explained to Unicorn Riot in 2018 that although the main reason he participated in that non-violent direct action was to protect the children, he also wanted to expose what he and others saw as "a clear cut case of environmental racism."
"Bella Romero Academy is a predominantly Latino community–89%. Ninety-three percent of the students there come from low-income families, and before they put it at this site, they wanted to put it at Frontier Academy in Greeley, which is a predominantly upper class and white school. The parents didn't like that, so they put it here at Bella." — Cullen Lobe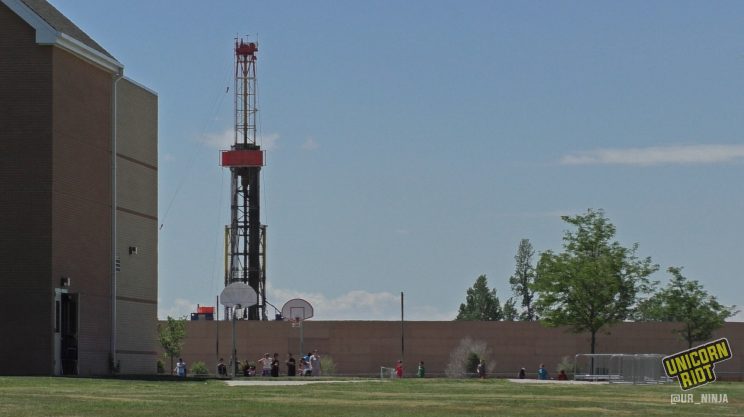 Peet-Lukes explained to Unicorn Riot that the disruption at the 2020 State of the State address was not only about Colorado and fracking, but also about protesting the entry of the U.S. into another war overseas. "The U.S. military is one of the biggest polluters on the planet."
She continued:
"This is an intersectional issue. This is about climate justice for those kids that are in schools close to fracking sites and being exposed to benzene and other cancer-causing chemicals. This is about protesting the war and our continued use of force in other countries for reasons that we didn't vote on. This is about getting our voices heard." — Erinn Peet-Lukes
The 33 arrestees all stayed in Denver jail overnight on Thursday. By Friday night everyone had been bailed out.
As for why Extinction Rebellion decided to disrupt the State of the State address, Peet-Lukes told Unicorn Riot that "the regular process of rallying and getting signatures and petitioning and voting does not get the results that we need — we are literally fighting for our future right now — so we had to take the steps to try to reach out to them directly."
---
Please consider a tax-deductible donation to help sustain our horizontally-organized, non-profit media organization:

---
Unicorn Riot's coverage on the Colorado anti-fracking movement: