LEAKED: Neo-Nazi Terrorist 'Feuerkrieg Division' Organizing Chats
In early 2020, the more violent and radical end of the neo-nazi movement has come under increasing scrutiny and legal prosecution. Members of Atomwaffen and The Base, both neo-nazi groups that openly embrace terrorist tactics, have recently been arrested in ongoing high-profile criminal cases. The US State Department has recently moved to have Atomwaffen designated as a foreign terrorist group, although this designation has not yet been made official or approved by the White House.
Another similar group called the Feuerkrieg Division (FKD) shares the same goals as Atomwaffen and The Base. They openly call for mass shootings and other attacks on civilians and infrastructure, which they believe hasten their desired 'race war'.
Members of FKD have been exposed recently by an investigation published by Eugene Antifa, a group in Oregon working to expose neo-nazis, which warned the group was acting as "a pressure cooker for potential terrorists." FKD's European activities were also recently reported by Roman Hoffner in the German newspaper Der Speigel.
A review of the last 8 months of leaked FKD chats, coupled with information released in criminal cases against several of its members, paints a concerning and frightening picture.
Leaked chat archives from inside the Feuerkrieg Division, including months of chat records the group believed to have deleted, have been obtained by Unicorn Riot. (A full download of the archive can be found at the bottom of this post.) A review of FKD's leaked chat provides insight into several concerning details and trends surrounding this collection of aspiring neo-nazi mass murderers, which has maintained active cells in both the USA and Europe.
Unicorn Riot's source with internal access to the Feuerkrieg Division, who asked to remain nameless, provided the leaked materials due to their internal access to the Feuerkrieg Division. They provided the following statement:
"Our team of infiltrators chose to target Feuerkrieg Division given their close ties to and inspiration from the murderous neo-Nazi group Atomwaffen Division. We aimed to, and succeeded in, identifying their members, disabling their organization, and preventing the execution of additional hate based terror plots.

While FKD is a lesser known Siege-based neo-Nazi group, they have shared members with AWD and the Base and targeted youth for recruitment. We are satisfied in knowing our efforts contributed to the dismantling of this neo-Nazi terror network." — Anonymous FKD source
CONTENT ADVISORY: mentions of racism, sexual assault, violence and terrorism
FKD shares Atomwaffen's cult-like worship of neo-nazi author James Mason. Both groups require members to read, almost as a sacred text, Mason's book 'Siege', which advocates terrorism and mass murder in pursuit of an apocalyptic race war.
The name Feuerkrieg Division translates from German as "Fire War" Division. FKD's name is an obvious nod to the Atomwaffen Divsion (AWD), whose name is taken from the German word for "atomic weapons."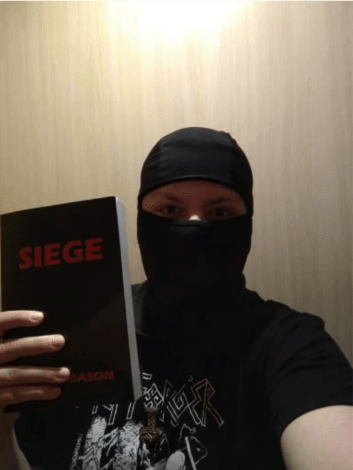 Propaganda posters produced by FKD and posted on their public telegram channel (as well as put up in cities across the U.S. and Europe) often include images of Jewish people and people or color being hung, stabbed, or shot.
While smaller and less organized than both Atomwaffen and The Base, FKD is a prime example of the deadly threat posed by far-right networks seeking to leverage online racist subcultures in order to carry out deadly real-world attacks. FKD in particular seems to have served (at least for a time) as a vessel and outlet for several active American neo-nazis with a habit of floating between various groups.
The group was founded and led for most of its existence by 'Commander', an unidentified Estonian teen. ('Commander' is believed to have been arrested by Estonian and/or European authorities after he disappeared from FKD's online chats in January 2020.)
[UPDATE – April 8, 2020: Estonian journalist Mikk Salu has identified 'Commander' as a 13-year-old.]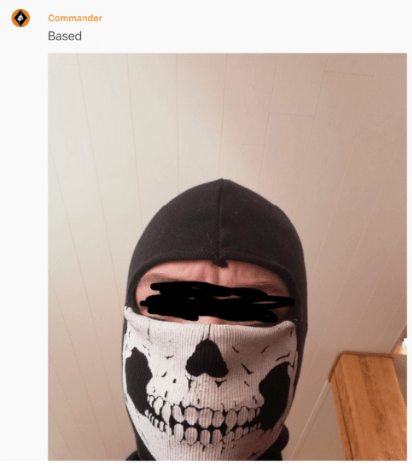 'Commander' described himself as a believer in "esoteric Hitlerism" and frequently encouraged FKD members to plan and carry out violent attacks.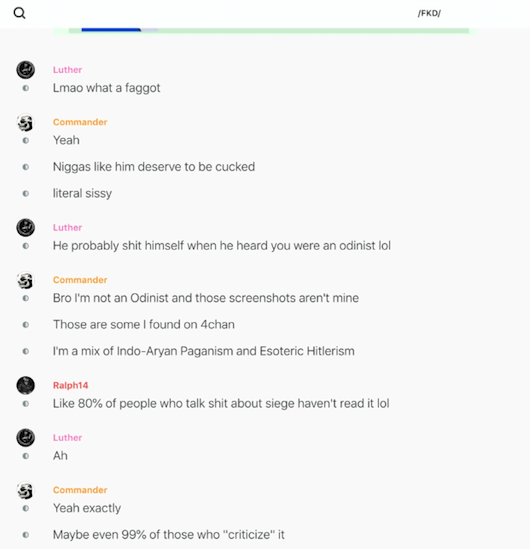 While FKD has recently claimed it has disbanded, the group continues to organize in online chats, seeking to rebrand and further their mission of carrying out deadly violence in service of their dream of an apocalyptic nazi insurgency. (FKD's official Telegram posted that they had disbanded in late February, but the Telegram post was later deleted.)
In some ways, FKD represents the most decentralized and dangerous tendencies of contemporary insurgent neo-nazism. Members of the group have been arrested and criminally charged repeatedly over the last year, yet this has not appeared to deter others in the group from continuing to discuss planning racist acts of brutal and deadly terror.
'Commander' described the group as "quite similar" to The Order, an armed Ku Klux Klan offshoot that committed several bank robberies and murdered Jewish talk radio host Alan Berg in 1984.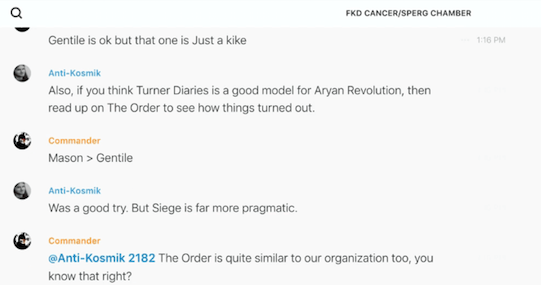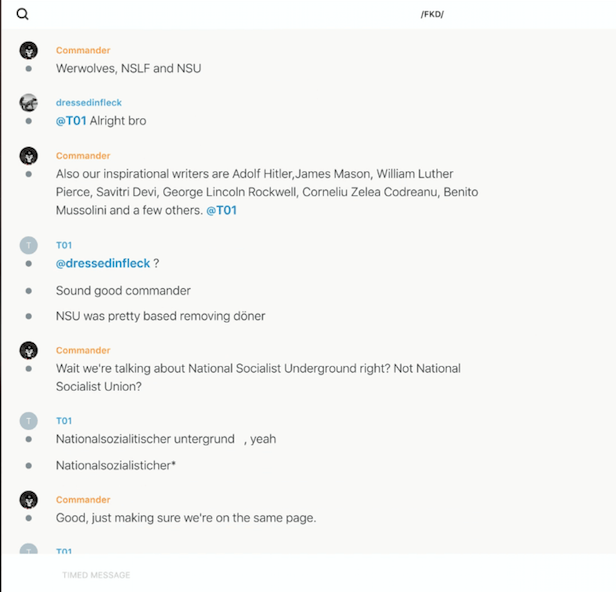 FKD's Rise and Fall: A Timeline of Aspirational Youth Terror
The Feuerkrieg Division officially formed in October 2018, mostly building an audience via its public channel on Telegram, a messaging and social media platform that is generally tolerant of nazi activity. Eager to spread its name through propaganda posters and blustering violent memes, FKD began to gain notoriety by summer and fall 2019, when several of its members were arrested.
Conor Climo, a violent neo-nazi who floated between several groups including FKD, was arrested by federal agents in August 2019. Investigators searching his home found explosive materials as well as extensive hand-drawn diagrams showing had been planning to attack a synagogue, a gay bar, and the Las Vegas office of the Anti-Defamation League.
Climo told federal agents that he often had suicidal ideations and joined FKD because the group offered him a chance to achieve "glory" and to be "righteous." He also reportedly claimed that he had left FKD because he was bored with their "inaction"; however, his username 'Ben Dover' was still present in FKD's Wire chat, with FKD only removing him from its chat after the news of his arrest.
For most of 2019, FKD congregated online on a chat room set up using the encrypted app Wire, with chats set to auto-delete after 24 hours. They would later switch to hosting their chats on Riot, another encrypted chat client.
In January 2020, Climo pleaded guilty in federal court to charges of possessing explosive materials. He faces up to ten years in prison when he is sentenced.
In September, a 16-year-old FKD member in the UK who went by the username 'DV' was arrested and charged with terrorism offenses. About a week after his arrest, FKD earned itself more focused attention from authorities when it released posters threatening the life of a UK police official and demanding the release of their arrested teen member.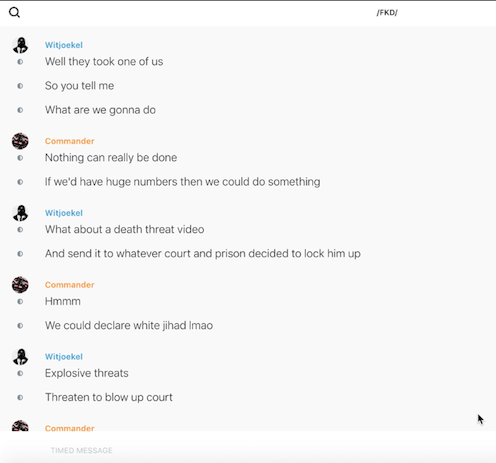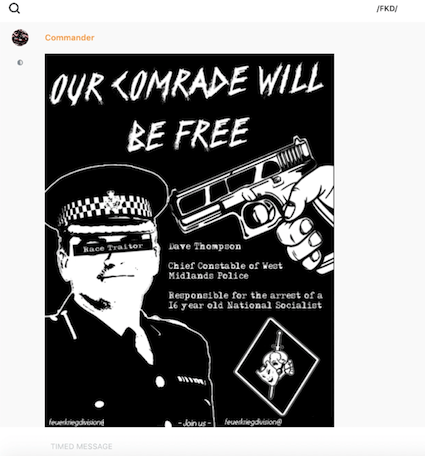 Just over a week later on September 22, 2019, Jarrett William Smith aka 'Anti-Kosmik', an active poster in FKD's Wire chat and soldier in the U.S. Army, was arrested and charged with "distributing information related to explosives, destructive devices, and weapons of mass destruction."
In online chats referenced by prosecutors, Smith discussed fighting alongside neo-nazis in Ukranian militias such as the Azov Battalion and Right Sector. He reportedly only joined the army to get military training after he was unable to go to join fascist paramilitaries in Ukraine. Smith was charged with repeatedly sharing instructions on how to make bombs, as well as discussing plans to assassinate U.S. politicians and bomb news stations. Smith also discussed burning down a house he mistakenly believed belonged to Daniel Harper, co-host of the antifascist research podcast I Don't Speak German.
In February 2020, Smith pleaded guilty in federal court to two of the counts against him and is set to be sentenced later this year. He faces up to twenty years in prison.
Despite the dramatic series of members' arrests, FKD continued to recruit, with one teenage Croatian — Noah Licul aka 'Buntovnik' — emailing on September 26, 2019 about joining the group and quickly being accepted as a member. Licul himself would later disappear from FKD's chat after his own apparent arrest in January 2020. (Licul had used the FKD chat to share images of himself and others defacing a memorial to fallen World War II era Croatian antifascist resistance fighters.)
On October 9, 2019, another FKD member based in the UK — Luke Hunter, age 21 — was arrested on terrorism charges. FKD chats following the news of Hunter's arrest show they believed him to be the chat user 'Marand.'
Later in October, a new member and high school student in Washington State, using the alias 'Berserker' and/or 'Genosside', posted FKD flyers at a Black church in Spokane. 'Berserker' later told FKD that his parents, school officials, and law enforcement had caught on to him and questioned him about FKD. At one point he even indicated he believed his parents had put monitoring software on his phone. Nonetheless, the group continued to welcome 'Berserker' and the high schooler even began to take on a leadership role.
In November, FKD switched from chatting on the encrypted app Wire and stared using Riot, another encrypted chat they felt was more secure.
In early January 2020, 'Commander' suddenly disappeared from FKD Riot chat room. The identity of 'Commander' is still publicly unknown, as are the details of any criminal case against him.  Other members soon reported he had been detained or arrested by police — whether Estonian or other European law enforcement isn't clear — and his devices seized.
A new chat room without 'Commander' was then set up by 'Azazel' aka Taylor Ashley Parker-Dipeppe, a member from FKD's Florida cell who is also a member of Atomwaffen. Many FKD members later received messages from online accounts belonging to 'Commander' containing links designed to capture IP addresses, leading FKD to speculate that Commander's devices and logins had been compromised by law enforcement.
Around this same time in early 2020, FKD members began to realize that their brand had taken a hit. On January 15, 2020, FKD's public Telegram channel announced the group was "stopping all of our recruitment operations for an undefined amount of time." FKD also publicly claimed to be disbanding; their chats show the group never broke up, but rather stayed together and continued plotting a rebrand, although they never managed to settle on a name. (Several variations on the word 'Werewolf' were proposed as well as the tongue-in-cheek name 'Happy Hitler Friends.')
In February 2020, Eugene Antifa began exposing FKD members' identities, revealing that the group had been thoroughly infiltrated by antifascists. Already on edge from a string of arrests, many FKD members appeared to panic. Azazel, who had also been conspiring to harass journalists as part of an Atomwaffen, also seemed to have learned of his own arrest warrant after it was posted online. (Warrants for the arrest of Parker-Dipeppe and other Atomwaffen members were unsealed on February 24, which happened to be the same day Eugene Antifa dropped their exposé into FKD.)
At the behest of others in the FKD chat, Azazel quickly passed on his chat admin powers before removing himself from the chat. 'Feldmeijer', the FKD member in the Netherlands who assumed chat admin powers from 'Azazel', didn't take the events very well at the time. "I think I'm gonna puke," he told the chat, before trying to rally the group to get a handle on things.
The group discussed moving to a new chat where they could continue to organize with some hope of security. However, some of them complained that during previous transitions between chat platforms, not all members carried over from one chatroom to the next.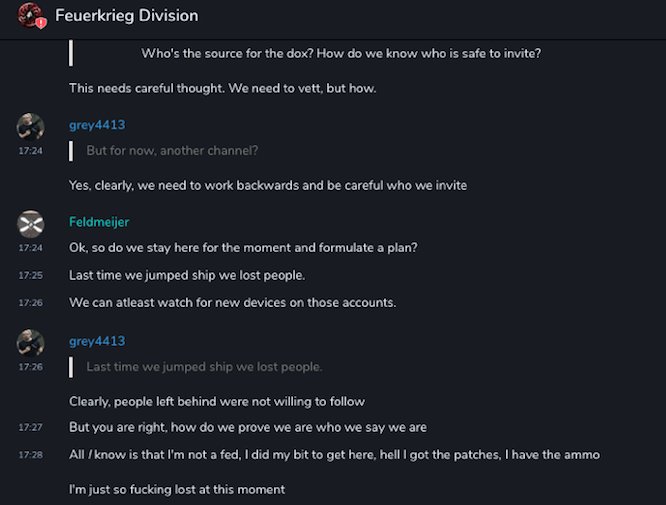 Despite their sense of panic from being exposed, as well as the series of many arrests over a period of months, the group formerly calling themselves the Feuerkrieg Division has yet to actually disband. Several dozen members are still convening in the group's new chats, working towards the same goal of paramilitary neo-nazism.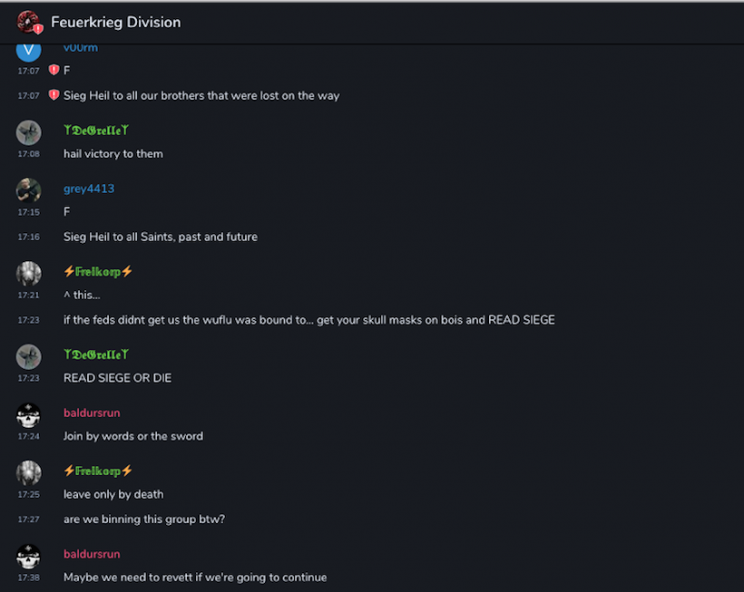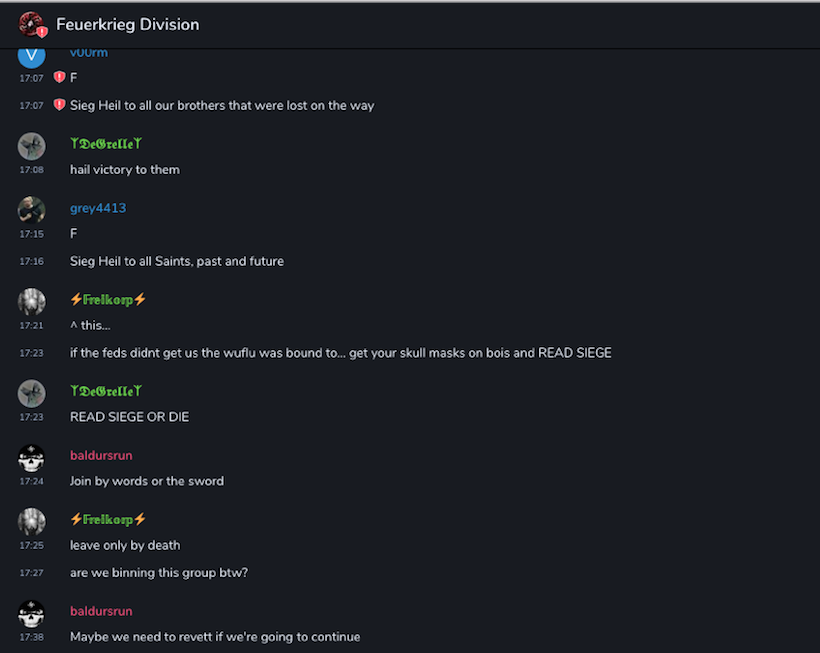 FKD, Atomwaffen and The Base
While there may be some overlap in membership, for most of its existence FKD has operated separately from both Atomwaffen (AWD) and the Base. However, over time FKD's relationship to Atomwaffen became somewhat murky.
FKD's anonymous founder and leader 'Commander', believed to be an Estonian teenager, repeatedly stressed his group's independence from Atomwaffen and expressed feelings of competition and jealousy towards AWD. FKD members also complained about competing for recruits with the Sonnenkrieg Division, a UK-based spinoff of Atomwaffen.
In early August 2019, Commander expressed frustration that members of Atomwaffen were contacting him to try to absorb FKD into their group. Screenshots Commander posted shows messages he exchanged with Atomwaffen member Richard Tobin ('landser.awd'.)
Tobin asked 'Commander' to affiliate FKD as a "vassal" in which Commander would remain as FKD's nominal leader but answer to "The Nucleus" of Atomwaffen's leadership.
Tobin aka 'Landser' would later be arrested in November 2019 for directing a vandalism campaign targeting synagogues as part of the neo-nazi terror training network called The Base.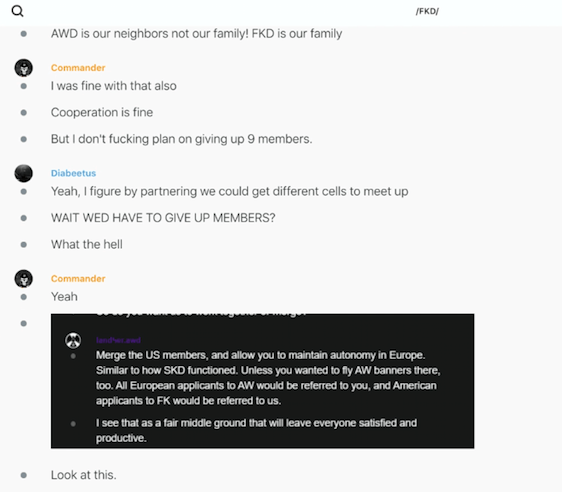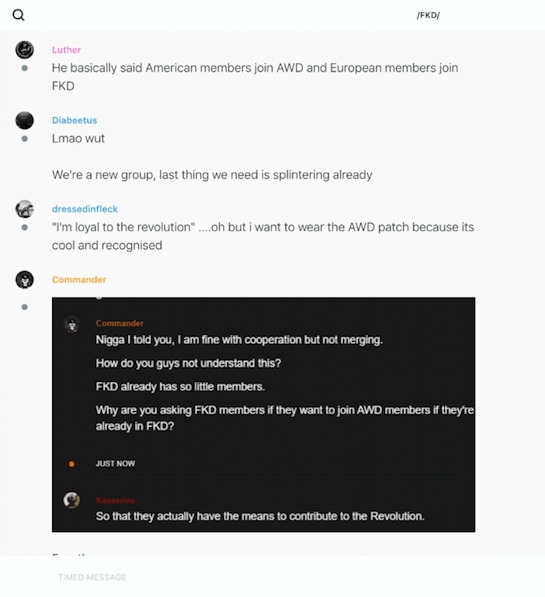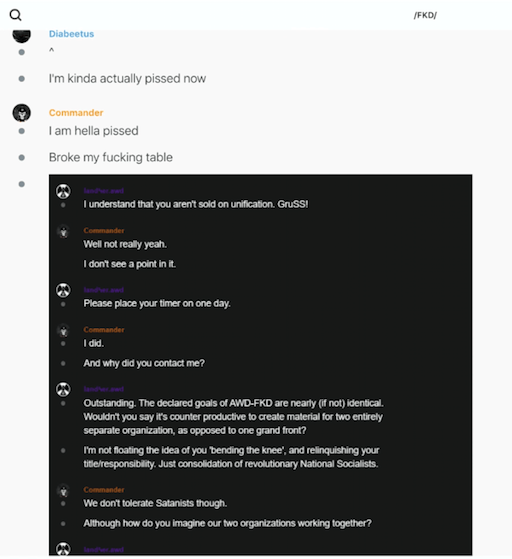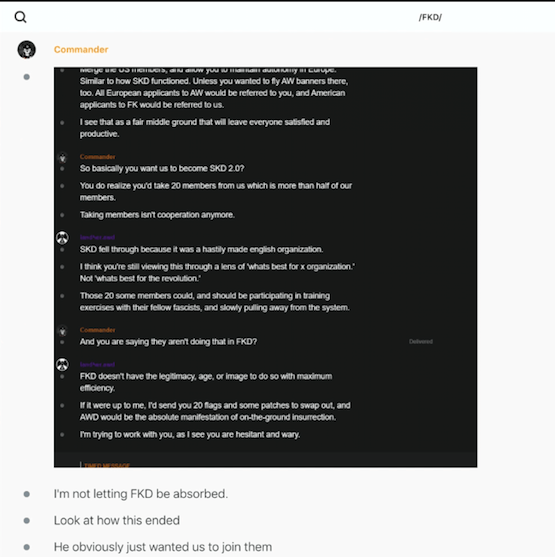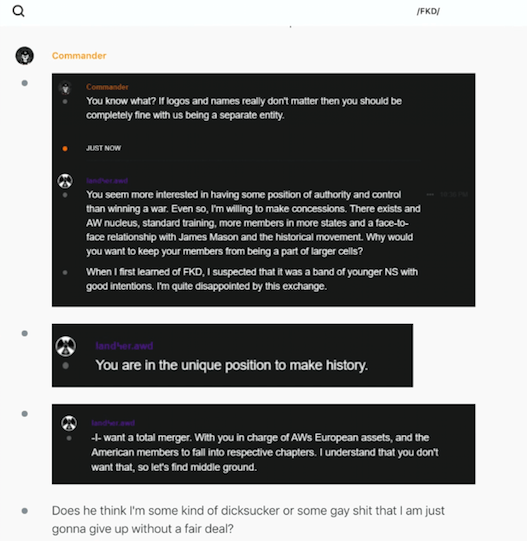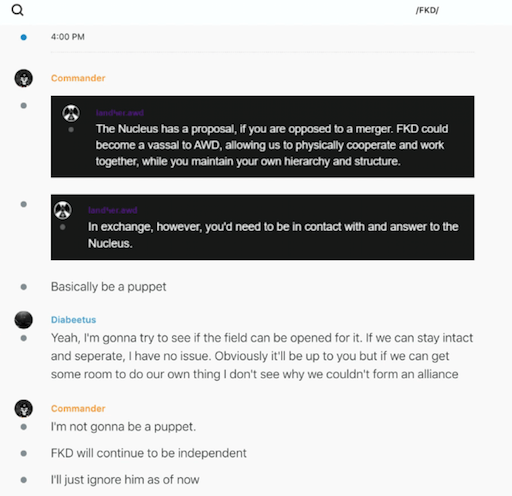 At other times, FKD discussed working as a network with Atomwaffen and The Base, highlighting the overlapping and oftentimes contradictory relationships between the three groups.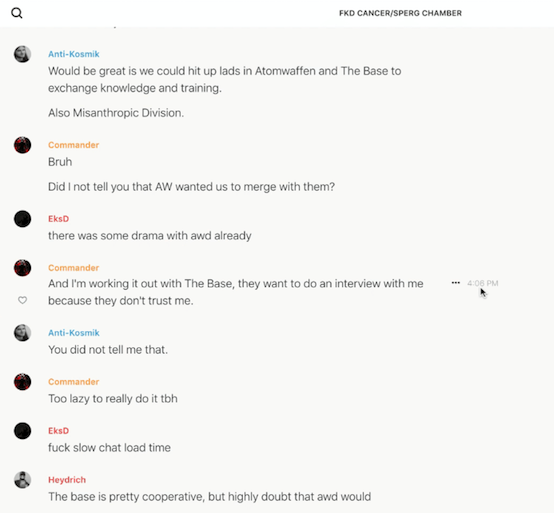 'Commander' also shared screenshots of messages he exchanged with 'Roman' aka Rinaldo Nazarro, the recently identified leader of 'The Base', asking for advice in motivating members of a group to take real-life action.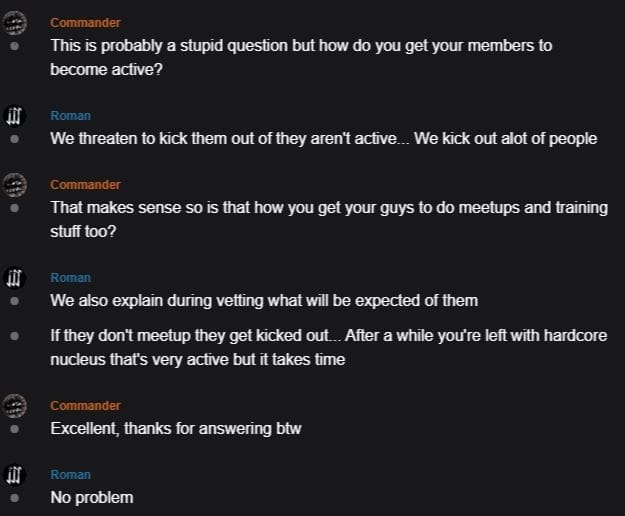 Immediately after Commander's mysterious appearance and purported arrest in early January 2020, FKD member 'Azazel' moved quickly to insert himself to fill the leadership void, effectively claiming control of the group. (He had previously used the handle 'Goose' in FKDs Wire chat, which he joined in September 2019.)
Recent Atomwaffen arrests in February 2020 revealed that Azazel, who referred to himself as part of FKD's "Florida cell," was also a member of Atomwaffen. Leaked FKD chats obtained by Unicorn Riot don't appear to show him discussing his Atomwaffen membership with anyone in FKD; it's unclear if he withheld this fact from FKD or just neglected to mention it.
Azazel, recently identified as 20-year-old Spring Hill, FL resident Taylor Ashley Parker-Dipeppe, was arrested alongisde four other Atomwaffen members after federal agents allegedly watched him affix a threatening poster onto a home he believed belonged to a Puerto Rican news reporter. (The poster was placed on the wrong house, according to the FBI.)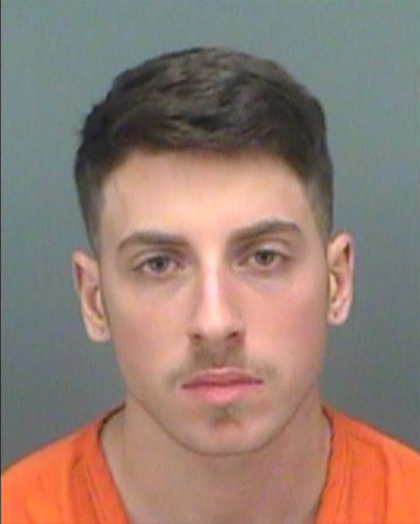 A review of Azazel/Parker-Dipeppe's messages from the leaked FKD chats give possible hints as to the motivation behind his membership in both Atomwaffen and FKD. Atomwaffen as well as Tempel ov Blood (TOB), an affiliated neo-nazi Satanist group, encourage their members to infiltrate, subvert, and assume control of other organizations. It's not clear if this was Azazel/Parker-Dipeppe's exact intent, but he was virtually silent in FKD's chat before suddenly appearing as an active member and new leader after Commander's disappearance.
In the group's panicked discussions on how to rebrand and change their strategy, Azazel proposed splitting the group into above-ground and underground components, with one focusing on recruiting more mainstream-right wingers and another on doing "dirty work":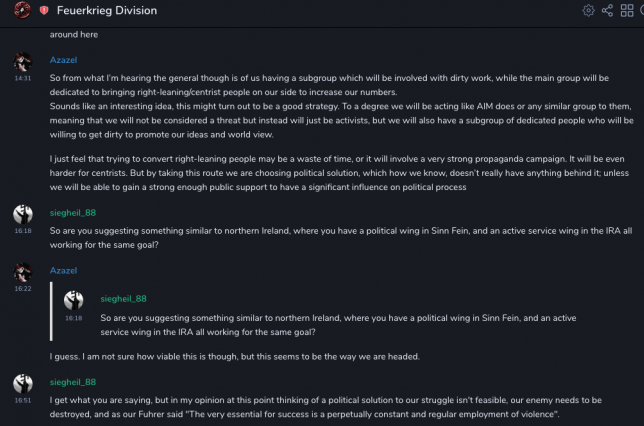 Azazel discussed forming a "subgroup" which would carry out so-called "dirty work." A primary, above-ground facet of the group focused on "bringing right-leaning/centrist people on our side to increase our numbers."
He referenced the American Identity Movement, the recent rebrand of alt-right neo-nazi group Identity Evropa, as a potential model for his vision of the new, more public-facing side of FKD. 'Azazel' said he thought that by assuming such an approach "we will not be considered a threat but instead will just be activists, but we will also have a subgroup of dedicated people who will be willing to get dirty to promote our ideas and world view."
In a message that followed shortly thereafter, Azazel made it clear just exactly what he meant by "dirty work" when he reminded the group that "death and terror are our greatest weapons."
---
Another U.S. member of the Feuerkrieg Division, Dillon Hopper was the leader of Vanguard America, a neo-nazi group prominently involved in Unite The Right. Hopper was present in FKD's Wire chat room as 'Dillon' and used the chat alias "White Power Stroke" in FKD's Riot chat. (He also used at least three Discord accounts with the same 'White Power Stroke' alias [1, 2, 3] in previous neo-nazi chats leaked by Unicorn Riot.)
Hopper claims he did not personally attend the Unite The Right rally but Vanguard America members with uniforms and shields are featured prominently in media coverage of Charlottesville. Several VA members were photographed next to James Alex Fields, who later that day murdered anti-fascist demonstrator Heather Heyer with his car.
Vanguard America has been mostly inactive since most of its members left to form a new group, Patriot Front, in the aftermath of the 2017 rally in Charlottesville.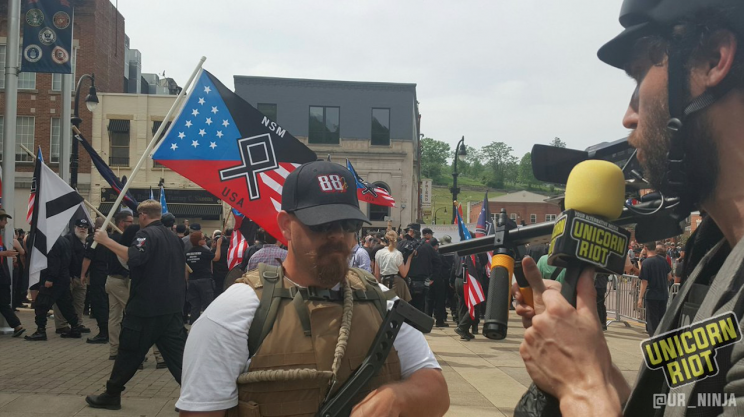 Dillon Hopper, now in his thirties, claimed to have founded Vanguard America shortly after he left his career as a military recruiter in January 2017. Hopper's involvement with FKD, which includes many teenage and underage members, points to concerning trends of older neo-nazi leaders radicalizing impressionable minors and encouraging them to plan violent attacks.
Hopper's troubling relationship with FKD's youth base is illustrated by one message from August 2019 in which he and 'Commander' joke about how he is the group's "babysitter".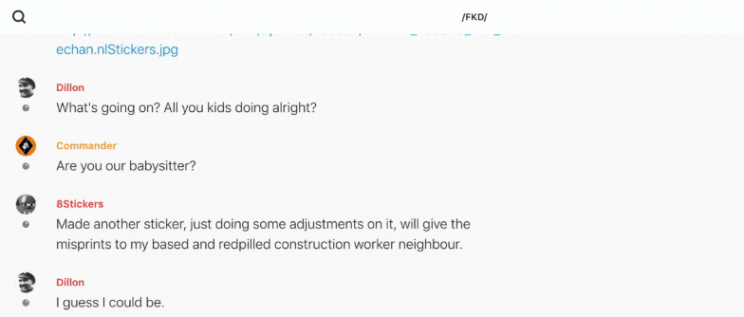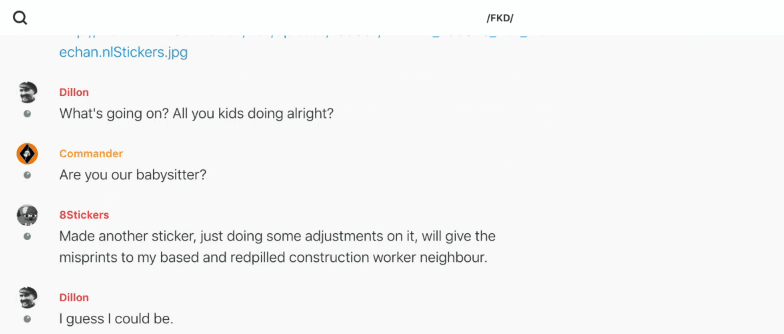 Vanguard America, the group Hopper used to lead, is also a defendant in 'Sines v Kessler et al', a civil lawsuit filed against organizers of Unite The Right, alleging Hopper and others conspired to use violence to deprive counter-protesters of their civil rights.
Posts found in leaked materials related to the Feuerkrieg Division show that Hopper is continuing to encourage and prepare for racist violence, and actively encourages others to do so, including young teens. Hopper, 'Commander' and 'Marand' (believed to be a British teenager) discuss committing murder at a 'furry' convention: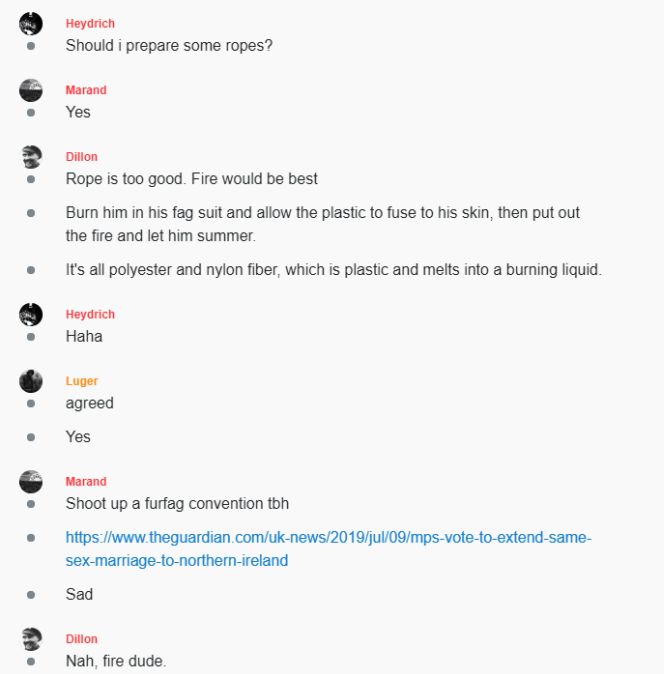 Hopper's posts in the FKD chat included advice on how to prepare for so-called "lone wolf" attacks in order to provide plausible deniability to help others avoid prosecution. He also offered specific instructions for destroying computers that may obtain incriminating evidence, raising questions of whether he himself destroyed any evidence related to the Charlottesville lawsuit.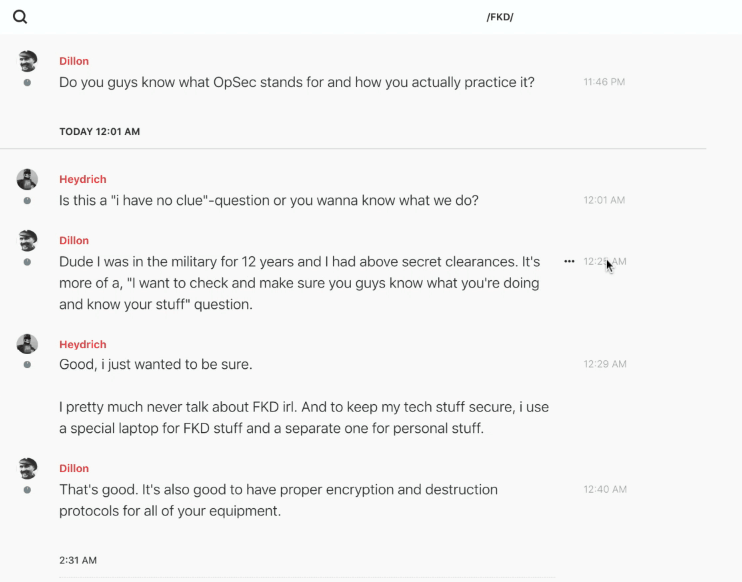 Hopper also claimed to know John Cameron Denton, the recently-arrested leader of Atomwaffen who uses the alias 'Rape', saying that Denton was "a cool dude."
Throughout his months of posts in FKD's Wire and Riot chats, Hopper shared quite a few different tips that younger FKD members could use to carry out attacks. He provided steps he claimed could be used to produce "real napalm" and at one point went into detail about how to make extracts from poisonous plants that could be used to "induce chemical burns."
Hopper also invited FKD members to come stay at his two-acre farm "when the race war kicks off," presumably referring to his property in rural Ohio.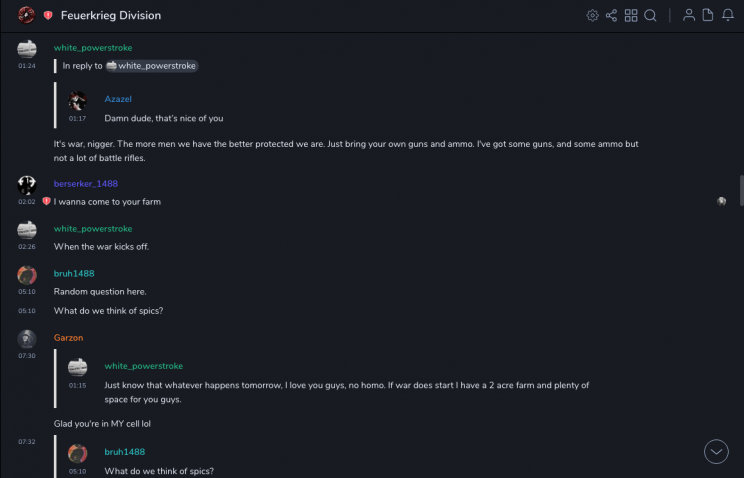 At one point, Hopper also shared an elaborate and disturbing fantasy in which he describes kidnapping and repeatedly raping feminist activists. Other posts he made encouraged younger members to commit rape.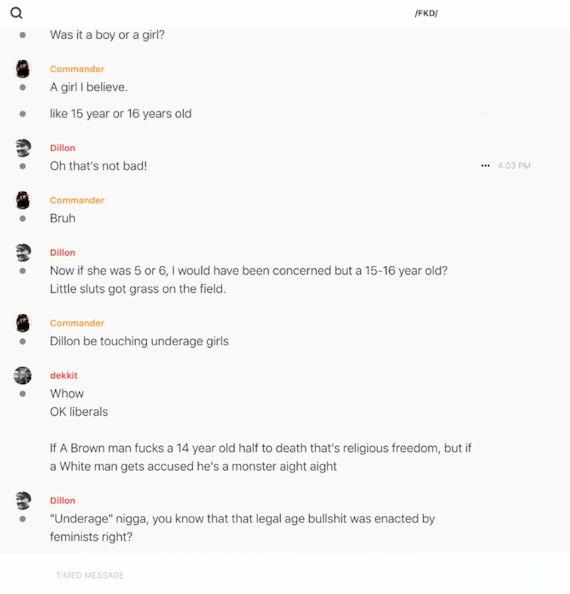 In early August 2019, FKD members reacted gleefully to the news of the August 3, 2019 El Paso massacre in which a white supremacist shot and killed 20 people, injuring dozens more, at a Texas WalMart.
Discussing FKD's strategy post-August 3, Hopper told the group that "what we need is intimidation and general derision or contempt for non whites" but encouraged the rest of FKD to hold off on similar attacks until closer to the 2020 election — "the time is just not quite yet. Wait for the 2020 election. Shit will seriously kick off then."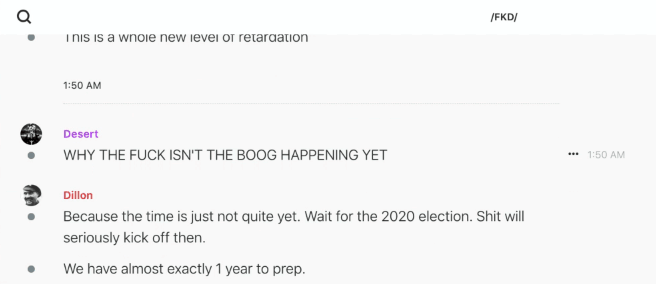 Amy Spitalnik, Executive Director of Integrity First for America, the nonprofit bringing the lawsuit against Unite The Right organizers, told Unicorn Riot that Hopper's involvement with FKD points to wider themes in how violent racist networks operate. She said, "One thing that's been clear since Unite The Right is that the leaders and hate gruops responsible for that violence are at the center of the much-larger white supremacist movement."
"Over and over again, we see that Charlottesville was not an isolated incident but, rather, a flashpoint in the rise of violent white supremacy. It's impossible to ignore the deep and disturbing connections between the defendants in our suit, the broader white supremacist movement, and the recent cycle of attacks in which each is used to inspire the next." — Amy Spitalnik, Executive Director of Integrity First for America
Both Dillon Hopper and Conor Climo, the FKD member arrested planning shootings in Las Vegas, had previously been in leaked Discord chats tied to the neo-nazi Traditionalist Worker Party (TWP), a now-defunct group also involved in Unite The Right.
---
Credible Threats
It's tempting for an observer to write FKD off as just a bunch of alienated youth 'shitposting' and blowing off steam. Even 'Commander' called FKD "a half joke organization where most members don't do anything."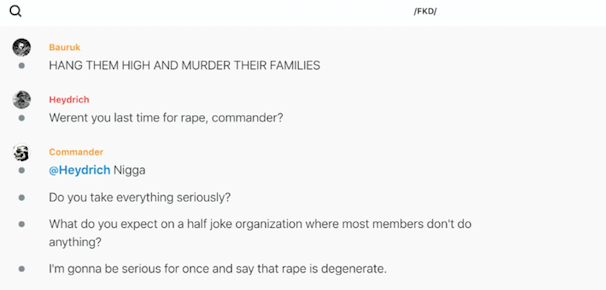 A review of the last 8 months of leaked chats, coupled with information released in criminal cases against several of its members, paints a concerning and frightening picture despite FKD's often clownish incompetence. The types of attacks and tactics discussed by FKD are also likely to be attempted by other individuals within the wider online circles that FKD grew from.
Members of FKD, like other related groups, seem primarily interested in killing, harassing or otherwise harming Jews, Black people and other people of color, Muslims, journalists, feminists, and anti-racist activists. They also show an increasing interest in targeting government officials and members of law enforcement.
One Lithuanian FKD member, EksD, told the rest of the group that he planned to kill himself once he turned 30. 'Commander' encouraged him to "take a bunch of jews with you" by targeting a synagogue during his suicide act. Other suicide-attack suggestions to 'EksD' included that he "drive a truck into a bunch of fags" or "bomb a fed building."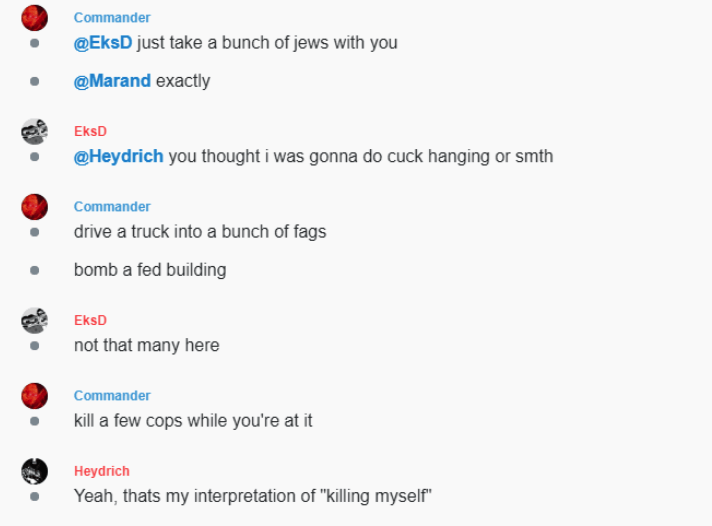 Although FKD mostly exists online, its members hanging out in chat rooms, several physical cells do exist, including at least one active U.S. cell in northeast states. Members of FKD's northeast U.S. cell held a meet-up in a park in Boston in late December 2019, after which they reported being stopped and detained by law enforcement.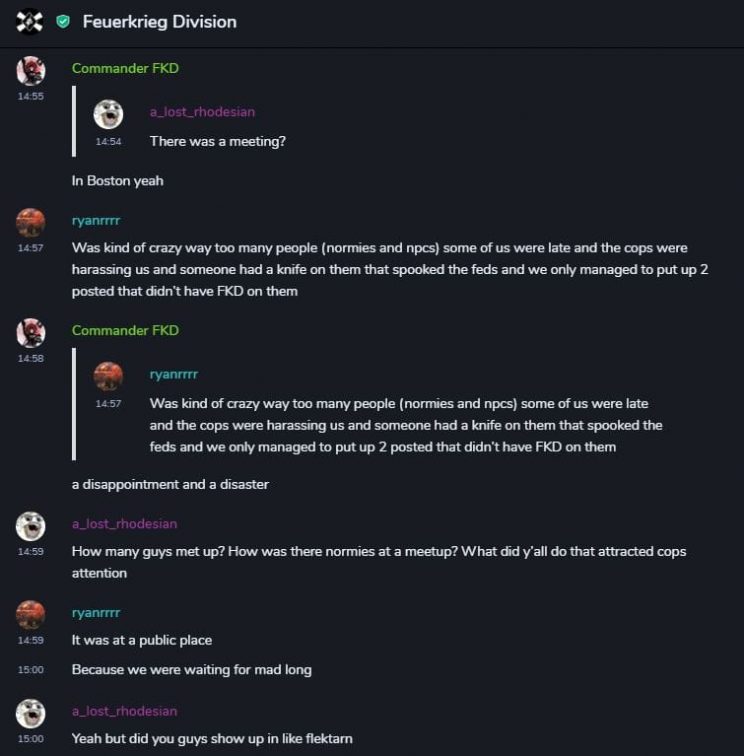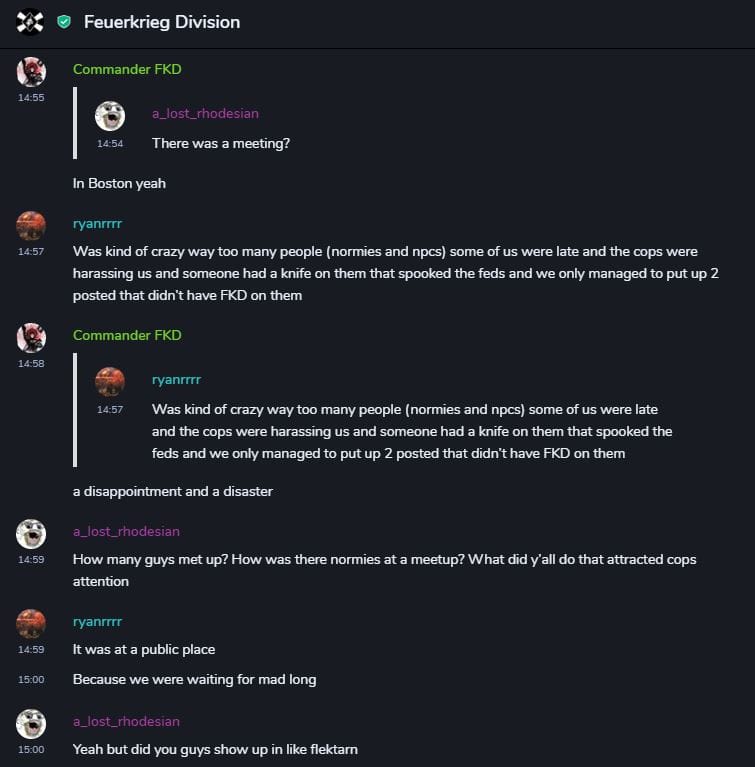 Another winter meetup had also been scheduled in New York City but was cancelled at the last minute. FKD has also had several active European cells, including in the UK, the Netherlands, and Baltic nations such as Croatia and Estonia.
Commander also specifically referred to FKD as "a collective action group" rather than a "lone wolf group", with members encouraged to work together in cells. FKD's cell structure, coupled with details from legal cases against arrested members, points to a high likelihood that members had been planning attacks together.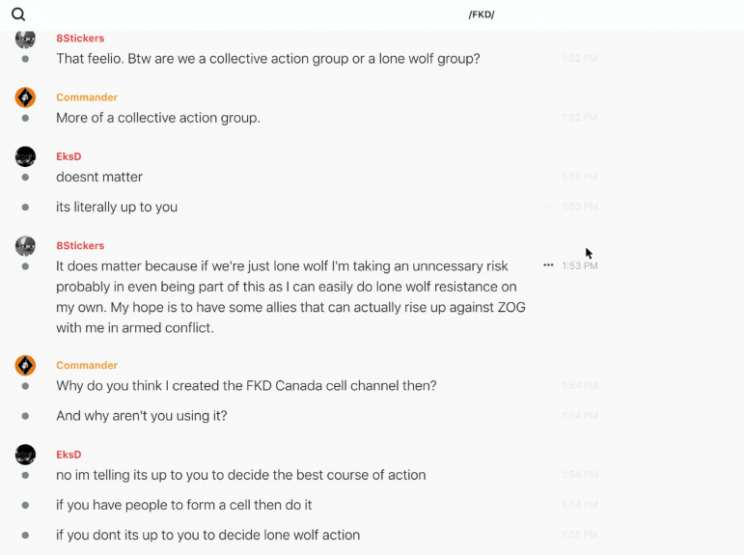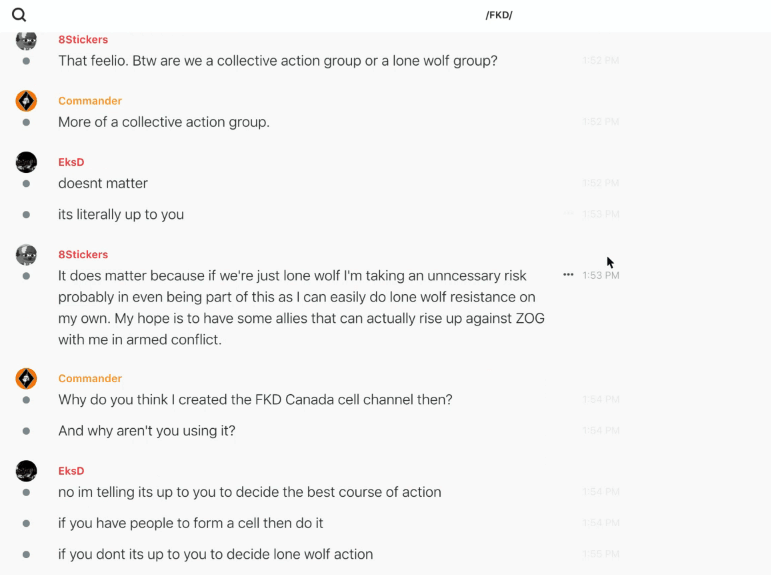 While many of the attack plans discussed in FKD's chats don't seem to have been carried out, the types of attacks and tactics they discuss offer a sense of what to continue to expect from violent neo-nazis following the 'Siege' approach.
In late July 2019, 'Commander' posted home addresses belonging to US presidential candidate Bernie Sanders and his wife Jane Sanders.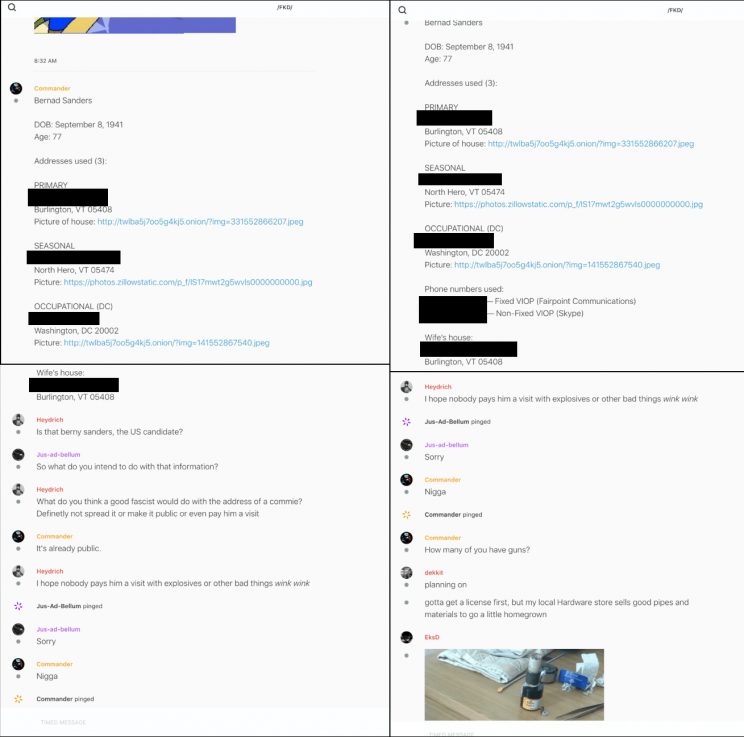 Along with home addresses the chat included various explosives and firearms manuals. While it's unclear if any actual plans were made to attack Sanders' residences, the group at least casually encouraged attacking him, although another member would later chime in that he didn't consider Sanders to be a "feasible target."
Commander also said he wanted to "blow up the Estonian parliament".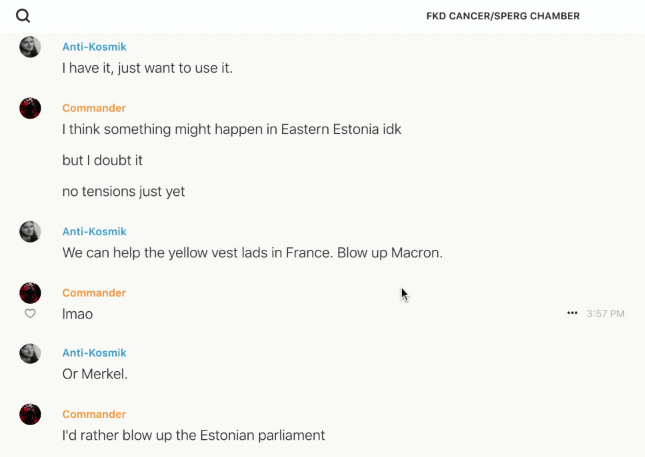 After another FKD member posted a data file that included lists of people they believed to be anti-fascist activists in Europe, 'Commander' wrote, "I'm gonna take my AR and visit these commies."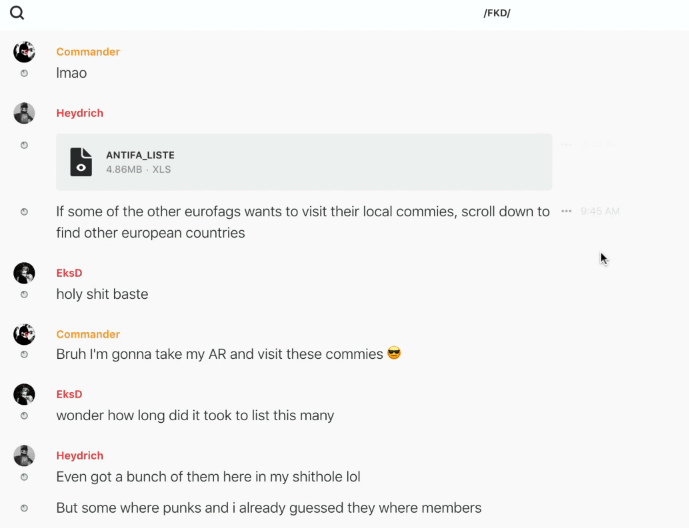 Commander and Marland (a UK-based FKD member who was later arrested) discussed how they would like to kidnap and execute a rabbi in the name of "white jihad":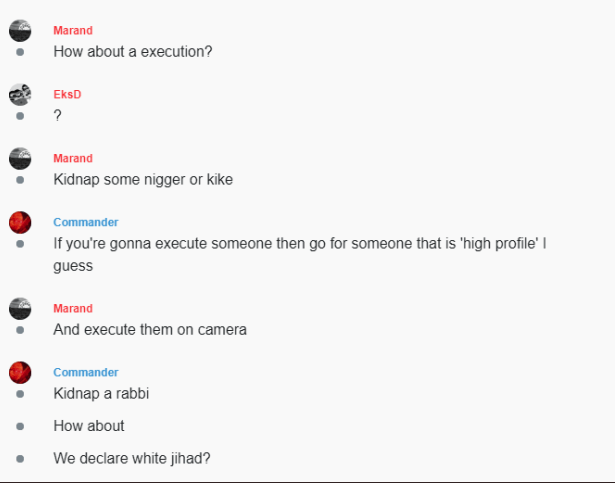 Commander also expressed an interest in bombing the office of an Estonian social democratic political party in his area after FKD member 'Bauruk' shared a file labeled "napalm recepie [sic]."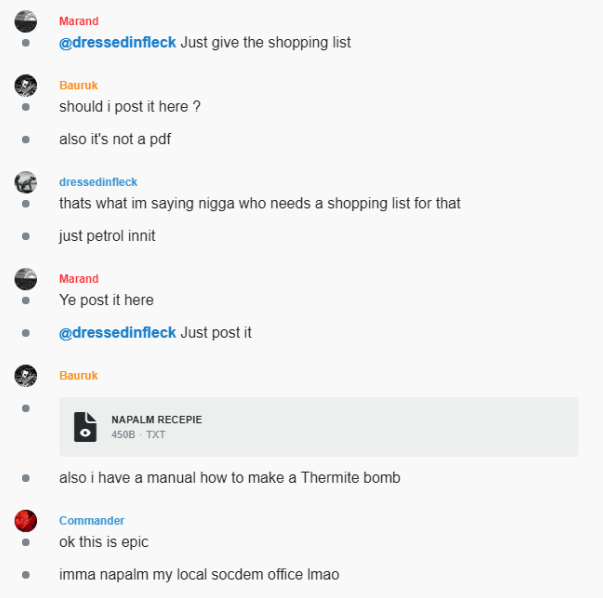 A German FKD member going by 'Heydrich' appeared to be doing reconnaissance for potential attacks on refugees, posting candid pictures of black people he said he took while sitting across the street from a refugee center. "To kill or not kill is the question", he wrote.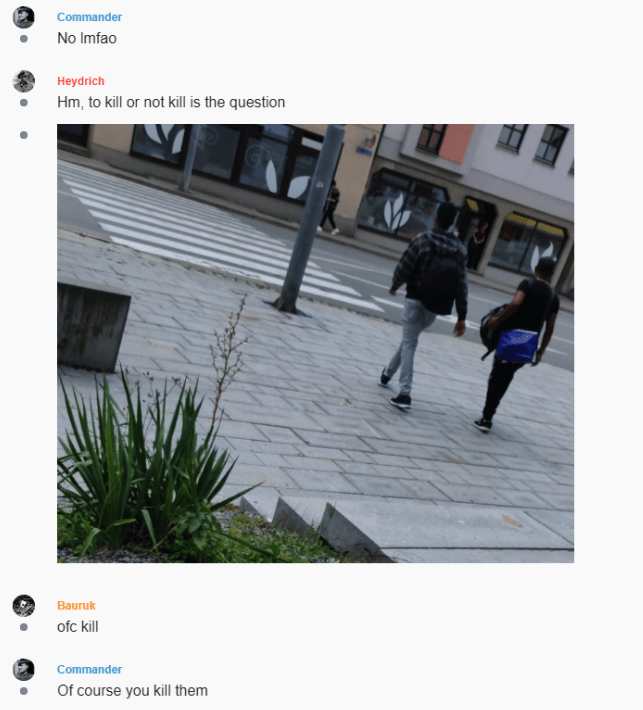 User '8Stickers' specifically encouraged making foundations like the Southern Poverty Law Center a priority target because they "have done the most to destroy militant white nationalist groups".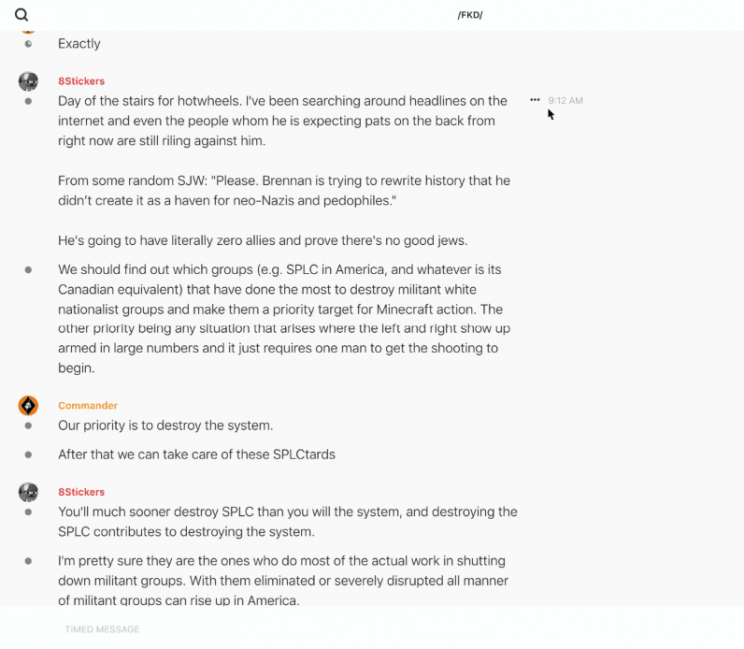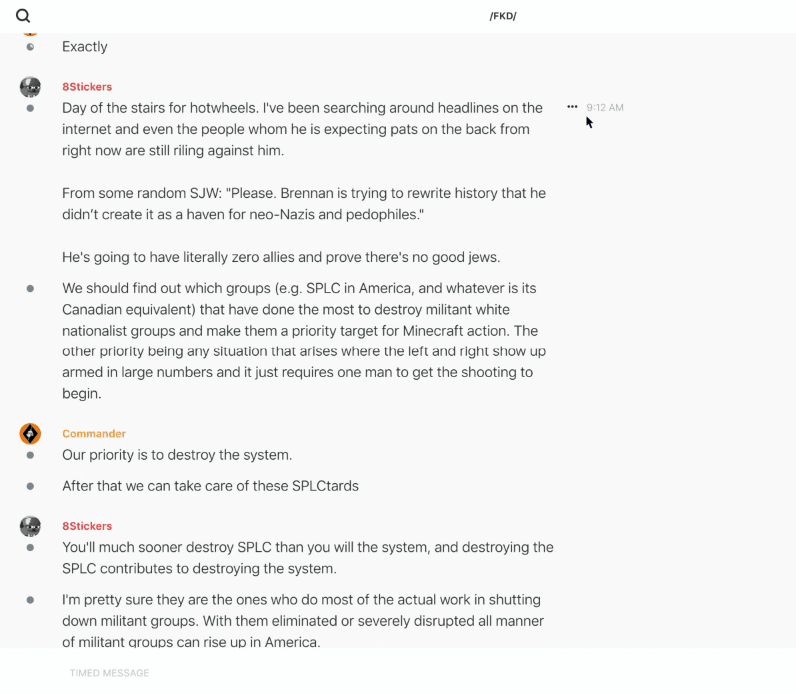 Another user 'sk14' discouraged mass shootings. He instead urged FKD members to plan larger bombing attacks in the style of Timothy McVeigh, in order to ensure a higher body count. FKD also discussed wanting to increase the rate of racist mass shootings like those seen in Christchurch and El Paso.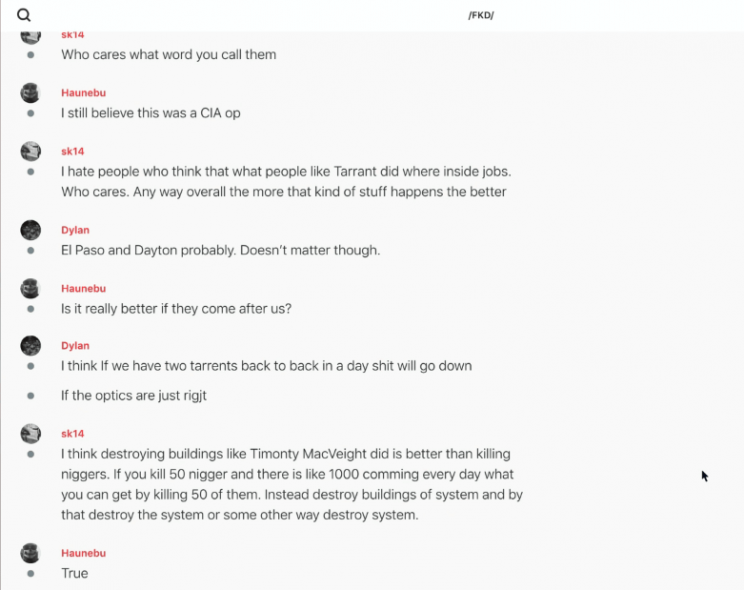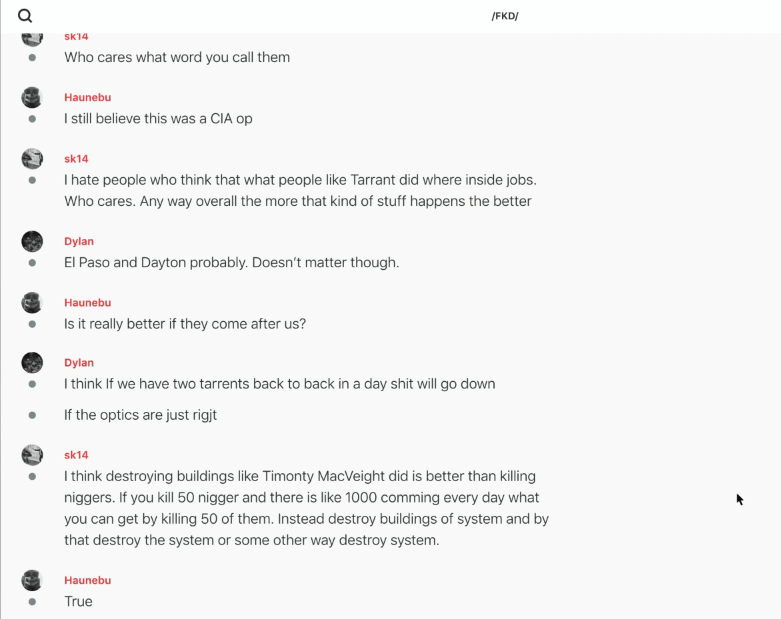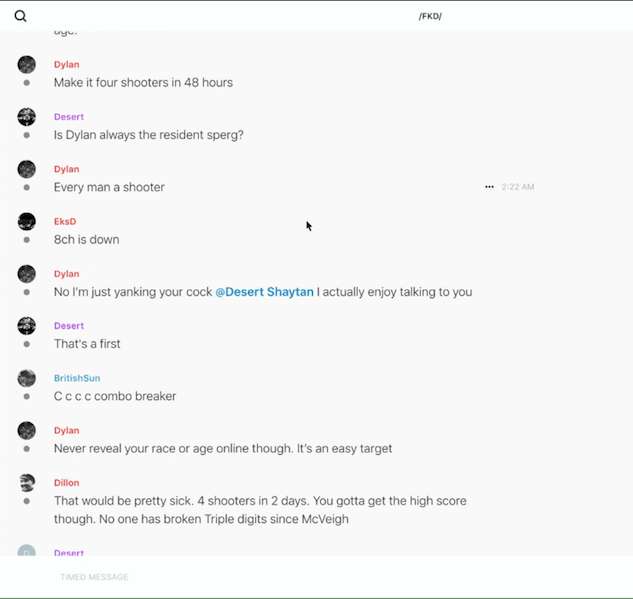 Others argued for sneak-attack tactics that would not require an attacker to be arrested or killed by police. User 'Garzon' remarked, "the level of terror and mystery is higher, and that effect is arguably more valuable" than a high body count.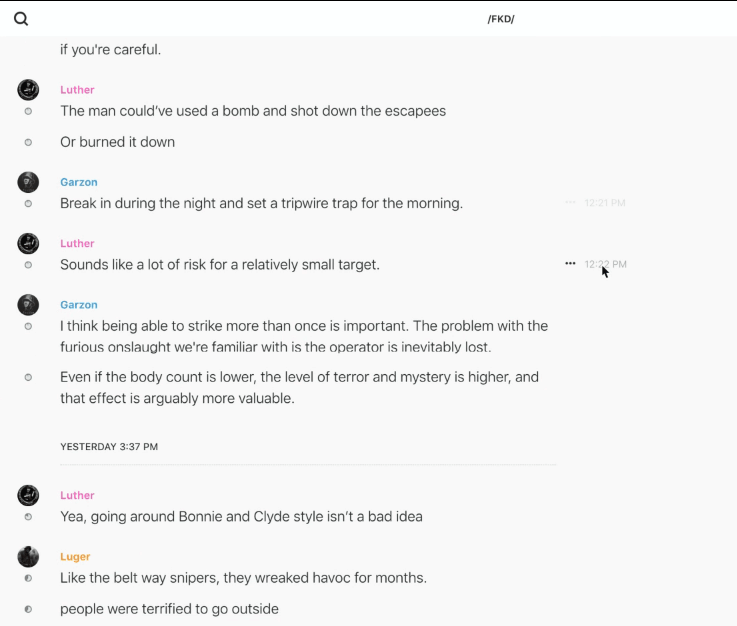 While FKD liked to amp themselves up with talks of violence against police and politicians, most of the group's real-life actions (such as putting up posters) have targeted Jewish places of worship. FKD members in the chat frequently commented about looking up synagogues in their area, at times getting specific directions from Commander about targeting synagogues with FKD flyers.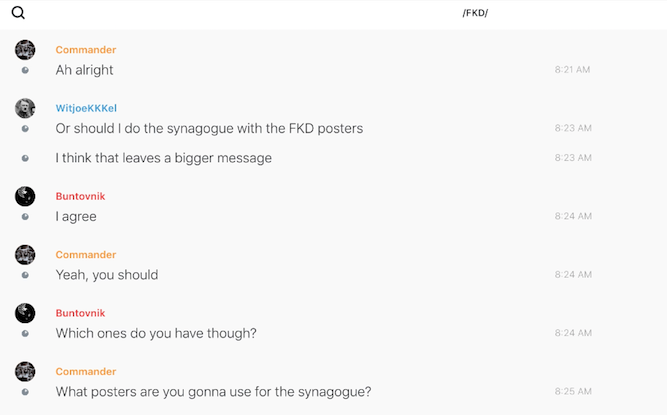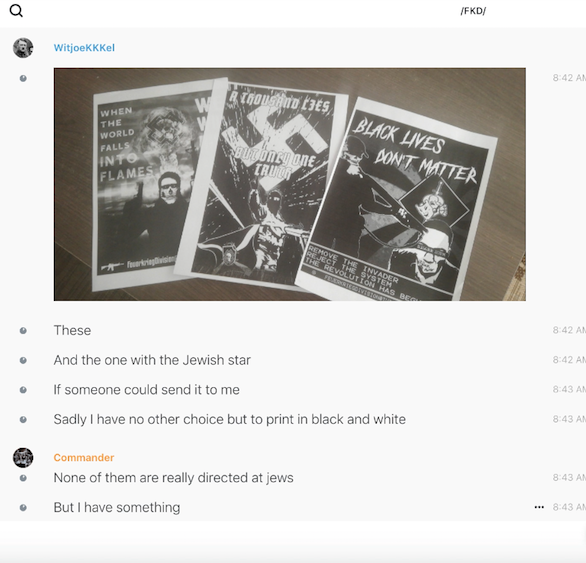 'Commander' also made a few references in the FKD chat to a "failed bombing."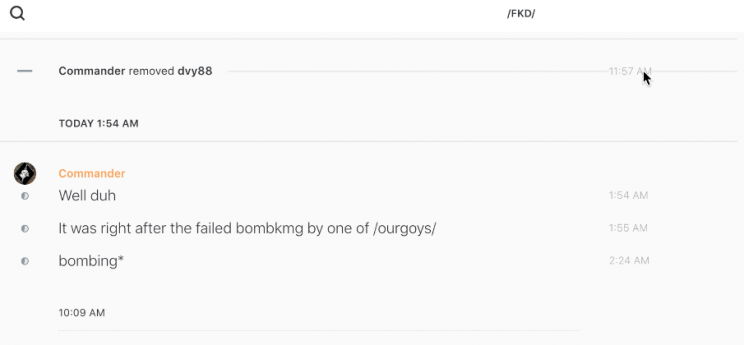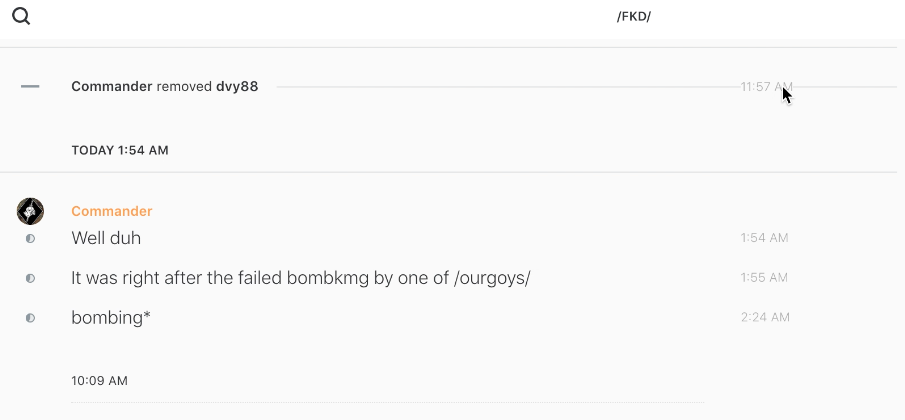 This appears to refer to a botched attack in which some FKD members tried to set off a bomb near a synagogue, but the bomb failed to detonate. Police had reported swastika graffiti and an unexploded homemade bomb had been found in the Lithuanian capital city Vilnius on July 7, 2019. The Choral Synagogue of Vilnius, the city's only active synagogue, temporarily closed due to a campaign of threats around this same time.
'EksD', an unidentified Lithuanian FKD member who frequently posted about homemade weapons and explosives, appears to have been involved in the "failed bombing." In late 2019, 'EksD' appeared to drop off and disappear from the FKD chat, with some members claiming that he had been arrested.
In August 2019, 'Commander' shared a news story about vandalism at a Jewish cemetery in Estonia, seeming to imply that he was somehow responsible or involved.

Commander also discussed plans for shooting or bombing Jewish school-age children in his area in Estonia.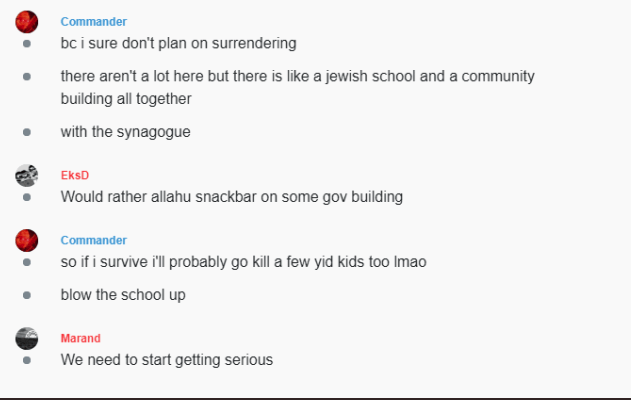 During one discussion between 'Commander' and other FKD members, Dillon Hopper encouraged them to consider targeting "high level" Jews.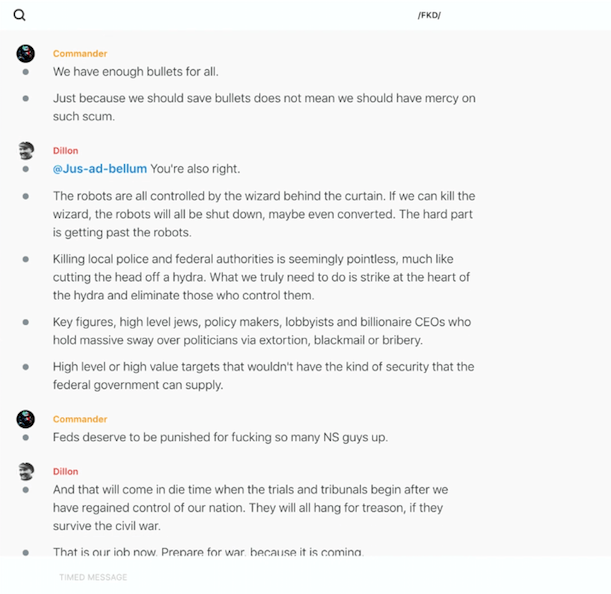 On New Year's Day 2020, Noah Licul, a teenage FKD member posting as 'Buntovnik' told the group "there are plans for burning down a Jewish institution in Croatia" adding that there were "actually a few organizations working on the plans."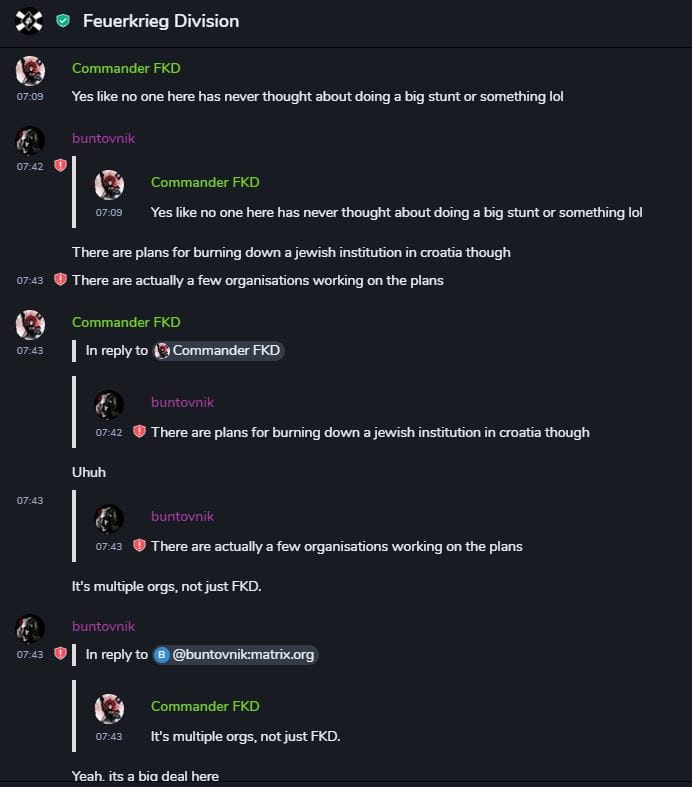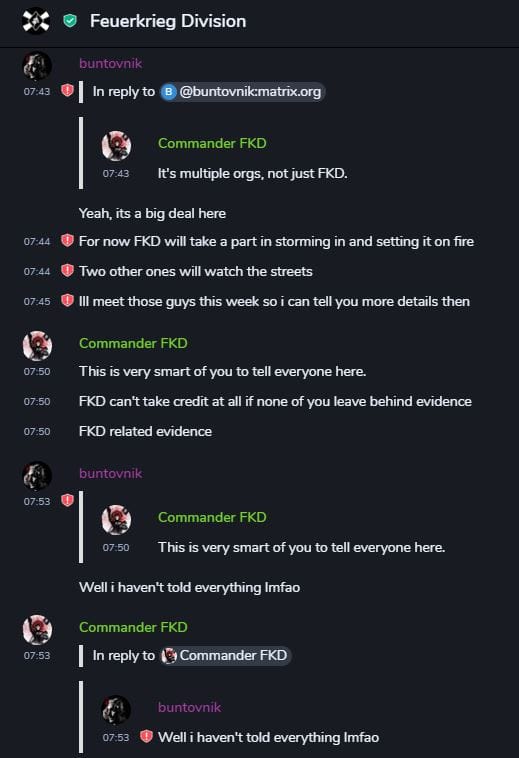 One particularly concerning detail of FKD is the high rate of teenagers among the group's membership, as well as FKD's practice of deliberately targeting teens for radicalization and recruitment.
The group's chats seemed to provide a sense of group identity and meaning for its members. This presumably included 'Commander' who until his disappearance perched at the top of FKD's social hierarchy, yet still complained about being "drunk, lonely and horny."

Around August 9, 2019, high school-age FKD member Dylan D. posted a picture of himself masked up in military garb holding a noose.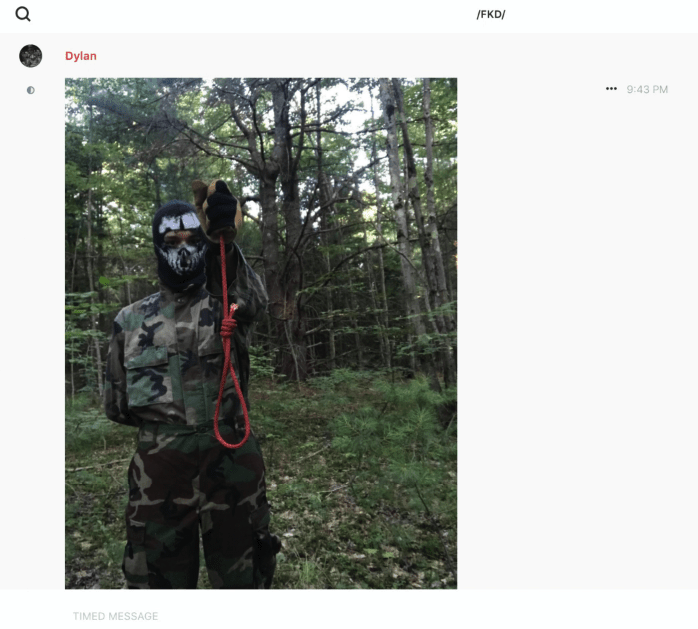 Dylan D., a junior at Miller Place High School in Suffolk County, New York, was identified by Eugene Antifa after his early Wire chat username revealed his full name in some of the leaked chats. According to a review of Dylan D.'s presence on Instagram, his girlfriend Emily H., also a student at Miller Place High School, may also be involved in his neo-nazi activities. Unicorn Riot was unable to reach Miller Place High School officials for comment about a student's apparent involvement in an international neo-nazi terrorist group.
Dylan D. wrote about "playing boogaloo" in the woods on his family's property in Suffolk County, NY — presumably where had had also taken the FKD propaganda photos.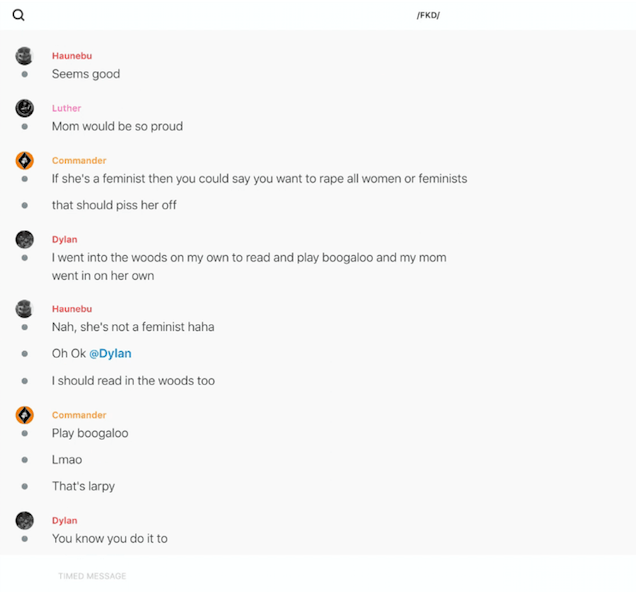 Other posts by Dylan D. indicate he may have been involved with the Libertarian Party of New York, or at least that he had attended one of their events.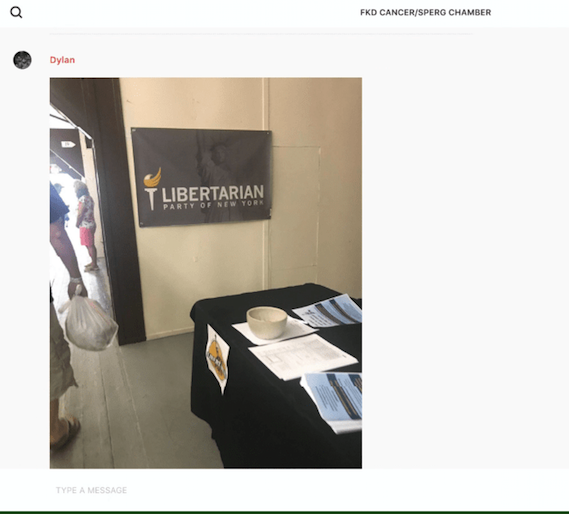 Dylan D. also posted as 'a_lost_rhodesian' in the newer FKD Riot chat rooms created in early 2020. The username refers to Rhodesia, the apartheid country that eventually became modern-day Zimbabwe. (Neo-nazi murderer Dylann Roof wrote his manifesto under the pen name 'The Last Rhodesian' before committing a mass shooting at a black church in Charleston, South Carolina in 2015.)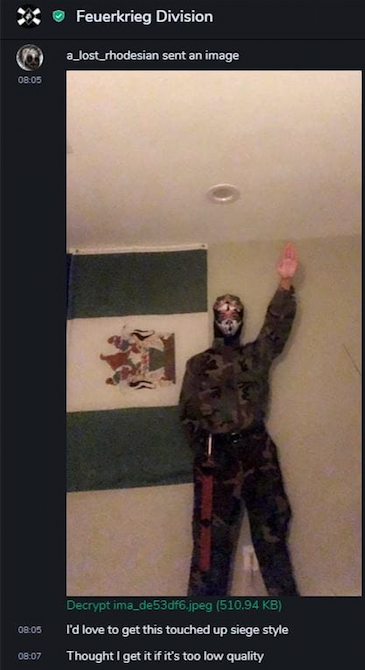 Posts by Dylan D. in the FKD chat frequently encouraged violence, including rape and murder.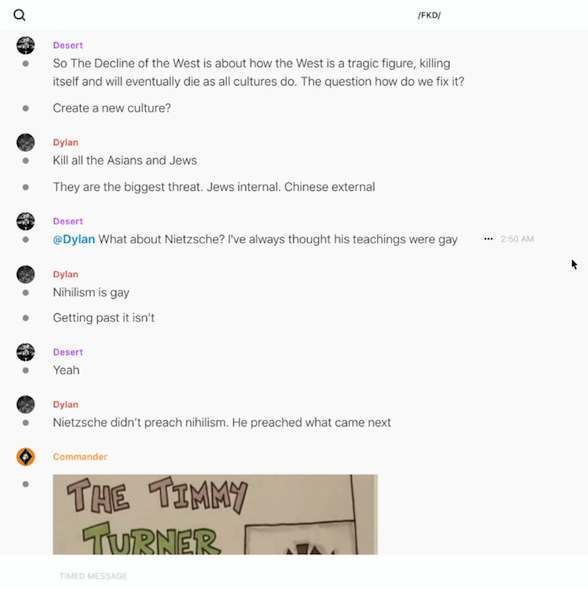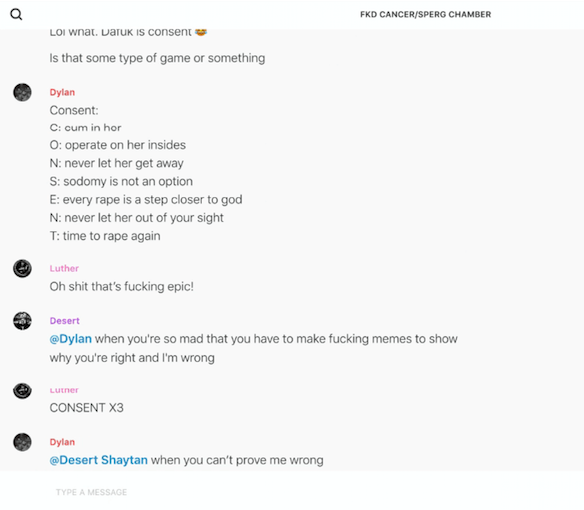 'Ben' (Conor Climo) and Dylan, the FKD member and high school junior from Miller Place, New York, discussed using Discord chats as a way to draw middle and high-school age students into the neo-nazi terror group. Climo, now himself in prison after pleading guilty to having bomb-making materials, discussed wanting to have teenage FKD recruits "test" explosive devices.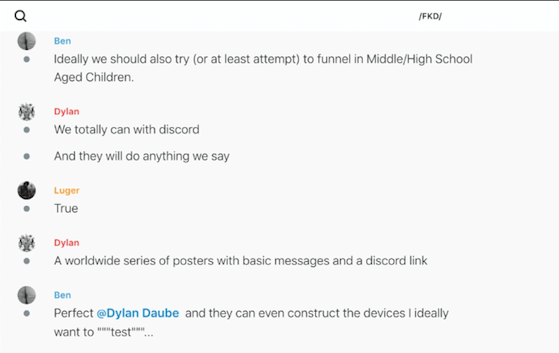 Users were advised to not "seem hostile" or speak explicitly about violence with potential recruits.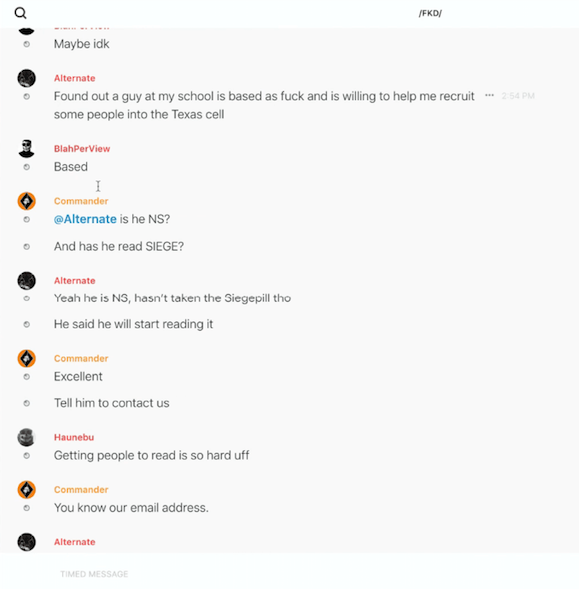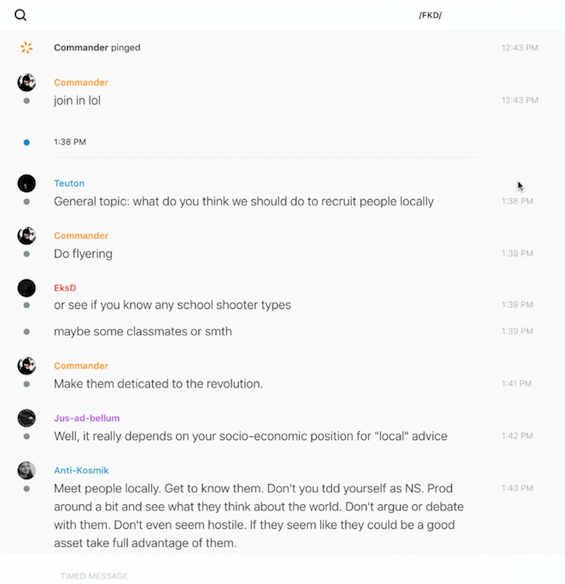 According to 'Commander', minimum age for FKD membership is 16 years old. However, at one point he told the group about a teenage "initiate" he had been grooming. Commander went on to describe giving the 14-year-old instructions on how to carry out an act of vandalism targeting a synagogue.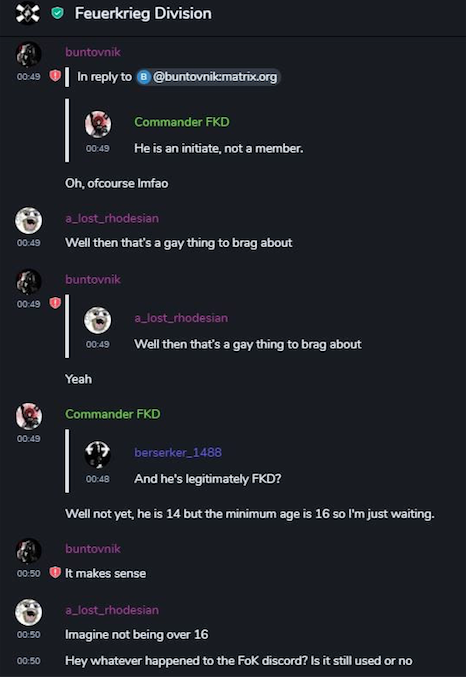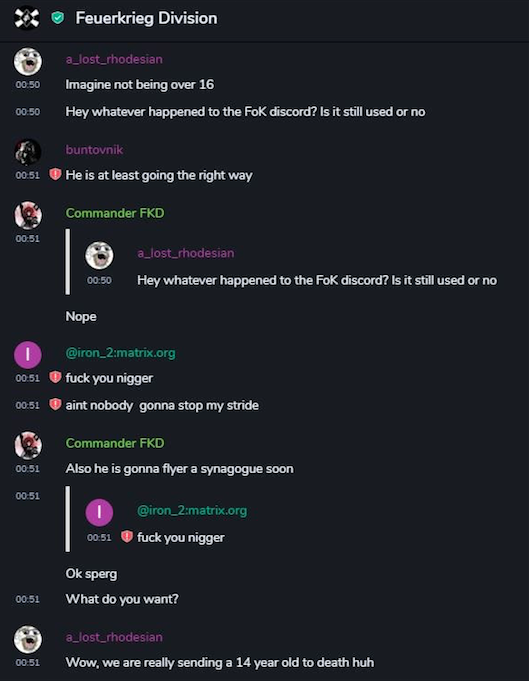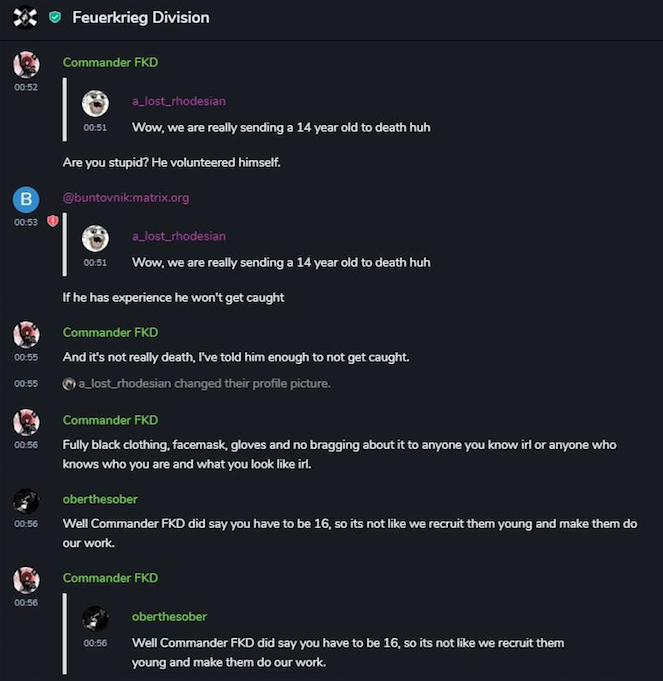 High school age FKD members were encouraged to try to recruit other students at their school — particularly "school shooter types."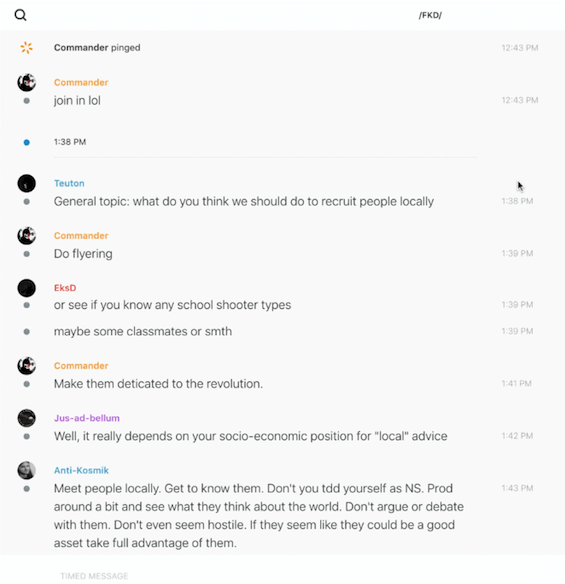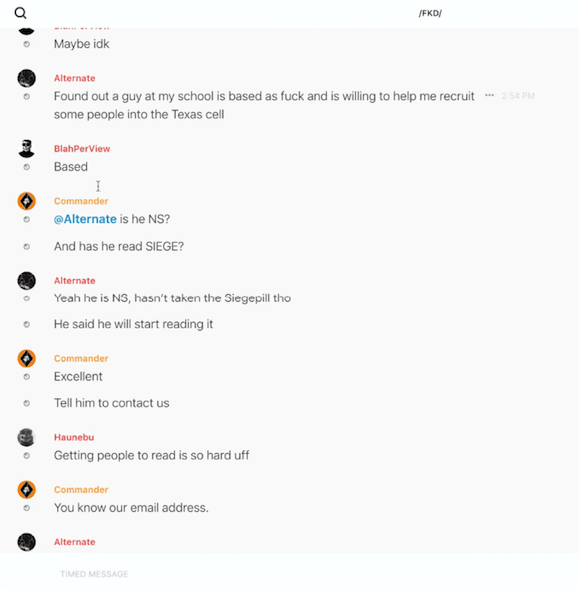 Another member in the chat, 'Desert', said he was going to "waste himself" after being bullied and ostracized from neo-nazi groups after he learned he has Native American ancestry. 'Desert' went on to reveal that he was 14 years old and when others mocked him for his young age, he replied that "plenty" of other teens were involved in FKD.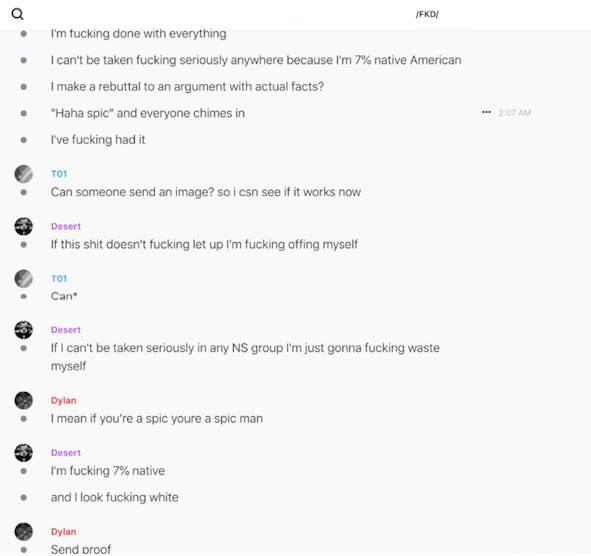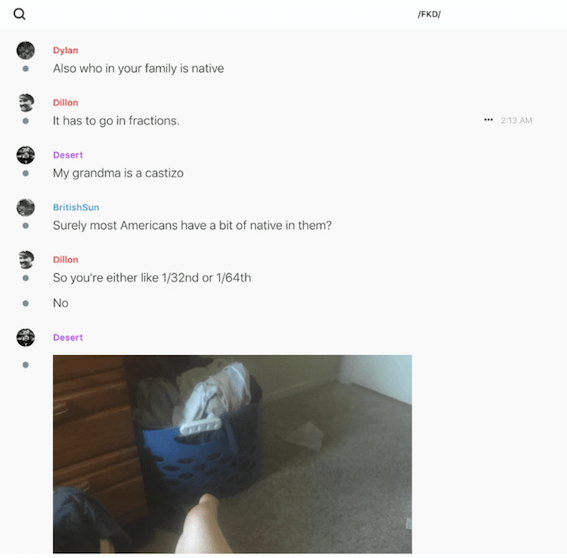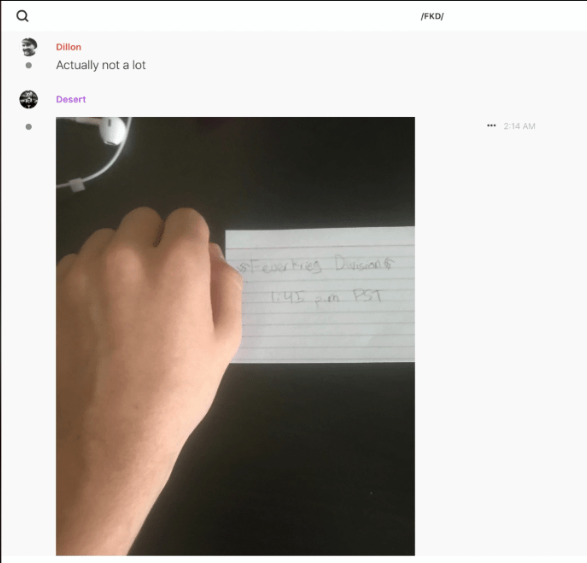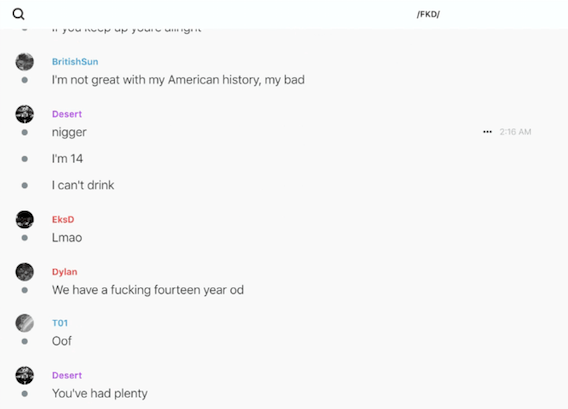 Former white supremacist Christian Picciolini, who was recruited into a nazi skinhead gang at age 14, eventually left the hate movement as an adult and now works to help people exit racist groups. He told us that although these sorts of groups "come and go" the ideology perseveres: "upset the system, scorch the earth, might is right, the strong survive."
Picciolini told Unicorn Riot that groups like FKD are able to appeal to teens because "they provide a clear sense of identity, community, and purpose" in the face of alienation and uncertainty.
"Millions of uncertain (and in most cases "broken" — hint: we're all broken) young men (and women) are spending more time online where they are finding narratives that help them lock in an important sense of identity, community, and purpose they cannot find in the real world… 13–19 is the magical age for "radicalization" to extremism, gangs, drug culture, activism, everything in life essentially. It's when the search for a sense of identity, community, and purpose begins.

It's also a hard time to be vulnerable, so if our life's "potholes" — trauma, loss, abuse, mental health challenges, poverty, even privilege — detour us to the fringes where these narratives flourish, we're in danger of being seduced by them like a drug." — Christian Picciolini, former white supremacist

---
Preparations for Terrorist Attacks in FKD Chats
FKD members didn't just idly fantasize about bombings, shootings, and chemical attacks. They often discussed making preparations.
Members in the chat often shared various firearms they owned. Many of them were experimenting with disassembling and constructing various kinds of ammunition and weapons, including homemade mortars. The group also shared manuals for things like homemade napalm, molotov cocktails and "how to make a thermite bomb."
They also discussed how to legally acquire materials such as tannerite and fertilizer that could be used for making bombs for large-scale attacks like the Oklahoma City bombing of 1995. Other messages discussed lock-picking methods for use during home invasions and a diagram explaining how to discretely dispose of a corpse.
In September 2019, shortly before his arrest, FKD member and U.S. Army soldier 'Anti-Kosmic' aka Jarret William Smith shared detailed instructions on how to make a chlorine gas bomb. He said it would be "good for clearing out a room or breaking up a meeting."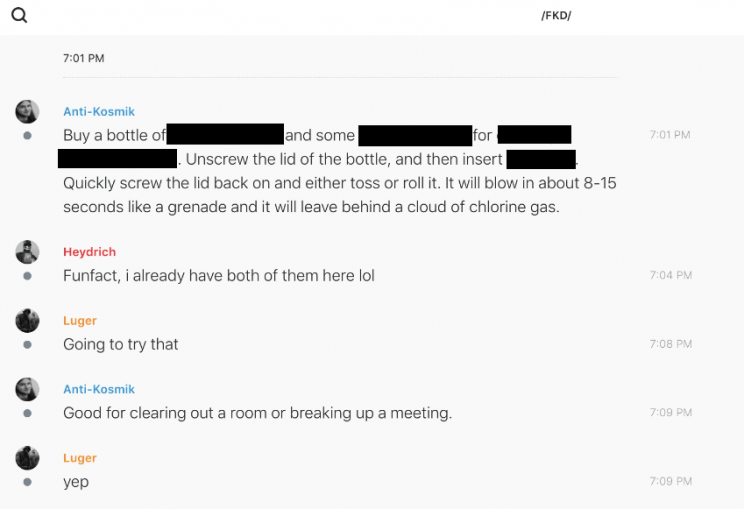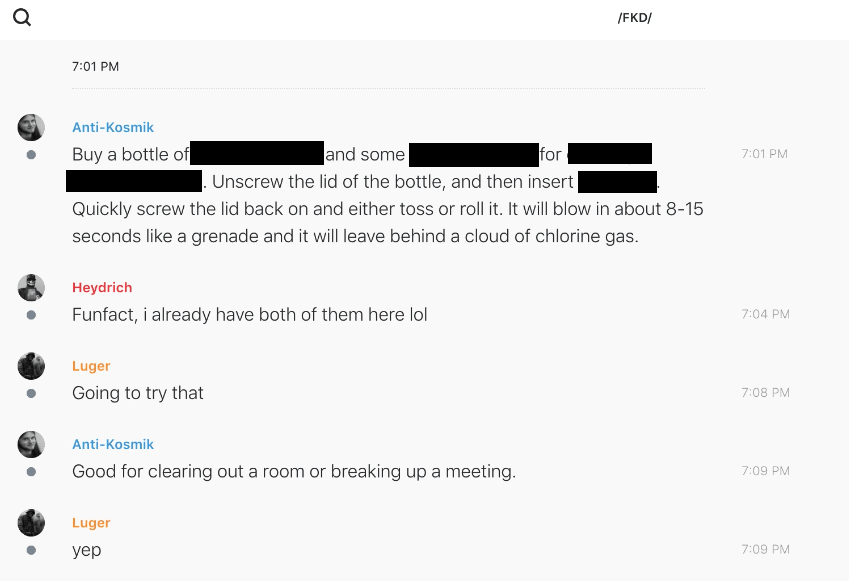 Commander also frequently shared PDFs including guides for things like "Homemade C4" and "homemade ammo."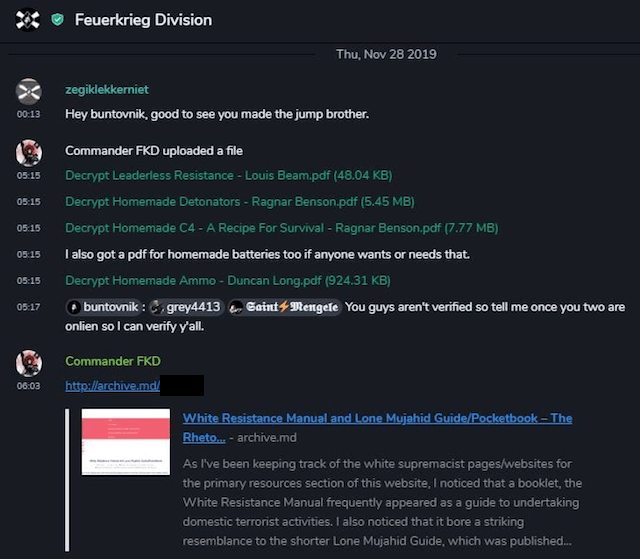 In December 2019, 'Buntovnik' shared a picture of some kind of munitons shell which he claimed was "anti-air ammunition." The shell was supposedly "bought" by FKD's Croatian cell, the same one that 'Buntovnik' said was preparing an armed attack on a "Jewish institution."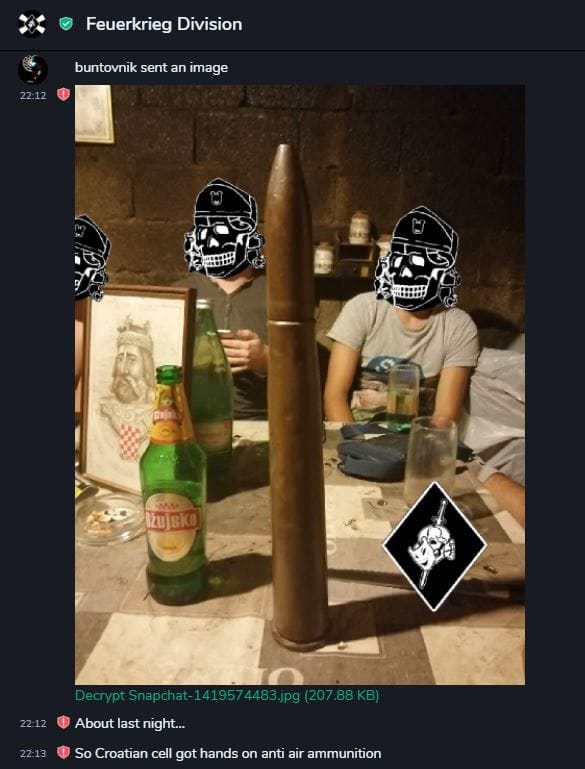 ---
'Real boog hours': Neo-Nazi Terror and the Coronavirus Crisis
In February 2020, as the coronavirus pandemic began to become more of a pressing global concern, some FKD members discussed how to weaponize the virus if any of them became infected. They asserted that if any of them caught the virus, they would go out of their way to attempt to infect Jewish people.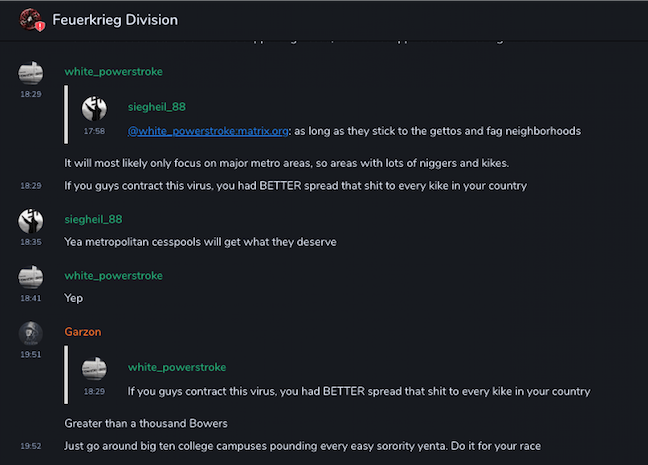 FKD also discussed how law enforcement and emergency services may become overwhelmed while dealing with the coronavirus crisis. FKD Riot chat users 'The Captain' and 'grey4413' (an unidentified FKD member located in California) discussed exploiting the gap in emergency responses. They specifically outlined how to call in bomb threats to temporarily "reduce police presence in an operational area" where they could then carry out an attack.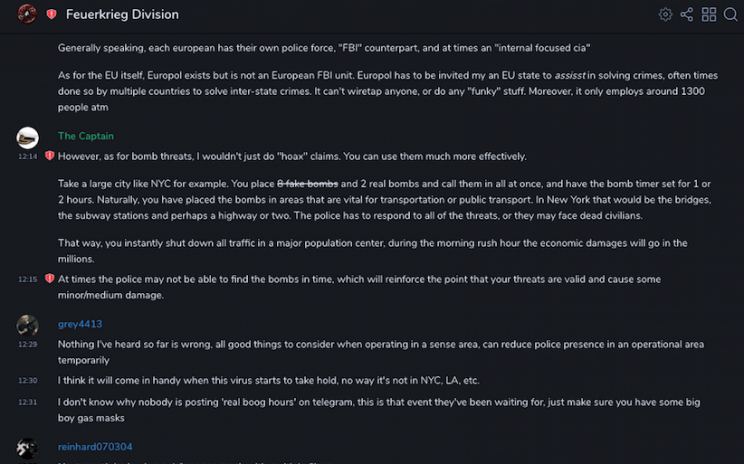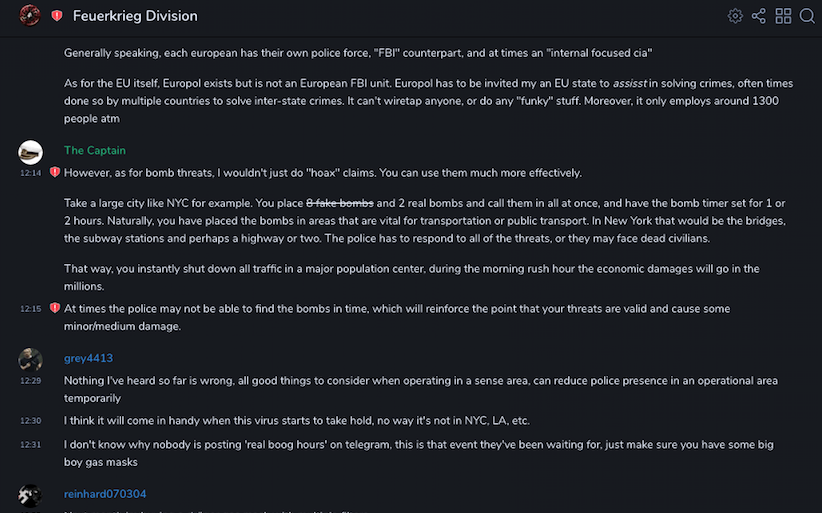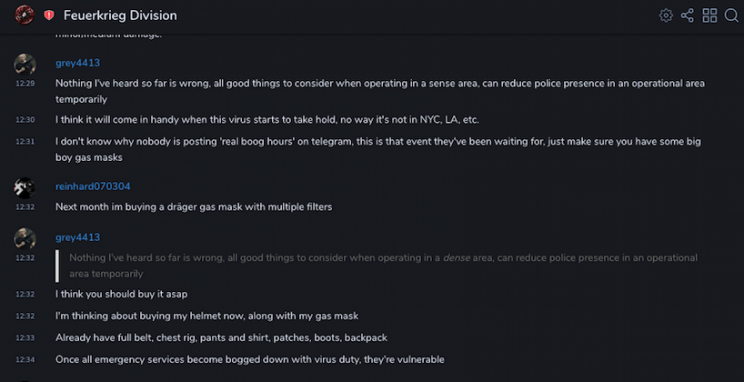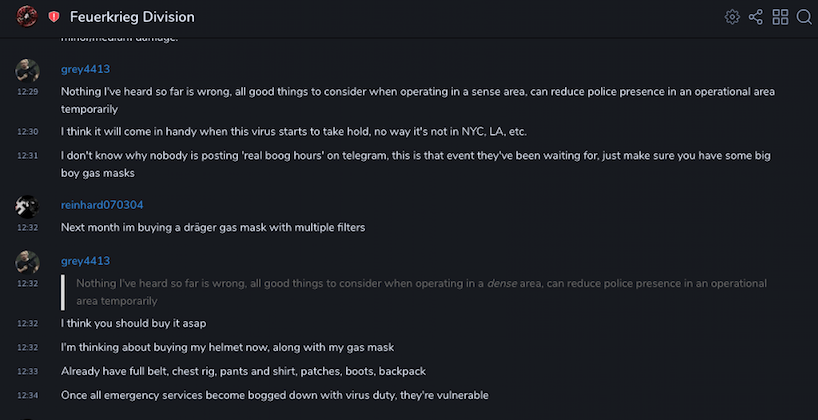 ---
Conclusion
Most of FKD's efforts are unlikely to succeed due to intervention by law enforcement as well as infiltration and exposure by antifascists and journalists. However, there's a risk that various types of attacks attempted by FKD could succeed if carried out by further-underground groups or individuals operating in relative secrecy.
Vulnerable and alienated 13–19-year-olds searching for a sense of community and purpose can be lured into fringe online communities where they are groomed by older members for acts of terrorism against marginalized groups. While the Feuerkrieg Division seems to be finished as a brand, the 'Siege' terror subculture that produced the group is still active, and will be seeking to exploit new opportunities in service of white supremacist terror.
---
Downloads and Discord Server Data
Discord servers tied to FKD: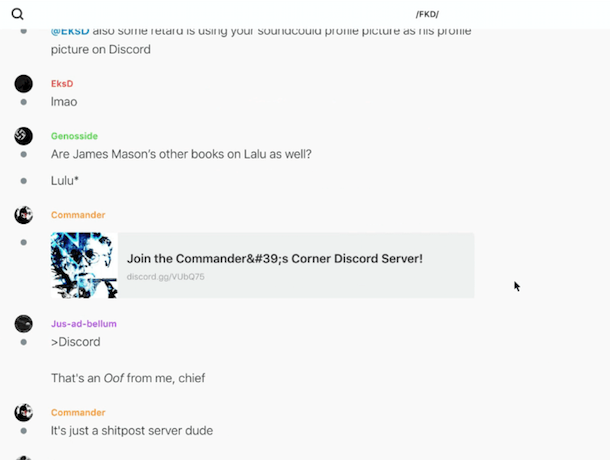 Other Discord chats with ties to FKD (such as common users):
---