Slouching Towards The Ethnostate: Inside The American Identity Movement
Washington, DC –  Earlier this year, the neo-nazi group Identity Evropa (IE), known for organizing the deadly Unite The Right rally in Charlottesville, rebranded itself the 'American Identity Movement' (AmIM). By adopting generic patriotic imagery and conservative rhetoric, the group has sought to build a wider right-wing appeal and shed the stigma of violent racism.
AmIM is run in an authoritarian fashion by Patrick Casey, who was also the leader of Identity Evropa before the name change. Casey lives off of monthly dues collected from members which he uses to pay his rent at a house that doubles as the organization's official headquarters.
Today, Unicorn Riot is releasing thousands of records from inside 'Columbia', the chat server created for private communications among American Identity Movement members. The chat server, hosted by Amazon, runs open-source chat software called MatterMost and is the primary tool the group uses to coordinate. Leaked MatterMost chat screenshots, along with full recordings and transcripts of voice meetings held over Discord, are available for download below this story.
[Editorial note: The American Identity Movement is also abbreviated as 'AmIM' to avoid confusion with the American Indian Movement (AIM).]
Content Advisory: Racism
With President Trump scheduled to appear at 4th of July celebrations in the capitol today, members of AmIM are planning "activism" stunts to capitalize on the expected crowds of Trump supporters. According to recent leaked voice meetings led by Patrick Casey, the group may target leftist bookstores for flash protests in a repeat of a previous action. In April, AmIM targeted a book launch by author Jonathan Metzl at the Politics and Prose bookstore even as they struggled to contain the fallout of previous leaks. In a recent leaked meeting recording, Casey confirmed his group is planning a demonstration involving an "installation that is interactive with the public" in DC on Saturday. They are also likely to attend the 'Free Speech Rally' being organized by the Proud Boys and other 'alt-lite' figures on Saturday.
While their exact plans have not yet been announced, recent actions by the American Identity Movement's core members provide a likely template. In May 2019, a few members of AmIM targeted crowds at a baseball game in Philadelphia, and brought a vinyl banner celebrating Kate Smith, a former singer of the National Anthem at the Philly stadium whose statue was recently removed due to her history of making racist comments.  The small group of white supremacist activists brought the banner into the crowd arriving for the game, and managed to entice several unsuspecting passerby into posing with them in footage later released in a propaganda video.
A message in the American Identity Movement's private online chat for members, posted by 'Konrad-MD,' requested donations to recoup costs paid out of pocket to pull off the small media stunt.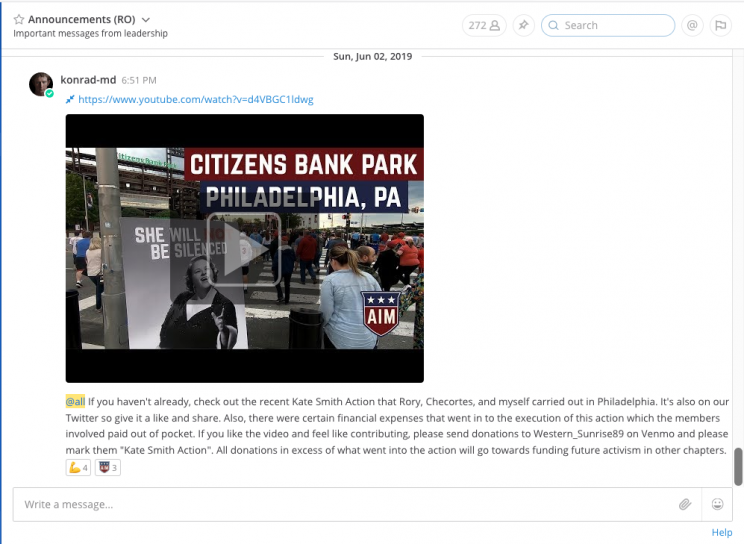 Unicorn Riot has identified 'Konrad' as Kurtis Bailey Buckingham, an active member of AmIM's Maryland chapter who appears at most of the group's national actions. Buckingham is one of the newer hardcore members of the group, with leaked Discord logs showing that he joined Identity Evropa in August 2018.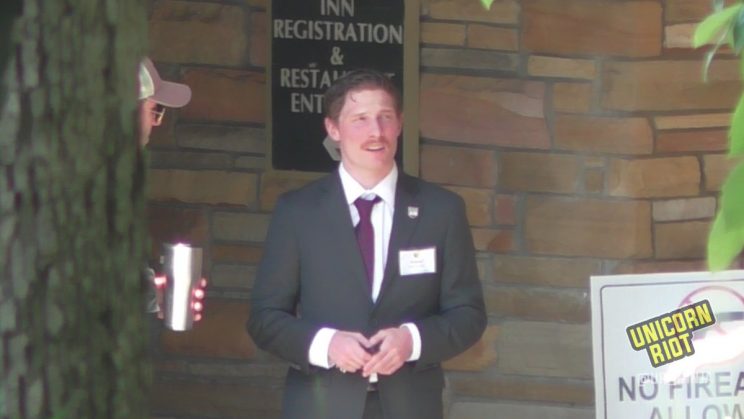 While AmIM's more public-facing stunts seek to cultivate a nebulous right-wing populism and avoid overt declarations of racism, this is simply a matter of presentation. The group still holds the same neo-nazi ideology as Identity Evropa's founder Nathan Damigo, who became radicalized after reading David Duke in prison.
Posts in the MatterMost chat demonstrate that despite attempts to manicure their public image, the American Identity Movement is still made up of racists who enjoy posting hateful alt-right memes. Chats show how members of the group referred to Mexican immigrants as "scum", called Africa "the dark continent", and see immigration by non-Europeans as an "existential threat to white folk worldwide". Some also discussed reading books by Holocaust denier Michael Hoffman, as well as titles by racist authors Kevin MacDonald and Jared Taylor. Others shared content created by neo-nazi influencers such as Mike Enoch of The Right Stuff podcast network.
Patrick Casey's appearances on right-wing media like InfoWars tends to stick to safely vague terminology about populism and American patriotism. In private voice meetings with his followers, however, Casey speaks openly about his vision of an authoritarian society run exclusively for white people. In one of his ranting weekly addresses (which one member called an "Identitarian weekly mass") Casey repeatedly defined his ideal society in opposition to advances in racial equality in America, saying "America up until the Civil War was pretty awesome" and complaining that "the dawn of civil rights" in the 1960s led to the loss of "the racial component" of the country's national identity. In another rant he fantasized about the "Balkanization" of the United States which would allow for the creation of a whites-only "ethnostate." He also stated a desire for the American Identity Movement to gain political power in the USA and to dissolve existing government institutions and replace them with "an identitarian deep state."
Other posts shared in the MatterMost chat for vetted members promoted the Northwest Forum, a white nationalist conference organized by AmIM members Cyan Rose Quinn and Spencer Sturdevant. (Sturdevant is the coordinator of the group's Washington state chapter). This year's Northwest Forum featured a leader from Asatru Assembly, a religious group that practices explicitly white supremacist interpretations of Norse paganism.
Leaked meeting recordings also show that like Identity Evropa before it, the American Identity Movement instructs members to infiltrate local Republican party groups, as well as College Republicans or Turning Point USA chapters on campuses. In one of his addresses, Patrick Casey instructed members to create "front groups" in the guise of "MAGA meetups" or "Patriot meetups" and encouraged his followers to try to recruit from other far-right groups such as the Proud Boys. Casey also described a strategy of pressuring mainstream conservatives to embrace "the Great Replacement", a  conspiracy theory that claims Jewish people are orchestrating mass immigration to Europe and America as part of a plot to wipe out the white race. The same conspiracy theory was embraced by the shooter in the mosque shootings in Christchurch, New Zealand earlier this year, who titled his manifesto "The Great Replacement". Patrick Casey repeatedly cites the European white supremacist movement Generation Identity as an influence, telling members to study their online content and imitate their activism. Generation Identity's leader, Martin Sellner, is currently under investigation by Austrian authorities due to correspondence and financial support he received from the Christchurch shooter.
While Patrick Casey claims that the group operating under his leadership is continuing to gain resources and influence, leaked chats show that the group is struggling to maintain its infrastructure. The group seems to have all their digital payment processors suspended. Members had been using a Venmo account to pay dues and send donations, although the account was frozen after Unicorn Riot contacted Venmo to ask whether the American Identity Movement violates their terms of service.


Casey then set up a short-lived Google Pay account as a replacement payment option after the group lost its Venmo – but when we asked Google whether racist groups violated the terms of use of Google Pay, a representative for the company said they did not allow hate groups on the service.



The group had previously been banned from Zelle, PayPal and Cash App for violating their terms of service. Members are now encouraged to pay their dues via the mail, although some state chapter leaders may still be using personal Venmo or Zelle accounts to collect funds in evasion of bans already enacted against the group's accounts.
Casey's group has seen a significant decline in membership, with over 800 members in Identity Evropa's old Discord server versus the under 300 members current registered in the American Identity Movement's MatterMost chat. However, the whites-only alt-right 'fraternity' is still seeking to grow, and has planned a national action planned in the Dallas, TX area in August, as well as a members' retreat in the northeast USA for later this year.

Whether the American Identity Movement will collapse, like most other groups tied to Unite The Right, or succeed in its mission to act as a "vanguard" to mainstream white supremacy in American conservatism, remains to be seen.
---
Download 'Columbia' (MatterMost) chat screenshot archive:
Download leaked American Identity Movement official documents:
Download leaked American Identity Movement audio recordings:
-American Identity Movement Weekly Address (via Discord), May 22, 2019 | .mp3 download | .PDF transcript
-American Identity Movement Weekly Address (via Discord), May 29, 2019 | .mp3 download | .PDF transcript
-American Identity Movement Weekly Address (via Discord), June 5, 2019 | .mp3 download | .PDF transcript
-American Identity Movement Weekly Address (via Discord), June 13, 2019 | .mp3 download | .PDF transcript
-American Identity Movement Weekly Address (via Discord), June 20, 2019 | .mp3 download | .PDF transcript | Official notes
-American Identity Movement Weekly Address (via Discord), June 26, 2019 | .mp3 download | .PDF transcript | Official notes
-American Identity Movement Weekly Address (via Discord), July 3, 2019 | .mp3 download | .PDF transcript
---

Unicorn Riot's investigative reporting on Identity Evropa: