The Caldwells: Father-Son Duo Team Up on a Portion of Historic Minneapolis Mural
Minneapolis, MN – When Kenneth Caldwell got tagged on a Facebook post about participating in making a Black Lives Matter mural in North Minneapolis, he jumped at the opportunity.
The well-known local artist teamed up with his father, Charles Caldwell, another prolific artist, to create the 'R' in the phrase 'Black Lives Matter' for a recently painted mural in front of Minnesota's African American Museum.
We heard from the Caldwells on July 18, 2020, after they'd finished painting on the hot and muggy day. See video below for some of our interview.
Charles spoke about being honored to be a part of the project, the importance of it being on Plymouth Avenue, and how change needs to happen when it comes to police killings and socioeconomic disparities.
"It's great to see something so profound and so powerful being stated on Plymouth and Penn Avenue.

Plymouth Avenue is a historical avenue where in the 1960s the riots took place in this Black community." — Charles Caldwell, artist
Charles said he was "really excited" to paint the final letter in the phrase Black Lives Matter "because it's a continuation of what's yet to come."
Kenneth spoke about what had inspired the design of the piece, titled Daydreamer, "it's a self-portrait and a portrait of my son that's all in one". He said it's also a tribute to the inspiration he finds in raising his children.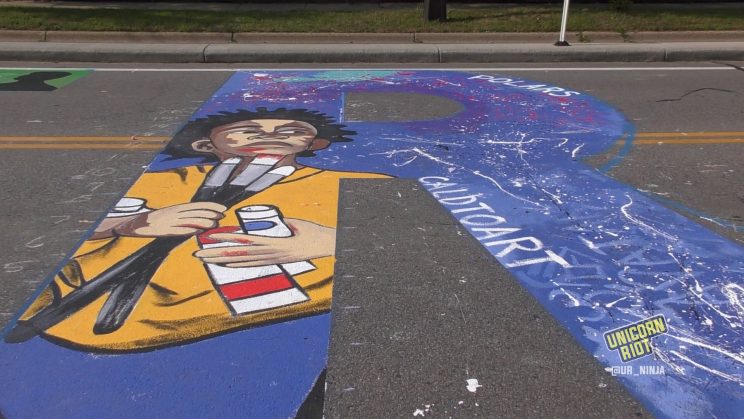 Daydreamer's focus is artistic creation and self-image from a child's perspective and Kenneth said it also spotlights the appreciation of art being passed from one generation to the next, and of a son who looks up to his father, as Kenneth does to Charles.
The participation of Kenneth's own father and son made the 'R' into a three-generational piece.
"It's a blessing when you can teach your child something or show your child something and they're excited about learning the gift that you're giving them, so Daydreamer is a perfect title for the piece." — Kenneth Caldwell, artist
Kenneth said he learned the arts from watching his father. He remembered watching his dad "go through magazines and take images or take pages" from them to be used as "references."
Although he didn't quite understand his father's methods as a youth, he grew to emulate them and followed the process of collecting references.
Kenneth takes his own pictures of people in the community and "capture[s] those images and bring[s] them to life [to] give it back to the community."
The artwork of him and his father can be seen framed up on the walls of thousands of houses and on Minneapolis businesses like the 4th Street Saloon.
After the George Floyd killing, Kenneth said the community has seen a lot of people from "different races, different ethnicity's coming together and realizing that there is something wrong, and doing something about it."
"I think at the end of every storm there is beauty that comes from it. You've got to be able to look through the murkiness, the dirty side of it and be able to come out on the other side." — Kenneth Caldwell, artist
Kenneth stressed how projects that bring people together, such as this one-of-a-kind Black Lives Matter mural, are an upside to the continual injustice and police killings—though he said these projects need to happen without "Black people losing their lives" as a catalyst.
"A change needs to take place, and so this is a part of the steps in that change." — Charles Caldwell, artist
Watch the full interview and live stream from Plymouth Avenue as the artists finished the mural:
---
Please consider a tax-deductible donation to help sustain our horizontally-organized, non-profit media organization: