Shame Games: Minneapolis Police Mock Community Engagement Officer
Minneapolis, MN – Newly released body camera footage from officers in the Minneapolis Police Department (MPD) reveals a gang-like culture denigrating a central command community engagement officer. The videos also show a litany of micro-aggressions towards protesters, the general public and show the main aggressor, Sergeant Andrew Bittell, publicly urinating during an arrest.
The anonymously sourced footage obtained by Unicorn Riot, which includes policemen teaming up to shame another officer, comes from body cameras worn by MPD cops assigned to the 1282 CART (Chemical Agent Response Team) team. The 1282 CART team was seen responding to a suspicious vehicle call on the night of November 4, 2020.
Tasked with providing 'crowd control' during a post-2020 election night protest, the CART team was led by Sergeant Andrew Bittell, whose body camera footage is the most revealing in regards to highly questionable 'shame games' carried out by MPD officers.
These revealing videos are being published at a time when the MPD is under investigation from several agencies, including the Department of Justice. In total, over 230 minutes of footage from eight officers provide a seldom-seen glimpse into interactions within a unit of the Minneapolis Police.
The video above encapsulates the 'shame games' played inside MPD; view Sgt. Bittell's full body cam footage at the end of the article.
Suspicious Vehicle Stop Turns up 'Shame Games' Footage During Mass Arrest of 646 People at Protest
Responding to a suspicious vehicle call around 10 p.m. on November 4, 2020, the CART team pulled up to a parked truck on 20th Avenue overlooking I-94 near Minneapolis' West Bank. Eight officers activated their body cameras (Unicorn Riot has obtained all 8 videos.)
The traffic stop came during a mass arrest of 646 leftist protesters who were 'kettled' on I-94 by a large force of Minnesota State Troopers, Minneapolis Police, University of Minnesota Police, and other officers under the aegis of the Department of Public Safety (images below).
Upon reaching the vehicle, the CART team held the driver and passenger at gunpoint after they parked their truck facing the direction of the mass-arrested protest and played music. Both occupants of the vehicle were then detained for about 45 minutes.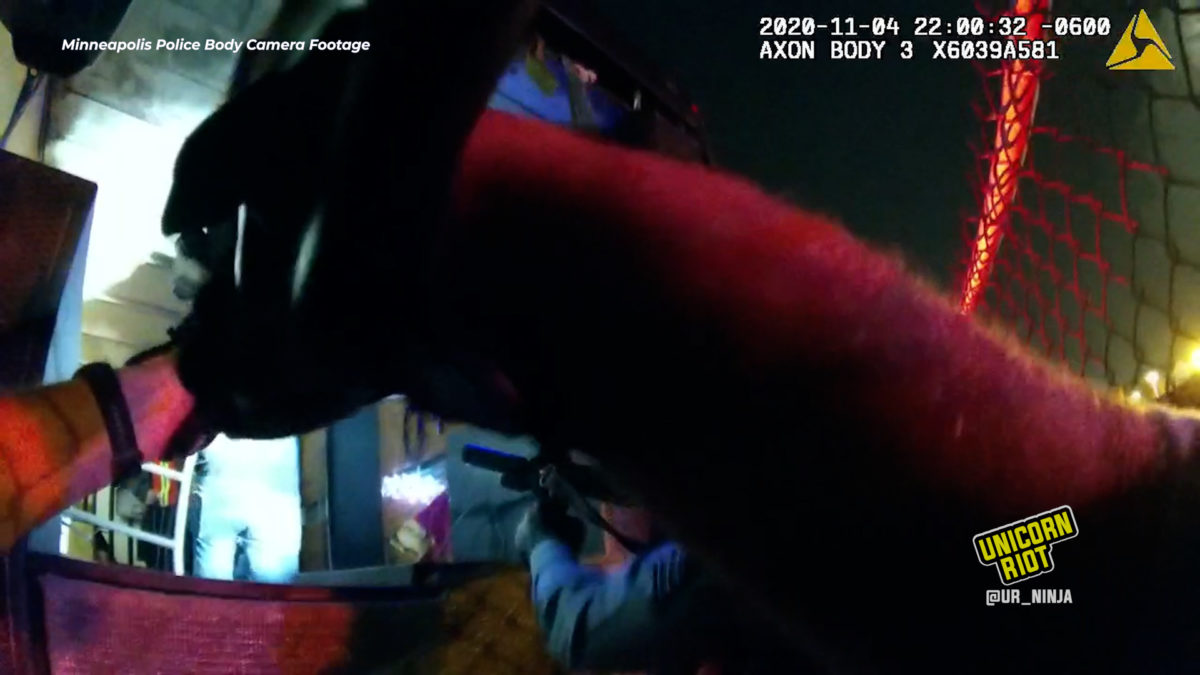 The vehicle, a large truck with a sound system in the back, was searched and towed to the impound lot. The driver and passenger were released after being given a citation.
MPD 'Shame Games'
Later during the traffic stop, while waiting for a tow truck to arrive and impound the vehicle, MPD Sergeant Deitan Dubuc briefly pulled up to the scene. Sgt. Dubuc is the head of the Community Engagement Team (more on him later). It was after Sgt. Dubuc left that Sgt. Bittell led a hazing-like 'shame game' with adolescent fervor reminiscent of a college frat initiation.
During Sgt. Bittell's body camera video, while he sought a place to publicly urinate, Bittell walked past Dubuc as he pulled up to the scene. Dubuc spoke with Lt. Jose Gomez and Sgt. Frank from his vehicle as Bittell walked behind the CART team vehicle and urinated on the 20th Ave. bridge.
After Bittell was finished urinating, Dubuc can be seen driving away. Sgt. Bittell then walked up to Sgt. Frank and asked, "I suppose you have to spit when he goes by you, too?" (Spitting at, or after someone passes, is widely seen as a sign of disrespect.)
Bittell then spat and said to the officers, "I gotta spit when he goes by."
The interaction continued as Lt. Jose Gomez, standing at the passenger side of Sgt. Frank's police cruiser, told Bittell as he walked away that Dubuc "was mad [Bittell] didn't go talk to him."
As Bittell walked away, Gomez said, "Hey, that was Dubuc," before getting into the cruiser and shutting the door.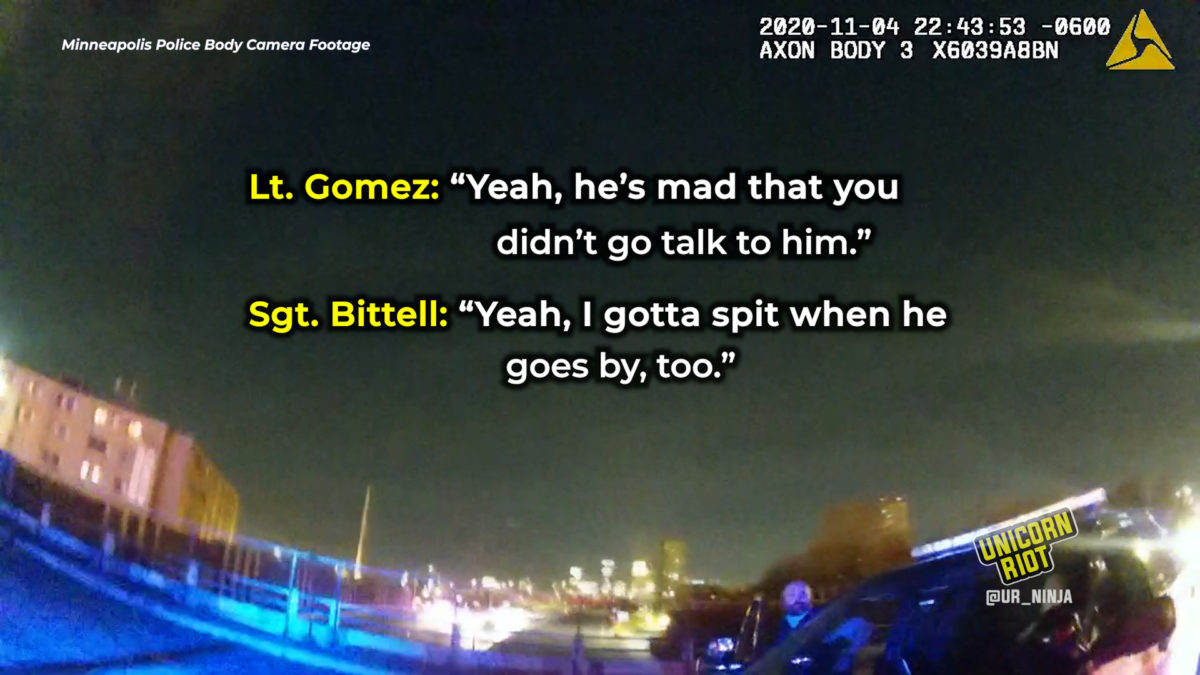 "What'd ya say?! Get over here! Get him outta here! You just said it!," Bittell quickly responded to Gomez as he approached the closed door of the cruiser.
After Gomez didn't come out of the car, Bittell then walked to the CART vehicle and said to the other officers, "Gomez just said it, the name that shall not be said." CART members immediately responded with chants of "shame, shame, shame."
Bittell and another officer then went back to the police cruiser and urged Lt. Gomez to get out of the vehicle to be 'shamed' and "kicked in the butt three times" for the apparent offense of uttering Sgt. Dubuc's name.
Gomez asked "what's the deal though?" and said he "didn't know this was citywide," referring to the practice of shaming officers for saying Dubuc's name.
Gomez then reluctantly followed Bittell and other officers behind the CART team vehicle (where Bittell had emptied his bladder just two minutes earlier) to be 'shamed' by the officers.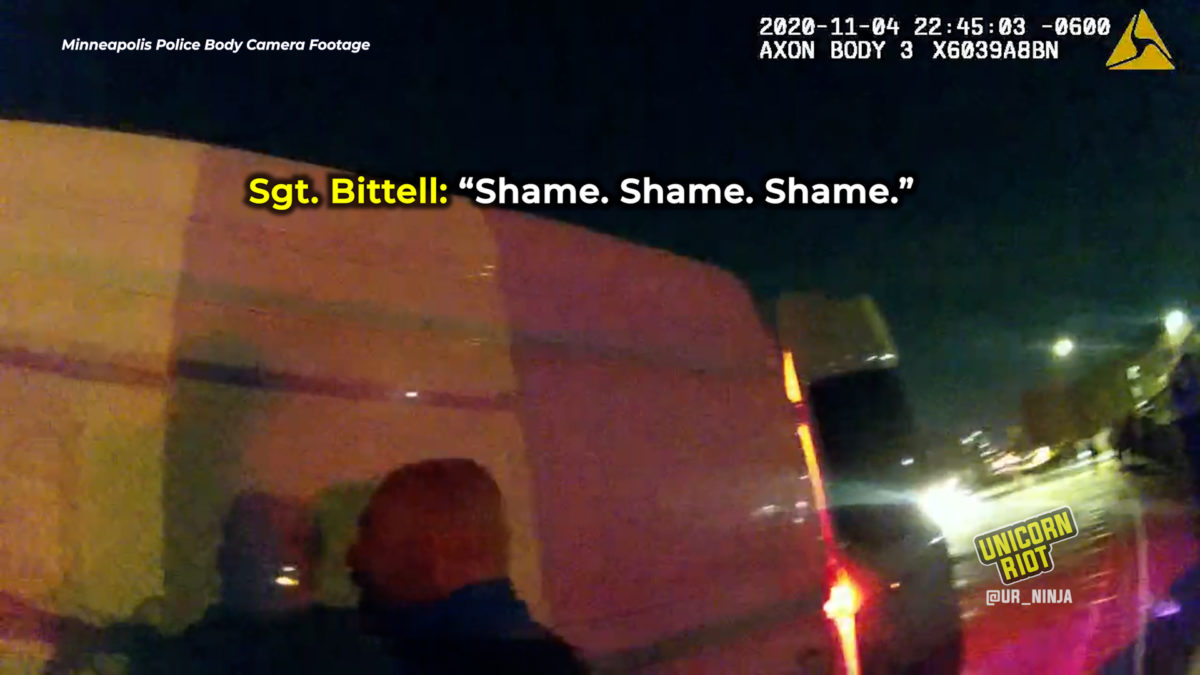 Since Gomez had said "Dubuc" twice, he was subjected to six total 'shames' – three for each time he spoke "the name that shall not be said." After Gomez faced the vehicle with his back to Sgt. Bittell, Bittell led the other officers in saying "shame" six times before Bittell said, "alright, you're done."
The officers then walked back to their positions laughing and joking about Dubuc. It's unclear in the footage if Gomez was actually kicked in the rear by officers, as that portion of Gomez's body was not in the view of Bittell's body camera's lens.
Who is Sergeant Deitan Dubuc?
Sgt. Deitan Dubuc is an outspoken officer in MPD and a visible leader on the Community Engagement Team. Originally from Montreal, Canada, Dubuc learned English when he moved to the United States at age 21 and studied at the University of Michigan. Dubuc starred in football while in college and played with famous quarterback Tom Brady. Dubuc then played football professionally in the NFL (National Football League) and CFL (Canadian Football League).
Dubuc joined the MPD in 2008 and said he has spent his time as an officer attempting to create more trust between the community and the police. Dubuc has since made the rank of sergeant as head of the Community Engagement Team and has taken part in training new officers on policy and procedure.
After former MPD officer Derek Chauvin killed George Floyd, Dubuc spoke to Canadian press, breaking the unwritten rule of speaking publicly against the department.
"The problem is that you cannot speak for the police station, it's not well seen … people need to hear the police say they too have been disappointed and upset. Often the police are afraid to say they do not agree with what has happened."

– Sgt. Deitan Dubuc, Archyde, June 2020
In a July 2020 neighborhood gathering in a backyard in Northside Minneapolis, Dubuc spoke alongside Lt. Mark Montgomery, Lt. Derrick Barnes, 4th Precinct Inspector Kelvin Pulphus, and other officers. Dubuc spoke about community-led violence prevention initiatives, training officers who grew up "with no minority friends," and the murder of George Floyd. Dubuc said the police "have to be accountable and need to communicate."
Sgt. Deitan Dubuc says that a breakdown in communication between the police and the community is also to blame. Says that even before the "murder of George Floyd," MPD was working with officers to help them recognize their biases. Still, some "assholes" remain, he concedes. pic.twitter.com/4bV2g9y0Fh

— Libor Jany (@StribJany) June 23, 2020
Dubuc's calls for reform have created a wedge between himself and officers resistant to changing MPD's generally unaccountable police culture.
Sergeant Andrew Bittell and the CART Team
Employed by the City of Minneapolis with a salary north of $100,000 a year, Sgt. Andrew Bittell has been on the force for 23 years. He has been a K-9 officer for a large portion of his time with MPD.
Bittell now leads a crackdown unit of officers officially named the CART, or Chemical Agents Response Team. This specialized unit is typically deployed in white warrant/raid/tactical vans with officers wearing tactical helmets and vests along with 40 millimeter marker round launchers, high powered rifles, and various chemical weapons.
A federal review of the police response to the 18-day 4th Precinct occupation protest for the police killing of Jamar Clark in 2015 found several instances when CART team officers had no "clear written rules of engagement." Many MPD officers in CART teams are also on the SWAT (Special Weapons and Tactics) team.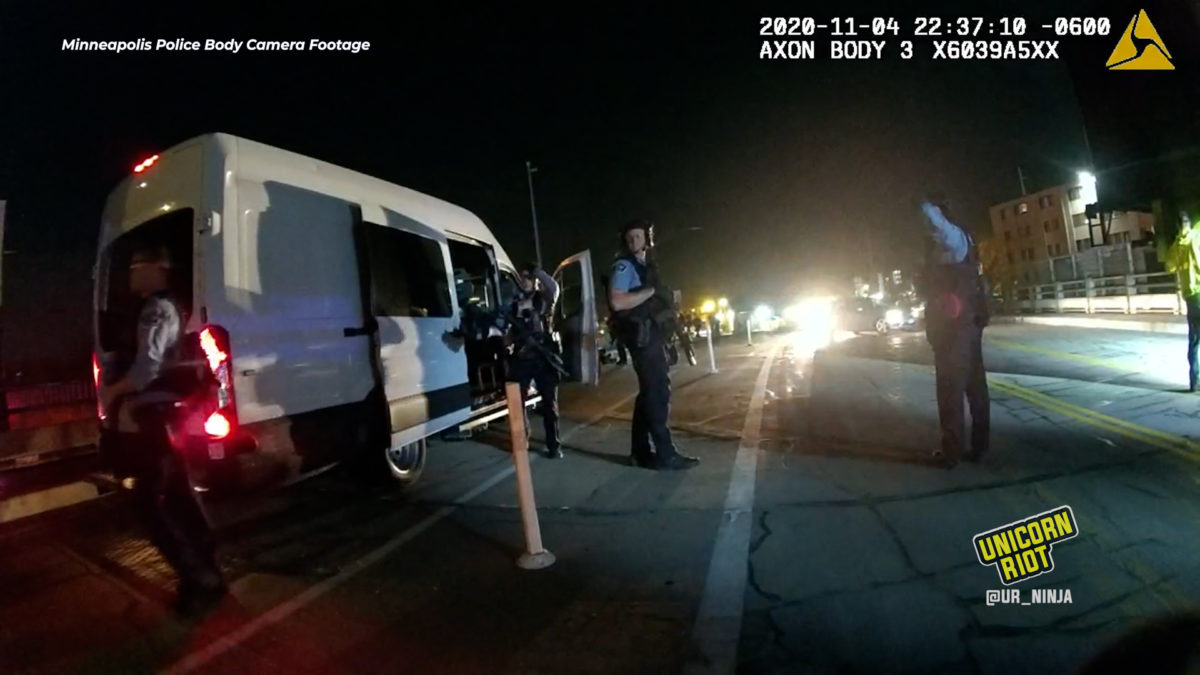 Public information on Bittell is scarce, but the non-profit organization Communities United Against Police Brutality (CUAPB) tracks police complaints. CUABP's data shows six known complaints listed against Sergeant Andrew Bittell.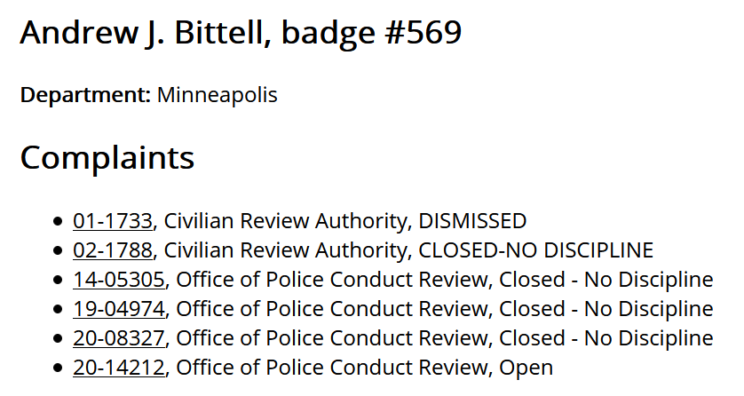 Two of the complaints—one dismissed and the other closed with no discipline—were fielded by the since-disbanded Civilian Review Authority. The four other complaints were reviewed by the Office of Police Conduct Review, and three were closed with no discipline.
One of the complaints against Bittell is still open. That complaint names three other officers, one of them named Mark Ringgenberg. Ringgenberg was involved in the execution-style murder of unarmed Jamar Clark in 2015 and faced no consequences over Clark's killing.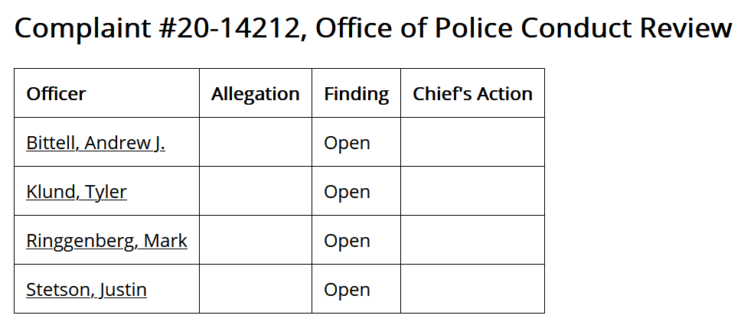 Sgt. Bittell has an open case for conduct review with Mark Ringgenberg, who was involved in the police killing of Jamar Clark in 2015 – via CUAPB
On November 3, 2020, the night before Bittell's body camera showed him leading the 'shame games', he was providing strongarm support for a large police operation that arrested over a dozen people who had participated in an election night dance party on the streets of Uptown Minneapolis. Many protesters reported that they were tackled, punched, and brutalized by police during their arrests.
Sgt. Bittell was filmed holding a live-round assault rifle and facing the neighborhood crowd who were watching as officers processed arrestees behind him.
Around midnight on November 4, a couple hours after the suspicious vehicle stop, Sgt. Bittell joined a group of cops who were mocking press filming the arrests. The officers stood standing on the grass off 9th Street, looking down on the interstate. Earlier in the night from that location, MPD pepper-sprayed people and used horses from the Mounted Police to trample the community that was gathering to watch the mass arrest.
While being rude to journalists, the group of officers which included Sgt. Bittell, smoked cigars, laughed derisively and made farting noises with their mouths.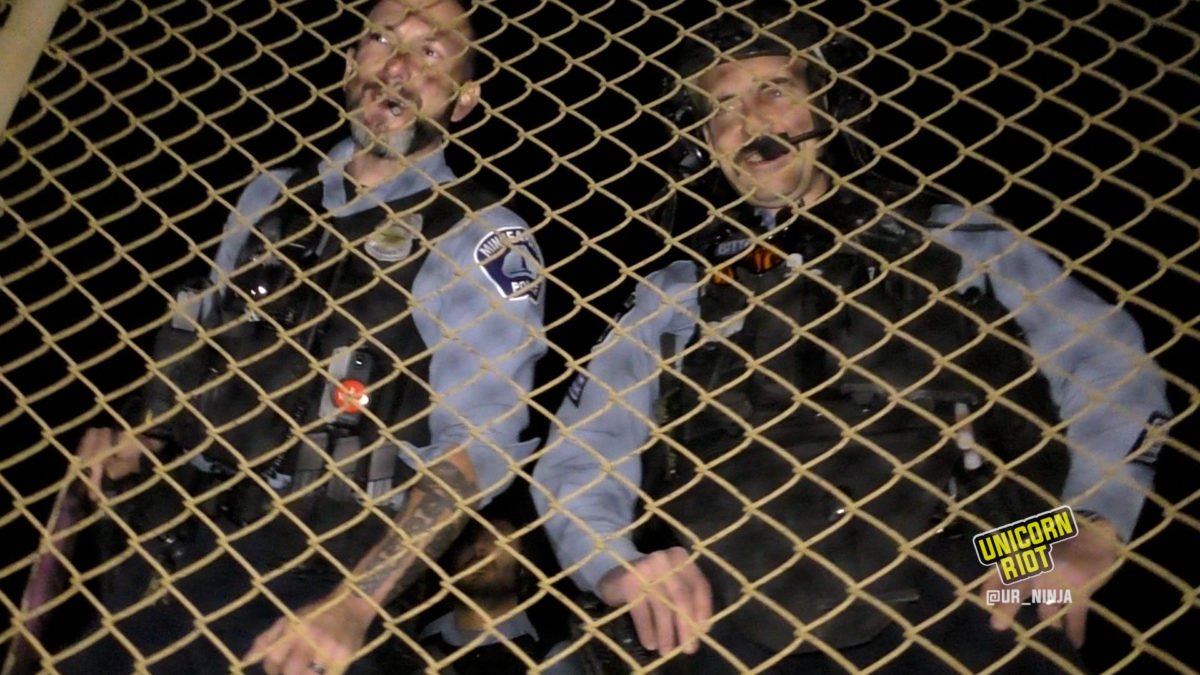 In total, 646 people were arrested on I-94, most of them cited and released after being moved from the interstate in buses and dropped at random locations. Amina McCaskill, a 21-year-old college student, was charged with a felony for allegedly shining a laser pointer during the protest.
MPD Investigation & Chief Arradondo
The police killing of George Floyd and response to the protests placed the MPD into the international spotlight and highlighted longstanding hostilities and mistrust between cops and the community. It also led to more investigations inside the department.
Several government agencies currently have the MPD under investigation. The U.S. Department of Justice, who have investigated MPD twice in the last two decades, has started a new federal investigation and has already filed federal charges against the four ex-officers involved in killing George Floyd. The Minnesota Department of Human Rights launched the Civil Rights Investigation into the Minneapolis Police Department on June 1, 2020, which thus far has produced several reports.
Since 2017, when Medaria Arradondo assumed the role of Chief of the MPD, he's promised the community that he would change the police department's culture. Arradondo, an Afro-Colombian man born and raised on the Southside of Minneapolis, has been with the department since 1989 and successfully sued the MPD in 2007 over racist practices within the department.
In a departure from typical practices, Chief Arradondo fired the four officers involved in George Floyd's killing in record time and has continued voicing his desire for a culture change in policing.
"I never expected it to change overnight just because you have a Black chief, but I knew when I came into my role I had to be intentional each and every day to make sure that I was doing all I can to try to transform this culture."

– Minneapolis Police Chief Medaria Arradondo to Unicorn Riot on May 31, 2020
Chief Arradondo and then-Deputy Chief Art Knight made a public visit to George Floyd Square to pay their respects less than a week after Floyd was killed by MPD officers.
Yet Arradondo's more recent actions towards officers vying for change have left many questioning whether Arradondo can exact a transformation. In late May 2021, Chief Arradondo was exposed as coordinating with elected officials and a pro-police group called Operation Safety Now to sway the City Council's November 2020 votes on the police budget.
A few months ago, a young officer named Colleen Ryan was demoted after a lengthy investigation into an anonymous interview she gave to GQ magazine describing Minneapolis' police culture as 'toxic.'
Furthermore, MPD Deputy Chief Art Knight was also demoted by Arradondo and is unlikely to return to the force. Arradondo called Knight his 'right hand man' but then demoted Knight after he questioned MPD hiring practices and told the Star Tribune that the culture was unlikely to change because it would hire the "same old white boys."
After seeing officers' conduct in the 'shame games' video, Michelle Gross, the President of Communities Unites Against Police Brutality, said she's not surprised. Gross said, "MPD leadership talks about a new culture of respect for the community but does little to enforce it" and that until there are consequences, nothing will change.
"The conduct in this video is no surprise. MPD leadership talks about a new culture of respect for the community but does little to enforce it. Until there are consequences for this arrogant, disrespectful and abusive conduct, it will continue."

– Michelle Gross, President of Communities United Against Police Brutality
We reached out to the MPD, sending them the video and asking for explanations of the officers behavior. They did not respond.
Watch all of Sgt. Bittell's body camera footage below.
Other officer's body camera footage is uploaded into the YouTube playlist below [effects have been administered to the videos to protect identities].
---
Follow us on X (aka Twitter), Facebook, YouTube, Vimeo, Instagram, Mastodon, Threads, BlueSky and Patreon.
Please consider a tax-deductible donation to help sustain our horizontally-organized, non-profit media organization: