Palestinian Lands Seized for Israeli Military and Colony Settlements
For Palestinians, the year 2022 has been marred by violence and land seizures, and residents are bracing for more with the newly elected extreme right-wing Israeli government coming into power next year. Israeli settlers and occupation forces spent the year expelling more Palestinians from their land and confiscating it while demolishing homes and structures, blockading Palestinian regions and constructing more colony settlements.
"What the Israeli occupation is doing in this region is ethnic cleansing."

Nidal Younes, Mayor of Masafer Yatta
Over the year, Unicorn Riot has published dozens of stories bringing context to the Palestinian struggle. This report features three newly published videos from the summer that showcase three different struggles against land seizures in the occupied West Bank of Palestine; Beit Dajan, Tarqumiya and Masafer Yatta.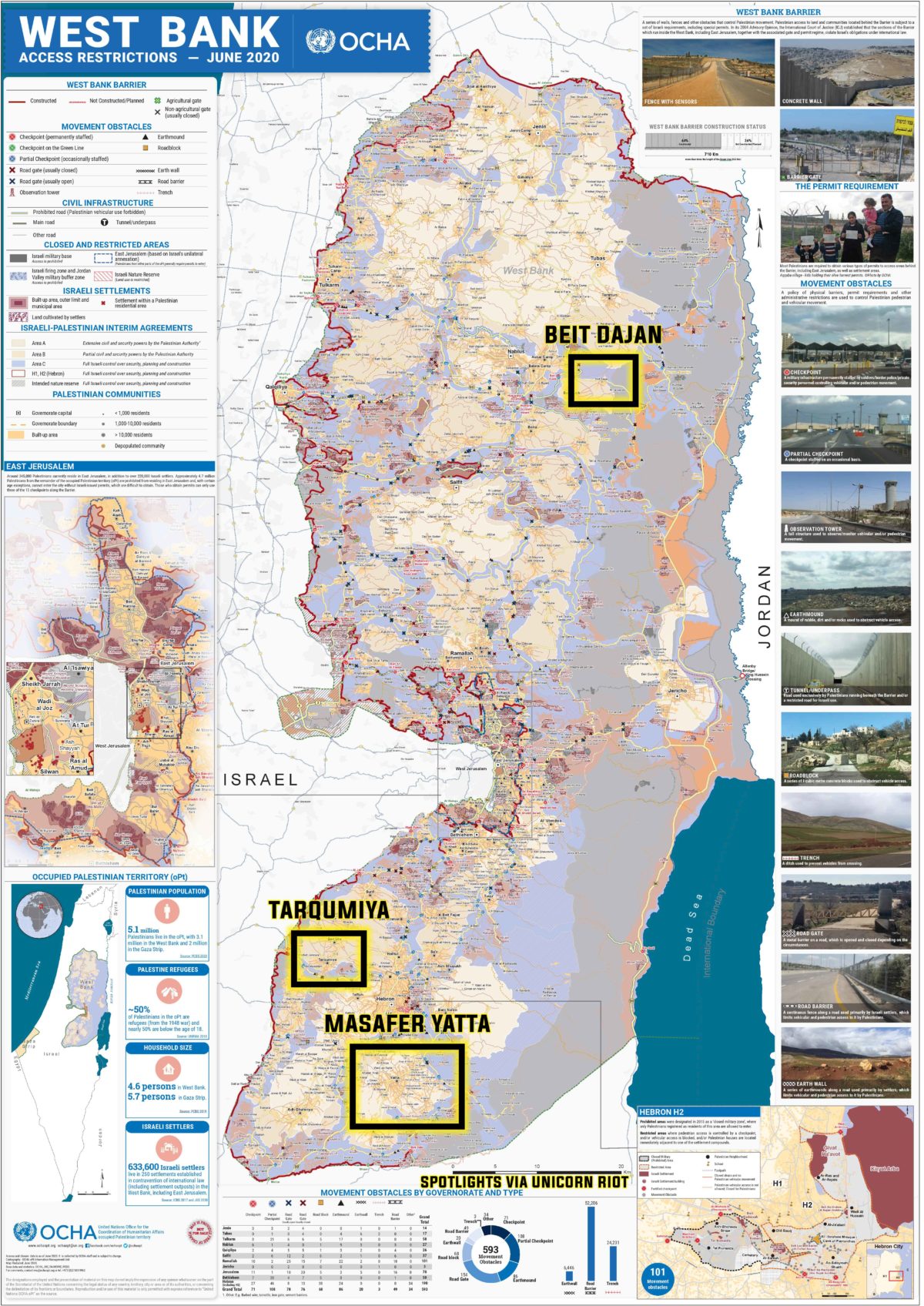 ---
Tarqumiya, Occupied West Bank, Palestine – June 11, 2022
In June, Palestinian citizens of Tarqumiya were ordered to evacuate more than 600 dunams (~150 acres) of land despite proof of ownership. Tarqumiya is near Hebron in the occupied West Bank. Some of the land was planted with olive trees and grape vines.
Israel used the pretext of state property to confiscate the Palestinian land for part of the northern expansion of the Israeli colony settlements of Telem and Adora.
Responding to the land seizure, Tarqumiya's Land Defense Committee organized a protest and sit-in. On June 11, Israeli forces violently suppressed the action. A protester was shot by a live bullet fired by Israeli forces and a cameraman was injured after a stun grenade exploded against his head. Dozens more were tear gassed.
Several physical confrontations occurred between protesters and Israeli forces during the action and at least one man was arrested for punching an Israeli soldier.
Two weeks later, Israeli forces demolished a park and 11 buildings in the area owned by several families and used as agricultural facilities in the summer.
---
Masafer Yatta, Occupied West Bank, Palestine – July 7, 2022
In early July, diplomats from the European Union, a number of other countries and the United Nations visited Masafer Yatta south of Hebron, where some 1,200 citizens, including more than 500 children, are under threat of displacement and forcible transfer and a mass demolition of their homes.
The diplomats met with the residents of the area who explained the worsening living conditions and the fear of losing their homes and livelihoods following the decision of the Israeli Supreme Court in May 2022, which allows the Israeli army to legally expel the residents for the area Israel declared a military "firing zone."
In the months before the delegation from the EU came to the region, Israeli authorities demolished dozens of family homes and animal pens, issued more than thirty additional demolition and confiscation orders to allow the construction of a road designated for its patrols, reactivated military exercises in the area for the first time in years and obstructed the delivery of humanitarian aid to families in need.
European Union Representative Sven Kühn von Burgsdorff expressed his deep alarm "by the testimonies I heard today and the coercive measures taken by the Israeli security forces that could lead to the forced deportation of the largest gatherings in decades in the occupied Palestinian territories."
"These actions clearly violate international law and basic human rights. By continuing to carry out these actions, particularly in Area C, which represents 60% of the West Bank, Israel is not only acting inconsistent with its obligations as an occupying power, but it also takes us far from a two-state solution with a viable and geographically connected Palestinian state at its core."

European Union Representative Sven Kühn von Burgsdorff
Von Burgsdorff furthered that the EU condemns Israeli actions in the region and urged Israel to "halt demolitions and evictions, in line with its obligations under international humanitarian law and international law." He said, "under Article 49 of the Fourth Geneva Convention, forcible transfers for any motive, including the transfer of persons from a designated firing zone or a closed military zone, are prohibited."
The Mayor of Masafer Yatta, Nidal Younes, said Palestinians are being ethnically cleansed from the region and that he hoped the visit by the EU would help to bring international pressure to help relieve some of the policies they face which are "against international humanitarian law and against human rights."
---
Beit Dajan, Occupied West Bank, Palestine – August 2, 2022
Facing similar fates as Tarqumiya and Masafer Yatta, Palestinians in Beit Dajan are having swaths of land confiscated by Israelis. Thousands of dunums in Beit Dajan are targeted for confiscation said Murad Eshteiwi of the Wall and Settlement Resistance Committee.
During a protest in Beit Dajan on Aug. 2 against colony settlement expansion, dozens of civilians were injured when Israeli forces shot tear gas at the protest. The director of ambulance and emergency at the Red Crescent in Nablus, Ahmed Jibril, said that 22 citizens were treated from injuries sustained by rubber bullets.
Eshteiwi said the protest showed popular Palestinian resistance to the Israelis 'tightening of the noose.'
"Today's march in Beit Dajan, [shows an] escalation of popular resistance in light of the escalation of settler attacks that happened with the protection of the Israeli occupation army and the extremist occupation government, which always and forever seeks to tighten the noose around our Palestinian people, whether to confiscate more lands in favor of colonial expansion or by narrowing the noose around our people by distributing demolition notices, and demolishing citizens' homes without observing any international norms and laws."

Murad Eshteiwi, Wall and Settlement Resistance Committee
---
Related Coverage
For more from Palestine see our archive page.
---
Follow us on X (aka Twitter), Facebook, YouTube, Vimeo, Instagram, Mastodon, Threads, BlueSky and Patreon.
Please consider a tax-deductible donation to help sustain our horizontally-organized, non-profit media organization: