Supporting Victims and Reinvestigating Police Crimes: Communities United Against Police Brutality
Minneapolis, MN – For over two decades, the volunteer-run nonprofit Communities United Against Police Brutality (CUAPB) has been supporting community members brutalized by police. Whether it's holding public press conferences and demonstrations demanding police accountability, supporting impacted families behind the scenes or writing legislative bills, volunteers of CUAPB are a stalwart in the movement against police terror.
CUAPB was formed 22 years ago in December 2000, after five Minneapolis Police (MPD) officers killed Charles Alfred "Abuka" Sanders by shooting him 33 times. The organization set out to "combat police brutality from many angles, including political and legislative action, education, research, and providing services and support for victims and their families."
"Our overriding goal is to create a climate of resistance to abuse of authority by police organizations and to empower local people with a structure that can take on police brutality and actually bring it to an end."
Since its founding, CUAPB has acted as a clearinghouse for scrutiny of Minnesota law enforcement. The nonprofit has organized police oversight pushes, streets Copwatch programs, a 24-hour hotline, and an online database of police officer complaints, among dozens of other projects. And their efforts are ever-expanding – the group recently formed the Stolen Lives Justice Fund, a new Reinvestigations Workgroup and a Data Practices Workgroup.
Co-founded by Michelle Gross, CUAPB volunteers range from youth and students to elders like Dave Bicking and Jan Nye who have knowledge of police interactions with community and policies going back decades. Over the years CUAPB has participated in, and partnered with other organizations to create a litany of programs and projects seeking to increase police transparency and end police brutality.
At last summer's "Say Their Names" action, Unicorn Riot heard from Emma Pederson, an organizer with CUAPB. As she unveiled a massive scroll containing the names of hundreds of Minnesotans who've been killed from police encounters, Pederson spoke about the scroll, the Stolen Lives Justice Fund and the Reinvestigations Workgroup.
Tracking the Stolen Lives
One of the several databases that CUAPB has created for the public is a continually updated list of people in Minnesota who've lost their lives from police encounters. The list of victims, dubbed 'Stolen Lives in Minnesota: People Who Have Lost Their Lives Through Encounters with Law Enforcement Authorities,' is updated every year before the national day against police brutality on Oct. 22.
The database serves as a digital copy of a nearly 50-foot long fabric scroll with almost 500 names of 'stolen lives.' CUAPB has tracked these deaths since the early 2000s. From researching the data, to updating the scroll and managing logistical upkeep, "there are literally hundreds of hours put into this," Michelle Gross, CUAPB president, said.
As more people throughout the state die from police interactions and the org learns of more names, volunteers have had to add patches to the scroll, "because too many names keep getting added, unfortunately," said Pederson.
Each name takes a inch and a half, Gross said during a remembrance for Kobe Heisler, who was killed by Brooklyn Center Police in 2019. She said the scroll puts a "human name to police violence and the result of police violence."
While several people took on the collective effort of rolling up the lengthy scroll, Gross shared the stories of how some of the victims died. She spoke of Dr. Kenneth Peterson, who she said was clearing a downed tree near his home in Grand Marais, Minnesota when he was hit and killed by a Border Patrol vehicle. The agent pleaded guilty to a petty misdemeanor driving charge.
Gross also spoke about the family of Amanda Thomas, who were killed in a car accident as the result of a high-speed chase on a heavily trafficked Northside street. The crash killed her and her two boys. The scroll, as well as the database, lists victims of all sorts of encounters with the police, including but not limited to crashes, deaths inside jails, and shootings.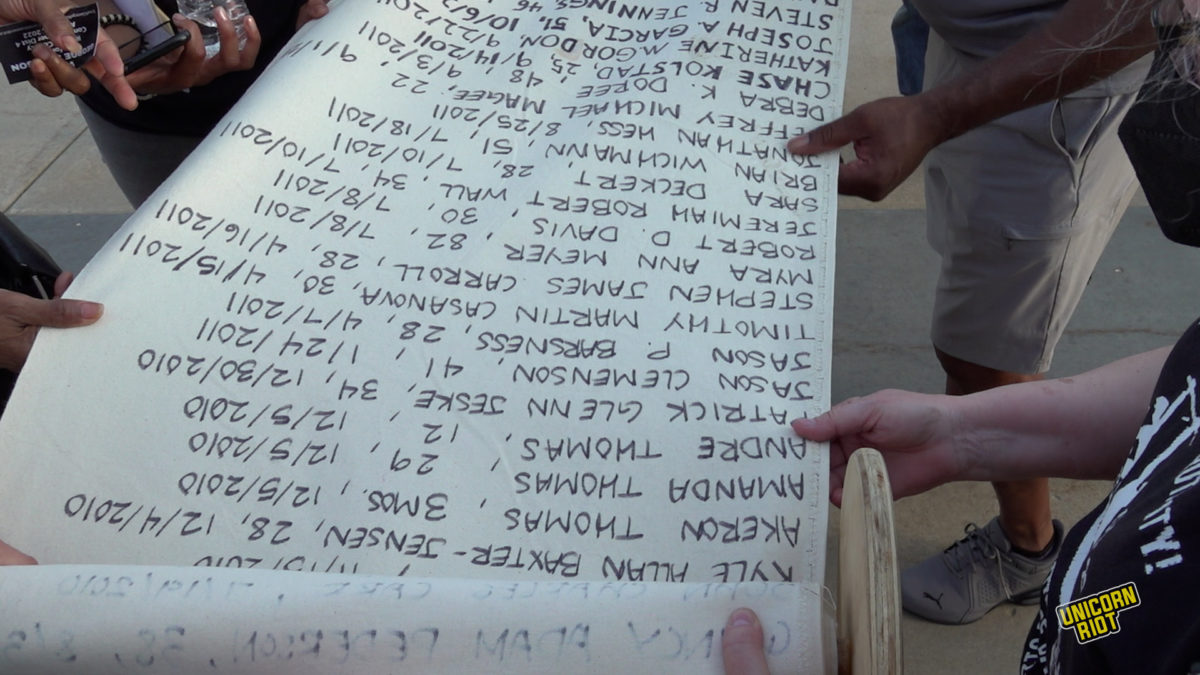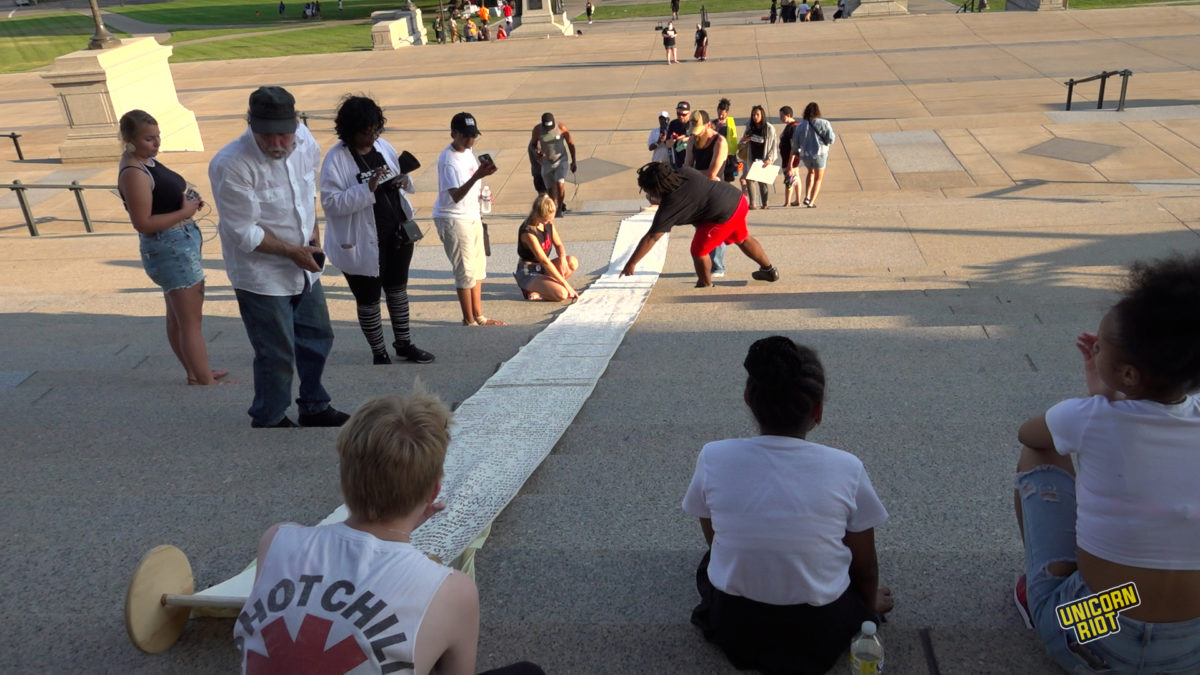 During the remembrance for Heisler, Gross told Unicorn Riot that the scroll shows how serious police violence is and said it's important to "put all our energy into combatting" it.
"It shows that police violence has been an ongoing and serious issue and an issue that we have to put all our energy into combatting because people are dying as a result of their violence."

Michelle Gross, CUAPB President
Along with the database of those killed and the scroll with their names, CUAPB created a 2022 monthly calendar [pdf] that lists the days that police killed the victims.
In addition to documenting incidents, CUAPB also helps victims of police brutality and their families deal with the aftermath of police violence. The organization helps survivors file complaints, gather evidence in their case, get legal support and helps with media representation.
Also created in the last few years is the Stolen Lives Justice Fund, which provides direct financial support to the families who've lost their loved ones to police. The Fund helps pay for "court filing fees, independent autopsies and investigations, and other needs of families of people killed by police." All donations sent to the fund go directly to the families.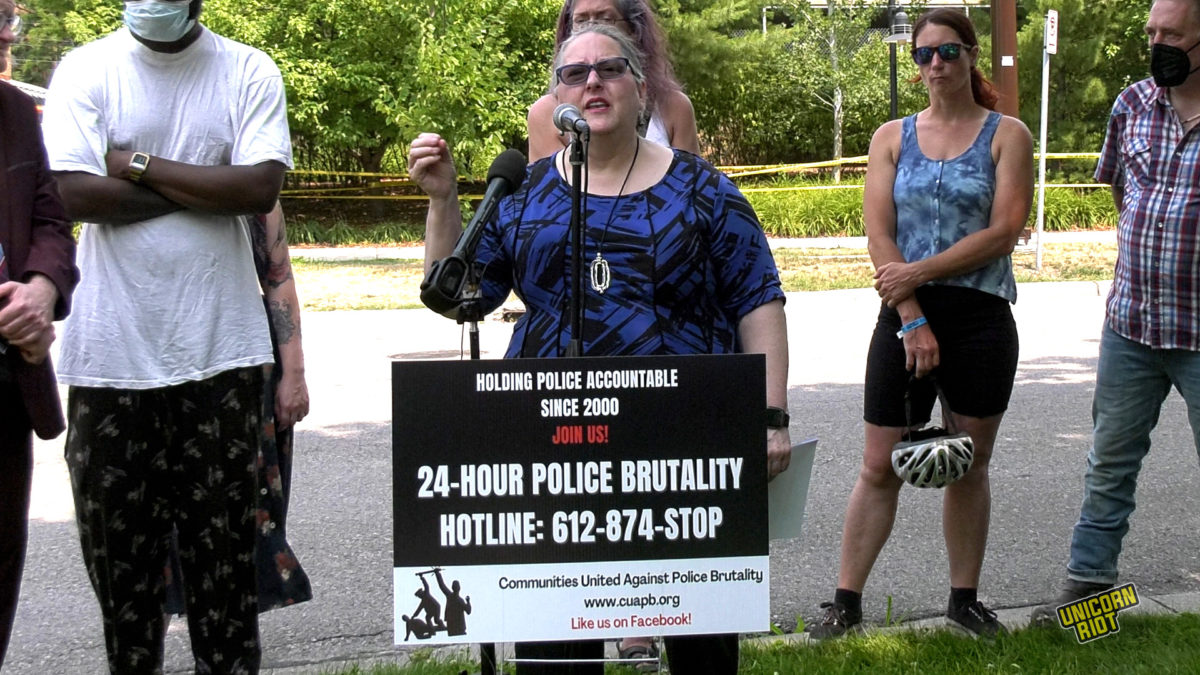 The Reinvestigation Workgroup
Another new initiative is the Reinvestigations Workgroup which supports CUAPB's litigation unit.
CUAPB announced the initiative at an October 2022 press conference. Speaking from their community meeting space in South Minneapolis, organizers introduced their Reinvestigation Workgroup, a coalition of volunteers who review police-involved shootings in Minnesota and help families get justice.
Workgroup volunteer Emma Pederson spoke at the press conference. She said it takes at least a year for the group to conduct a report into a police-involved killing.
As a workgroup, one goal is to get the authentic narrative out to the public, despite opposing officials disseminating false narratives. Pederson said, "For every police killing, there's a conventional narrative that is spread by the police and the county attorney to avoid holding law enforcement officers accountable."
The volunteer made the case that communities benefit from groups like CUAPB, which is independent from the government, to review high profile police-involved killings because the state cannot be trusted to investigate itself. Pederson described a pattern and practice found by CUAPB consisting of police coverups and miscarriage of justice by authorities in regards to police-involved killings.
"…In reinvestigating these cases, our workgroup has found a pattern in how officer-involved killings are investigated in the state of Minnesota. We find that key witnesses frequently aren't interviewed, the BCA agents softball questions to the shooting attorneys, evidence is mishandled, DNA gunshot residue kits and ballistics go untested."

Emma Pederson, CUAPB Reinvestigation Workgroup volunteer
Because of this, the burden falls on the families to try to get the truth about what happened to their loved ones.
Families only have three years to file a wrongful death suit, which can be quite difficult while people are grieving. Pederson said that that is why CUAPB, who assists these families in their quest for disclosure, is so important.
"As a community, we need to come together and question the narrative given to us by the police. We must demand the data that they are legally required to give the families and release by law. These agencies are not above the law, and they cannot withhold this information from families."

Emma Pederson, CUAPB Reinvestigation Workgroup volunteer
There is also a significant financial burden when losing someone to the police. According to CUAPB, it costs tens of thousands of dollars to pay for independent autopsies, pathologists, and use of force experts.
Gross said at the press conference that CUAPB's goal after fundraising is just to cover operating expenses. CUAPB does not accept foundation or government funding, only individual donations.
After the Reinvestigation Workgroup's presentation, CUAPB introduced some of the families of victims of officer-involved killings and presented them with flowers.
Activist and founder of the victim's advocacy group, Families Supporting Families Against Police Violence, Toshira Garraway said a group of Saint Paul Police officers beat her fiancé Justin Teigen to death after a 2009 traffic stop.
Garraway spoke at the press conference about the realities their families face and blasted the mainstream media for collaborating with law enforcement and causing more harm.
"Our families don't deserve for our loved ones to get murdered twice," she said, in reference to how the media villainizes victims after they are killed by cops.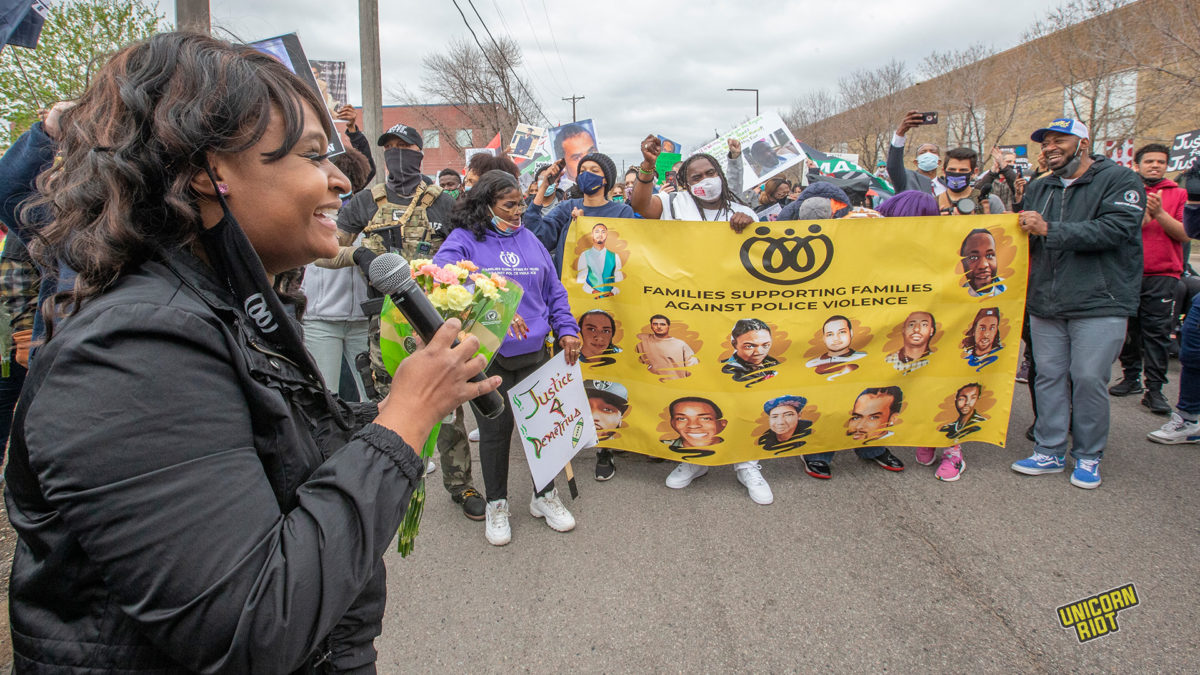 CUAPB's Success Litigating Officer Involved Shootings
Paul Bosman, chief counsel and one of two paid staff for CUAPB, said at the October press conference that his group takes on hard-to-win cases that other attorneys won't touch. And they win.
CUAPB successfully sued the City of Minneapolis to release the names of the officers involved in the killing of Chiasher Fong Vue.
On Dec. 15, 2019, MPD killed Vue after responding to a domestic disturbance. Police said Vue had a rifle and shot at cops, prompting them to return fire and kill him outside of his home.
The City of Minneapolis tried to withhold the names of the cops who killed Vue from the families and the public, but a court struck down the effort. The ruling opinion by Judge Bridget Sullivan stated [pdf]:
"The Court notes for the record that in these cases–officer involved shootings–the reasons for the public to have immediate access to specific information such as the names of the officers involved–are compelling. Our common humanity tells us we owe at least this much to the surviving family members."

Judge Bridget Sullivan, order denying the City of Minneapolis motion for summary judgment in Chaisher Fong Vue killing
Michelle Gross said in an affidavit on behalf of Vue's family, read by the judge, that a common strategy used by law enforcement is to vilify victims in the news in the immediate aftermath of police-involved killings.
"She explains that to be on a level-playing field with such agencies, the families of those killed and the public must have immediate access to critical information about the shooting. The Court agrees. The Court is persuaded that the families of the dead and maimed are entitled to immediately know the names of those responsible."

Judge Bridget Sullivan, order denying the City of Minneapolis motion for summary judgment in Chaisher Fong Vue killing
CUAPB also represents the family of Travis Jordan who was killed by Minneapolis cops. They successfully sued the city to block MPD officer Neal Walsh from getting qualified immunity.
Qualified immunity is a legal doctrine that lets officials, bureaucrats, law enforcement officers, off the hook for alleged crimes they've committed while working for the government.
The victory allows the lawsuit alleging excessive force used against Jordan to move forward, and CUAPB's support around the Jordan case helped win recent legislation at the Capitol called Travis' Law;(MN Statute 403.03, Subd. 1b). Passed in 2021, Travis' Law requires 911 centers to send mental health crisis teams to mental health crisis calls instead of the police. Watch the press conference on the reinvestigations workgroup below, live streamed by independent journalist KingDemetrius Pendleton.
Among the group's past and ongoing investigations are the cases of Marcus Golden (2015), Jaffort Smith (2016), and Cordale Handy (2017) who were all killed by St. Paul Police; as well as Kobe Heisler (2019) who was killed by Brooklyn Center Police; and Thurman Blevins (2018) and Travis Jordan [pdf] (2019) who were killed by 4th Precinct MPD officers.
The work of CUAPB is increasingly important as the numbers of victims of police terror continue to rise, the group argues. At nearly every event in the Twin Cities where families of stolen lives are present, so is CUAPB.
To find out about their work, visit their website and follow them on across social media where they've been making heavy use of multi-media postings to educate the public about new police policies and happenings.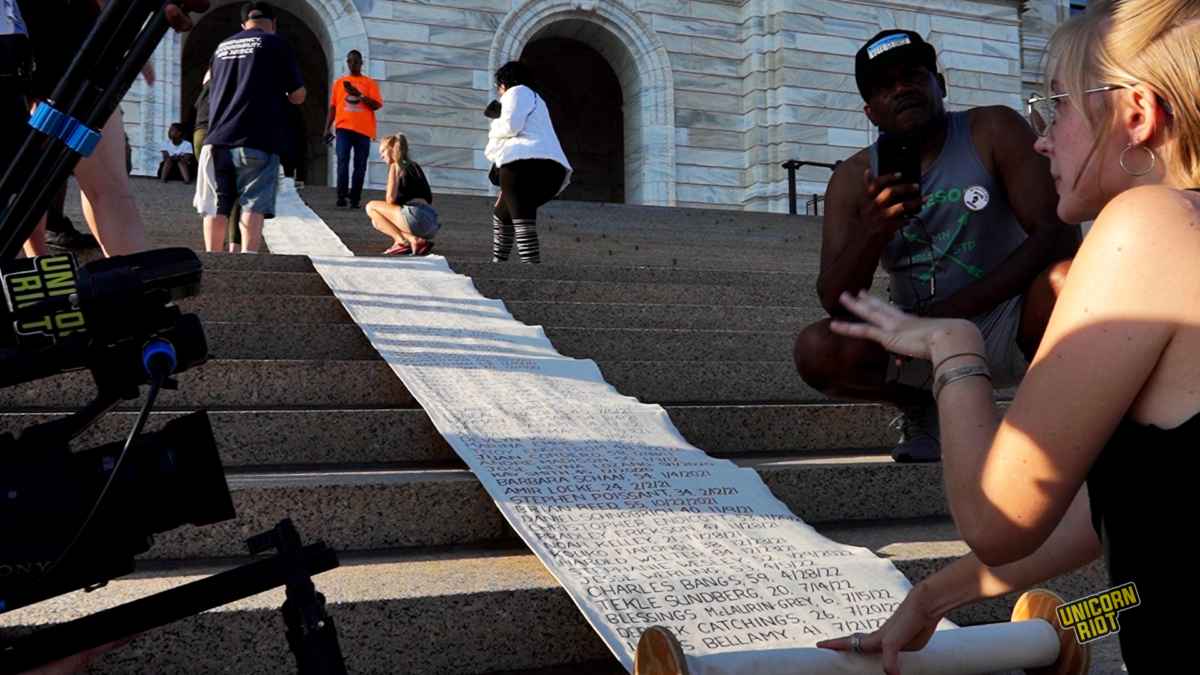 For more on the impacts of police killings, listen to Unicorn Riot's The Mothers Podcast across podcast platforms and by clicking on the image below.

---
Follow us on X (aka Twitter), Facebook, YouTube, Vimeo, Instagram, Mastodon, Threads, BlueSky and Patreon.
Please consider a tax-deductible donation to help sustain our horizontally-organized, non-profit media organization: