Police Raid Atlanta Forest Occupation
Atlanta, GA – On Tuesday, May 17, law enforcement from several jurisdictions, including SWAT teams armed with rifles, conducted a raid on the burgeoning autonomous zone within the Atlanta Forest, arresting eight people and destroying six treehouses and other protest infrastructure.
After the raid, officers from Atlanta Police Department's Zone 3 Field Investigations Team discussed using "deadly force" against protestors if they used Molotov cocktails to defend themselves from a raid, according to scanner audio from 6:41 p.m.
"I told you, deadly force encounter," said one officer. "That's why I bought it up, as long as we're all on the same page, Molotov cocktail's a deadly force encounter."
A "deadly force encounter" is a situation in which officers are legally allowed to shoot to kill.
"They started staging at around 9 a.m. and started coming in at around 10 a.m. and we started mobilizing and calling for support," said one protester who was in the forest during the raid and asked not to be named due to potential retaliation.
"It was really intense. There was a helicopter circling for a long time trying to track our movement across open areas because they can't see us under the trees. We did what we could to make it as hard as possible for them to destroy these woods."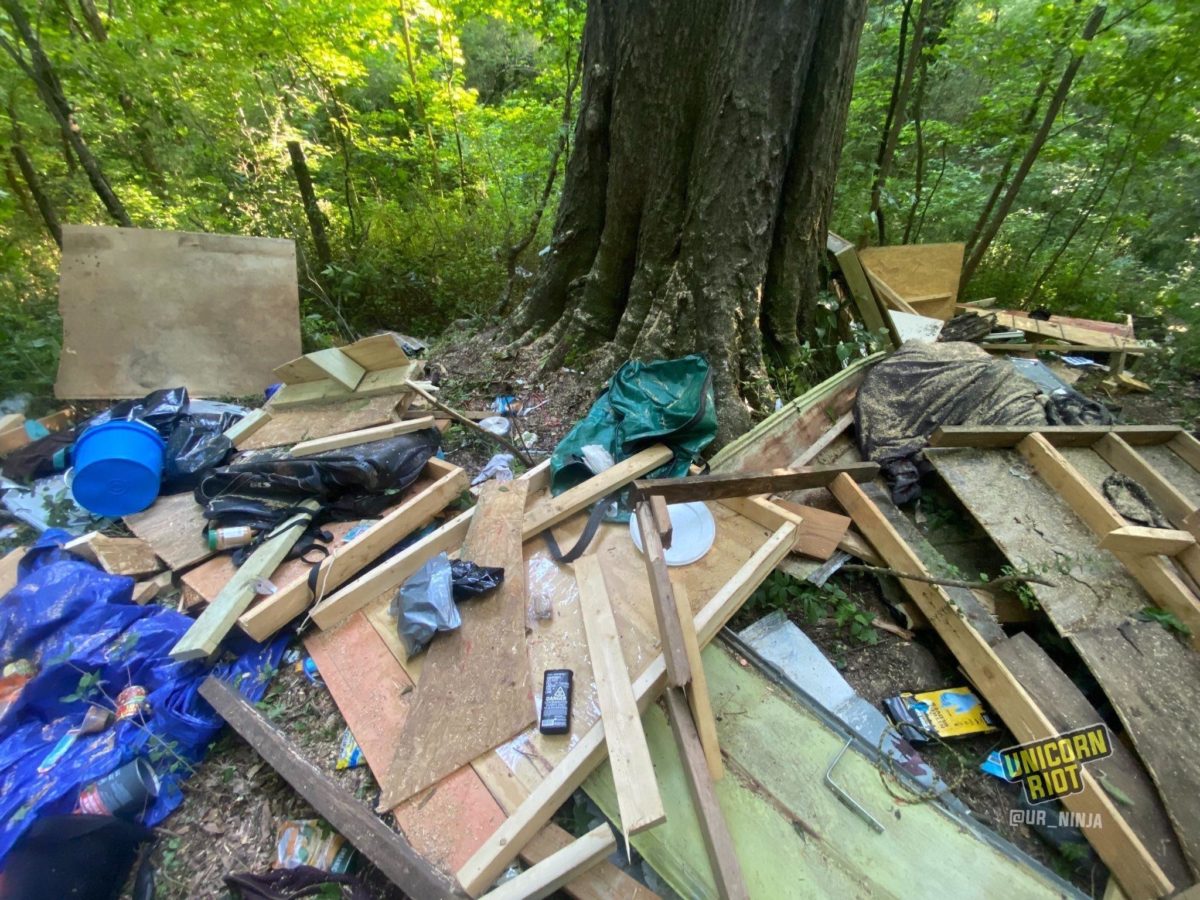 According to police, those committed to defending the forest put up a fight, pelting the officers with rocks and even Molotov cocktails. In the wake of the raid, a truck barricade constructed months ago to protect those occupying the forest from police incursions showed signs of having been set on fire.
It's not clear who set the fire, but flaming barricades are a common tactic used by protesters around the world to push back against police.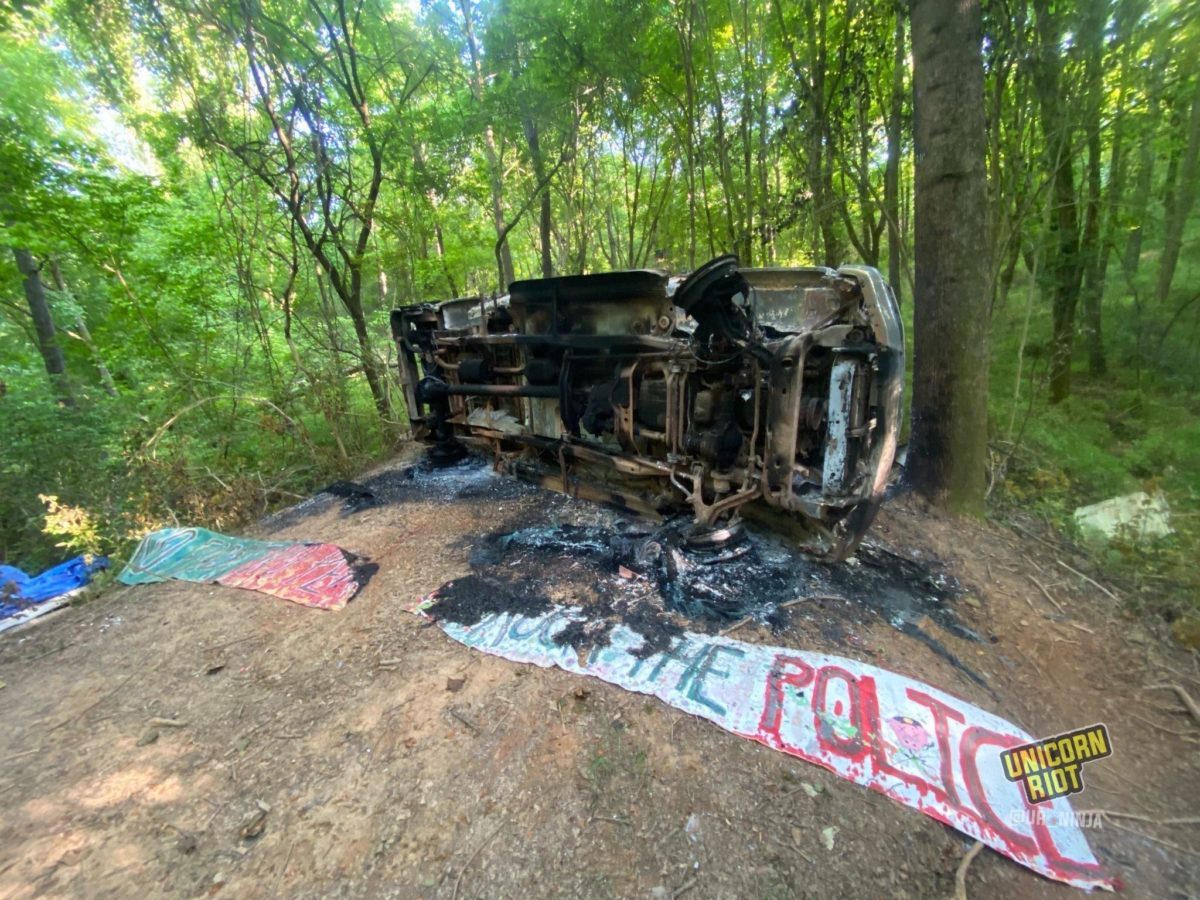 Those arrested were given charges ranging from "criminal trespass" to "obstruction of law enforcement officers." Agents from the Georgia Bureau of Investigation and the FBI are participating in an investigation of the nationwide protest movement that has resulted in attacks on corporate infrastructure in several states as well as major mobilizations in and around Atlanta.
Protesters allege that police also destroyed their belongings during the raid.
"They randomly wielded a sledgehammer to destroy a new generator. They cut off people's hammocks. They tore up people's sleeping bags. Just behaving like a gang. Just brutal, senseless, vengeful, cruel actions against the stuff that helps us stay here."
Local organizations involved in the effort to defend the Atlanta Forest held a press conference Tuesday in response to the raid on the encampment as well as the attack by police on a peaceful protest Saturday, May 14 in which 17 people were arrested, including one Unicorn Riot contributor.
"This is an attempt to demoralize a vibrant and diverse movement lead by local community members against the replacement of the largest urban tree canopy in the U.S. with the largest police training compound in the United States," said a local resident who asked to be identified only as May.
The raid comes just days after a "week of action" brought hundreds to the Atlanta Forest to participate in workshops, plant gardens, screen films and protest at the homes of developers plotting the forest's destruction. Shortly after scheduled events ended, police gathered their forces and raided the encampment.
"I'd say our spirits are high, we're still here, we're still defending these woods," said the anonymous protester who witnessed the raid.
"We're going to rebuild, we just need a lot of support. We need as many people as possible to come. We need people to donate so we can rebuild. We need people to donate so we can free our locked up comrades. Atlanta will remain a forest."
The ongoing protest movement seeks to oppose the construction of a police training facility and the destruction of the forest upon which the project depends. Dubbed 'Cop City' by its critics, the 85-acre police training facility carries a price tag of $90 million for its initial phase. In September 2021, Atlanta's City Council approved a proposal to construct the facility within a huge swath of forested land in unincorporated DeKalb county southeast of Atlanta.
Atlanta Fights to Save Its Forest
In recent weeks, autonomous attacks in solidarity with efforts to defend the Atlanta Forest have occurred throughout the country, according to a website that tracks such actions. One repeated target has been Atlas Technical Consultants, LLC., the parent company of Long Engineering, a subcontractor of the Cop City project, which had the windows of its office smashed in Albany, NY and Minneapolis, MN and its building tagged with graffiti in Highland, IN.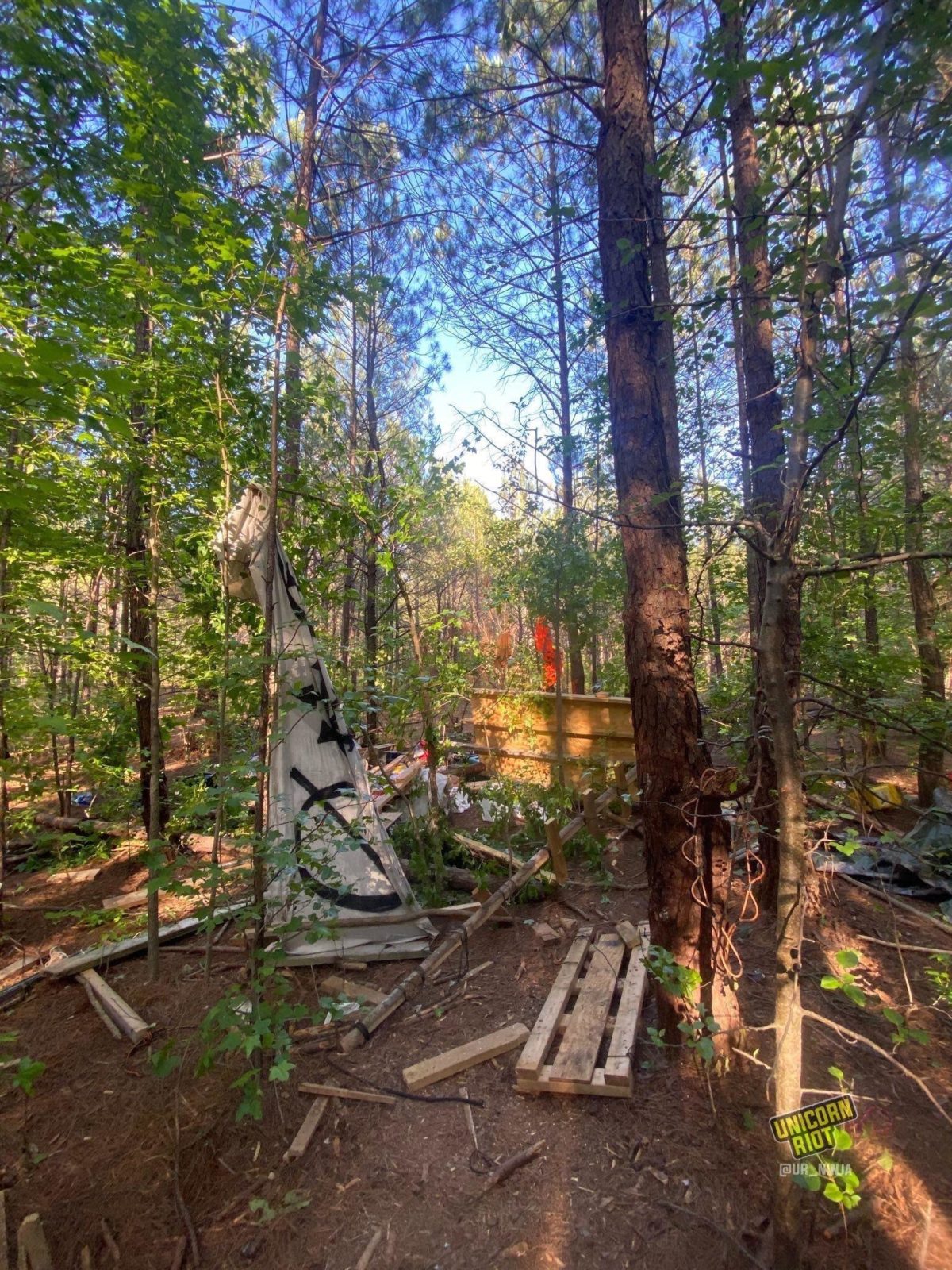 The website also received reports of attacks on Bank of America, which donates money to police foundations across the country, including the Atlanta Police Foundation. Attacks were reported in Pittsburgh, Philadelphia, Portland and Minneapolis.
"The city, like the world, is only getting hotter, rent is only getting more expensive, food and gas prices are only rising," said May. "The city has no answers for this except a more militarized police force. But floodwaters do not abide property or jurisdiction lines. The climate does not obey the police. You can't prop up a free society with violence alone."
---
Follow us on X (aka Twitter), Facebook, YouTube, Vimeo, Instagram, Mastodon, Threads, BlueSky and Patreon.